Last Updated on April 28, 2021 by Adnan Musa
Bangladesh is the 9th most populous country in the world and statistics showed there are about 13 to 15 lakh cancer patients in Bangladesh. Moreover, every year about 2 lakh new patients are diagnosed with cancer. A cancer patient requires intensive treatment therefore it is best to admit the patient to a cancer hospital.
There are many cancer hospitals available in Bangladesh. Some of the best cancer hospitals in Bangladesh are the National Institute of Cancer Research & Hospital (NICRH), Ahsania Mission Cancer Hospital, Bangladesh Cancer Society Hospital and Welfare Home, The ENT and Head Neck Cancer Hospital and Institute, Delta Hospital Ltd.        
List Of Best Cancer Hospital In Bangladesh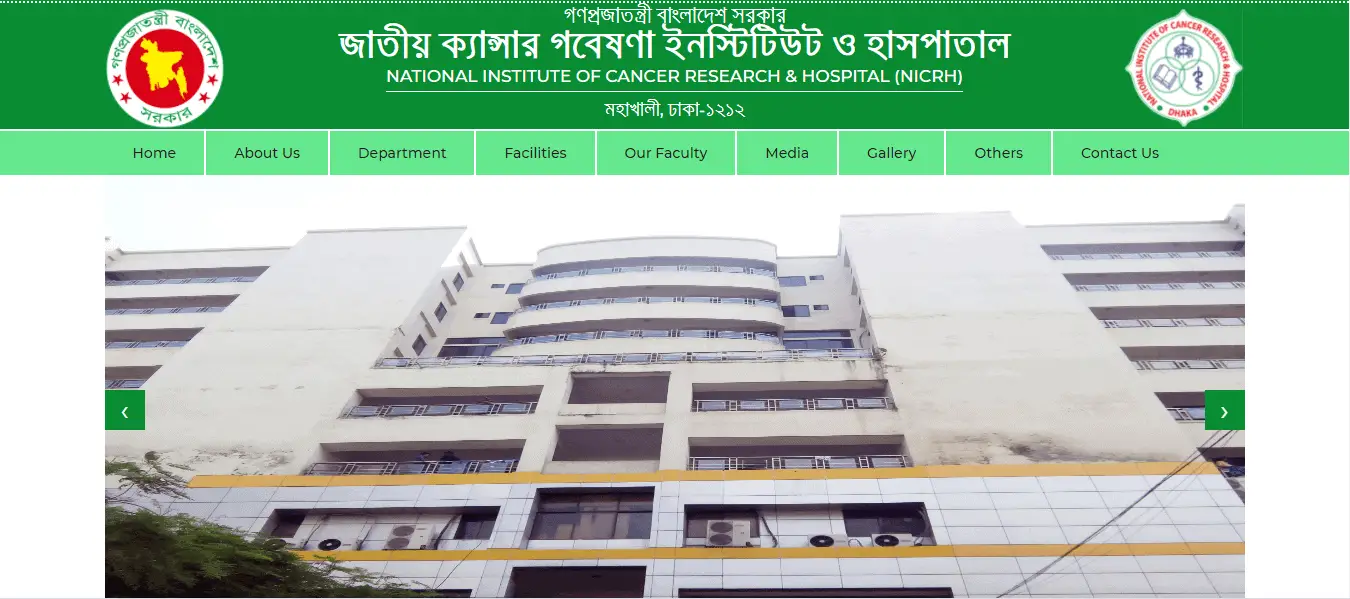 Address: TB Gate Rd, Dhaka 1212, Bangladesh
Phone: +880 2-9880078
Key Service
Radiation Oncology
Medical Oncology
Surgical Oncology
Gynecological Oncology
Hematology
Cancer Epidemiology
Radiology & Imaging
Genito-Urinary Oncology
Histopathology
Cytopathology
Paediatric Hematology & Oncology
Plastic & Reconstructive Surgery
Microbiology
Immunology& Molecular Biology
Blood Transfusion Medicine
Palliative care
Orthopedic Surgical Oncology
Anesthesiology
Physical Medicine & Rehabilitation
Psychotherapy
Emergency Oncology
Dental and Faciomaxillary Surgical Oncology
ENT Oncology
Laboratory Medicine
Doctors List
Prof. Dr. Sahana Parvin
MBBS, DGO, FCPS (Gyne & Obs)
Gyne Oncology Specialist
National Institute of Cancer Research & Hospital
Prof. Dr. Kazi Manzur Kader
MBBS, DMRT, Msc, FACP, FRCP (Glasgow)
Cancer Specialist
National Institute of Cancer Research & Hospital
Dr. Iqbal Hossain Talukder
MBBS, BCS (Health), FCPS (Surgery)
Colorectal & Hepatobiliary Surgeon
National Institute of Cancer Research & Hospital
Prof. Dr. AMM Shariful Alam
MBBS, DIH, FCPS (Radiotherapy)
Cancer Specialist
National Institute of Cancer Research & Hospital
Dr. Khadija Rahman Sonia
MBBS, FCPS (Surgery)
Breast Cancer & Colorectal Surgeon
National Institute of Cancer Research & Hospital
Dr. Md. Shahin Ferdous
MBBS (Dhaka), BCS (Health), MD (Oncology)
Cancer Specialist (Oncologist)
National Institute of Cancer Research & Hospital
Dr. Shahida Alam Lima
MBBS, FCPS (Radiotherapy)
Radiation Oncologist
National Institute of Cancer Research & Hospital
Dr. Md. Murad Choudhury
MBBS, MS (Urology)
Urologist & Andrologist
National Institute of Cancer Research & Hospital
Dr. Md. Siddiqur Rahman
MBBS, MS (Urology)
Urology Specialist & Surgeon
National Institute of Cancer Research & Hospital
Prof. Dr. Pranashish Saha
MBBS, MS (Urology)
Urology Specialist
National Institute of Cancer Research & Hospital
Dr. SK Amirul Islam
MBBS, MS (Urology)
Urology Specialist
National Institute of Cancer Research & Hospital
Dr. Md. Rafiqul Islam
MBBS, MD (Oncology)
Cancer Specialist & Oncologist
National Institute of Cancer Research & Hospital
Dr. Masud Ahmed
MBBS, MS (Urology)
Prostate & Male Organs Surgeon
National Institute of Cancer Research & Hospital
Dr. Md. Setabur Rahman
MBBS, MS (Surgery)
National Institute of Cancer Research & Hospital
Dr. Md. Asaduzzaman Rasel
MBBS, FCPS (ENT)
ENT Specialist & Head-Neck Surgeon
National Institute of Cancer Research & Hospital
Dr. A K M Obaydul Haque Sabbir
MBBS (DU), BCS (Health), D-Ortho (BSMMU), MS-ORTHO
Orthopedic Specialist
National Institute of Cancer Research & Hospital
Dr. Nazmun Ara
MBBS, BCS (Health), FCPS (Gyne & Obs)
Gynecologist & Surgeon
National Institute of Cancer Research & Hospital
Dr. Dilruba Yeasmin Dina
MBBS, BCS (Health), FCPS (Gyne & Obs)
Gynecology Cancer Specialist
National Institute of Cancer Research & Hospital
Dr. Farhana Ahmed
MBBS, CMU, FCPS (Gyne & Obs), MCPS (Gyne & Obs)
Gynecologist & Obstetrician
National Institute of Cancer Research & Hospital
Dr. Mst. Farhana Tarannum Khan
MBBS, FCPS (Gyne & Obs), MS
Gynecologist & Obstetrics Specialist
National Institute of Cancer Research & Hospital
Dr. Salma Akter Walida
MBBS, BCS (Health), FCPS (Gyne & Obs)
Gynecology & Obstetrics Specialist
National Institute of Cancer Research & Hospital
Dr. Farhana Kalam Ovi
MBBS, BCS (Health), FCPS (Gyne & Obs)
Gynecology & Obstetrics Specialist
National Institute of Cancer Research & Hospital
Dr. Prasanta Kumar Chakraborty
MBBS, BCS (Health), FCPS (Physical Medicine)
Physical Medicine & Rehabilitation Specialist
National Institute of Cancer Research & Hospital
Prof. Dr. Khurshid Jahan Mawla
MBBS, DGO, MCPS (Gyne & Obs)
Gynecological Oncology Specialist
National Institute of Cancer Research & Hospital
Dr. Asaduzzaman Biddut
MBBS, MD (Oncology)
Cancer Specialist
National Institute of Cancer Research & Hospital
Prof. Dr. SM Anisur Rahman
MBBS, DIH, DMRT, WHOF
Radiation Oncologist
National Institute of Cancer Research & Hospital
Dr. Md. Nadimul Hasan
BDS, MS (Maxillofacial Surgery), Training (AU), JICA Fellow (Cancer Surgery)
Oral & Maxillofacial Surgery Specialist
National Institute of Cancer Research & Hospital
Dr. Md. Khorshed Alam
MBBS, MD, MCPS (Gyne & Obs), DMRT, Fellow (WHO), Brachytherapy (India)
Cancer Specialist
National Institute of Cancer Research & Hospital
Dr. Md. Ashikur Rahman
MBBS, FCPS (Surgery)
General & Cancer Surgery Specialist
National Institute of Cancer Research & Hospital
Dr. Hosneara Begum
MBBS, MD (Oncology)
Cancer Specialist
National Institute of Cancer Research & Hospital
Prof. Dr. Md. Mizanur Rahman
MBBS, FCPS (Surgery), Training in Surgical Oncology (Japan) & Colorectal Surgery (UK)
Surgical Oncology Specialist
National Institute of Cancer Research & Hospital
Dr. Minhaj Bhuiyan
MBBS, FCPS (Surgery), MRCS (Edin), MS (Surgical Oncology)
Surgical Oncologist
National Institute of Cancer Research & Hospital
Dr. Rowshon Ara Begum
MBBS, MPH, MPHIL, FCPS
Cancer Specialist
National Institute of Cancer Research & Hospital
Dr. Md. Jahangir Kabir
MBBS (DMC), FCPS (Surgery), MRCS (UK), MS (Surgical Oncology)
General, Laparoscopic & Cancer Surgeon
National Institute of Cancer Research & Hospital
Dr. Md. Mehbub Ahsan
MBBS, BCS (Health), MCPS, FCPS (Oncology)
Cancer Specialist
National Institute of Cancer Research & Hospital
Prof. Dr. A K M Hamidur Rahman
MBBS, DMRT, Fellow-IIA (Koria)
Cancer Specialist
National Institute of Cancer Research & Hospital
Dr. Mohammad Sahajadul Alam
MBBS (CMC), BCS (Health), FCPS (Surgery), MS (Surgical Oncology)
General & Cancer Surgery Specialist
National Institute of Cancer Research & Hospital
Dr. A.T.M. Kamrul Hasan
MBBS, BCS (Health), MD (Medical Oncology)
Medical Oncologist
National Institute of Cancer Research & Hospital
Dr. Kamruzzaman Rumman
MBBS, FCPS (Radiotherapy)
Cancer Specialist
National Institute of Cancer Research & Hospital
Dr. Ferdous Ara Begum
MBBS, DCH, MD (Oncology)
Cancer Specialist
National Institute of Cancer Research & Hospital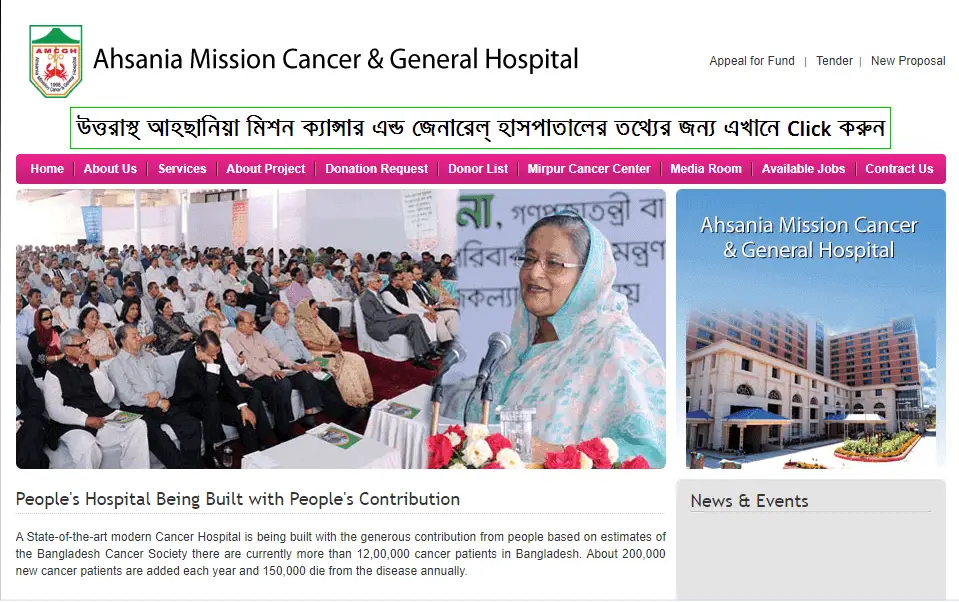 Address: House # 19, Road # 12 (New) Dhanmondi R/A, Dhaka-1209, Bangladesh
Phone: (880-2) 9127943, 58155869, 9123402, 9134919
Key Service
OPD
Radiation Oncology
Nuclear Medicine
General Surgery
Diagnostic Services
Accident and Emergency
Pharmacy
Medical Oncology
Radiology
Surgical Oncology
General Medicine
Cancer Screening & Early Detection
In Patient Services
Doctors List
Brig. Gen. Dr. Syed Fazle Rahim
Director & Consultant Orthopedics & Trauma
Prof. Haruner Rashid
Prof. K.S.Zaman
Dr. Md. Salim Reza
Dr. A.K.M Azizur Rahman
Dr. M. M. Moniruzzman
Col. Dr. M. Mozammel Huq
Dr. Md. Abdul Bari
Lt. Col. Dr. Sadullah
Dr. Ehtashamul Haque
Dr. Selina Perveen
Lt. Col. Nazneen Ara Khan
Dr. Ruksana Karim
Dr. Sultana Gulshana Banu
Dr. Major Sheikh Firoz Kabir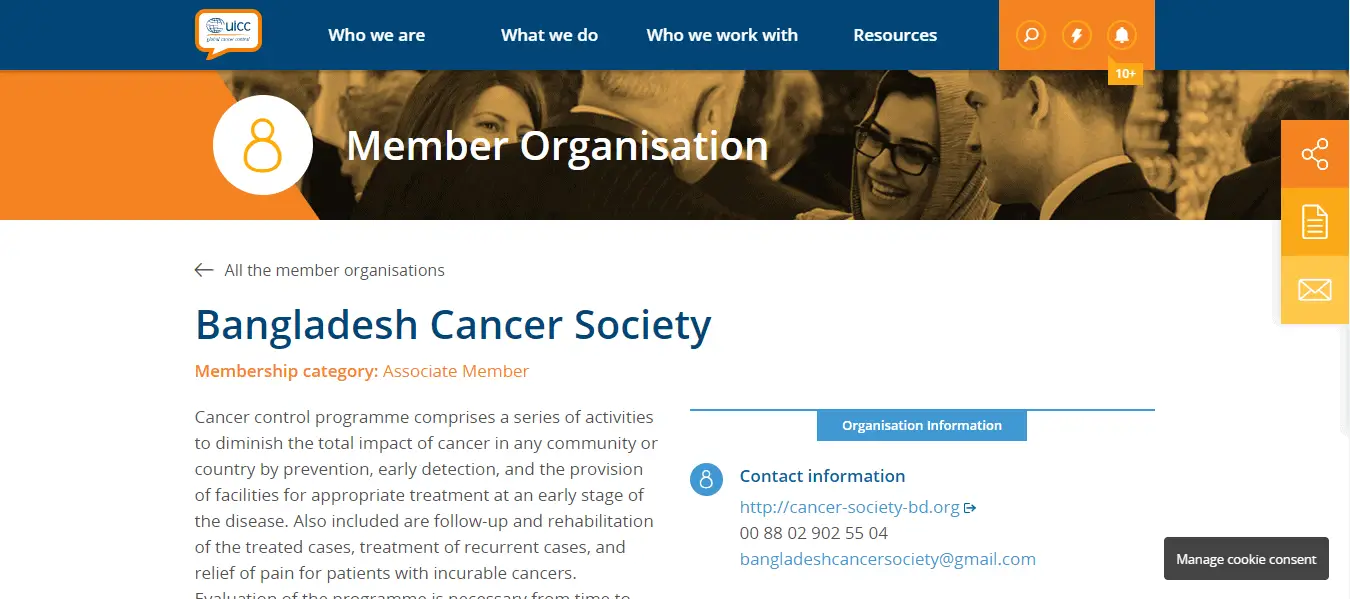 Address: 120/3-C, Mirpur, Dhaka District, Dhaka, 1216, Bangladesh
Phone: +880 1763-678870
Key Service
Radiation Oncology
Medical Oncology
Surgical Oncology
Gynecological Oncology
Hematology
Cancer Epidemiology
Radiology & Imaging
Genito-Urinary Oncology
Histopathology
Cytopathology
Paediatric Hematology & Oncology
Plastic & Reconstructive Surgery
Microbiology
Immunology& Molecular Biology
Blood Transfusion Medicine
Palliative care
Orthopedic Surgical Oncology
Anesthesiology
Physical Medicine & Rehabilitation
Doctors List
Dr. Arunangshu Das
Degree – MBBS, FCPS
Specialty – Associate Consultant – Oncology
Dr. Biswajit Bhattacharjee
MBBS, M. Phil (Radiotherapy)
Designation& Org: Consultant
Dr. Ranada Prasad Roy
MBBS, M.Phil( Radiotherapy)
Advanced training on Radiation Oncology, India.
Specialist in Radiation Oncology, Cancer & Tumour
Dr. Mohammad Zillur Rahman
MBBS (MMC), FCPS (Surgery)
Oncosurgeon & therapeutic Endoscopist
Assistant Professor, Dept. of Surgical Oncology
Dr. Md. Kamruzzaman
MBBS, FCPS (Radiotherapy)
Specialist in Radiation Oncology & cancer
Dr. Ishtiak Ahmed Shamim
MBBS, PhD (Japan)
Specialist in Cancer
Prof. Dr. Moarraf Hossen
MBBS, DMRT, FCPS, Fellowship Training (India)
Designation: Consultant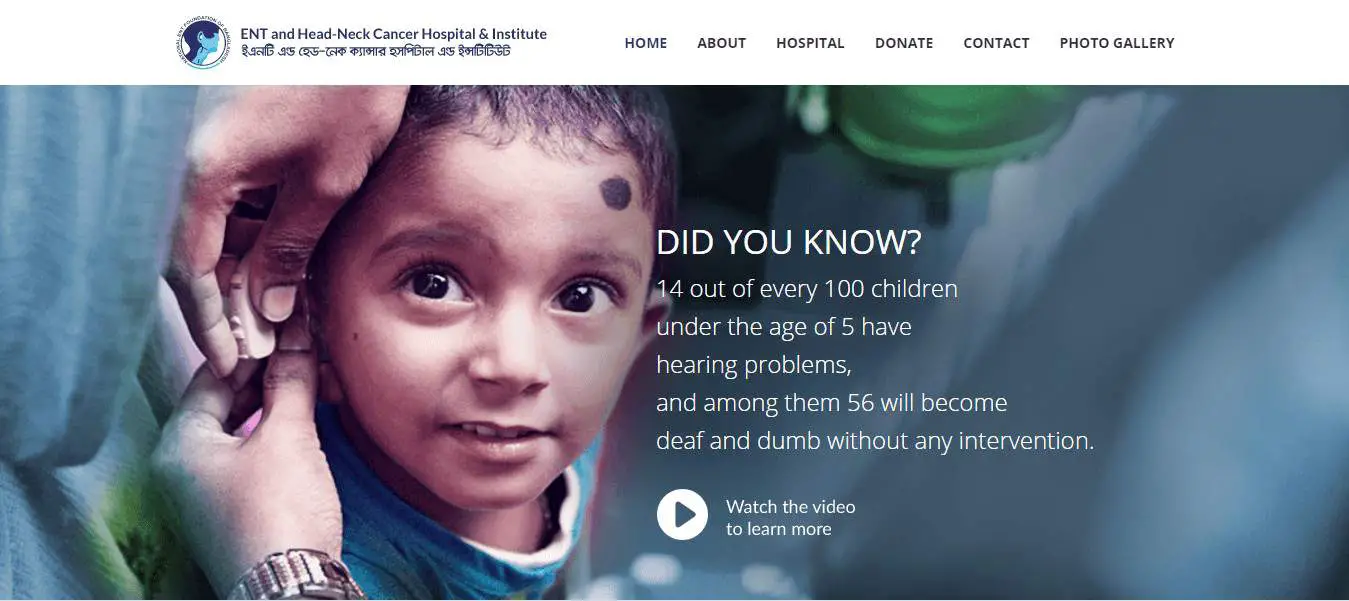 Address: Plot No.-F, 12 W Agargaon, Dhaka 1207, Bangladesh
Phone: +880 2-58151660
Key Service
ENT and Head Neck Surgery
Anaesthesia
Audiology
Speech and Voice Pathology
Pathology
Radiology
Naso Endoscop
Sinuscopy
Pharyngolaryngoscopy(FOL- Videolaryngoscopy
Otoendoscopy
Microscopy
OPD Small Procedures
Audiometry –Hearing assessment
Vestibulometry –vertigo, tinnitus assessment
Sleep Test for Baby
Pure tone audiometry
Auditory brainstem response (ABR) audiometry
Auditory Steady-State Response (ASSR)
Electrocochleography & Videonystagmography
Hearing Aid trial
Speech assessment
Voice analysis and therapy
Doctors List
Dr. Mohammad Asaduzzaman Rasel
MBBS, FCPS (ENT), FACS
Special interest in microear and endonasal endoscopic surgery
Dr. Ali Imam Ahsan
MBBS, FCPS (ENT), DOHNS (UK)
Specially trained in Microear Surgery
Interest in Endonasal Endoscopic Surgery
Dr. Md. Baha Uddin
MBBS, DLO(BSMMU), FCPS (ENT)
Special interest in Head Neck Surgery, Endoscopic nasal and ear surgery
Prof Kamrul Hassan Tarafder
MBBS, FCPS, FICS, FACS, FRCS
Ex-Chairman, Dept. of ENT, BSMMU, Shahbag, Dhaka
Ex-President, Society of Otolaryngologist and Head Neck Surgeons of Bangladesh
President, Society of Phonosurgeons of Bangladesh
Prof Md Abul Hasnat Joarder
MBBS, FCPS
Professor of ENT, BSMMU, Shahbag, Dhaka
Chairperson, Faculty of Otolaryngology, Bangladesh College of Physicians and Surgeons
President, Society of Otolaryngologist and Head Neck Surgeons of Bangladesh
President, Bangladesh Society of Otology
Prof Nasima Akhter
MBBS, DLO, FCPS,
Professor, Dept of ENT, BSMMU, Shahbag, Dhaka
Joint Secretary, The National ENT and Head Neck Cancer Foundation of Bangladesh
Prof Belayat Hossain Siddiquee
MBBS, FCPS, FICS
Professor and Chief, Head Neck Surgery Division, and Chairman Dept of ENT, BSMMU, Shahbag, Dhaka
President, Bangladesh Society of Head Neck Surgeons
Governing council member, Asian Society of Head Neck Oncology
Prof Abdul Allam Chowdhury
MBBS, MS, FCPS,
Professor, Dept of ENT, BSMMU, Shahbag, Dhaka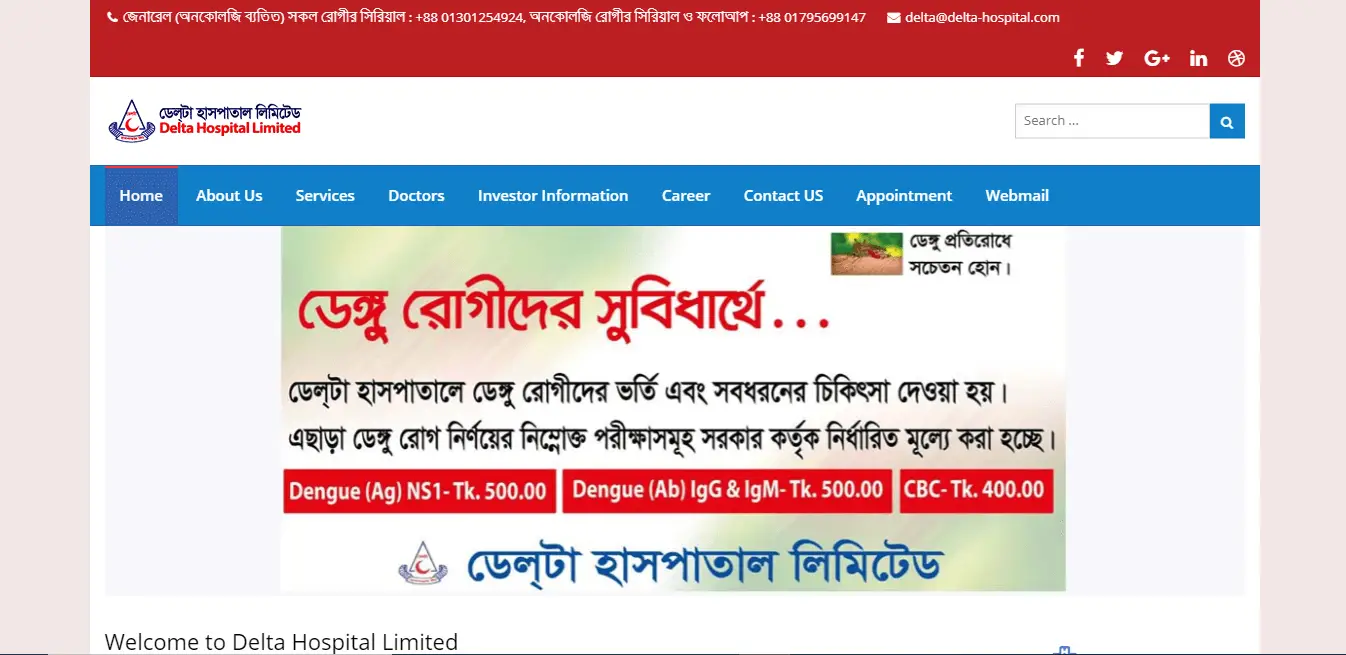 Address: 2 Tolarbag 1st Ln, Dhaka, Bangladesh
Phone: +880 2-9022410
Key Service
Outdoor medical treatment
Outdoor Patient (OPD) management
Indoor Patient (IPD) management
Cancer Detection and Management
Radiotherapy
Chemotherapy
Cancer Surgery
Cancer Counseling
Intensive care unit (ICU)
Palliative care unit (PCU)
Neonatal intensive care unit (NICU)
High-dependency unit (HDU)
24 Hours Emergency Medical Service
24 Hours Pharmacy Service
24 Hours Blood Bank Service
Radiology & Imaging
Physiotherapy
Painless normal delivery
Ambulance Service
Doctors List
Dr. Parvin Akhter Banu
MBBS, Board Certified in Radiation Oncology (Shiraz, Iran)
Ex. Asst. Professor Ahvaz Medical University, Iran
Chief Consultant
Department of Oncology
Dr.(Lt.Col.)M.S. Sarwar Alam(Rtd.)
MBBS, DMRT, FCPS
Clinical Oncologist
Senior Consultant
Department of Oncology
Prof. Dr. Kazi Manzur Kader
MBBS, DMRT, MSC, FACP, FRCP (Glasgow)
Fellowship-Radiation Oncology (IAEA, Tata Memorial Hospital, Mumbai)
Former Professor & Head, Department of Radiation Oncology
National Institute of Cancer Research & Hospital, Dhaka
Senior Consultant & Head
Department of Oncology
Dr. Md. Rezaul Sharif
MBBS (Dhaka), M.Phil (Radiotherapy)
Trained in Tata Memorial Hospital, Mumbai, India
Senior Consultant
Department of Oncology
Dr. Naheed Rukhsana
MBBS (Dhaka), FCPS (Radiotherapy)
Senior Consultant
Department of Oncology
Prof. Dr. Brig Gen. Rokeya Khan
MBBS, MCPS, DGO, FCPS
Fello Gynae Oncology Surgery
Laparoscopy Surgery, CMH, Dhaka
Department Head Obs. & Gynae, Armforced Medical College
Department Head Obs. & Gynae, Kumitola General Hospital Dhaka
Consultant
Department of Gayne Oncology
Prof. Dr. Jannatul Ferdous
MBBS (DMC), FCPS (Obs & Gynae), FCPS (Gynaecological Oncology)
Post Fellowship Training, Harvard Medical School, USA
Bangabandhu Sheikh Mujib Medical University
Senior Visiting Consultant, Gynae Oncology
Senior Visiting Consultant
Department of Gayne Oncology
Dr. Setabur Rahman
MBBS, MS(Surgery)
Consultant
Department of Surgical Oncology
Dr. Tangera Akter
MBBS,MS (Surgical Oncology)
Cancer Surgery Specialist
Jr. Consultant
Department of Surgical Oncology