Last Updated on May 17, 2023 by Aminul Haque Shahin
Bangladesh is a developing country but the IT sector of Bangladesh is a "thrust sector" as it represents the potential for industry growth and this sector also has effective effects on other sectors. There is rapid growth in the IT sector of Bangladesh thanks to the IT institutes that are providing world-class training on various topics.
Some of the best IT institutes of Bangladesh are UY Lab, NShamimPRO, Creative IT Institute, BASIS Institute of Technology & Management (BITM), Daffodil International Professional Training Institute (DIPTI), CodersTrust, SoftTech-IT, DUSRA Soft, SoftNetBD, Prime IT and One Direction Institute.
List Of Best IT Institute In Bangladesh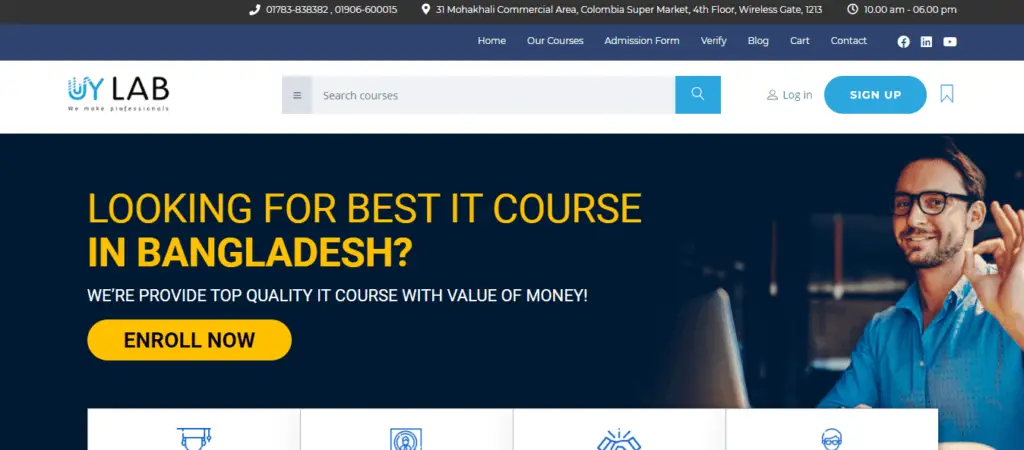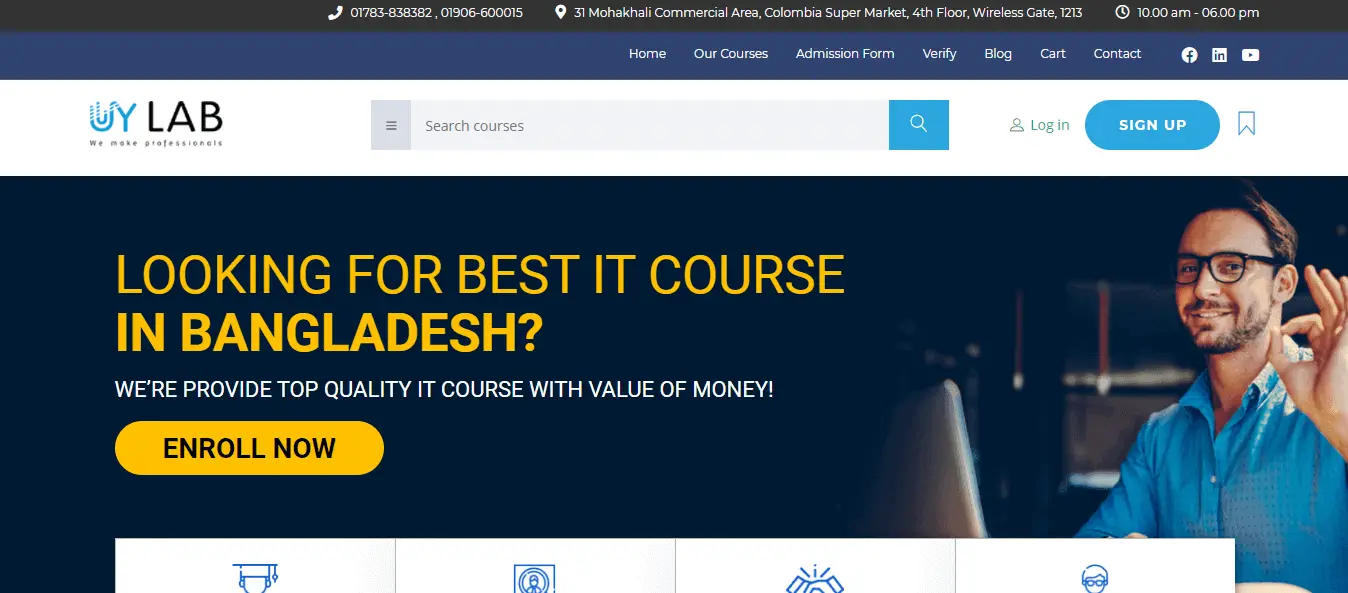 UY LAB is a very popular and one of the leading IT institutes of Bangladesh. Since its establishment, UY Lab has been providing world-class training to create skilled and professionally committed IT, experts, to contribute to the development of Bangladesh's IT industry. UY lab has a team of skilled and experienced trainers who ensure each student gets the best training and help them to prove themselves as qualified professionals in the competitive corporate world.
Contact Information
Address: 31 Commercial Area, 4th Floor Colombia Super Market, Wireless Gate (Beside Titumir College), Banani, Dhaka – 1213
Phone: +88 01777 753 399, +88 01783 838 382
List Of Courses
Graphics Design
Digital Marketing
Web Design & Development
Search Engine Optimization
Affiliate Marketing
Video Editing
3D Animation
UI/UX Design
Web Application Development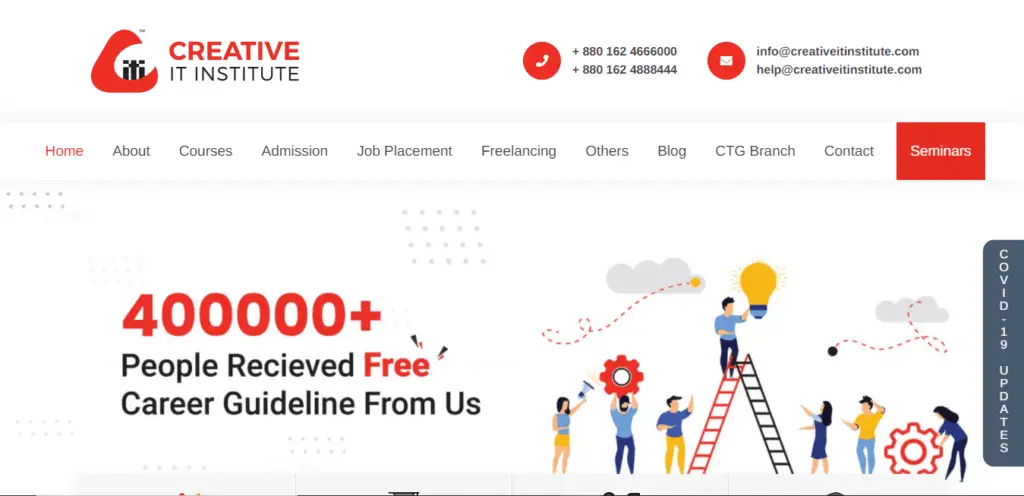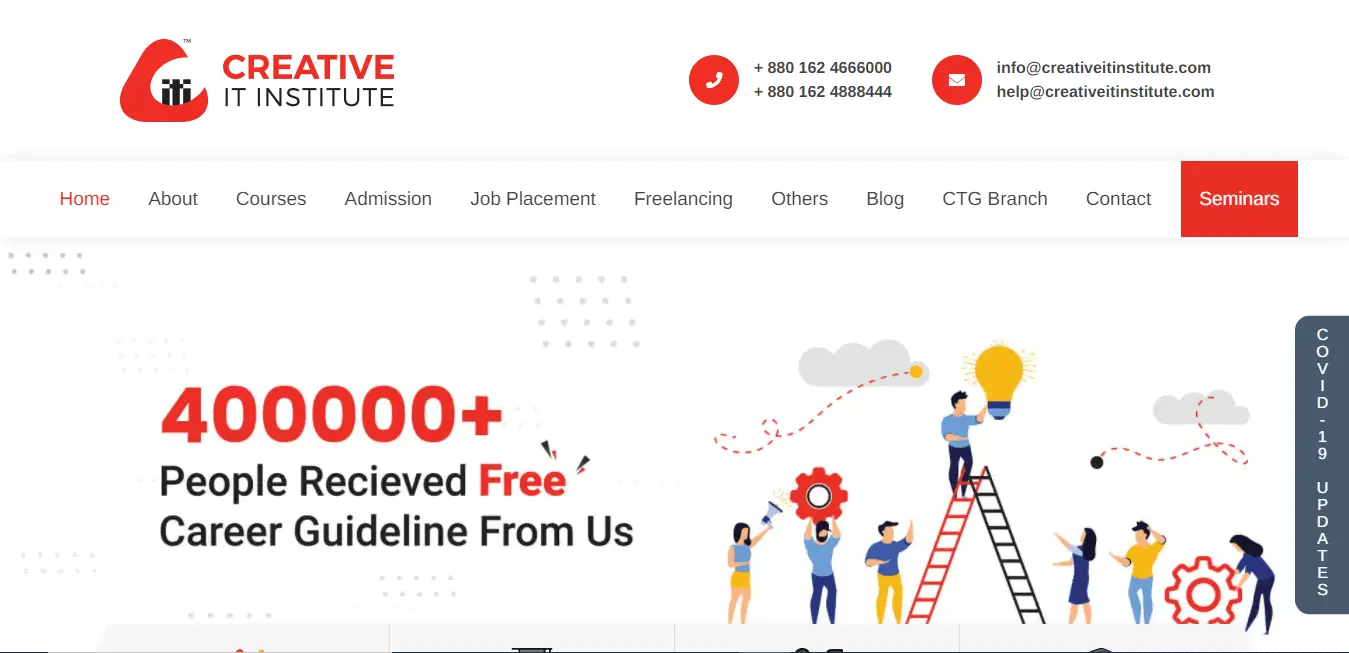 This is a very renowned and one of the top-rated freelancing training institutes of Bangladesh. The main mission of Creative IT is to empower the community by ensuring an excellent standard of learning which strengthens the belief of the learners. Creative IT Institute has a total of 7 computer labs and 5 theory classrooms. They also have more than 100 skilled and experienced trainers who nurture the young talent by sharing knowledge, providing supports in learning techniques, co-operating them for international standard projects.      
Contact Information
Address: Momtaz Plaza, #4th Floor, House#7, Road#4, Dhanmondi, Dhaka-1205
Phone: +880 1624 666 000, +880 1624 888 444
List of Courses
Graphics Design
Web Design & Development
SEO
Affiliate Marketing
Video Editing
3D Animation
Motion Graphics
Game Development
App Development
UI/UX Design
Web Application Development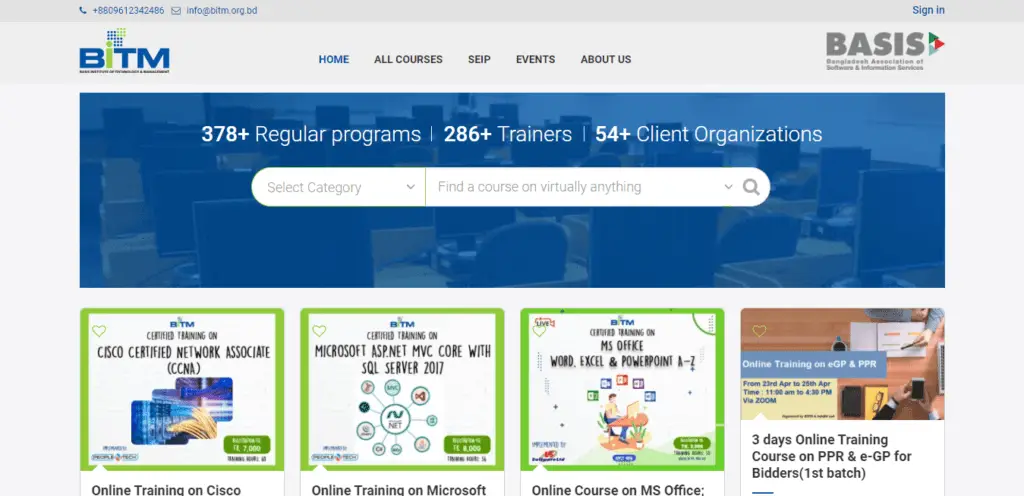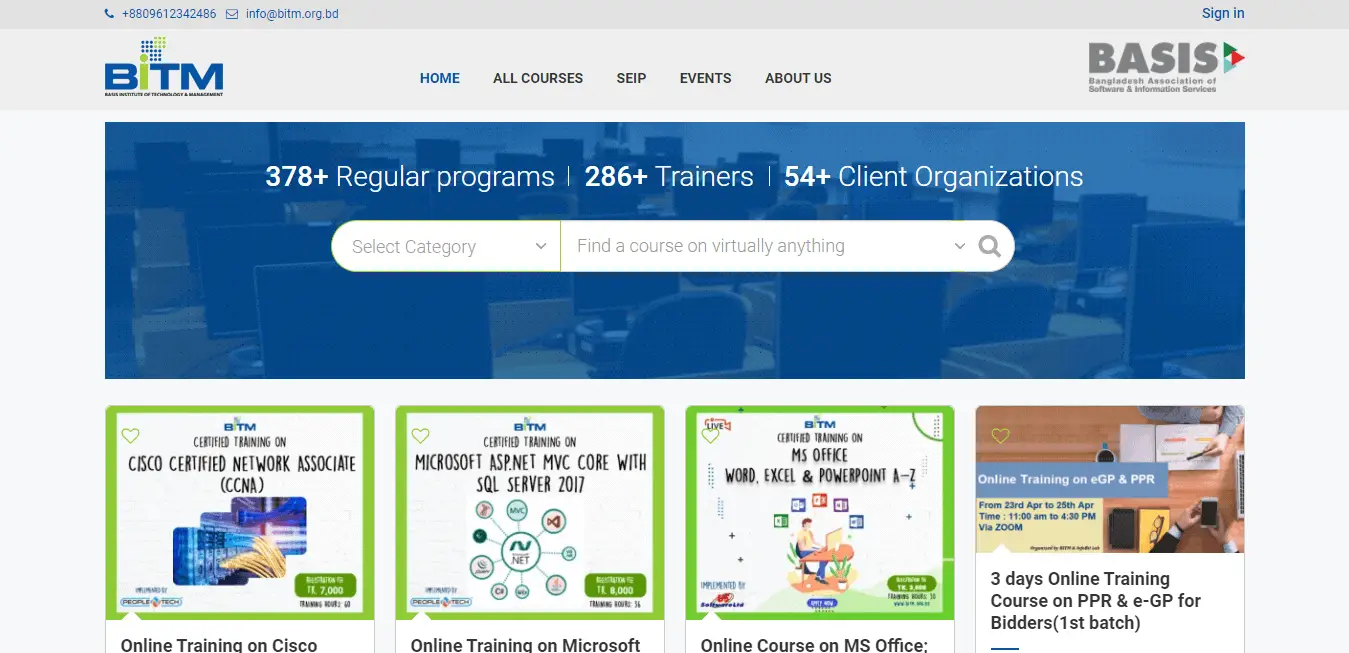 BITM was set up by BASIS in 2012 to address the skill gap in the IT sector of Bangladesh. BASIS set up BITM with the help of the World Bank. The vision of BITM is to become a world-class IT institute in Bangladesh to enhance the competitiveness of the IT Sector in Bangladesh. There are over 200 world-class trainers who provide the highest-quality training to create skillful IT professionals.     
Contact Information
Address: BDBL Bhaban (3rd Floor – East), 12 Kawran Bazar, Dhaka -1215
Phone: +8809612342486 Ext: 209-211
List of Courses
Web Development
Mobile App Development
Game Development
Programming Language
Software Testing
Database
Network & Security
Design
Marketing
Management
Software Architecture
Data Science
Internet of Things (IoT)
Telecom Network
Software Development
Front end Development
Teaching methods and Strategies
Personal Development
Business
Graphics Design
Digital Marketing
Mastering in Magento
Cisco Certified Network Associate (CCNA)
SEO 
Affiliate Marketing
Video Editing
3D Animation
UI/UX Design
Daffodil International Professional Training Institute provides a very wide range of job-oriented and professional development training for both skilled and unskilled people of Bangladesh. Bangladesh has a huge workforce and the main mission of DIPTI is to offer the opportunity to this workforce so that they can expand and enhance their IT skills. It's the target of this IT training institute to become the number one choice for job-oriented training in Bangladesh.
Contact Information
Address: 64/6, Lake Circus, Panthapath (Russell Square), Kalabagan, Dhaka-1205  
Phone: 02-48117399, 02-48110019, 01713-493267, 01713-493233
List of Courses
Diploma in Interior Design
Diploma in 3D Animation and Visual F/X
Diploma in Architectural Visualization
Diploma in Graphics Design
Diploma in WordPress Theme Development
Diploma in Hardware & Network Engineering
Diploma in Software Engineering
Diploma in Web & E-Commerce
Diploma in Digital Marketing
Advance Certificate in Hardware & Networking
Android Apps Development using JAVA
Certified Professional Outsourcing
CISCO – CCNA (200-120)
CompTIA Network+
Enterprise Software Development using JAVA (Spring Framework)
Linux with Server Administration
Network + Certification
Responsive Web Design
SEO & Amazon Affiliate Marketing
Google Apps (G Suite) for Work
Autodesk 3ds MAX (Modeling)
ASP.net (with C#)
Certificate in Web & e-Commerce
Creative Graphic Design
Advance Certificate in Multimedia
Autodesk AutoCAD
Autodesk MAYA (Animation)
Interior Design
Professional Web Development
Tourism and Hospitality Management
Software Development using Python (Django Framework)
Digital Marketing with Freelancing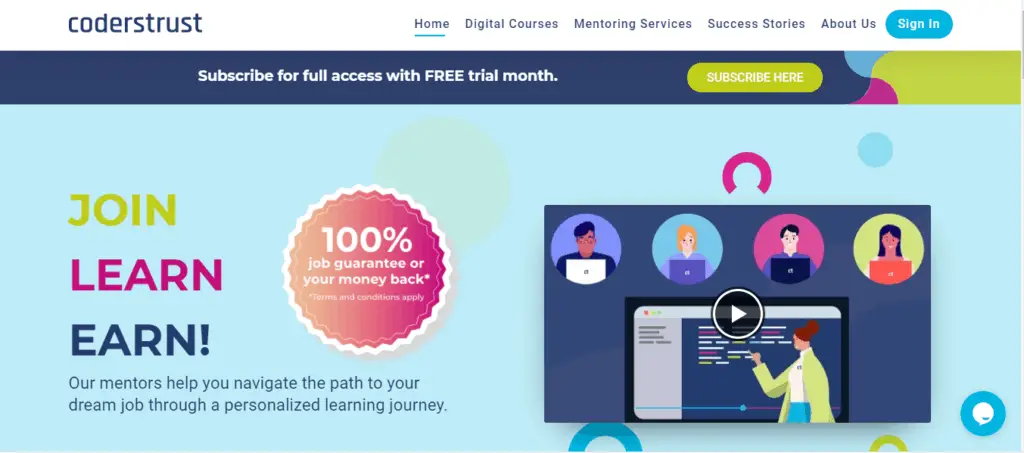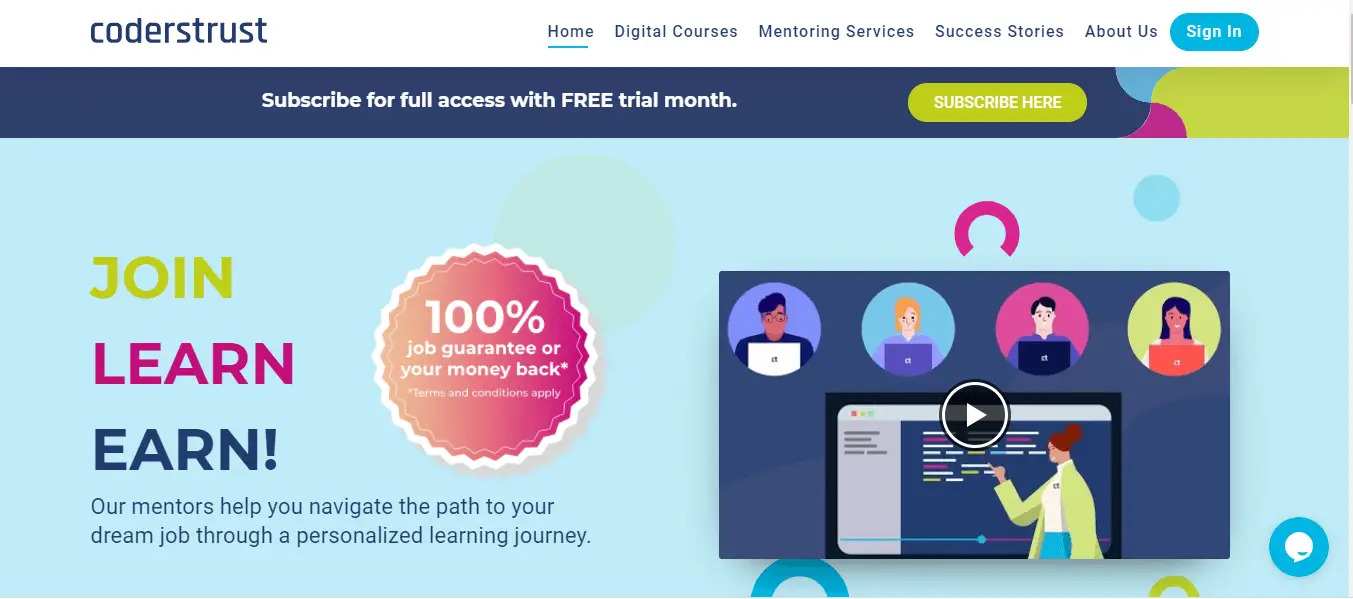 More than 12,000 students have graduated with Coderstrust and it indicates the quality of their training programs. Coderstrust was founded in 2014 and since the establishment, it was their main target to provide affordable, mentored, online education for all. They have various courses from basic to advanced level learning and conducted by mentors with over 2,000 hours of experience in Digital freelancing.
Contact Information
Address: House: 82, #Road: 19/A, #Block: E, Dhaka 1213, Bangladesh
Phone: +880 1864 732 805, +880 1835 518 396    
List of Courses
Complete WordPress Course for Beginners
Web Development for beginners
Personal Branding
Advanced Photoshop
Complete Guide to Online Course Creation
Advanced Python
Logo Design Masterclass
Intro to JavaScript
Intro to Copywriting
Complete Guide to Facebook Ads Manager
Illustrator Essentials
Premiere Pro for Beginners
Photoshop Essentials
Complete Freelancing Course
Digital Literacy
English for Business
Customer Care Essentials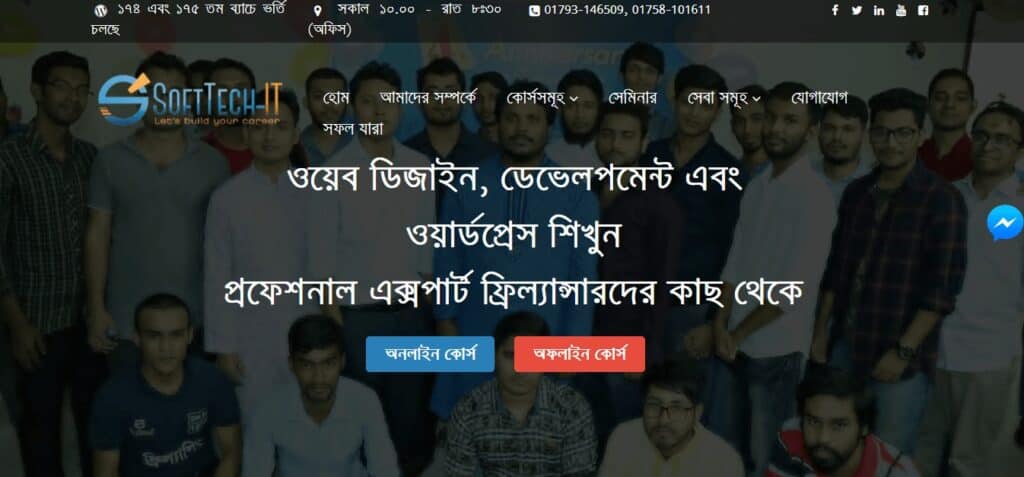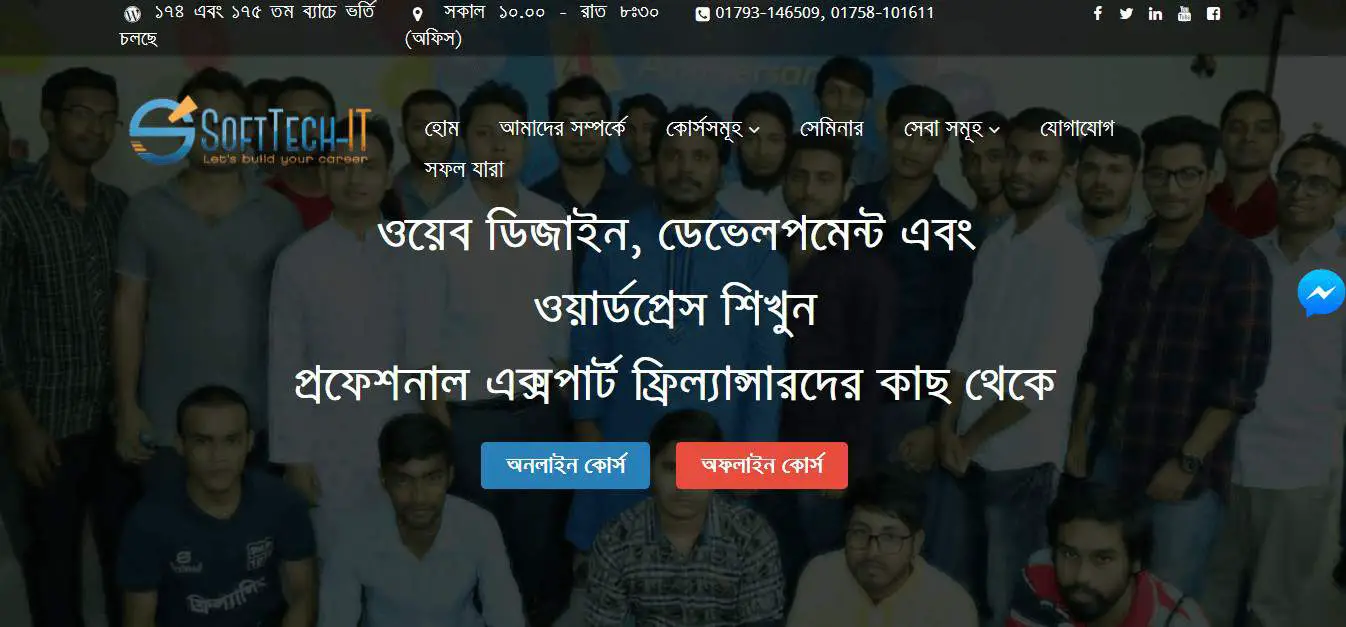 Softtech IT Institute is a subsidiary of Softtech IT. It is a very popular IT training institute in Bangladesh. If you want to build your freelancing career as a professional web design and developer then this IT institute will be the best option for you. The duration of all the courses in SoftTech-IT is 4 months with one month of practical work. The main aim of this IT institute is to build the largest freelancers community in Bangladesh by making every student a successful freelancer.
Contact Information
Address: House No: 4 (Amin Tower), Level: 6, Road: 1 / A, Sector: 9, North Side Of Muscat Plaza, With Falguni Restaurant, Uttara, Dhaka-1230
Phone: 01793-147509, 01757-101711
List Of Courses
Professional Creative Graphics Design
Advanced WordPress Development
WordPress Online Course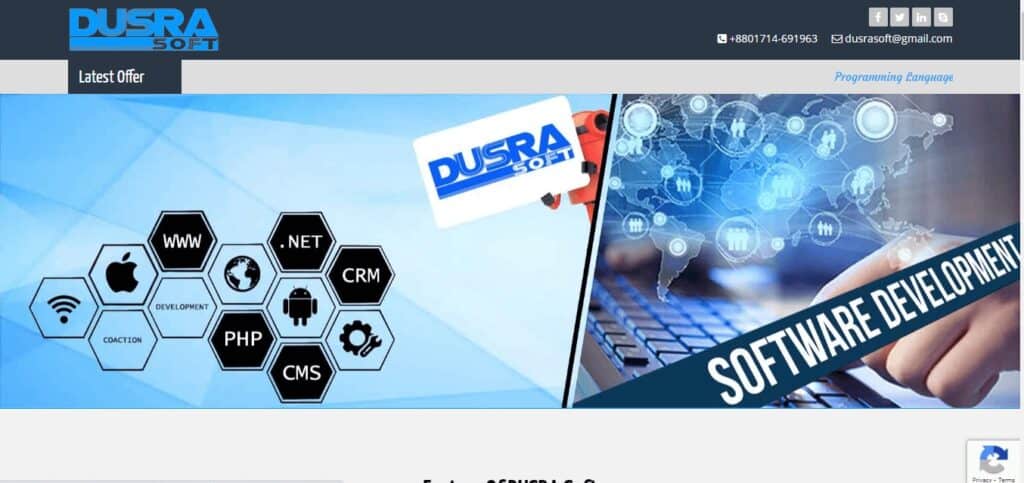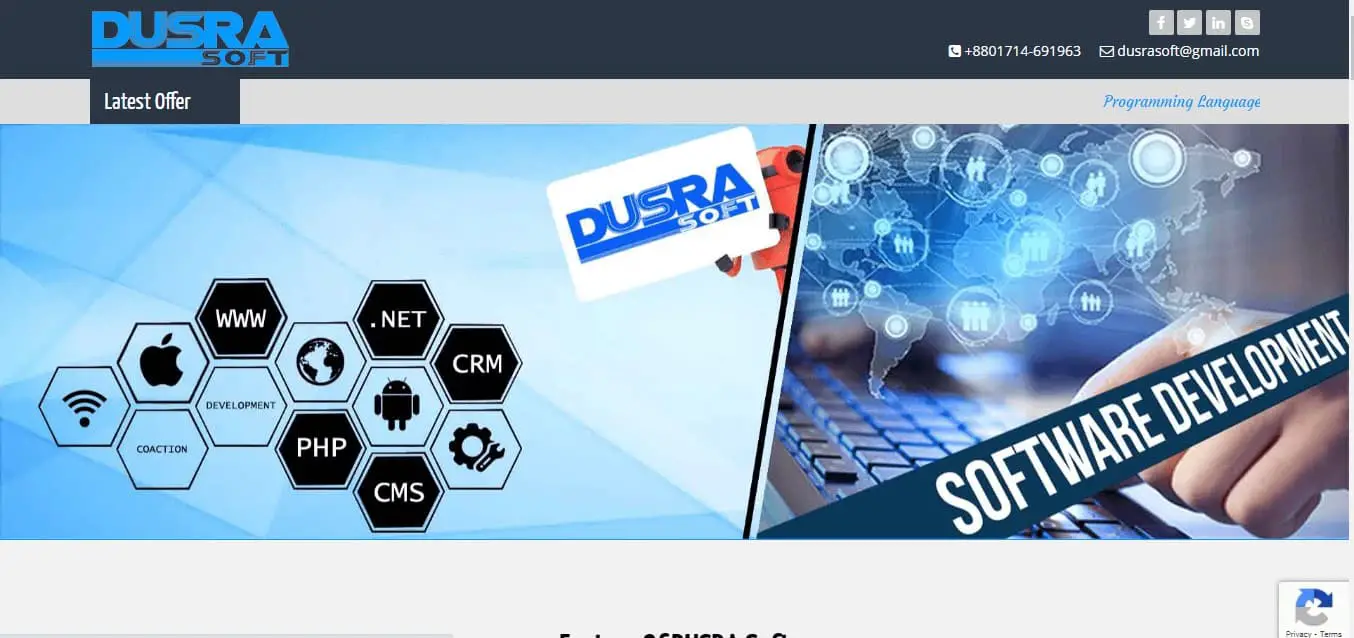 DUSRA Soft offers specialized freelance training & industrial attachment for both professional and non-profession people. They have an in-house team of skilled and experienced trainers who are determined to provide world-class training. Established in 2011, DUSRA Soft has become a leading IT institute in Bangladesh thanks to their professional digital art designers, web designers, web developers, and programmers.
Contact Information
Address: House #79 (3rd floor/Building No #01), Road #12/A (Near Abahony Field), Dhanmondi, Dhaka-1209
Phone: +88 01714-691963, +88 01922-170672
List of Courses
Freelancing & Outsourcing
Responsive Web Design
Web Design & Development With CMS
WordPress Theme Development & Plugin Customize
E-Commerce Development Training
Web Application Development With PHP Framework
Web Application Development With ASP.NET
Android Mobile Apps Development
SEO (Search Engine Optimization)
Advanced SEO course with CMS
Digital Marketing Training
Graphics Design with Freelancing
Auto CAD 2D 3D
Auto CAD Design with 3D studio Max
Microsoft Office Management
Programing Language With C, C++, Java
Advanced Python Programming Training
CCNA Networking Training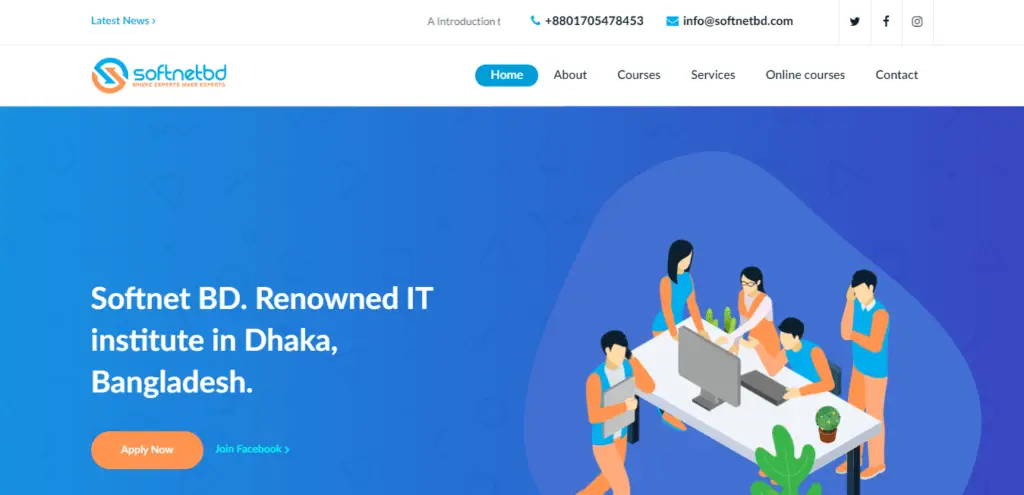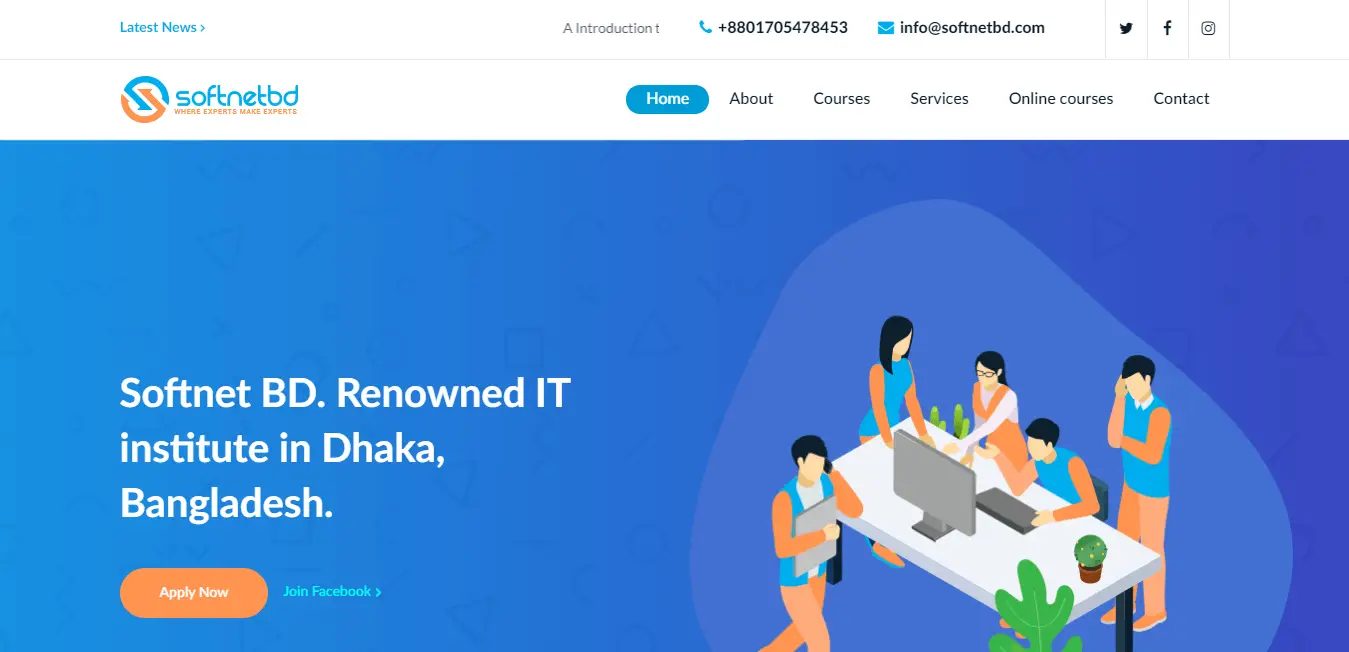 Founded in 2013, SoftNetBD is a very renowned and popular IT institute in Bangladesh. This IT institute is mostly famous for its CPA Marketing course and if you are wondering how you can learn CPA Marketing then SoftNetBD is the right solution for you. SoftNetBD not only offers training programs; they also offer comprehensive services including SEO service, digital marketing service, domain/hosting service, etc.
Contact Information
Address 1: Softnet BD(2nd Floor) 69/M, Panthapath Dhaka 1205.
Address 2: Softnet BD(3rd Floor), House-05, Road-11, Sector-01, Jashimuddin Road, Uttara – 1230.
Phone: +880 1966 638 663, +880 1799 089 671
List of Courses
Graphics Design
Digital Marketing
CPA
AutoCAD Design
SEO
Affiliate Marketing
Apps Development
YouTube Marketing & Adsense
Web Design & Development
WordPress & Theme Development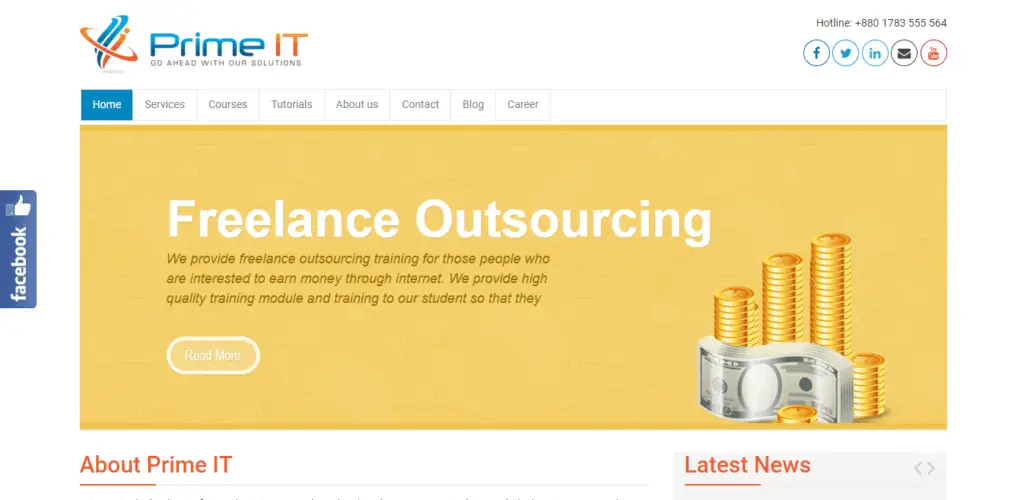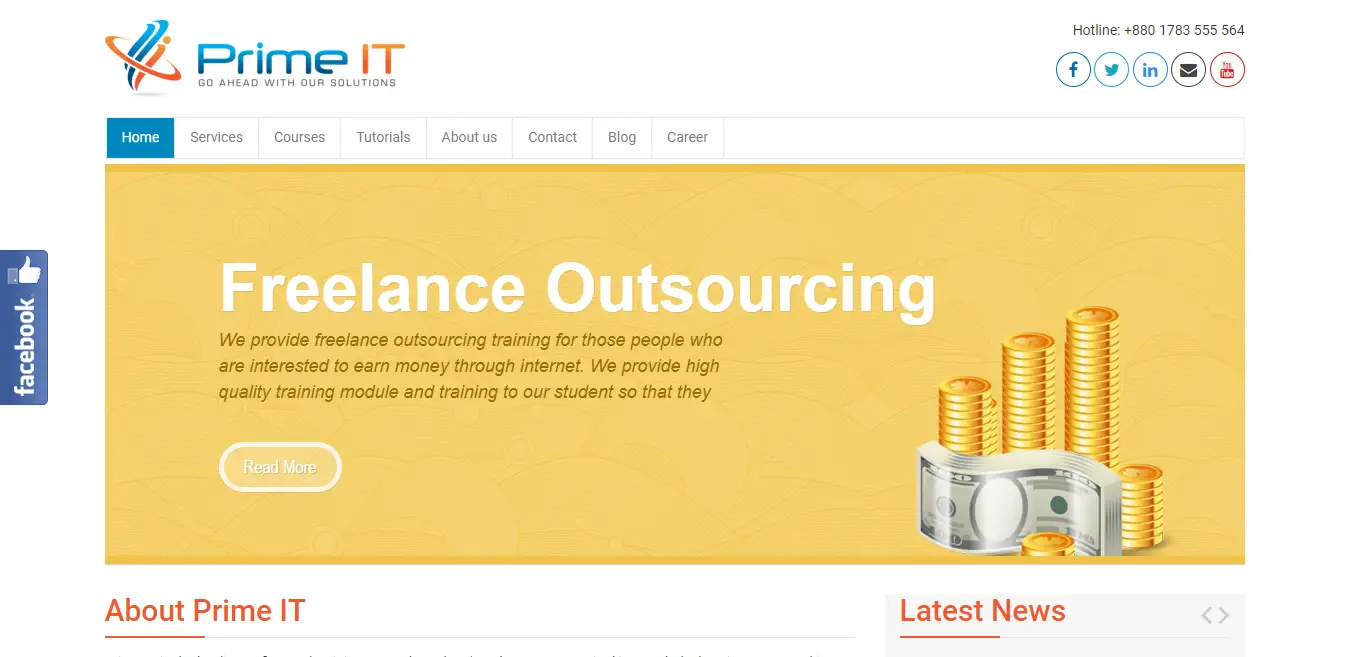 This is a leading IT firm and IT training institute in Bangladesh. Prime IT started its journey in 2011 and now it has become a pioneer in 'Freelance Outsourcing' in Bangladesh. They deal with all types of freelance outsourcing activities including IT-enabled training and services like graphic design, web design & development, hardware & networking, digital marketing, etc.
Contact Information
Address: 3/7 Nagar Siddiqui Plaza, Jhonson Road, Dhaka-1100 (Opposite of Jagannath University)
Phone: +880 1783 555 564, +880 1911 197292
List Of Courses
Advanced Email Marketing
Advanced YouTube Marketing
Advanced Office Applications
Advanced SEO & SMM
Advanced Web Design
Basic Office Applications
Basic WordPress Development
Blogging and Affiliate Marketing
CPA Marketing
Professional Graphic Design
Web Content / Article Writing
Web Development Course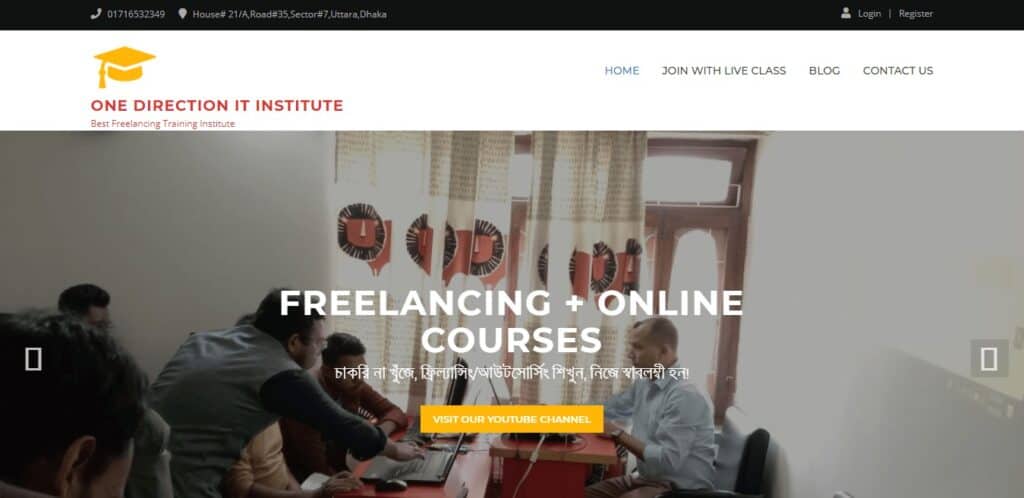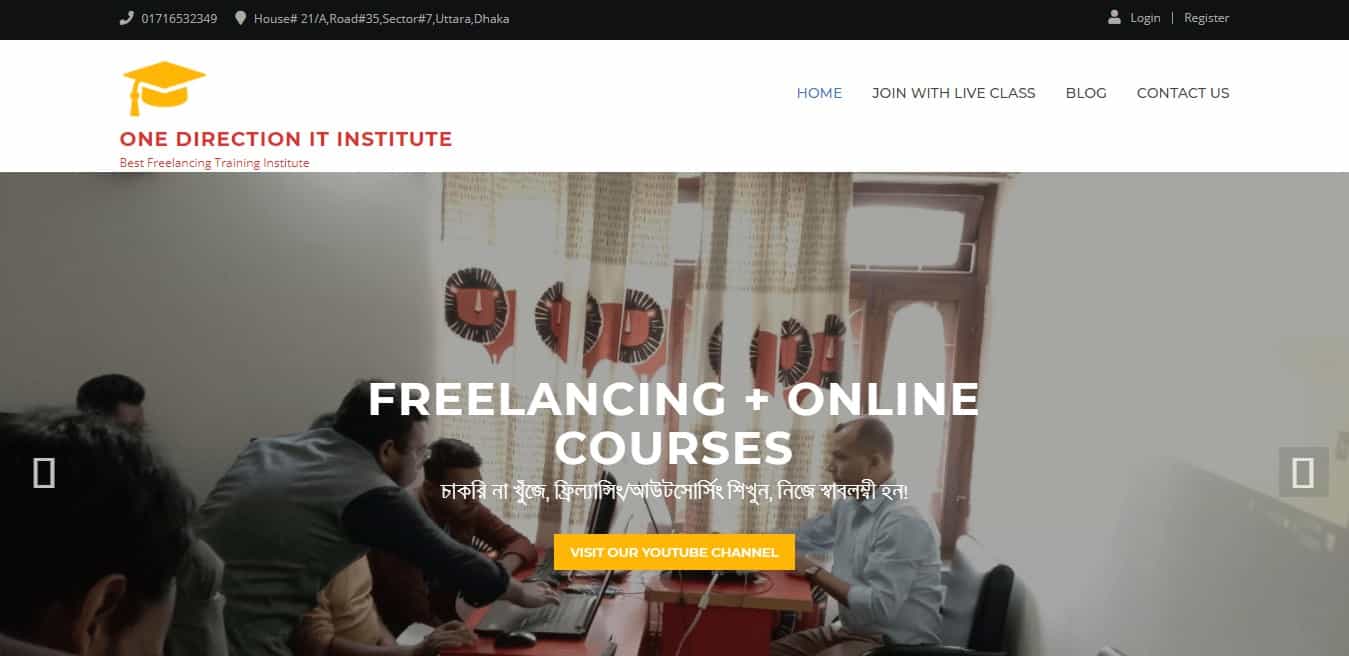 Since 2012, One Direction Institute has been working with great confidence to make outsourcing a competitive field in the global market to make it a future career for Bangladesh's young generation. One Direction Institute is one of the top organizations that are making the utmost efforts to spread the future potential and positivity of freelancing/outsourcing across the country through their world-class courses.
Contact Information
Address: House# 21/A, Road# 35, Sector# 07, House Building, Uttara, Dhaka
Phone: 01716532349, 01911929364 
List Of Courses
Professional Digital Marketing & Freelancing.
Professional Hardware and networking
The Complete Cyber Security Course
Professional Web design and development
Professional Graphics Design
CPA Marketing
Professional Auto Cad
MS Office Application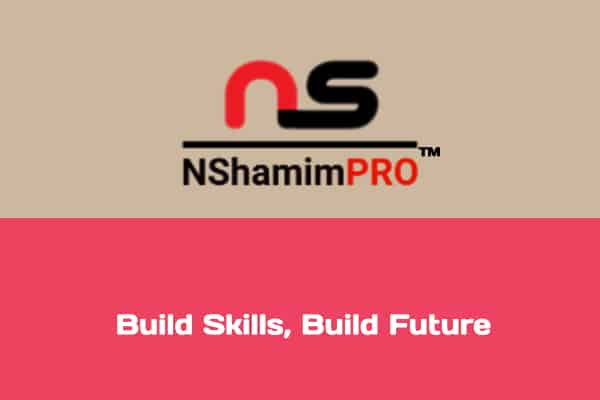 The NShamimPRO aka the best SEO course in Bangladesh is an informative, hands-on program with a focus on the latest practices and strategies for dominating online rankings.
The course includes lectures, tutorials, videos and assignments. The instructor is a leading SEO expert who has conducted workshops for DevsTeam, LateNightBirds and 25+ high traffic sites to test and run SEO experiments.
Contact Information
Phone: 01913979040
Email: [email protected]
Facebook: NShamimPRO Page & Facebook Group