Last Updated on April 28, 2021 by Adnan Musa
In Bangladesh, every year approximately 7,660 women die from various causes related to pregnancy and childbirth. So when a woman is about to give birth to a baby you should take her to a hospital. Picking a maternity hospital in Bangladesh can be very difficult because there are so many factors to consider like cost, location, and quality of treatment, etc.
There are few maternity hospitals available in Bangladesh. Among them some of the best maternity hospitals are Maternal and Child Health Training Institute, Institute of Child and Mother Health, OGSB Maternity Hospital, Mohammadpur Fertility Services & Training Centre, Marie Stopes Premium Maternity Clinic, Dhanmondi, B.A.V.S Maternity Hospital, etc. 
List Of Best Maternity Hospitals In Bangladesh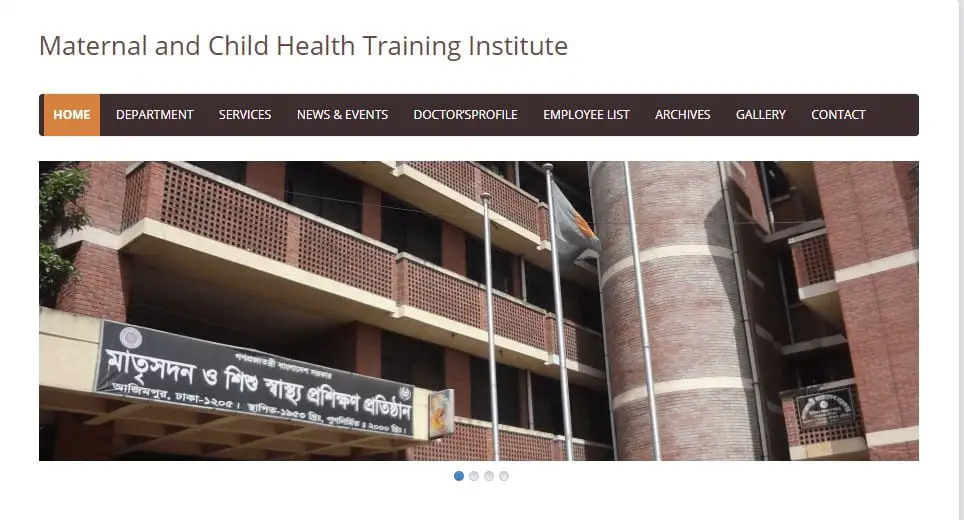 Address: Azimpur Rd, Dhaka 1205, Bangladesh
Phone: +880 2-58610045
Key Facilities
Child asthma center
Centre for detection of heart disease
Audiometry unit
Physiotherapy unit
Saleh Child Development
ORT Corner
EPI Corner
Ante Natal Care
Skilled Birth Attendance at delivery
Institutional Delivery
Functional referral system
MMR
Doctors List
Dr.Nadira Afroz
MBBS,DCH,FCPS
Jr. Consultant, Pediatrics
Maternal and Child Health Training Institute ( MCHTI )
Dr.Nazia Ahmed
MBBS,FCPS(OBS)
Jr. Consultant, OBS & Gynae
Maternal and Child Health Training Institute ( MCHTI )
Dr.Kohinoor Akhter Khanam
MBBS, MPH, M.Phil (PSM)
MO (MCH-FP), Pediatrics
Maternal and Child Health Training Institute ( MCHTI )
Dr.Salma Akter
MBBS
Medical Officer, OBS & Gynae
Maternal and Child Health Training Institute ( MCHTI )
Dr. Mahmuda Akter
MBBS, DGO, MPH (RCH)
Medical Officer, OBS & Gynae
Maternal and Child Health Training Institute ( MCHTI )
Dr.Shahin Akter
MBBS
Medical Officer, OBS & Gynae
Maternal and Child Health Training Institute ( MCHTI )
Dr. Shaida Akter
MBBS, DGO,FCPS
Medical Officer, OBS & Gynae
Maternal and Child Health Training Institute ( MCHTI )
Dr.Shamim Akthar
MBBS
Medical Officer, Pediatrics
Maternal and Child Health Training Institute ( MCHTI )
Dr.Md.Mohsin Alam
Medical Officer, Anesthesia
Maternal and Child Health Training Institute ( MCHTI )
Dr.Robeyat Ara Lubna
MBBS
Medical Officer, Pediatrics
Maternal and Child Health Training Institute ( MCHTI )
Dr.Mst.Nasima Begum
MBBS, DGO, FCPS (OBGY)
Jr. Consultant, OBS & Gynae
Maternal and Child Health Training Institute ( MCHTI )
Dr.Selina Begum
MBBS, MCPH, DGO
Assistant Surgeon, OBS & Gynae
Maternal and Child Health Training Institute ( MCHTI )
Dr. Nasrin Begum
MBBS,DGO
Medical Officer, OBS & Gynae
Maternal and Child Health Training Institute ( MCHTI )
Dr.Begum Mafuza Dilara Akter
MBBS
Medical Officer, Pediatrics
Maternal and Child Health Training Institute ( MCHTI )
Dr. Sultana Ferdous
MBBS
Medical Officer, Pathology
Maternal and Child Health Training Institute ( MCHTI )
Dr. Md. Rashidul Haque
MBBS,DA,M.D.
Junior Consultant, Anesthesia
Maternal and Child Health Training Institute ( MCHTI )
Dr.Samsul Haque
MBBS
Medical Officer, Pediatrics
Maternal and Child Health Training Institute ( MCHTI )
Dr.Md.Quamrul Hasan
MBBS
Medical Officer, Anesthesia
Maternal and Child Health Training Institute ( MCHTI )
Dr.Rowshan Hosne Jahan
MBBS, DGO, FCPS (OBGY)
Sr. Consultant, OBS & Gynae
Maternal and Child Health Training Institute ( MCHTI )
Dr. Md. Amir Hossain
MBBS,DCH
Sr. Consultant, Pediatrics
Maternal and Child Health Training Institute ( MCHTI )
Dr. Md. Lutful Kabir Khan
MBBS, DA
Assistant Co-Ordinator, Training Unit
Maternal and Child Health Training Institute ( MCHTI )
Dr. Nazma Kamal
MBBS, MPH (CM)
Medical Officer, Blood Transfusion
Maternal and Child Health Training Institute ( MCHTI )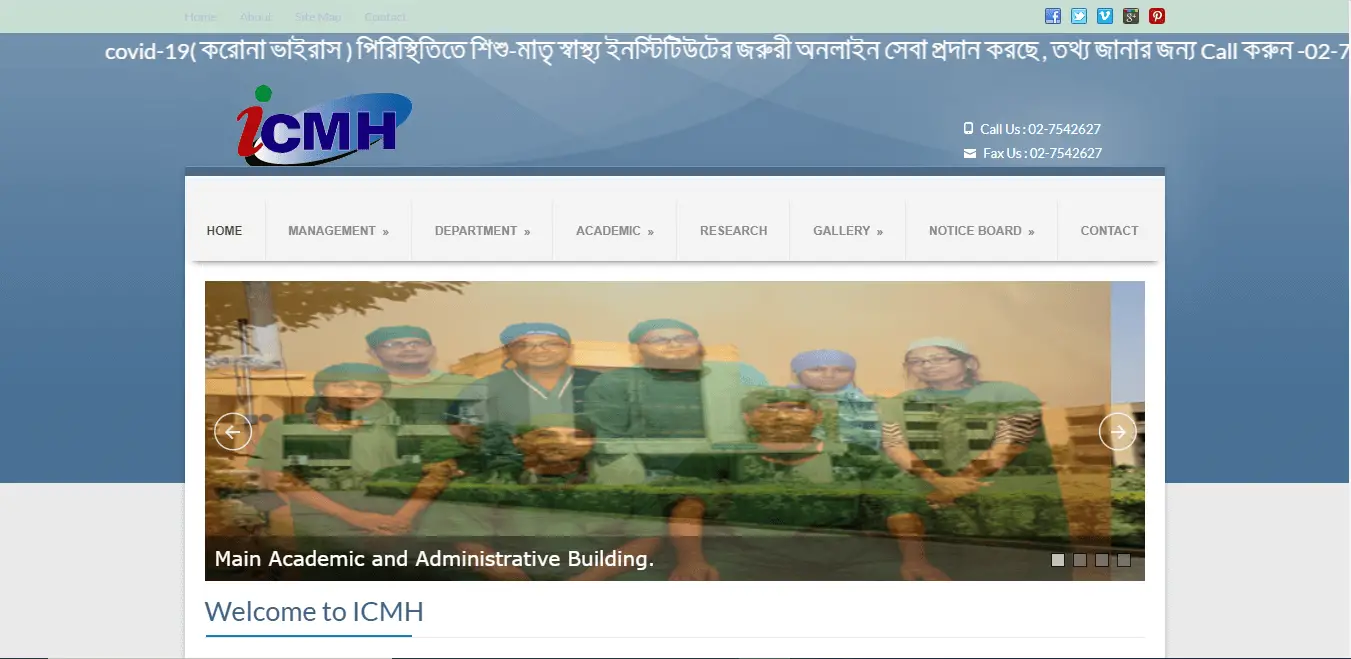 Address: Medical Rd, Kadamtoli 1362, Bangladesh
Phone: 02-7542627
Key Facilities
Ante Natal Care
Skilled Birth Attendance at delivery
Institutional Delivery
Functional referral system
MMR
Child asthma centre
Centre for detection of heart disease
Audiometry unit
Physiotherapy unit
Saleh Child Development
ORT Corner
EPI Corner
Doctors List
Professor Dr. Begum Hosne Ara
Professor and Head
Department of Obstetrics and Gynaecology
Dr. Nahid Yasmin
Associate Professor
Department of Obstetrics and Gynaecology
Dr. Hashina Banu
Associate Professor
Department of Obstetrics and Gynaecology
Dr. Farida Yasmin
Associate Professor
Department of Obstetrics and Gynaecology
Dr. Dilruba Akter
Associate Professor
Department of Obstetrics and Gynaecology
Dr. F.M Anamul Haque
Assistant Professor
Department of Obstetrics and Gynaecology
Laparoscopy & Fertility Specialist
Dr. MD. Jahangir Chowdhury
FCPS, MD (Paediatrics)
Associate Professor of Pediatrics
Dr. Wahida Khanam
DCH, FCPS (Paediatrics), MPH (Epidemiology)
Associate Professor of Pediatrics(cc)
Dr. Tariq Hassan
FCPS (Pediatrics);
DCH (Pediatric Gastroenterology), Uk
Assistant Professor of Pediatrics
Dr. Shahidul Haque
FCPS (Pediatrics)
Assistant Professor,
Dr. MD. Delwar Hossain
FCPS (Pediatrics)
Assistant Professor of Pediatrics
Dr. Rubiya Parvin
FCPS, MD (Pediatrics); MD (Neonatology)
Assistant Professor of Pediatrics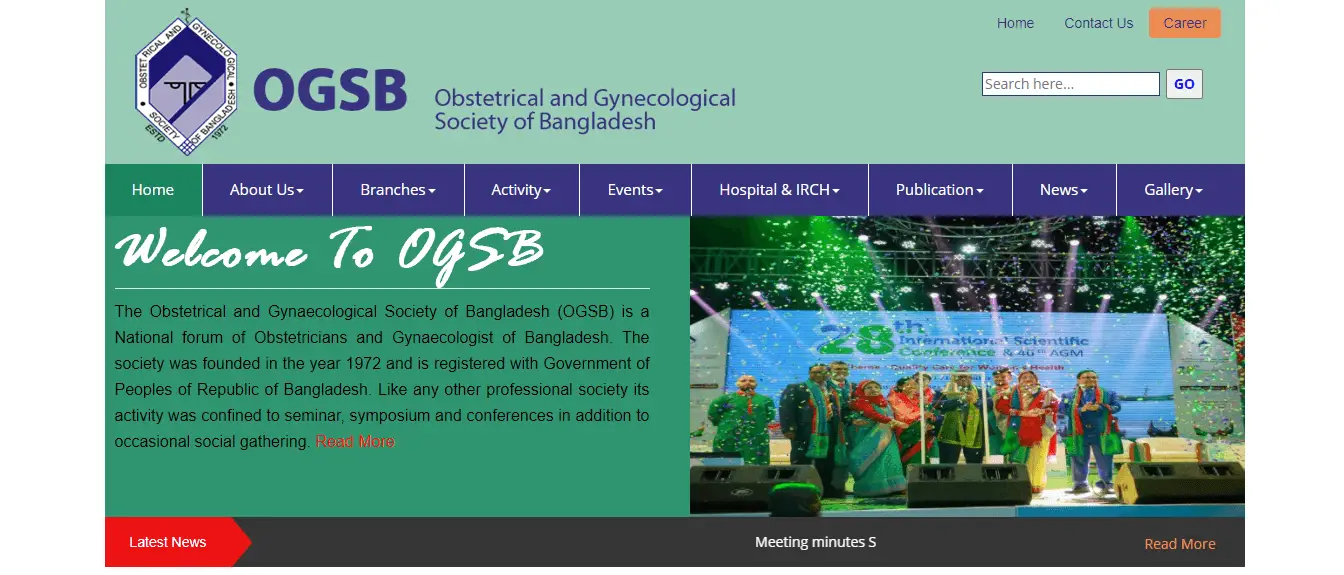 Address: Zoo Road, Dhaka, Bangladesh
Phone: +880 1799-499712
Key Facilities
Audiometry unit
Physiotherapy unit
Saleh Child Development
ORT Corner
EPI Corner
Skilled Birth Attendance at delivery
Institutional Delivery
Functional referral system
MMR
Doctors List
Dr. Mahe Jabeen
Associate Prof.
Department of Obstetrics and Gynaecology
MBBS,DGO, FCPS (Gynee & OBS)
Dr. F.M Anamul Haque
Associate Professor
Department of Obstetrics and Gynaecology
Laparoscopy & Fertility Specialist
Dr. MD. Jahangir Chowdhury
FCPS, MD (Paediatrics)
Associate Professor of Pediatrics
Dr. MD. Jahangir Chowdhury
FCPS, MD (Paediatrics)
Associate Professor of Pediatrics
Dr. Tariq Hassan
FCPS (Pediatrics);
DCH (Pediatric Gastroenterology), Uk
Assistant Professor of Pediatrics
Dr. MD. Delwar Hossain
FCPS (Pediatrics)
Assistant Professor of Pediatrics
Dr. Rubiya Parvin
FCPS, MD (Pediatrics); MD (Neonatology)
Assistant Professor of Pediatrics
Asst.Professor Dr.Aftab-E-Alam
Head Department of Radiology & Imaging
Asst. Professor of Radiology & Imaging
Dr. Nayma Rahman
Asst.Register
Department of Radiology & Imaging
Dr.Shahanaz Akter
Asst.Register
Department of Radiology & Imaging
Dr. Khander Md. Raihan Hossain
Associate Professor & Head
Department of Paediatric Surgery
Dr. Suprotim Hawlader
Assistant Professor MBBS, MS(Paediatric Surgery)
Department of Paediatric Surgery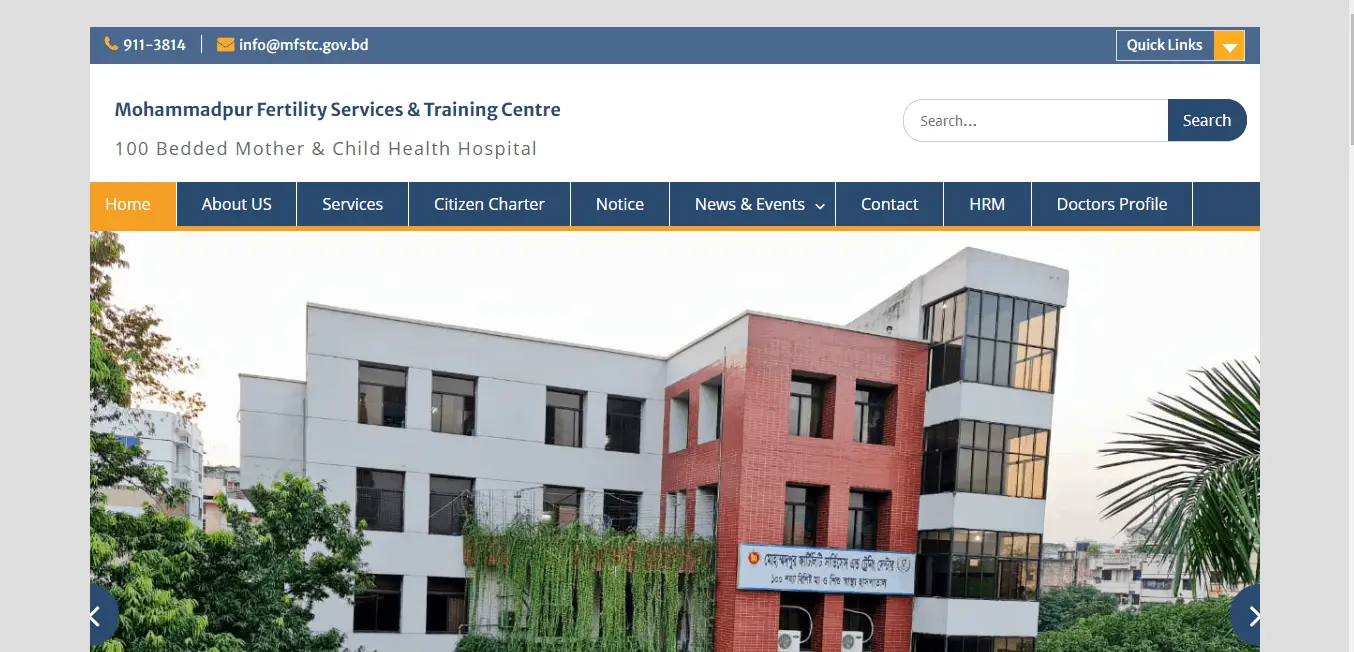 Address: Aurangzeb road (New – 49 (plot # 14, 35 Shahjahan Rd, Dhaka 1207, Bangladesh
Phone: +880 2-9114851
Key Facilities
Oral pill Distribution
Condom distribution (Male)
Birth Control Injection
Implant insertion/removal
Intra Uterine Device (IUD) insertion/removal
Male and Female sterilization
Emergency Contraceptive Pill (ECP) Service
Post-Partum Family Planning
USG guided removal of missing Implant
Hysteroscopy guided removal of missing IUCD
Ante natal care (ANC)
Delivery Service including Caesarean Section
Post natal care (PNC)
Sick children (under 5 years)
Paediatric Care (Indoor Service)
Vitamin A capsule distribution
Immunization Including Hepatitis-B vaccine
Adolescent Reproductive Health Care
Nutrition Advices/Services for pregnant mother
Antenatal and Postnatal Counseling
Nutrition Counseling
Adolescent Health Counseling
Breastfeeding Counseling
Clients Counseling
Doctors List
Dr. Md. Muniruzzaman Siddiqui
Dr. Maksuda Begum
Dr. Helena Jabeen
Dr. Shammi Nasreen
Dr. Nasrin Sultana
Dr. Hosne Ara Akther
Dr. Shamsun Nahar
Dr. Rezoana Refat Zahan
Dr. Shamima Jahan
Dr. Shahera Begum
Dr. Selina Bulbul
Dr. Shirin Begum
Dr. Sadeka Akhter
Dr. Yesmin Haque
Dr. Hasmot Ara Begum
Dr. Shahida Akter
Dr. Syeda Parvin
Dr. Gulnahar Begum
Dr. Rahima Khatun
Dr. Samsun Naher
Dr. Anamika Das
Dr. Munmun Das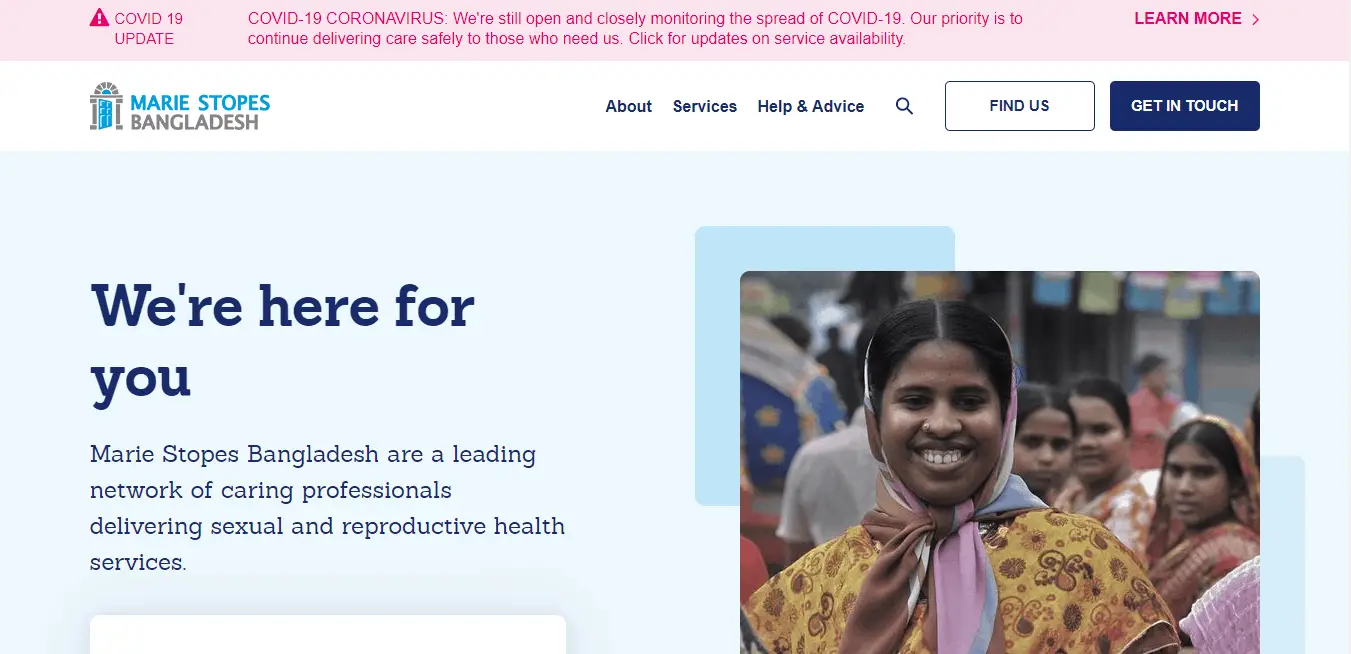 Address: House-320, Road-8/A West Dhanmondi, Dhaka 1205, Bangladesh
Phone: +880 1913-925792
Key Facilities
Pregnancy testing
Pregnancy crisis counseling
Medical menstrual regulation
Surgical menstrual regulation
Menstrual regulation aftercare
Gynaecology consultation
STI testing
Ultrasonography
Cervical cancer screening
HPV vaccinations
Lab services
Immunizations
General health consultation
Emergency contraception
Oral contraceptive pill
Implant
Injectable
Intrauterine device (IUD)
Hormonal IUD (IUS)
IUD removal
Tubal ligation
Vasectomy
Ante and postnatal care
Ultrasonography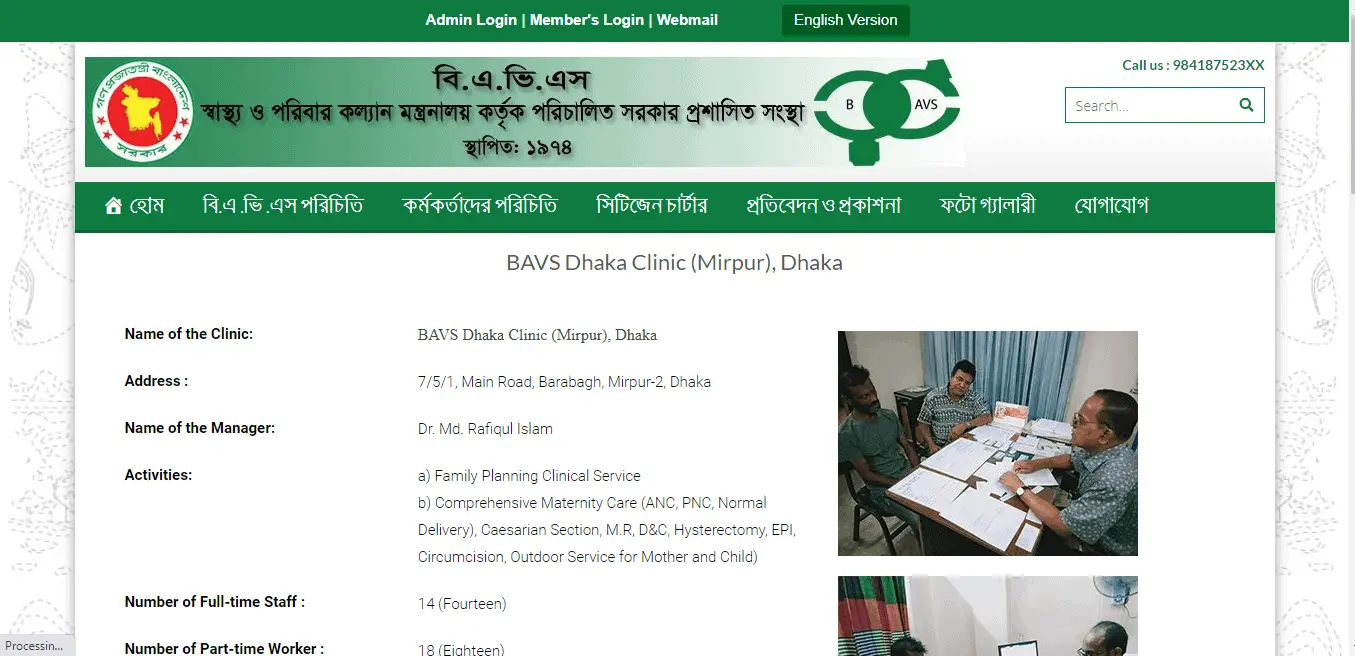 Address: 7/5/1, Borobagh Main Road, Mirpur-2, Beside Thana, Dhaka 1216, Bangladesh
Phone: +880 2-58051987
Key Facilities
Pregnancy testing
Pregnancy crisis counseling
Medical menstrual regulation
Surgical menstrual regulation
Menstrual regulation aftercare
Gynecology consultation
STI testing
Ultrasonography
Cervical cancer screening
HPV vaccinations
Lab services
Immunizations
Doctors List
DR. AFROZ MONOWARA
MBBS, MCPS, DGO
Gynecology
DR. AFROZA SULTANA SANTA
MBBS, FCPS, DGO
Gynecology, Obstetrics
DR. HUSNE ARA CHOWDHURY
MBBS, MCPS, MPH
Gynecology, Obstetrics
DR. MD AZIZUL HAQUE
DR. MD MOZAMMEL HAQUE
MBBS, FCPS, DCH
Pediatrics
DR. SYEDA BEGUM ANWARA ALI
MBBS, DGO
Gynecology, Obstetrics
DR. TANIA SARKER MISTY