Last Updated on April 28, 2021 by
Cardiovascular disease has become very common in Bangladesh and a recent statistics from WHO showed that 15.23% of total death in Bangladesh is for Coronary Heart Disease. So both the government and non-government organizations have taken this matter very seriously.
There are many cardiac hospitals available in Bangladesh. Some of the best cardiac hospitals are National Heart Foundation Hospital, National Institute of Cardiovascular Diseases, Ibrahim Cardiac Hospital & Research Institute, Euro-Bangla Heart Hospital, LABAID Cardiac Hospital, etc.      
List Of Best Cardiac Hospitals In Bangladesh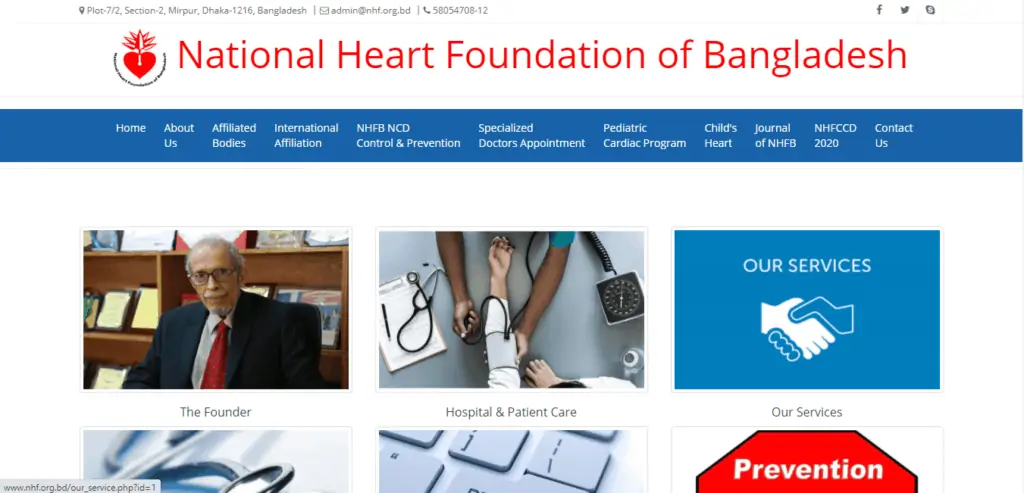 Address: 26 Darus Salam Rd, Dhaka 1216, Bangladesh
Phone: 58054708-12
Key Facilities
Out Patients Department (OPD)
Emergency services for heart patients
Coronary Care Unit (CCU) & Intensive Care Unit (ICU)
Heart Failure Unit
ECG, ETT, and Echo Cardiography
Cardiac Catheterization, Angiogram & other Interventions
Cardiac Surgery
Prevention and Rehabilitation
Biochemical & Pathology Laboratory
Blood Bank
Radiology and Imaging
Ambulance Service
24 hrs 12 channel E.C.G
Echocardiography – 2D, M-mode, Color Doppler
Trans-esophageal echocardiography (TEE)
dobutamine Stress Echocardiography
Exercise Tolerance Test (ETT)
Holter Monitoring
Carotid and other vascular duplex studies
Cardiac Catheterization
Coronary Angiogram – Trans Femoral & Trans Radial
Peripheral / Vascular (Renal, Carotid, Aorto) Angiography
CT-angiogram
Intravascular Ultra-sound (IVUS)
Doctors List
Prof. Dr. Ashok Datta
MBBS, MD (Cardiology), FACC (USA)
Cardiology Specialist
National Heart Foundation Hospital
Dr. Dhiman Banik
MBBS (DMC), D-CARD (DU), MD (Cardiology)
Cardiology Specialist
National Heart Foundation Hospital
Dr. Md. Kabiruzzaman
MBBS, MD (Cardiology), FNIC (IN), FACC
Cardiology Specialist
National Heart Foundation Hospital
Dr. Mir Ashek Mahmud
MBBS, FCPS, CCD, PGT
Cardiology & Medicine Specialist
National Heart Foundation Hospital
Dr. Dilara Afroz
MBBS, BCS (Health), D-Card, CCD
Cardiology Specialist
National Heart Foundation Hospital
Dr. Md. Forhad Jamal
MBBS, FCPS (Medicine), MD (Cardiology)
Cardiology, Medicine, Rheumatic Fever & Hypertension Specialist
National Heart Foundation Hospital
Dr. Md. Asaduzzaman
MBBS, MD (Cardiology)
Cardiology Specialist
National Heart Foundation Hospital
Dr. Shahid Ahmed Chowdhury
MBBS, DA, FCPS
Cardiac Anesthesiologist
National Heart Foundation Hospital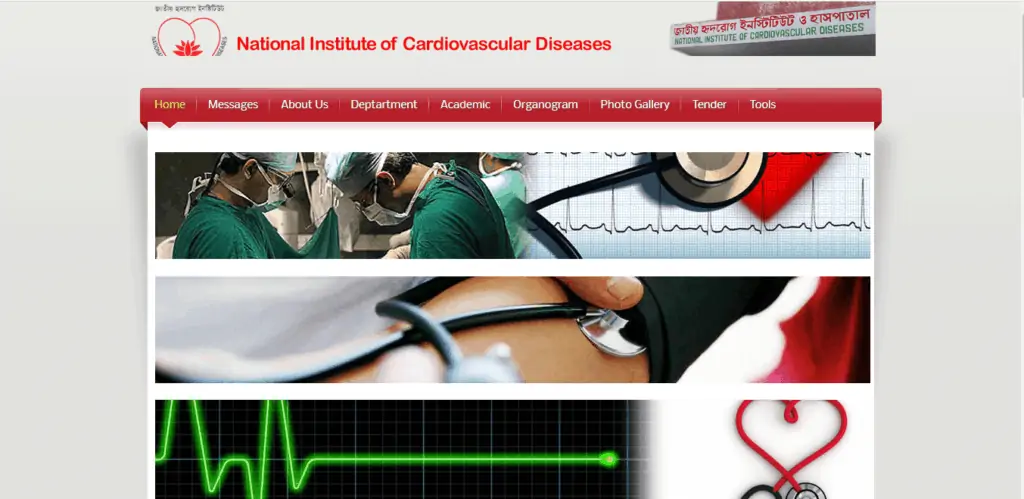 Address: Sher-e-Bangla Nagar, Dhaka-1207, Bangladesh
Phone: +88-02-9122560-74
Key Facilities
Electrocardiogram (ECG)
Echocardiograpy (transthoracic, transoesophageal and Stress Echo)
Exercise Stress Testing
Radionuclear Perfusion Imaging
Ambulatory ECG ( Holter Monitoring)
Noninvasive vascular Lab
Pacemaker and ICD clinic
Hypertension clinic
RF and RHD clinic
Pre- and post-surgical consultation
Percutaneous Coronary Intervention (PCI)
Percutaneous Mitral Commissurotomy (PMC)
Device closure of congenital heart disease
Balloon Valvuloplasty (pulmonary and aortic)
Coil Embolisation
Diagnostic EPS
Therapeutic ablation of arrhythmias
Pacemaker and ICD implantation
Doctors List
Prof. Dr. Toufiqur Rahman Faruque
MBBS, MD (Cardiology), FCPS (Medicine), FACC (USA), FESC (EU)
Cardiology & Medicine Specialist
National Institute of Cardiovascular Diseases
Prof. Dr. Md. Mohsin Hossain
MBBS, MD (Internal Medicine), FCPS (Cardiology)
Cardiology & Medicine Specialist
National Institute of Cardiovascular Diseases
Prof. Dr. M Nazrul Islam
MBBS, FCPS, FRCP (Edin), FCCP, FACC, FESC
Cardiology & Heart Specialist
National Institute of Cardiovascular Diseases
Dr. Md. Khalequzzaman
MBBS, FCPS Medicine), MD (Cardiology), FACC (USA)
Cardiology & Medicine Specialist
National Institute of Cardiovascular Diseases
Prof. Dr. Mir Jamal Uddin
MBBS, MD (Cardiology), DEM, FACC (USA), FRCP (EDIN)
Clinical & Interventional Cardiologist
National Institute of Cardiovascular Diseases
Prof. Dr. S A Nurul Alam Aga
MBBS, Ph.D., Fellow, Physicians for Peace (USA)
Vascular Surgery Specialist
National Institute of Cardiovascular Diseases
Prof. Dr. Khandaker Qamrul Islam
MBBS, D-Card (DU), MD (Cardiology), FACC (USA)
Cardiology & Heart Specialist
National Institute of Cardiovascular Diseases
Prof. Dr. Amal Kumar Choudhury
MBBS, FCPS, MD (Cardiology), FACC & FSCAI (USA)
Cardiology & Medicine Specialist
National Institute of Cardiovascular Diseases
Dr. GM Mokbul Hossain
Prof. Dr. Syed Nasir Uddin
MBBS, FCPS (Medicine), MD (Cardiology)
Cardiology & Medicine Specialist
National Institute of Cardiovascular Diseases
Prof. Dr. M A Baqui
MBBS, D-CARD, FACC (USA)
Cardiology Specialist
National Institute of Cardiovascular Diseases
Dr. Md. Mamunur Rashid
MBBS, MD (Cardiology)
Cardiologist & Heart Specialist
National Institute of Cardiovascular Diseases
Prof. Dr. A. F. Khabir Uddin Ahmed
MBBS, MD (Cardiology)
Cardiology & Medicine Specialist
National Institute of Cardiovascular Diseases
Dr. Enamul Hakim
MBBS, MS (Vascular Surgery)
Vascular Surgeon
National Institute of Cardiovascular Diseases
Dr. Md. Bozlur Rashid
MBBS, MD (Cardiology)
Cardiology & Medicine Specialist
National Institute of Cardiovascular Diseases
Prof. Dr. Nur Alam
MBBS, MD (Cardiology)
Cardiology Specialist
National Institute of Cardiovascular Diseases
Dr. A K M Ziaul Huque
MBBS, BCS (Health), MS (Cardiovascular Surgery)
Vascular & Endovascular Surgeon
National Institute of Cardiovascular Diseases
Prof. Dr. M Abdullah Al Safi Majumder
MBBS, D-Card, MD(Card), FACC, FSGC, FRCP
Cardiology & Heart Specialist
National Institute of Cardiovascular Diseases
Dr. Abul Hasan Muhammad Bashar
MBBS, BCS (Health), Ph.D. (Japan)
Vascular Surgery Specialist
National Institute of Cardiovascular Diseases
Prof. Dr. Mohammadullah Firoz
MBBS, MD (Cardiology), FCPS (Medicine)
Cardiology & Medicine Specialist
National Institute of Cardiovascular Diseases
Prof. Dr. H I Lutfur Rahman Khan
MBBS, D-Card, MD, FRCP, FACC
Cardiology Specialist
National Institute of Cardiovascular Diseases
Prof. Dr. Sabina Hashem
MBBS, FCPS (Cardiology), D-Card
Cardiology Specialist
National Institute of Cardiovascular Diseases
Dr. Abdul Momen
MBBS, FCPS (Medicine), MD (Cardiology), FACC, FESC
Cardiology & Medicine Specialist
National Institute of Cardiovascular Diseases
Dr. Partha Pratim Saha
MBBS, BCS (Health), MD (Cardiology)
Cardiologist & Heart Specialist
National Institute of Cardiovascular Diseases
Dr. Md. Azizul Karim
MBBS, FCPS (Medicine), MD (Cardiology)
Cardiologist & Medicine Specialist
National Institute of Cardiovascular Diseases
Prof. Dr. Muhammad Aminur Razzaque
MBBS, BCS (Health), MD (Cardiology)
Cardiology & Medicine Specialist
National Institute of Cardiovascular Diseases
Dr. Bijoy Dutta
MBBS, MD (Cardiology)
Cardiology Specialist
National Institute of Cardiovascular Diseases
Dr. Kazi Abul Hasan
MBBS, MS (CT)
Pediatric Cardiac Surgeon
National Institute of Cardiovascular Diseases
Dr. Md. Monsurul Haque
MBBS, MD (Cardiology), USMLE (USA)
Cardiology Specialist
National Institute of Cardiovascular Diseases
Dr. Md. Sheikh Mamun
MBBS, BCS (Health), MD (Cardiology), NICVD
Cardiology Specialist
National Institute of Cardiovascular Diseases
Dr. Swadesh Ranjan Sarker
MBBS, MS (CVTS)
Cardiac Surgeon
National Institute of Cardiovascular Diseases
Dr. Sufia Jannat
MBBS, FCPS (Medicine), MD (Cardiology)
Cardiology Specialist
National Institute of Cardiovascular Diseases
Dr. Nupur Kaur
MBBS, MD (Cardiology)
Cardiology Specialist
National Institute of Cardiovascular Diseases
Dr. Umme Habiba Ferdaushi
MBBS, BCS (Health), FCPS (Cardiology)
Cardiology Specialist
National Institute of Cardiovascular Diseases
Prof. Dr. Abdullah Al Shafi Majumdar
MBBS, D-CARD, MD (Cardiology), FACC, FRCP, FESC
Cardiology Specialist
National Institute of Cardiovascular Diseases
Dr. Ashraf Ur Rahman Tomal
MBBS, BCS (Health), FCPS (Medicine), MCPS (Medicine), MD (Cardiology)
Cardiology & Medicine Specialist
National Institute of Cardiovascular Diseases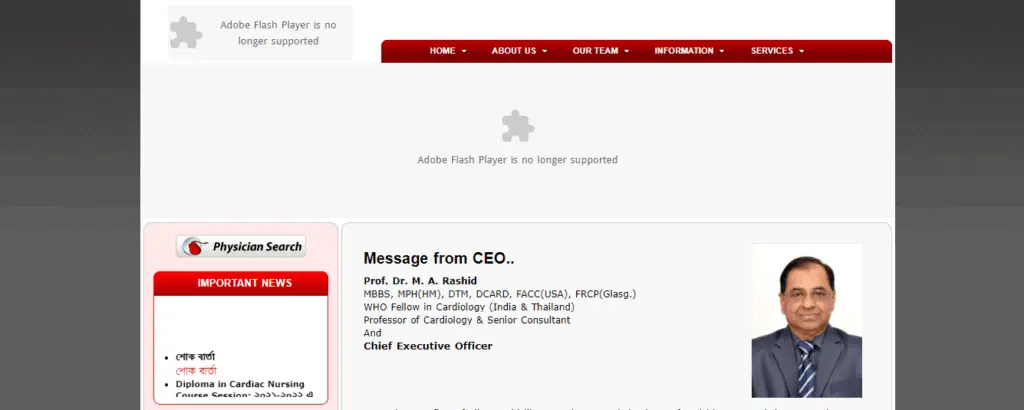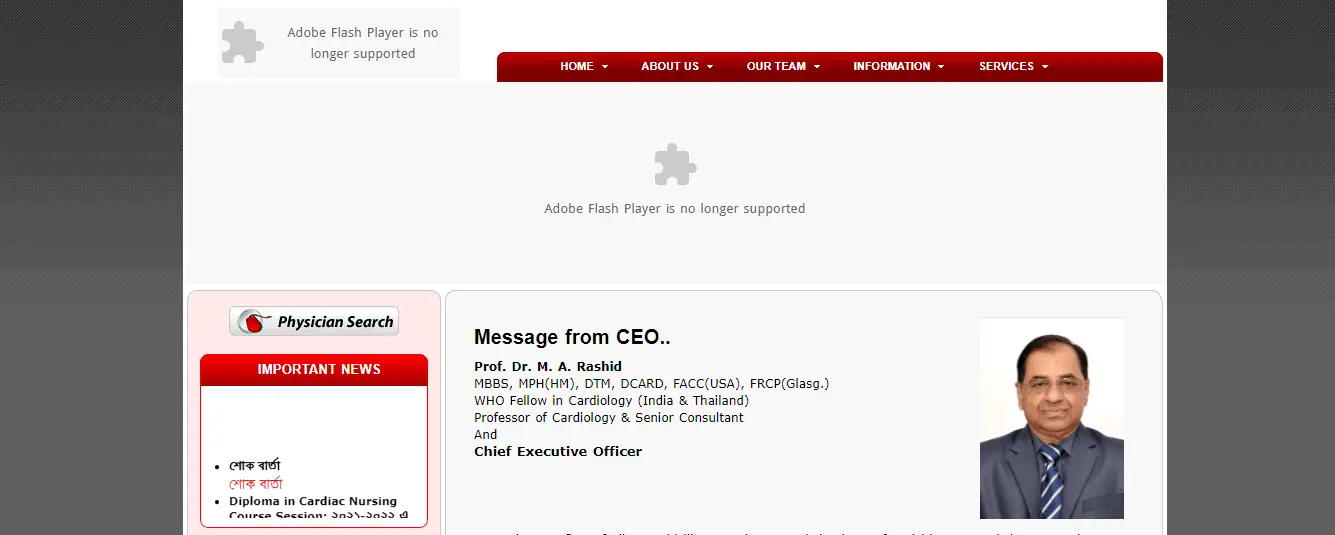 Address: 122 Kazi Nazrul Islam Ave, Dhaka 1000, Bangladesh
Phone: +880 1714-006706
Key Facilities
Executive Checkup (Non-Diabetes / Diabetes)
Coronary Angiogram (CAG)
Peripheral Angiogram
Cerebral Angiogram
Carotid Angiogram
Renal Angiogram
Coronary Angioplasty (PTCA)
Peripheral Angioplasty
Carotid Angioplasty
Renal Angioplasty
Right Heart Catheter
PPM Package (Single Chamber)
PPM Package (Dual Chamber)
Electro Physiology Study (EPS)
EP Study with Ablation
Coronary Artery Bypass Grafting (CABG)
Single Valve Replacement
Double Valve Replacement
PDA Ligation / PFU
Ventricular Septal Defect (VSD)
Doctors List
Prof. Lt. Col. (Retd) Dr. Md. Hamidur Rahman
MBBS, FCPS
Head of the Department & Senior Consultant
Cardiac Anesthesiology
Prof. Dr. Mohammad Liaquat Ali
MBBS, FCPS, MRCP (UK)
Senior Consultant & Professor
Interventional Cardiology
Prof. Dr. M Maksumul Haq
MBBS (DMC), FCPS (BD), FACC (USA), FRCP (Edin)
Head of the Department & Senior Consultant
Cardiology
Dr. Mashhud Zia Chowdhury
MBBS (CU), DTCD (DU), MD in Cardiology (DU)
Cardiology
Prof. Dr. Masoom Siraj
MBBS, FRCS
Head of the Department & Senior Consultant
Cardiac Surgery
Assoc. Prof. Dr. Md. Mazibur Rahman
MBBS (RU), MS (NICVD)
Consultant
Cardiac Surgery
Prof. Dr. M. H. Millat
MBBS, FRCS (Edin)
Senior Consultant
Cardiothoracic Surgeon
Assoc. Prof. Dr. Nawshin Siraj
MBBS, M. Phil
Head of the Department & Consultant
Radiology & Imaging
Prof. Dr. M. A. Rashid
MBBS, MPH (HM), DTM, DCARD, F WHO, FACC, FRCP
Professor of Cardiology & Senior Consultant
Cardiology
Prof Lt. Col. (Retd) Dr. Md. Rezaul Karim
MBBS, FCPS, FRCP, FACC
Senior Consultant
Cardiology
Dr. Md. Saidur Rahman Khan
MBBS, MD, Ph.D
Consultant, Cardiology
Cardiology
Dr. Md. Saidur Rahman Khan
MBBS (DMC), MD, Ph.D. (Card.)
Cardiology
Assoc. Prof. Dr. Md. Sharif Hasan
MBBS (DU), MS (NICVD)
Senior Consultant
Cardiac Surgery
Dr. Md. Sirajul Islam
MBBS (DU), DA (DU), MD (BSMMU)
Consultant
Cardiac Anesthesiology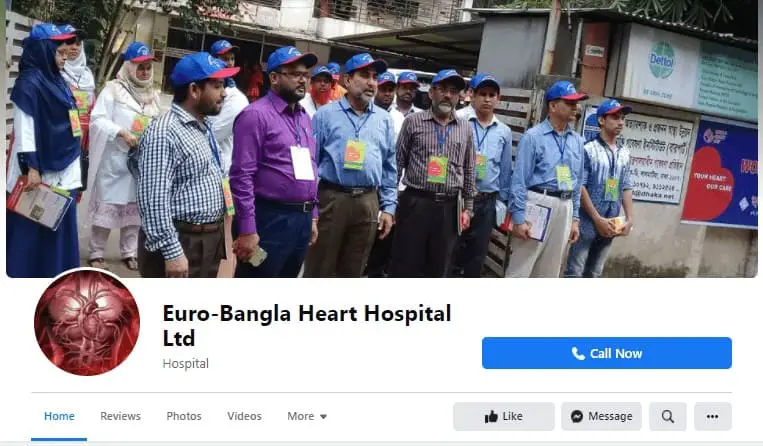 Address: 5/7, Lalmatia Girls College Rd, Dhaka 1207, Bangladesh
Phone: +880 1971-008009
Key Facilities
Ambulatory ECG ( Holter Monitoring)
Noninvasive Vascular Lab
Pacemaker and ICD clinic
Hypertension clinic
RF and RHD clinic
Pre- and post-surgical consultation
Percutaneous Coronary Intervention (PCI)
Percutaneous Mitral Commissurotomy (PMC)
Device closure of congenital heart disease
Balloon Valvuloplasty (pulmonary and aortic)
Coil Embolisation
Diagnostic EPS
Doctors List
Prof. Dr. Sufia Rahman
Cardiologist
MBBS, MRCP, FRCP(London), Dip, FACC, FCCP 
Asst. Prof. Dr. Mohammad Badrul Alam
Cardiac Surgeon
MBBS, FCPS (Surgery), MS (Cardiac Surgery)
Dr. A.K.M Mohiuddin Bhuiyan
Cardiologist
MBBS, MD (Cardiology)
Dr. A.K.M. Mohiuddin Bhuiyan
Cardiologist
MBBS, MD ( Cardiology )
Dr. Syeda Hasina Azam
General Surgeon
MBBS, (DMC), FCPS (Surgery), FRCS, (Glasgow)
Dr. Tajkera Sultana Chowdhury
Urological Surgeon
MBBS, FCPS (Surgery), MS (Urology)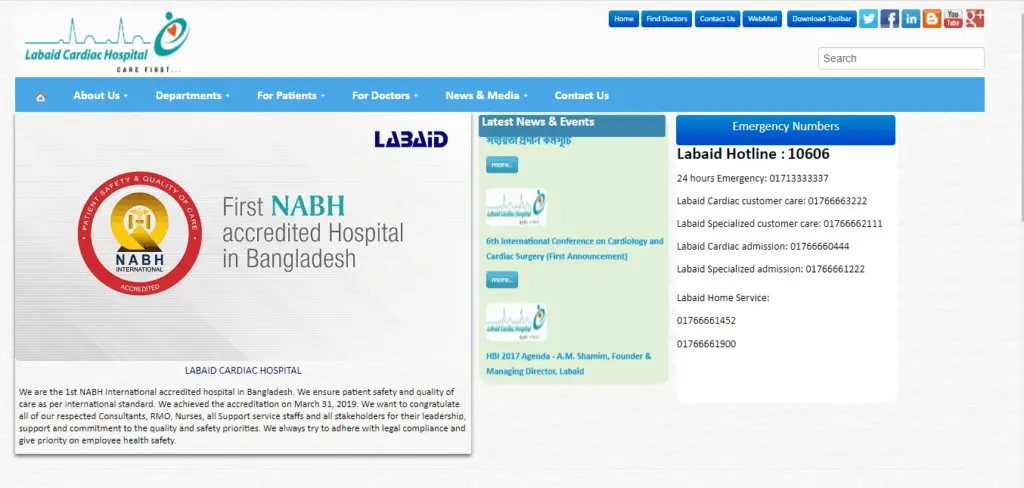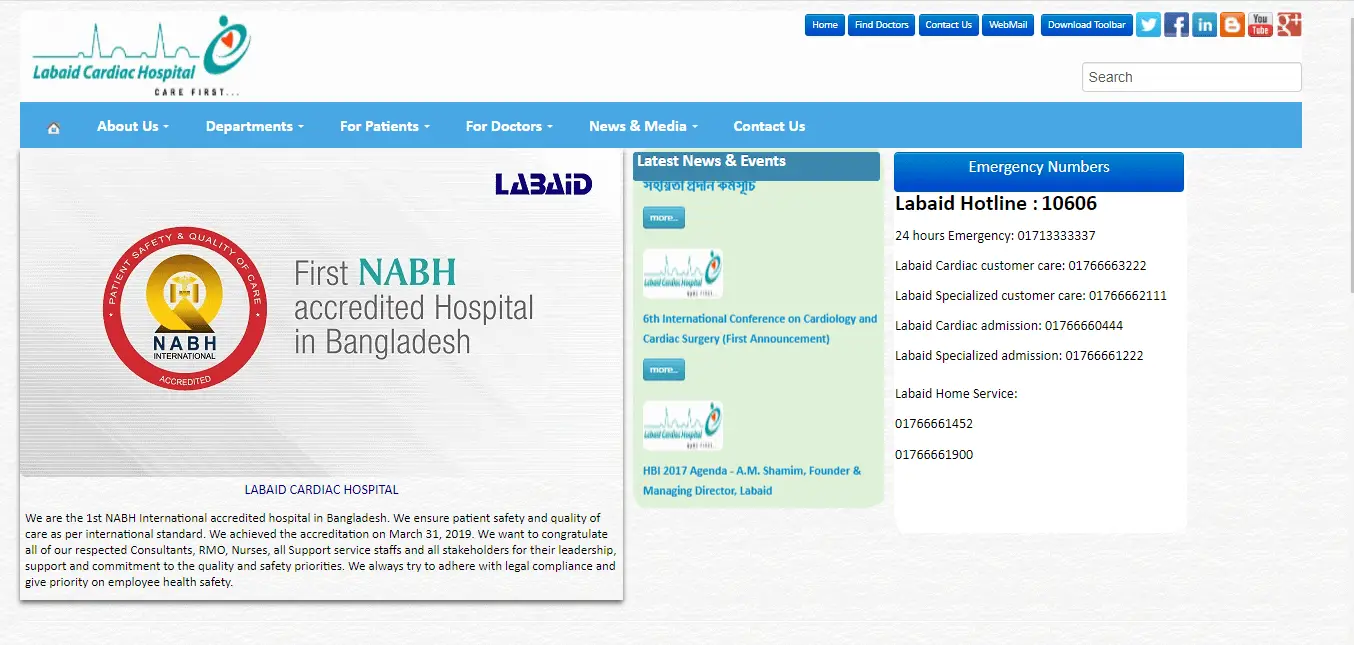 Address: House-01 & 03, রোড-০৪, Dhaka 1205, Bangladesh
Phone: +880 9666-710606
Key Facilities
Acute Coronary Syndrome
Mitral valve prolapse
Arrhythmias
Mitral stenosis and insufficiency
Aortic stenosis and insufficiency
Congestive heart failure
Atrial fibrillation and flutter
Angina pectoris
Congenital Heart Diseases
Vascular diseases
Cardiogenic shock
Heart Blocks
Acute Left Ventricular Failure
Hypercholesterolemia and risk factor modification
Doctors List
Dr. S Mokaddas Hossain ( Sadi )
Qualification : MBBS, FCPS ( Medicine ), MD ( Cardiology )
Designation: Consultant
Expertise: Cardiology
Dr. Md. Toufiqur Rahman ( Faruque )
Qualification : MBBS, MD ( Cardiology ) , FCPS ( Medicine )
Designation : Specialist
Expertise : Cardiology
Dr. Lutfor Rahman
Qualification : MBBS, MS (CTS)
Designation : Chief Cardiac Surgeon, Labiad Cardiac Hospital
Expertise : Cardiac Surgeon
Professor Dr. M A Khan
Qualification : MBBS, FCPS ( Hematology ), ASH Member
Designation : Professor and Head, Department of Hematology
Expertise : Hematology
Dr. M G Azam
Qualification : MBBS, MD ( Cardiology )
Designation : Assistant Professor
Expertise : Cardiology
Professor Dr. M. Jalaluddin
Qualification: FCPS ( Medicine ), FRCP
Designation: Consultant
Expertise: Cardiology