Last Updated on December 3, 2020 by Aminul Haque Shahin
I just got my Freelancers ID Card from my Bangladesh Government. Its a virtual card which you may need to print and make the Card and similar accessories by yourself.
It was a straightforward process, costs some money but it worths the penny.
Let me talk about the details of how to get your own Freelancers ID card following just simple steps.
Its worth mentioning that – you don't need to be a Freelancer to get that ID. Either you are a Digital Marketer, A Professional Blogger or An Affiliate Marketer; they have the right designated ID card for you.
What you need to show is – your income report and some statements to prove that you are really getting those income and foreign remittence.
Requirements To Be Eligible To Get A Card
You have to be an active freelancer or Affiliate Marketer or Blogger or a team member/owner who does the client work.
You have to send 1500 BDT to the Freelancers Bangladesh authority to examine your application and all the documents you would submit.
You have to provide your Photo along with NID (National ID Card/Voter ID Card) Card number.
All of your income reports, Payoneer or third party payment gateway statements, Bank Statements and so on.
The Step by step Process
Step 01: Click here to Sign Up yourself. Enter your details like Name, Email ID, Phone Number and click on the "Sign Up" button.
Step 02: You will get an confirmation email. Just check your email and verify yourself.
Step 03: Log in to the Freelancers Bangladesh dashboard. There, you will find a lot of Tabs that has been designed for your future needs. Some of these are – Freelancers ID, Events, Tutorials, Freelancers Banking, Special Offer, News, Community, Mentor Marketplace and Freelancers Welfare.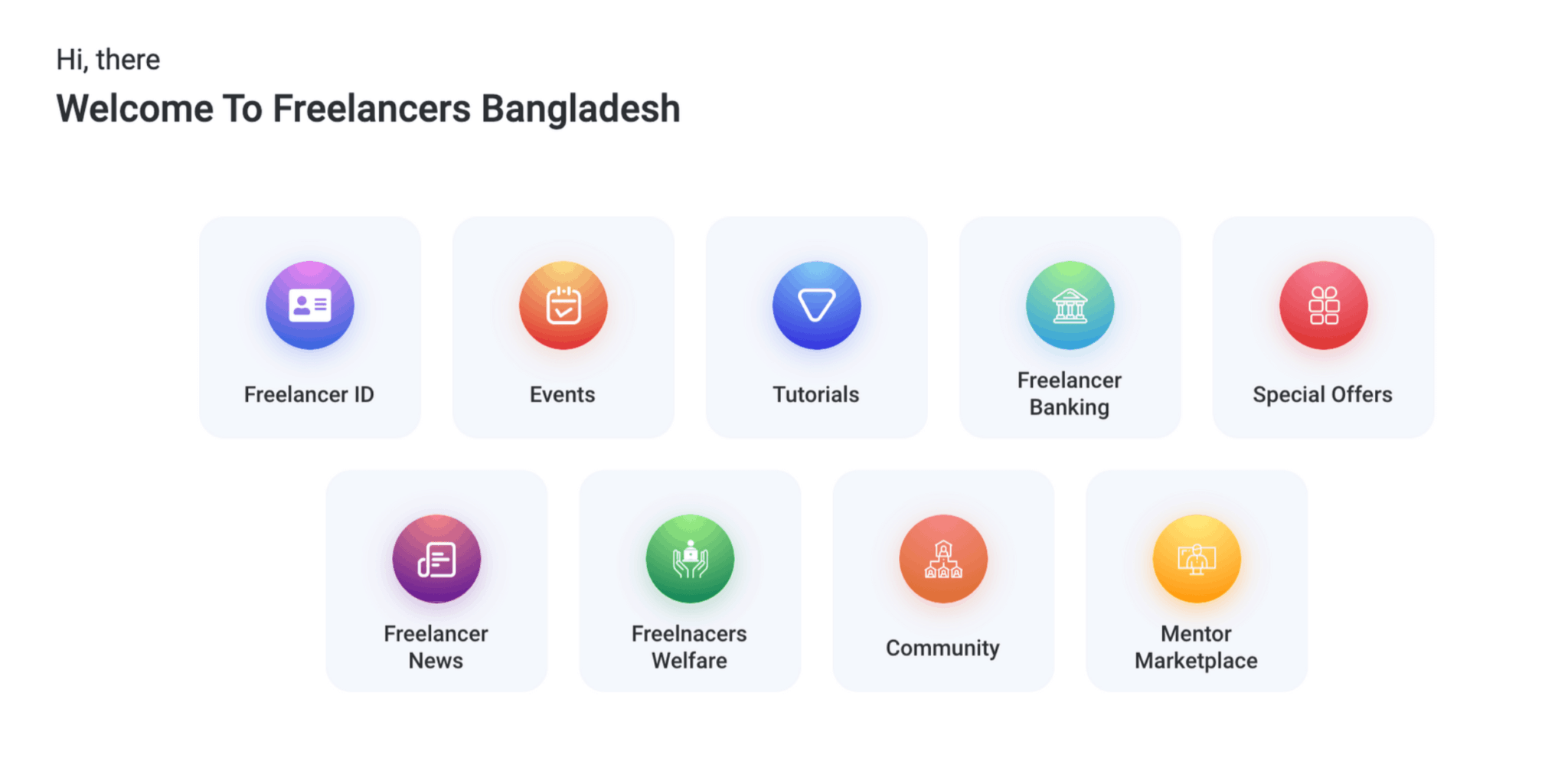 Step 04: Click on the "Freelancers ID" tab and click on "Apply Now". In the next step of applying; you will get some questions to answer.
Step 05: Answers all those questions with real information. Here are some example questions to prepare yourself –

What kind of skills do you have?
Please tell us a bit about your career.
Did you receive any off-marketplace reviews that will showcase your work quality?
Do you hold any certificate on these skills?
Step 06: Once you are done with answering the above questions, just click on submit. And they will alert you to pay the Application Fee via your email. Check your email for their update. Just click on their Payment link and you can pay via bKash or Rocket or Card online.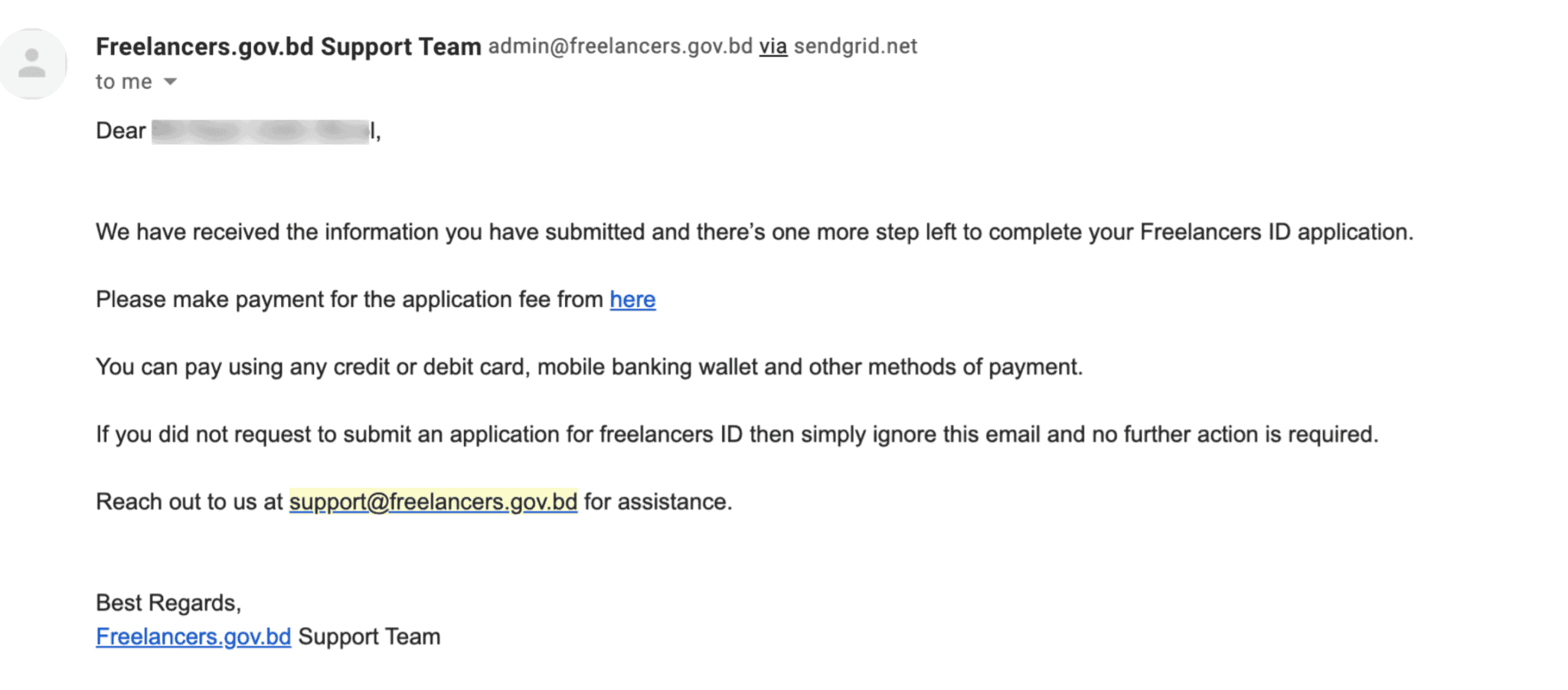 Step 07: If your payment is done; you will get another email that your payment has been successful, and they will reach you soon. Within next 2 or 3 days; you will get another email from them asking you to send your Freelancing Documents like Payments, Bank Statements, Payoneer Transactions and so on. Just download the transactions report from your Bank and Payoneer and send them back by replying that email.
Step 08: They will cross match your submitted data with your initial input and allow you on the board.
Step 09: You will get a confirmation email that – you are eligible and you can download your Freelancers ID by logging to their Dashboard.
Step 10: Download your Card and print it to a Hard paper and make your Own Card by laminating it ahead. 🙂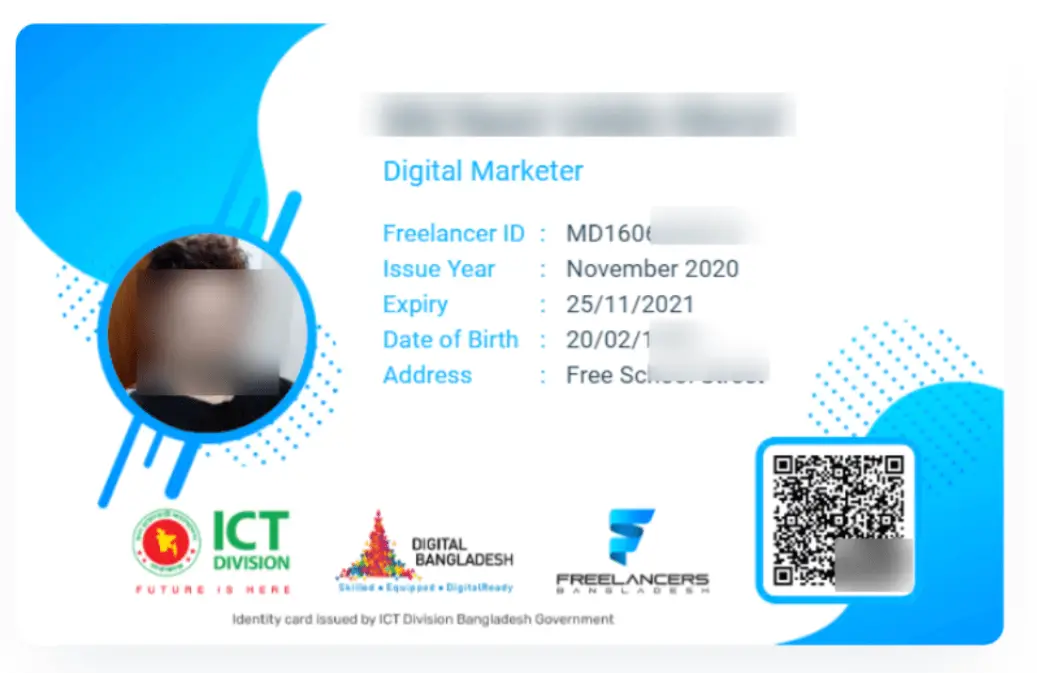 What are benefits of having an Freelancers ID Card by Bangladesh Government?
The facilities and features still are on making. But, as per their website and my dashboard on freelancers.gov.bd site – I found the following benefits that you might love. Some of these are –
Events (you will get invitation always on ICT events? may be),
Tutorials (free freelancing tutorials),
Freelancers Banking (future banking facilities – that is what I would personally love),
Special Offer (not sure yet that what kind of offer that would be),
News,
Community (a dedicated community, an FB group? I am not sure yet.) ,
Mentor Marketplace and
Freelancers Welfare (this looks promising to me).
How much I should Pay To Get a Govt Issued Freelancers ID Card in Bangladesh?
You have to pay 1500 Taka (Bangladeshi Taka – BDT).
How Can I Contact Them?
Here is the contact details –
Office Address:
Freelancers Bangladesh
4th Floor, House 1101, Road 6/b, Avenue 7,
Mirpur DOHS, Dhaka, 1216
Phone: 01302537288
Email: support@freelancers.gov.bd