Last Updated on July 5, 2021 by Aminul Haque Shahin
Day by day, the clothing industry of Bangladesh is becoming the fastest-growing industry in the nation. In the last six to seven years Bangladesh's clothing industries have increased their annual revenue from $19 billion to $34 billion. It's a massive 79 percent increased and for that reason, this country is now the second-largest exporter of garments in the world. Among them, there are 15 brands in which Bangladesh has improved so much today. Here is the information as follows:
The word Aarong means Village Fair, it's a socially responsible organization. On the other hand, it is a non-profit NGO operating by BRAC. It is a very famous and unique lifestyle brand.
Let's dig a little bit Aarong is founded in 1978 and the founding members are Ayesha Abed and Martha Chen. Some of their top products are Traditional or western wear, Kurri, Fotua, Panjabi-pajama, Wedding dress, Gift Set, Shoes, Pearl, and a lot more. One of the most crowded showrooms is at Aarong center, Tejgaon Industrial Area, Dhaka.
Contact number –88028891404
official website- http://www.aarong.com/ and Aarong are offering Online Shopping as well.
Cats Eye is another leading clothing brand in Bangladesh. It is very famous for trendsetting fashion. This brand always focuses on casual men's clothing but the good news is they are also working on women's dress. At a glance at Cats Eye: this brand is founded in the year of 1980 and the founders are Sayeed Siddiqui Rumi, Ashrafun Siddiqui Dora. Nowadays this brand has many showrooms but the most famous one is situated in Minita Plaza (6th Floor), 54 New Elephant Road, Dhaka-1205.

. Contact Numbers -02 9665184, 02 9660486
. website https-//www.catseye.com.bd/ .
. Production type-Men's-Women's clothes, Shirts, Pants, Panjabi, jeans, salwar kameez, shoes, accessories.
Lubnan Trade Consortium Ltd is the mother company of Richman and it is very popular for men's wear. Is making every kind of fashionable wear, formal wear, casual wear, ladies wear and kids wear under the brand called LUBNAN, RICHMAN & INFINITY. Richman is founded by Mohammad Junaid. Address:- Homestead Link Tower, TA-99, Gulshan Badda link Road, Dhaka.
Phone:-+8801623-446677 +88-02-9841504, +88-02-9860614
Email:- info@richman.com.bd
Website:- http://www.richmanbd.com.
Product types: Shirt, t-shirt, blazer, polo shirt, pants, formal pants, denim pants, accessories, etc.
Yellow is one of the excellent and marvelous brands of Bangladesh. This brand is a newcomer in terms of other renowned brands but it has occupied the rank among all other famous brands of this country. It is a sister concern of the Beximco group. Normally it works with the fashionable dress of the youngster. Yellow also produces kind and women's accessories. At a glance of Yellow:
Founded Year-2004.
Founder- Salman F Rahman.
Product types-Men's, Women's, Children's Apparel & Accessories
Address- Beximco Industrial Park, Dhaka, Bangladesh
Phone- +88 01754455533
Email-yellowcustomerservice@beximtex.com
Website- http://www.yellowclothing.net
Product Types-Men's, Women's, Children's Apparel & Accessories, etc.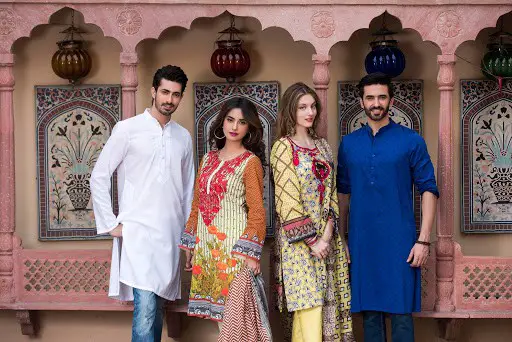 Ecstasy is a game-changing also innovative fashion brand in Bangladesh. These brand clothing products are very popular among the young stars for their modern design. Especially, for this reason, Ecstasy has quickly become one of the largest fashion retailers in this country. At a glance of Ecstasy:-
Founded Year- 1997.
Founder-Tanjim Haque.
Address-Kemal Attaturk Avenue, Concord Colosseum, Banani, Dhaka.
Phone- +8801941719894
Website-http://ecstasybd.com
Product types-Men's jeans, shirt, t-shirt, Fotua, casual pants, women's tops, Salwar Kamiz, Kids Wear, Bag, Handicraft, perfume, Jewellery, and other accessories, etc.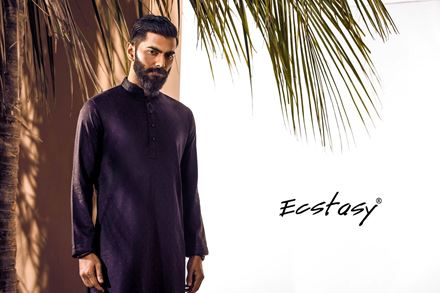 Rang is the country's renowned clothing brand. The word Rang means enlightens something by color. This brand is contributing to the growth of the hand-loom and handicraft of Bangladesh. Their actual vision and moto are to make visible Bangladeshi traditional heritage by traditional colorful printing on clothing. At a glance of Rang:
Founded Year- 1994
Founder-Biplob Saha.
Address-Shoilo Nibas Hossain Ahmed Road, Block-2 Police Line, Narayangonj-1400 Dhaka, Bangladesh.
Phone- +880177774434, +8801984888444
Email-contactrang@gmail.com
Website- www.rang-bd.com
Product Types-Shalwar, Kameez, Saree, Tops, T-Shirt, Fatua, Panjabi, pajama, Kurta, Handicraft, showpiece, household accessories, Nokshi Katha, etc.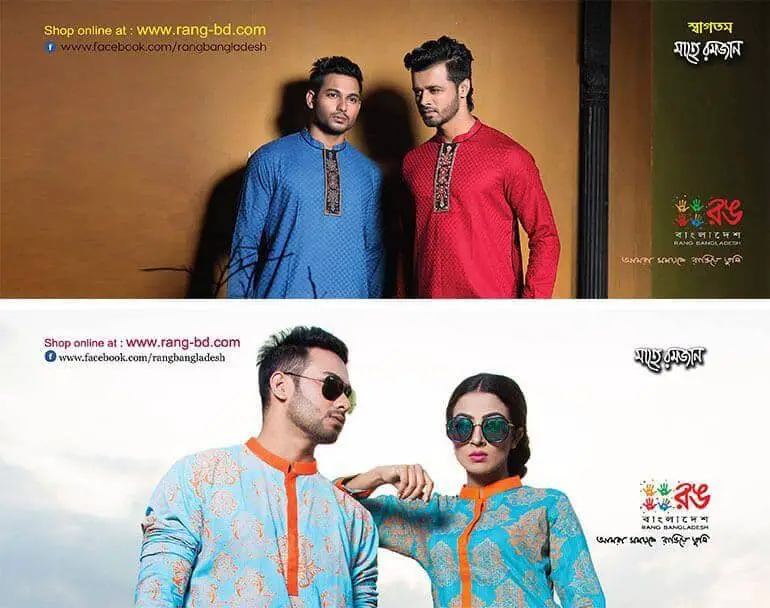 Kay Kraft crafts and reinvents products for those fashion conscious people who are young at heart and cherish traditions and heritage. This brand is now a leading clothing brand in the Apparel industry of Bangladesh. Kay Kraft is basically a retailer also a wholesaler of Bangali Fashion wear for women, men, kids At a glance of Kay Kraft.
Founded Year- 1993.
Founder- Khalid Mahmood and Shahnaz Khan
Head Office- 1/A North Adabar, Shaymoly, Dhaka.
Phone- +880 2-9872427
Email- marketing@kaykraft.com
Website- http://kaykraft.com
Product types-Saree, Salwar Kamiz, Scarf, Tops, Fotua, Panjabi, Shirt, Kids Wear, accessories, etc.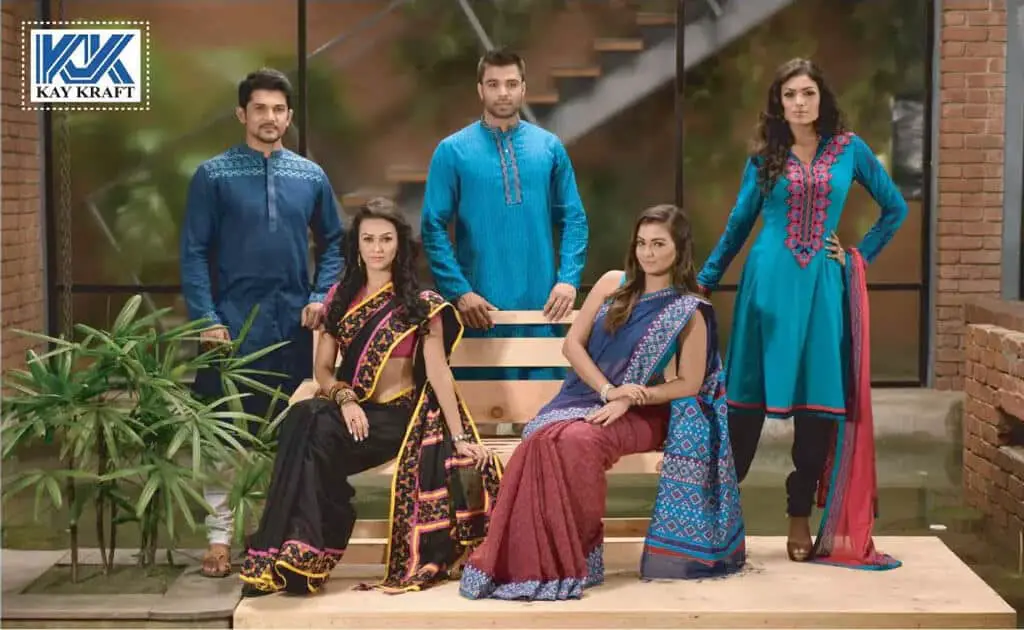 Dorjibari is a several fashion house in this country. The popularity of Dorjibari's product is unbelievable well known in Bangladesh. This brand is also well known for making different types of handicrafts. They produce different types of products like – Shirt, Pant, Saree, Salwar Kamiz, Scarf, Kurti, Fotua, Panjabi, Handicraft, trouser & men's accessories, etc. At a glance of Dorjibari:-
Founded Year-2007.
Founder- Md. Fazlur Rahman
Address- 4/1, Simson Road, (5-6th floor), Ambia Tower, Shaddar Ghat, Dhaka-1100.
Phone- 02-57396389, 01920215707
Email- fazlurfd@yahoo.com
Website-http://www.dorjibaribd.com/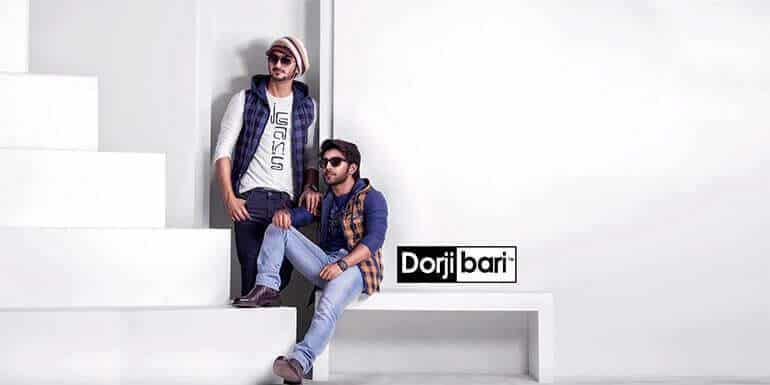 Anjan's is a well established Bangladeshi clothing brand. They produce a verity of artistic cloths. This brand also arranged the work arena among the rural village women and because of that Anjan's clicked in the generals as well as fashionable customers. At a glance of Anjan's:-
Founded Year- 15th February 1994
Founder- Shaheen Ahmed
Address-Malibagh Chowdhury Para, Khan Villa, Dhaka.
Phone-+8802-8357754,+8802-9362019, 01677-558877
Email- info@anjans.com
Website-http-//www.anjans.com
Product Types-Saree, Salwar-Kameez, Kurti, Panjabi, Fotua, Shirt, Kid's Wear, Handicraft, Hometex, etc.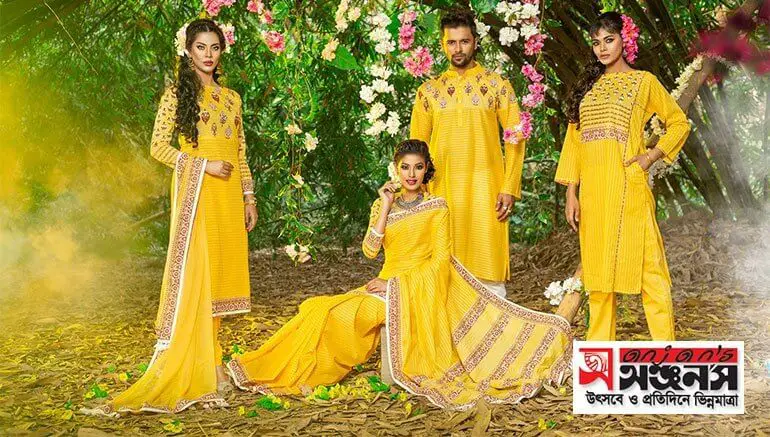 Nowadays everybody wants sailor products. Specially shirts, Pant, Shoes, and whatnot. There design and quality of the products are really good. So people always like to buy clothes from them. Sailor is a popular brand based in Bangladesh which is a sister concern of Epyllion Group. At a glance of Sailor:

Founded Year- 1978
Email- hello@sailor.com.bd
Phone- 01777-702000
Facebook Store-https://www.facebook.com/clothings.sailor/
Product Types-Fashionable Men and Women Apparel.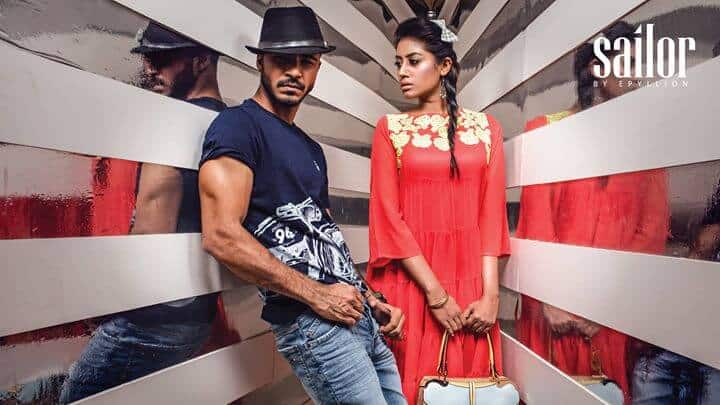 Freeland came to the fashion industry in 2003 in Bangladesh. They successfully bring a totally new sense of design and future style for the youth. As a brand, Freeland already renowned for established itself as an emblem of youthful passion that represents the spirit of Bangladeshi young and enthusiast generation that are making positive changes everywhere. Freeland means freedom the core message of this brand. At a glance of Freeland:-
Founded Year- 2003
Email- tashadur_freeland@hotmail.com
Address- Ground floor, Anam Rangs Plaza, Dhaka Bangladesh
Phone- 01829-134871
Website- http://freeland.com.bd/
Product Types- Men & Women Apparels, Footwear, Accessories
Le Reve is a brand that creates value in people's lives for every occasion. This brand offers value fashion for men, women, kids. Le Reve believes authentic and also uniquely crafted Ethnic wear, casuals, edgy denim, and accessories for their customers. Le Reve is part of REVE Tex Ltd, one of the members of the REVE family. At a glance of Le Reve
Founded Year: 2009
Email: care@lerevecraze.com
Le Reve Centre- Plot-94, Purbachal Express Highway, Dumni, Khilkhet, Dhaka.
Phone- 01847-082643
Website- https://www.lerevecraze.com/
Product Types- Men's Wear, Women's Wear, Kids Wear, Accessories, etc.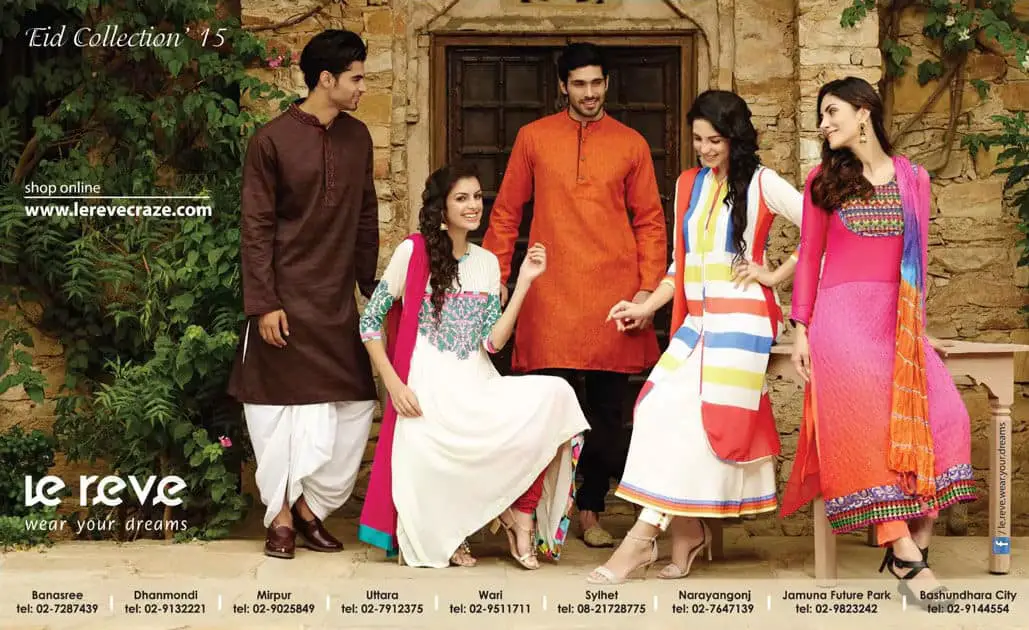 Easy Fashion has a classy motto So this brand has created a stir in this industry. Young and fashionable items Easy's making college & University Students based trendy and fashionable products that making and producing only on EASY's showrooms. This is the most reliable clothing brand for everyone. It is established in 2009. This brand has many showrooms, on them 34/B Malibagh Chowdhury Para, 2nd floor, Dhaka-1219, Bangladesh, and It's the most popular store to visit.

. contact numbers – 029356673, 01711104489.
. Web Site- http://www.easyfashion.com.bd .
. product types – t-shirt, polo t-shirt, design, and formal shirts, etc.

14. Smartex

Fashion clothing for women and children. Comfortable and affordable men's clothing and trendy design make Smartex no.1 brand in Bangladesh. They have an official Facebook page also they work so hard to make their page up to date so that people don't have to miss any of their latest collections .their mission and vision is spread fashion to all over Bangladesh at an affordable price. Smartex established in 2002.

. Email- info@smartex-bd.com.
. Address-House55, Solid Tajuddin Sarani, Rasulbagh, Mohakhali, Dhaka
. Contact-01617-142860.
. Website-http://www.smartex-bd.com.
. Product Type- For Boys (T-Shirt, Polo, Shirt, Panjabi, Three Quarter Pant, Pant)
For Girls(Girls 3Pcs Set, Tops, 2pcs Set Dress Tops, Leggings )


15. Trendz

Trendz is the sign of tomorrow. They have a goal set for changing trends in the fashion industry. They started their journey with the first outlet in Bashundhora City on 14th October 2004 now in 2020 Trendz has 8 outlets in Bangladesh. Its mother company is Babylon Group. Their collection is absolutely awesome. It is founded in the year of 2004.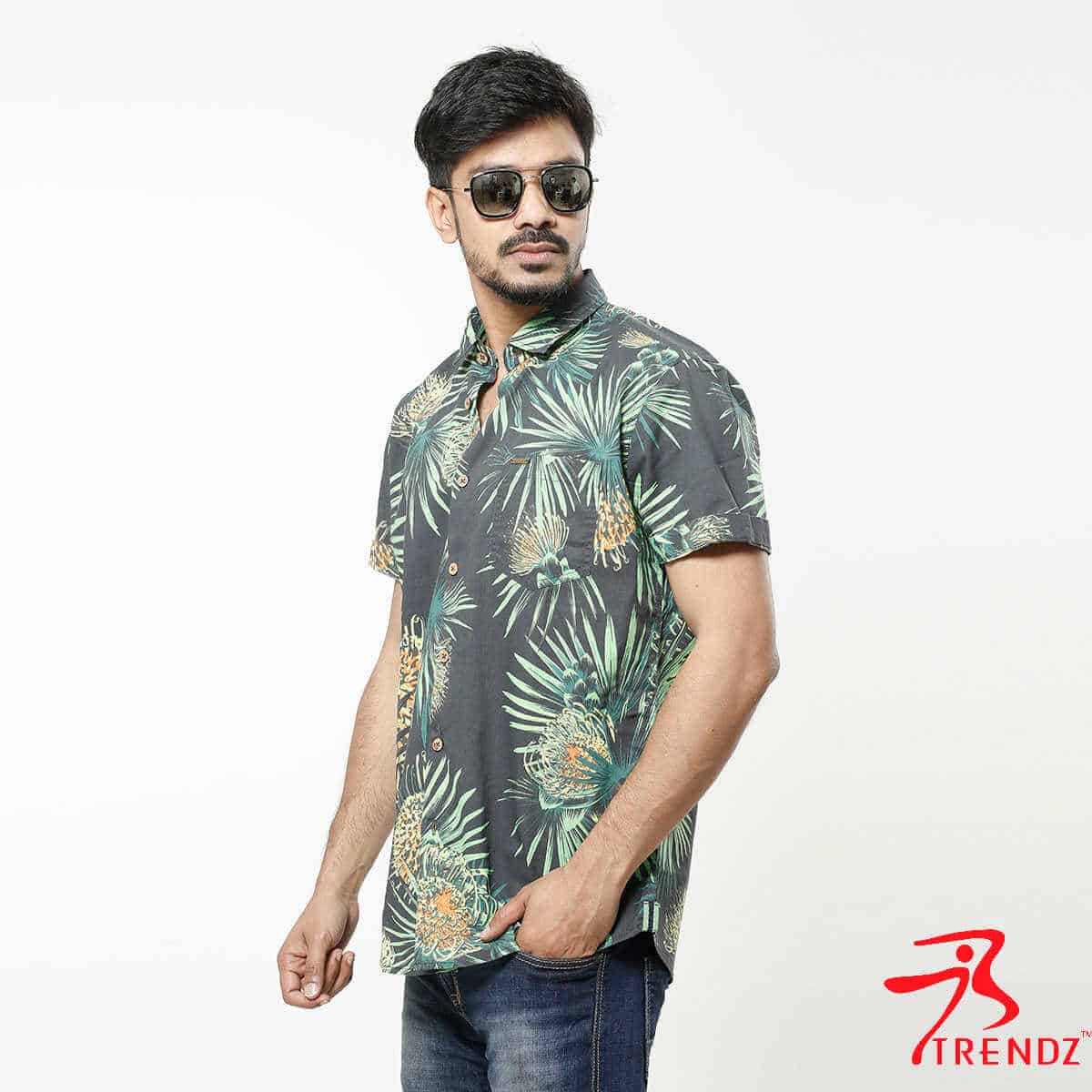 Email id –trendz@babylon-bd.com.
Address- 2-B/1, Darussalam Road Mirpur, Dhaka-1216, Bangladesh.
Phone- 02-9023495-6, 02-9023462-3 .
Website- http://www.trendzbd.com .
Product Types- Style Men & Women Apparels Clothing.
Top T-Shirts & Clothing Brands in Bangladesh
In Bangladesh, clothing brands like Arong, Cats Eye, and Gentle Park have a big impact on the country's fashion as well as culture scene. They not only cater to different ethnic groups but also appeal to the masses by providing fashionable clothing that can be worn in different circumstances.
This is a list of 11 clothing companies that are in the business of selling T-shirts and clothes. The brands in this section are all established companies, but the products they offer aren't expensive.
Ecstasy
Cats Eye
Yellow Clothing
Sailor
Mens World
Easy Fashion
Masculine
Gentle Park
TrendzBD
RichmanBD
Fabrilife
What To Do If I Want To Build A Fashion Brand in Bangladesh?
To start a new fashion brand in Bangladesh, one must have the right capital, skills and knowledge.
It is becoming increasingly difficult to find new opportunities in this overcrowded industry. In order to get a foothold in this market, you need to have the right capital, skills and knowledge.
People are being drawn towards fashion brands that are owned by multinationals or they can even start their own small business via e-commerce platforms like eBay.
With the growth of online shopping, many big brands have been shutting down their brick and mortar stores, but that doesn't mean that customers can't still find great clothes to buy.
What Is The Best Fashion Brand in BD?
The most famous Bangladeshi fashion brand is Aarong and they have a lot of physical stores in Dhaka city. It's considered one of the best shops in Bangladesh that has a wide variety of fashion items available.
Aarong is a popular name among affluent people as it offers high-quality products at reasonable prices. The brand also takes pride at being the first international made Bangladeshi brand in 1972.