Last Updated on April 25, 2020 by Aminul Haque Shahin
What Is Corona Virus?
Coronavirus or Covid-19 is a contagious virus which is spread super-fastly and originated from China.
Latest Updates
April 25, 2020 (2 PM): 4689 people have been infected in total in Bangladesh and 131 people died so far due to nCoV-19. 112 people have been cured of this virus. – Prothom Alo. According to DailyStar, 320 doctors have been affected by Novel Coronavirus from various private and public (govt) hospitals of Bangladesh, which is alarming – says, the BDF (Bangladesh Doctors Foundation) president.
April 19, 2020 Update: 2456 people infected people found in Bangladesh and 91 people died so far. 75 people became cured and left the hospital after being affected and cured.
April 16, 2020 (7:00 PM) Update: The death rate and the infected rate is furiously higher these days in Bangladesh. For the first time, 10 people died in a single day and 341 new people found infected. The total death is 60 and the total infected people found is – 1572. – Prothom Alo
April 14, 2020 (3 AM) Update: 803 confirmed covid-19 cases in Bangladesh. This is almost double than the total numbers of April 11. It's a huge spike in confirmed cases. The more people are being tested, the higher spikes we see. The death toll increased as well from the previous day and its 39 now. Source: Corona Dashboard, IEDCR
April 11, 2020 Update: Coronavirus death toll increased to 30 from 27 of last day. 482 cases confirmed in Bangladesh – Source: DGHS
The death toll in total is 27 and total affected people found in Bangladesh is 424. 75k+ people are in quarantine and 59k+ people are released from quarantine.- Source: DGHS – 10th April, 2020.
Most affected people in Bangladesh found today which is 112 and in total, Covid 19 affected people is 330. In last 24 hours, 1 people died and total death in Bangladesh is – 21. – Source: ProthomAlo 9th April.
Total affected people in Bangladesh are 218 and 20 people died so far due to Corona Virus – 8th April, 10 PM, 2020 – Prothom Alo | It is worth mentioning that – Lot of people are dying due to Cold, Cough and Breathing problem as well.
Total Novel CoronaVirus affected people in Bangladesh is 164. And 33 people have been cured of this Virus so far in BD, and 17 people died. Four hundred seventy-three people are in Isolation right now, and 67,448 people are in quarantine officially. Dated: 8th April 2020 (4 AM Midnight) Source: Corova.gov.bd
Total affected people in Bangladesh is 123 and 12 people died so far for Covid-19 the Novel CoronaVirus – Ekattor TV
Total nCov-19 affected people in Bangladesh is 70 and 8 died – Jamuna TV YT
According to Jhons Hopkins University's Corona Map – 56 people affected by Covid 19 virus and 6 people died so far and 25 people recovered. – 2 April 2020)
According to Google's Covid 19 Map, two people Died so far due to Coronavirus in Bangladesh and 24 people have been affected so far with 3 people recovered. (21 March, 2020)
The total affected people in Bangladesh is 14. And one people died due to Covid 19 and this is the first death in Bangladesh – Somoy News (18th March, 2020)
1354 people are in Home Quarantine in Bangladesh (most of them are from Europe and Middle East) as per press briefing of IEDCR today (15th March, 2020) – DBC News.
Bangladesh is still safe based on the number of Coronavirus disasters spread so far. 3 Covid 19 affected people found in Bangladesh and two of them are sound and risk-free now. Rest one is on the way to becoming cured.
According to Daily Star, Prof Meerjady Sabrina Elora of IEDCR ( Institute of Epidemiology, Disease Control, and Research) said yesterday that, 2 new affected people found in Bangladesh and they are in the hospital right now.
Bangladesh's government is taking an extra layer of pre-cautions and quarantined all the Bangladeshi people who are coming from most affected countries like Italy, the Middle East and China.
Even, Mujib Borsho program (100th Birthday of Sheikh Mujibor Rahman) has been limited due to the Coronavirus Program for this year.
No flights from Europe will come to Bangladesh until 31st March and Bangladesh Government and Health Ministry are requesting the Bangladeshi Expatriates not to come to Bangladesh and this is the only way to prevent Corona to come to Bangladesh. Even, new thermal scanners are being installed on Sher-E-Bangla International Airport.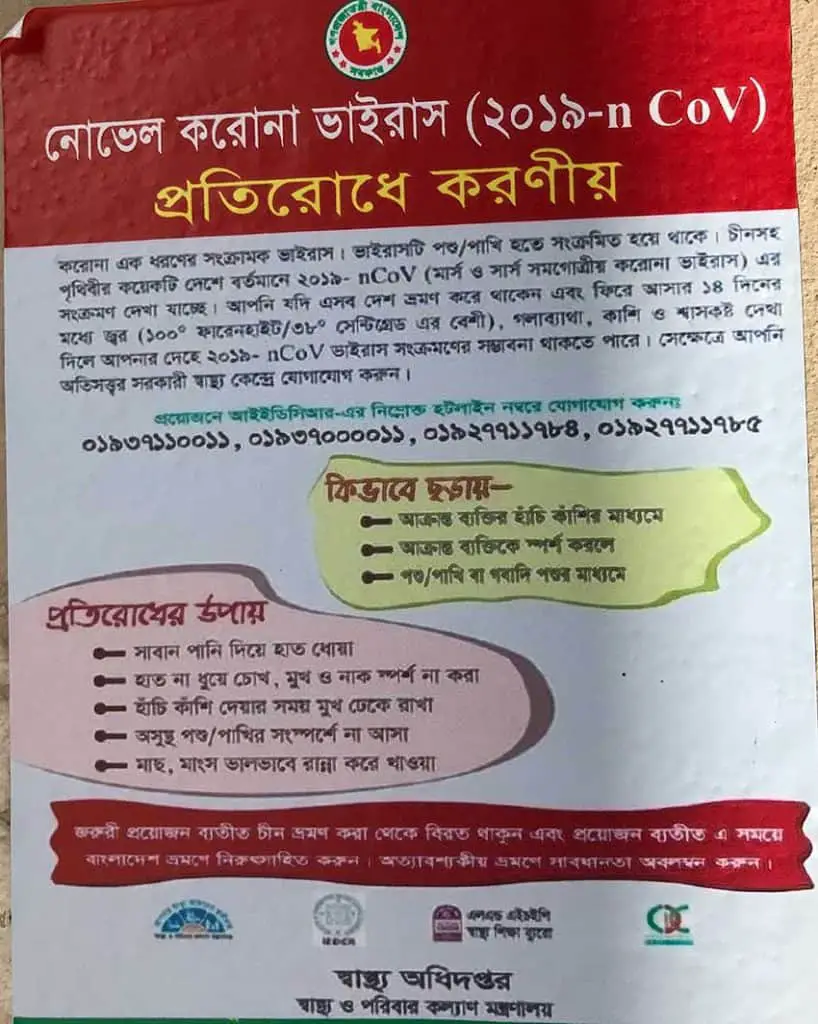 How It Spreads?
It can spread via animals.
Colds and coughs via infected people.
Touch or close contacts with infected people.
Kiss or handshakes with infected people.
Recent traveling to and from any infected countries.
Symptoms of Coronavirus Affection
Fever over 100 Degree Fahrenheit.
Throat-pain/Sore Throat.
Dry coughing.
Asthma or Breathing problem.
How To Prevent Covid-19 Virus To Spread in Bangladesh?
Bangladesh is one of the most populated countries in this world. And if the Covid-19 spreads; millions of people will get infected as people always walks closely in the footpath, and the market is always jam-packed with people and people often use public buses.
So, any kind of prevention or precaution is highly recommended to stop preventing Coronovirus in Bangladesh. Here are some suggestions from the Health and Family Planning Welfare Ministry of Bangladesh.
Wash your hands with Soap every after 2 hours.
Don't touch your face, nose or eyes with your hands if you don't wash them properly.
Cover your face and mouth before sneezing or coughing.
Don't get closer to the sick animals.
Cook fish and meats properly.
Hard boil the eggs always.
Always use N-95 Masks when you plan to go out.
That is it.
Hope Bangladesh will be safe from this Corona Pandemic disasters that unresting the whole world and people are being panicked and afraid. The sad news is – Iran is having drastic coronavirus issues as people from there are having industrial alcohol those were for sanitization purposes and people are dying. Just imagine, how afraid the people are.
So, what we have to do is – don't panic about the viruses rather take precaution and stay alert. Don't go out too much if its not that much emergency and always wash your hands.
Stay blessed.