Last Updated on February 21, 2020 by Aminul Haque Shahin
Bangladesh! The People's republic of Bangladesh!
A beautiful little country with an area of 1,47,570 KM²!
Bangladesh is beautiful not only by the natural scenario and greens everywhere, but also the people live in here and the way they see the whole world and their hospitality. It's amazing! People here also speak Bengali which probably the sweetest language of this world.
So, as a whole its a beautiful country with a lot of things to discover and full of thousands of stuff worth cherishing!
Where It Is Located?
Its located in South Asia bordered by mainly India and Myanmar. The south part of this country is ended by the Bay of Bengal.
How many populations are there?
There are 170 millions of people are living in Bangladesh right now (estimated in 2016).  88% of them are Muslim and 11% of them are Hindu. Almost all of them speak Bengali and some local languages.
Bangladesh Population 2017
164,466,914
That's the number of Bangladesh's current population as of Tuesday, 25th April 2017. The number is based on the latest United Nations estimates.
Quick Facts on Bangladesh's Population
Bangladesh ranks 8th (source: Wikipedia) in the list of countries and dependencies by population.
Bangladesh is the 5th most populated country in Asia and the 3rd amongst South Asian countries.
Census reveals 2.19% of the world is Bangladeshi. That means Bangladesh's population is equivalent to 2.19% of the world's total population.
5,389 persons will be added to Bangladesh's population daily in 2017.
6% of Bangladesh's population is urban with a 3.5% annual rate of urbanization.
Bangladesh's population density is 1,114.2 per square kilometer.
According to her population density, Bangladesh is considered an urban country.
Bangladesh Population 2017
By 2017, Bangladesh's population is projected to increase by 1,966,806. And, the population is projected to reach 166,794,524 at the beginning of 2018. The increase in population is expected to be normal, with no chances of declining or blowing up abruptly. The rate is supported by the number of births. As it will exceed the number of deaths by 2,433,922.
Since Bangladesh is a heavyweight in exporting manpower in the Middle East. The population is projected to decline by 467,116 due to expatriation. The decline will occur if the migration rate remains the same as the previous year level.
The number of people (immigrants) who will leave Bangladesh to settle in foreign countries is expected to rise in 2017, thereby decreasing the country's overall population.
Bangladesh's Population Change Rates on a Daily Basis for 2017
According to several estimations, we can project daily change rates in Bangladesh's population for 2017. And, they are as follows:
On average, 9,138 live births will occur each day (380.75 in an hour).
On average, 2,470 deaths will occur every day throughout Bangladesh (102.91 in an hour).
1,280 immigrants will leave Bangladesh every day (53.32 in an hour).
Bangladesh Population Density 2017
As of April 2017, Bangladesh has 1,114.2 people living per square kilometer. The density of Bangladesh's population is derived by dividing permanently settled population with a total area of Bangladesh.
The total area of Bangladesh currently is 147,610 square kilometers.
Life Expectancy in Bangladesh
Life expectancy measure of any country shows the number of years an infant is expected to live. The rate is derived by considering the year of their birth, their current age, and other demographic indicators. Life expectancy is one of the most important demographic factors.
Life expectancy at birth for Bangladesh is 69.8 years. And, the measure is true for both sexes.
Life expectancy measure in Bangladesh is below average life expectancy of the global population. The life expectancy of the global population is set at 71 years. The measure for the global population is set by Population Division of the Department of Economic and Social Affairs of the United Nations.
Male life expectancy at birth in Bangladesh is 67.9 years.
And, female life expectancy at birth in Bangladesh is 71.7 years.
How Bangladesh became an Independent Bangladesh?
Bangladesh had to struggle a lot on the journey of their freedom and independence. This struggling journey started in 1757 when the last King of Bengal Nabab Siraj-Ud-Daulah defeated by British. In 1947 whole India has been divided into two parts – one is Pakistan and another one in India and Bangladesh was East Pakistan at that time.
Though the distance and cultural and linguistic barrier were there; still Bangladesh was struggling to be East Pakistan for a long time until 1971.
How Bangladesh Became an Independent Nation
Bangladesh, the South Asian country, has long been hailed as the Queen of Beauty. The country has mesmerizing landscapes, forests, sea beaches, waterfalls and many other natural wonders to boast. The country looks as if an artist painted the scenery with all their imaginations.
Why not?
Bangladesh is the proud land that hosts the longest sea beach and the largest mangrove forest in the world. The longest sea beach, located in Cox's Bazaar, stretches across 150 miles.
Pre-Independence History of Bangladesh
Despite the pinnacle of beauty, the country's land became crimson red from time to time. Present-Day Bangladesh found herself as the battleground for many colonial powers to settle their score. The bloodied ordeals that grappled its centuries-long history when the European colonialists started invading.
The British, who became the dominant colonial power, eventually left in 1947. But, the history of oppression didn't leave the land, now called Bangladesh. Bangladesh again found herself locked under the trident of West Pakistani exploitation.
West Pakistan (now Pakistan) became one of two countries divided in 1947. The other country was India. West Pakistan also contained the most Muslim eastern half called East Pakistan. East Pakistan was the name given to the East Bengal in 1955.
Ever since the division, West Pakistan started fierce campaigns of oppressing East Pakistan (present-day Bangladesh) people. The West Pakistani rulers limited the Bengali people's rights every way possible.
They started denying their rights to speak their own language, occupy parliamentary and administrative positions. The West Pakistani Administration managed the unequal distribution of resources, exploiting the Bengali people.
The Bengali People were denied the wealth and resources created by themselves. Since they were heavily controlled by the oppressive central government sitting in Islamabad.
The General Election of 1970
A general election was held across Pakistan (East and West). A Bengali leader, nominated by Awami League Party, Sheikh Mujibur Rahman contended in the election. He not only came victorious with the absolute majority in East Pakistan but also got the mandate to form the Central Government of Pakistan.
The other contender was Zulfiqar Ali Bhutto. He was leading the Pakistan People's Party (PPP). He couldn't accept the drubbing defeat.
He started conspiring to delay the sitting of the parliament under illogical pretexts. His partner-in-crime was notorious General Yeah-ya Khan. He led the Pakistani Military Junta. He was in connivance in Bhutto and did everything he could to delay the power handling process.
Under the pretext of holding talks with Awami League, the General was relocating troops and ammunition from West Wing to the East Wing of Pakistan.
On the night of 25 March 1971, the military junta of Pakistan launched a full-blown attack on the unarmed Bengali people. The military committed genocide across East Pakistan.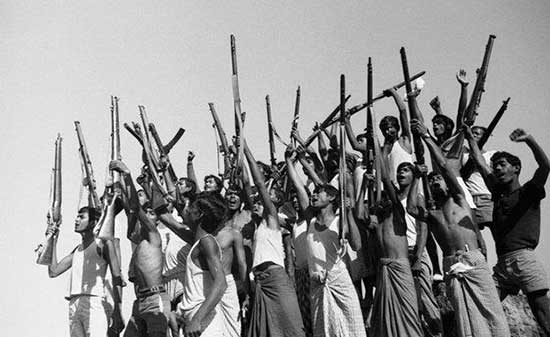 As a response, the independence of East Pakistan from West Pakistan was announced on 26th March 1971. The Bengali people with limited resources and time formed "Mukti Bahini (Freedom Force). The force with the active help from civilians fought off the West Pakistanis and freed the country on 16 December 1971.
Languages of Bangladesh
Currently, there are over 40 languages spoken in Bangladesh. The number of languages spoken in Bangladesh shows how diverse the Bangladesh population is. Many people are surprised at the fact that there are many languages spoken in such a small country.
Why not?
After all, the Bengali People are the ones who shed blood to uphold their language. Therefore, one can expect that the country will host such a multitude of languages. The diverse languages of Bangladesh are her strength, making her a true melting pot of cultures.
Quick Facts on the Languages of Bangladesh
Official Languages – Bengali
National Languages – Bengali
Principal Foreign Languages – English
Language Counts – the number of individual languages spoken in Bangladesh is 40. All of those languages are living languages. Of all the languages, 1 is the official language, 35 are indigenous, 3 are non-indigenous languages, and 1 is the main foreign language. Moreover, 4 languages are recognized as institutional ones. 12 languages are developing ones. 16 languages are in vigorous use. And, 8 are endangered languages.
Regional Languages (Unofficial) – Sylheti, Chittagonian, Chakma, Rangpuri
Indigenous Languages – Assamese , Bishnupriya Manipuri, Chakma , Hajong , Tangchangya , Oraon Sadri, Khasi , Koda, Mundari, Pnar, Santali, War-Jaintia , Kurukh , Sauria Paharia , A'Tong , Chak , Chin, Asho, Bawm, Falam, Haka , Khumi , Koch, Garo, Megam, Meitei Manipuri, Mizo , Mru, Pangkhua, Rakhine/Marma , Kok Borok, Riang, Tippera and Usoi
Non-Indigenous Languages – Bihari, Burmese, Rohingya
The Bengali Language
The Bengali Language is the lingua franca of Bangladesh. It's the official language of the language. 98% of Bangladeshis use the Bengali Language or its dialects as the primary medium to communicate. It is also their first language.
The Bengali Language is not limited to Bangladesh. It's spoken in a variety of countries, such as India, Nepal, Singapore, Malawi, Saudi Arabia, the United Arab Emirates and the United Kingdom.
The Bengali Language and Sierra Leone
Bangladesh has sent peacekeeping troops to Sierra Leone. And, the Bangladeshi troops played a vital role in keeping the country stable and fighting the rebels during the Sierra Leone Civil War.
Not only did the Bangladeshi troops help maintain peace, but they also ensured proper healthcare, sanitation, education and infrastructural development for the war-stricken Sierra Leone People.
The Bangladeshi troops remained a force in driving Sierra Leone forward.
In 2002, the Bengali Language was proclaimed as one of the official languages in Sierra Leone. The people of Sierra Leone speaking, and singing in Bengali is truly amazing!
The English Language
Due to the British Colonization of the Sub-Continent, the English Language is also a widely spoken language in Bangladesh. The English Language is recognized as the main foreign language in Bangladesh. Since the language is integrated into means of education and official activities, it is a commonly understood language in Bangladesh.
Indigenous Languages of Bangladesh
Bangladesh is a country of various ethnic groups. There are 35 languages. And, they are: Assamese , Bishnupriya Manipuri, Chakma , Hajong , Tangchangya , Oraon Sadri, Khasi , Koda, Mundari, Pnar, Santali, War-Jaintia , Kurukh , Sauria Paharia , A'Tong , Chak , Chin, Asho, Bawm, Falam, Haka , Khumi , Koch, Garo, Megam, Meitei Manipuri, Mizo , Mru, Pangkhua, Rakhine/Marma , Kok Borok, Riang, Tippera and Usoi
What is the Official Language of Bangladesh?
Bengali is the official language of Bangladesh. And besides, English is the second language and most spoken language in Bangladesh right after Bangla.
It is worth mentioning that, no other nation except Bangladeshi paid their blood to speak on their mother language. In  21st February of 1952, Bangladeshi people fought with Pakistani leaders to speak and use Bangla in all over Bangladesh. Recently, 21st February has been the International Mother Language day worldwide.
Who represents the present government of Bangladesh?
Prime Minister holds the most powerful personality in Bangladesh and Sheikh Hasina is the current honorable Prime Minister here. Abdul Hamid is the president of Bangladesh and Shirin Sharmin Choudhury holds the chair of the speaker of Bangladesh National Parliament.
There are 31 Cabinet Ministers, 17 State Ministers and 2 Deputy Ministers who are chaired by Sheikh Hasina Wazed.
How Many People Lives in Bangladesh Right Now?
According to the survey and NGO's country-wide population estimation of 2015, there are 168,957,745 people are living in Bangladesh. This is the 8th most populated country of this world.
How Rich Are The Bangladeshis?
Well, according to the Gross Domestic Product or GDP ( based on Purchasing Power Parity), Bangladesh is the 34th of this world according to IMF and World Economic Database. GDP Per capita is $3581.
How Rich Are The Bangladeshis?
Where does Bangladesh fall in the list of the richest countries?
How developed is Bangladesh?
If you ever have asked yourself those questions, this article details everything you need to know about Bangladesh's wealth.
Being a small and developing country, Bangladesh has a multitude of issues to deal with. When the country manages growth in standard of living, natural disasters threaten to downsize such progress in tandem. Afflicted with the population explosion, corruption, food insecurity; one is likely to become pessimistic about the country.
But, every cloud has a silver lining.
If Japan can become one of the strongest economies despite constant earthquakes, tsunamis, and destruction from WW2, Bangladesh has the potential to emerge as one!
Several estimates, sectors, and factors don't negate the fact that Bangladesh is developing. It is developing faster than her peers.
Bangladesh recently achieved the lower middle-income status. It's a huge stride for a country that tops the hit-list of climate change.
Quick Facts on How Rich Bangladesh Is:
Bangladesh ranks the world's 139th richest country on the IMF list.
Bangladesh is the 3rd richest country in South Asia, topping Sri Lanka, Nepal, Afghanistan, Bhutan, and Maldives.
In 2016, Bangladesh achieved the status of a lower middle-income country. Previously Bangladesh's status was of the low-income status.
Bangladesh projects an 11.39% boost in per capita income for this fiscal year.
The per capita income of Bangladesh was $1,316 in the last fiscal year. It is expected to elevate to $1,466 this fiscal year.
Besides an increase in per capita income, Bangladesh projects an estimated 7.05% GDP growth by the end of this fiscal year this June.
How Rich are the Bangladeshis?
Bangladesh is one of the most densely populated countries in the world. Bangladesh's land is fertile. Bangladesh is biologically rich, dominated by bountiful vegetation. Bangladesh is ranked 139th in the world as per the International Monetary Fund's (IMF) list of countries having the highest per capita income for 2015. Bangladesh's per capita income is barely satisfactory, compared to that of many South-East Asian and Sub-Saharan African countries.
However, a significant increase in exports from the textile industry and remittance contributed to the overall economic development of Bangladesh in recent years. Bangladesh has achieved noteworthy progress over the last 25 years in terms of standard of living and human development. Life expectancy in Bangladesh also improved.
What Needs to Be Done to Alleviate Poverty in Bangladesh
Bangladesh's greatest strength is her large population. The government needs to create opportunities for each and every Bangladeshi to provide input to her economic development.
The government needs to promulgate career-based education in order to prepare the upcoming workforce as viable and skilled.
Corruption in every fiber of the society should be uprooted. Both the average citizen and officials should stop participating in corruption.
The government needs to improve the business environment and ensure a healthy environment and fair payments for workers.
The peaceful transition of power and a safe political environment needs to be ensured.
Everybody needs to work on creating a knowledge- and technology-based society.
What Bangladesh's Economy Are Dependent Upon?
Bangladeshi is an Agro-based Developing country and own the third largest economy in Asia right after India and Pakistan. Jute was one of the main agricultural commodity of Bangladesh but these days Garments & Textiles, Fish, Tea, Pearling, Natural gas, textiles, pharmaceuticals, shipbuilding, steel, electronics, processed foods and ceramics are holding the economy up for Bangladesh.
From the last couple of Years, Bangladesh is doing good on IT sectors, especially in Outsourcing.
What Is Bangladesh's Economy Dependent On?
Bangladesh, a small country in South Asia, is not small at all when it comes to featuring natural wonders. Lush vegetation adorns the country, so do a multitude of rivers that run zigzag across the country.
Bangladesh is a country with immense potential. Although she's still one of the poorest countries in the world, it achieved significant progress in terms of human development, the standard of living and industrialization.
Bangladesh Economy
Bangladesh is progressing.
It can be realized through the fact when many parts of the world were recession-stricken, Bangladesh remained unscathed! Bangladesh's development is something you can't overlook or look down upon.
Bangladesh can longer be dismissed as "the trash can of the world" or "the armpit of India". Bangladesh's booming economy is what her greatest strength is! Today I'm going to talk about how Bangladesh is becoming an emerging economy and what its economy depends on.
Why Bangladesh Is One of the Fastest-Growing Economies:
Bangladesh's GDP is growing as fast as China's; by 7% a year.
Bangladesh is the 2nd fastest-growing major economy of 2016.
Bangladesh's growth rate remains steady for over a decade; above 6%.
Bangladesh is the 31st largest economy in the world in terms of total GDP.
Bangladesh could become the world's 28th most powerful economy by 2030.
By 2050, Bangladesh will overtake Malaysia in terms of GDP calculated at Purchasing Power Parity.
By 2050, Bangladesh could become the world's 23rd largest economy.
What Bangladesh Economy Depends On:
Bangladesh economy depends on a variety of sectors. Bangladesh's main industries include garments, paper leather, jute, cotton, petroleum products, pharmaceuticals, fertilizer, electricity, natural gas, etc. Much of Bangladesh's GDP growth can be attributed to the exports of ready-made garments, remittance and agricultural sector. Here's the overall outlook of the dominating sectors:
Apparel Sector – Bangladesh's ready-made garment industry claims about 78% of total exports. Bangladesh is the second-largest apparel exporter behind China. Bangladesh's textile industry includes ready-made garments (RMG) , knitwear and many other specialized textile merchandises. The apparel sector employs over 3.5 million workers.
Remittance – the average growth of over 6% that Bangladesh achieved over the last five years is also dependent on the robust flow of remittance. Remittance flow from Bangladeshi expatriates has doubled over the past five years.
Latest Bangladesh Bank statistics find that the remittance flow climbed to $14.18 billion seven days prior to the end of the current fiscal year. Bangladeshi expatriates were able to contribute significantly to the economy even though many Middle Eastern countries, including Libya, Egypt went through turmoil and civil war.
Agriculture Sector – most Bangladeshis earn their livelihood from agriculture. The main crops include rice and jute. However, the cultivation of maize has increased greatly due to their usage as poultry feed. Bangladesh faces a variety of volatile weather conditions that constantly threaten this sector.
The agriculture sector employs 47% of the total labor forces of Bangladesh. It contributed to GDP with 9922.80 million BDT, which is 16% of the country's GDP. If flood control, irrigation system and use of fertilizers are not improved, this growing sector will lose its potential.
Literacy Rate in Bangladesh
This is one thing Bangladesh can be worried too. Only 66% of males and 63% of females are educated in Bangladesh. But hopefully, the government has taken some initiative to extend the literacy rate in Bangladesh for both women and men.
Who Improved The Bengali Cultures and Literatures?
There is some notable person who tried their best to improve the Bengali literature and cultural traditions. Rabindranath Tagore, Kazi Nazrul Islam, Begum Rokeya, Michael Madhusudan Dutt, Syed Mujtaba Ali, Humayun Ahmed, Sufia Kamal, Nirmolendo Goon, Mir Musharraf Hossain, Akhtarujjaman Elias, Shahidullah Kaiser, Al Mahmud, Shamsur Rahman, Shawkat Osman and a lot of Bengali Poets and Writers contributed to make Bengali Literature and cultures better.
Best Traditional & Remarkable Architecture & Places of Bangladesh
Bangladesh was mainly known as the country of the largest mangrove forest named Sundarban and a sandy beach named Coxsbazar. Besides that, Sixty Dome Mosque, Paharpur Bihar, Mohasthangarh, Sompur Bihar, Ahsan Manjil, Lalbagh Fort, Natore Rajbari, Puthia Rajbari and Jangalbari Fort of Isha Khan are highlighted.
Bangladesh is a gem in South Asia. The small country is the perfect epitome of beauty. Dominated by lush vegetation, Bangladesh boasts remarkable archaeological wonders. Archaeological sites, compounded with mesmerizing architecture, make Bangladesh truly a land to behold.
What You Will Learn From This Article:
Architecture of Bangladesh
Pala Dynasty Architecture
Islamic & Mughal Architecture
Top 10 Architectural Buildings to Visit in Bangladesh
Architecture of Bangladesh
The architecture of Bangladesh is a patchwork of a long-standing tradition, culture, history, and religion. It encompasses architectural styles unique to the Subcontinent. The strength of Bangladesh's architecture lies in its numerous ethnic communities.
The architecture of Bangladesh drew its inspiration from those diverse communities. Since the communities have led distinctive lifestyles in the context of society and religion, the architecture of Bangladesh bears their glory, history, and tradition.
Bangladesh's many architectural monuments and relics date back to thousands of years. The remains of the archaeological sites signify the fact the Bengali people practiced the art of building from the onset of her history.
Below is a list of remarkable architectural structures and archaeological sites in Bangladesh based on their founding periods:
Pala Dynasty Architecture – founded by Gopala, Pala Dynasty ruled Bengal (present-day Bangladesh) and Bihar for almost 4 centuries. The Palas ruled from the 8th to 12th century. Throughout their reign, they formed a unique style of architecture and art known as "the Pala School of Sculptural Art." Their noteworthy architecture structures include:
Vikramshila Vihar – Vikramshila was one of the two most important learning centers on Buddhist philosophy. It was founded by Dharmapala.
Odantapuri – it is considered the second oldest Mahavihara (Buddhist monastery) in the Subcontinent.
Jagaddal Vihara – another Buddhist monastery of much archaeological value.
Somapura Mahavihara – it is the largest Buddhist Vihara in the Subcontinent.
Islamic and Mughal Architecture – the Sultanate of Bengal ruled Bengal for a long time that spanned more than 2 centuries, from 1342 to 1576. Most of the Islamic architecture during the reigns of the Sultans can be found in Gaur (present-day Rajshahi) and Malda district. The Islamic architecture of the period assimilated influences from Bengali architectural traditions. The notable architecture structures of the Sultanate Period include:
Shat Gombuj Masjid – built in the middle of the 15th Century, it is widely considered as "the most impressive Muslim monuments in the whole of the Indian subcontinent." Truly the sixty dome mosque is an architectural beauty. It was built in a uniquely local style. The mosque is a UNESCO World Site too.
Shona Masjid – locally known as Small Golden Mosque, it was built between 1493 and 1513 by Sultan Hussain Shah. It is one of the best-preserved Sultana architecture structures.
Lalbagh Fort – it is located alongside the Buriganga River. The construction of the fort started in 1678 but remained incomplete.
Top 10 Architectural Buildings to Visit in Bangladesh
Apart from those architecture structures, there are also some notable buildings that bloom the architectural wonders of South Asia. And, they are:
Jatiya Sangsad Bhaban (National Parliament House)
Location: Dhaka City
2. Curzon Hall
Location: University of Dhaka
3. Ahsan Manzil
Location: Dhaka
4. Tara Masjid
Location: Dhaka
5. Tajhat Palace
Location: Rangpur
6. Baliati Palace
Location: Manikganj
7. Shrine of Bayazid Bostami
Location: Chittagong City
8. Mohera Jomidar Bari
Location: Tangail
9. Hemnagar Zamindar Bari
Location: Tangail
10. Bangabandhu International Conference Center
Location: Dhaka City
What Are The Traditional Foods in Bangladesh?
Bangladeshi people are mostly fond of Rice and Fishes. Besides, they love and enjoy eating Biriyani, Pulao, Khichuri, Chicken Tikka and Kebab. They love different kinds of sweets like Roshogulla, Comilla's Roshomalai, Tangail's Chomchom and Bogura's Doi.
Important Festivals and Rituals of Bangladesh
As Bangladesh is a Muslim dominated country, two EIDs (Eid-ul-Adha and Eid-ul-Fitr) is the main Festival of Bangladesh. Except these two, Bengali people celebrate Pohela Boishakh, National Victory Day, Independence Day and Durga Puja.
Popular Sports in Bangladesh
Cricket is the most popular sports here in Bangladesh. Football, Kabaddi, Ha-Do-Do, Dariya Bandha, Gullachut are some traditional and widely popular sports in Bangladesh also. Ha-do-do is the national game of BD. These days, Bangladesh also takes part in the World Olympics and have shown their interests in Shooting, Gymnastics, Sprint, Weight-loading and so on.
This is the intro of our beloved Bangladesh.
Lots more to say.
Comment below if you have anything to say about Bangladesh or would like me to add anything else to make this article even better.
Share and tell your friends… it's your turn!