Last Updated on April 20, 2021 by
Dhaka is one of the busiest cities in the world and people here remain very busy with their professional life. Therefore, during the weekend day or govt. holiday citizens of Dhaka take their family out and spend some quality time with their family as well as eat dinner together in various restaurants.
There are many renowned restaurants available in Dhaka that offer world-class foods and cuisine. Some of the best restaurants in Dhaka are Izumi Japanese Kitchen, Lucknow Dhaka, bbq Bangladesh, Gloria Jean's Coffees, Cozy Sizzler Restaurant, Santoor Restaurant, Sajna Restaurant, etc.   
List Of Best Restaurant In Dhaka
Address: Plot# CEN 4G, Road# 104, 1212. Dhaka, Bangladesh 1212, Dhaka, Bangladesh
Phone: +880 1755-557926
Signature Dishes Of Cozy Sizzler Restaurant  
Spicy Chicken Cashewnut Salad
Fried chicken strips with tomato, cucumber, cashew nut, green chili mix with special Thai lemon dressing
Philly Beef Sandwich
Beef stripes on with baguette with philadelphia cheese, lettuces, tomato and fried onion served with french fries
Pizza Capers
12″ pizza fresh tomato, garlic, olive oil, & fresh herbs topped with slices of mozzarella cheese
Pizza Pecola Casa
12″ pizza tomato sauce, chicken sausages, mushroom, green pepper, black olives with mozzarella cheese
Pizza Long Beach Suites Special
12″ pizza grilled chicken, prawn, tomato, mushroom, green pepper, onion, black olives, red chili flakes, and fresh herbs with Mozzarella
Gambaro Aglio
Marinated flour dusted prawns pan fried than sautéed in butter, garlic, lemon, seasoned lightly & finished with fresh herbs served with herb rice & vegetables
Norwegian Pick Salmon
Topped with capers & lemon butter , served with buttered rice or steamed rice & seasonal house vegetables
Baked Mediterranean Seabass
Marinated sea bass fillet oven baked with garlic, capers, lemon juice, fresh herbs, salt, pepper & olive oil, served with steamed rice & seasonal vegetables
Szechuan Chicken
Thin chicken stripes lightly marinated than fried in a special szechuan style sauce with dry red chili, served with oriental rice & sautéed vegetables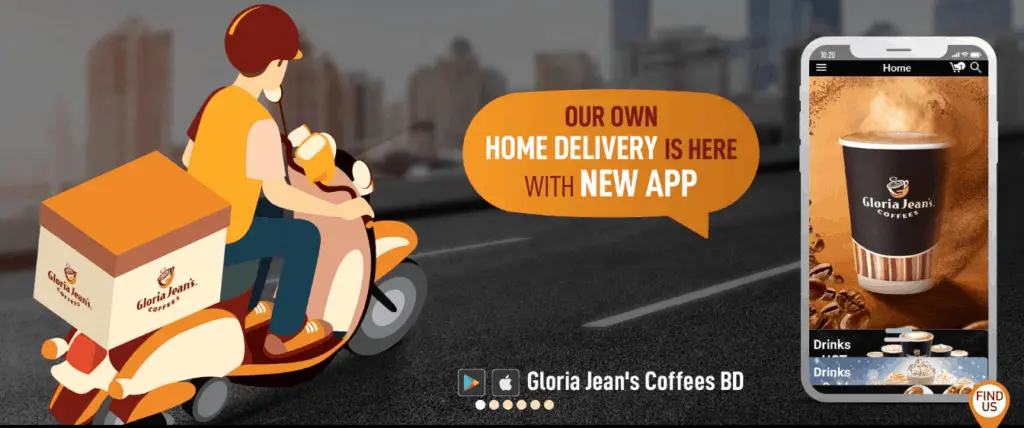 Address: Gloria Jean's Coffees, Gulshan 1; House 35, S.W (a, 29 Rd No 11)
Gloria Jean's Coffees, Gulshan 2; House No 2B, Road No 71, Block#B
Gloria Jean's Coffees, Dhanmondi; 1st Floor, Navana GH Heights
Phone: +880 1929-333999, +880 1971-008989, +880 1974-008989 
Signature Dishes Of Gloria Jean's Coffees
Surf & Turf
Minute Beefsteak, spicy grilled chicken breast, dory fillet, Grilled shell prawn, accompanied with crushed potato & green peas, grilled mushrooms, pineapple & tomato, garden salad & Italian creamy sauce
Ocean Salad
Selection of freshly blanched seafood, with a fresh iceberg, tomato, onion, capsicum, and spicy Asian dressing
Beef Rigatoni
Rigatoni pasta cooked in rosemary-infused rich beef ragu sauce, served with toasted garlic bread
Latino Chicken
Breast marinated with yellow mustard, grilled pineapple with homemade spicy tomato concasse, served with Mexican yellow rice
Crunchy Fish Burger
Crunchy dory fillets, iceberg, cucumber, onion, cheese, & GJC's chili garlic mayo     
Chicken Picasso
Spicy grilled chicken breast served with green beans, roasted potatoes, topped with olive, pepper & balsamic reduction.
Beef Lasagna
Five layered pasta with gjc's meat sauce, mozzarella cheese, topped with béchamel sauce & comes with French fries.
Aglio – E – Olio
Spaghetti cooked with garlic, mushroom, green capsicum, tomato, black olives and red chili flakes.
Grilled Dory
Crumbed and grilled fish fillet accompanied with mustard potato salad & vegetables, topped with gjc's mustard mayo.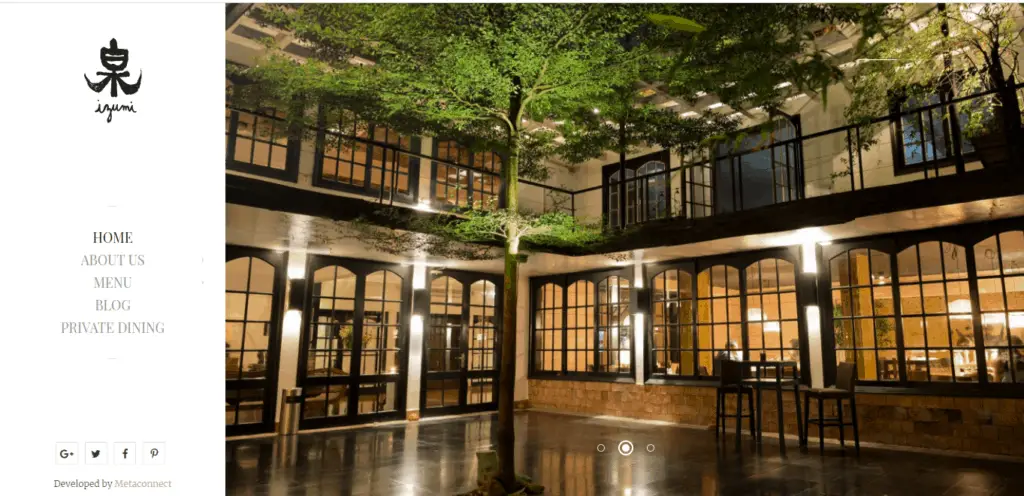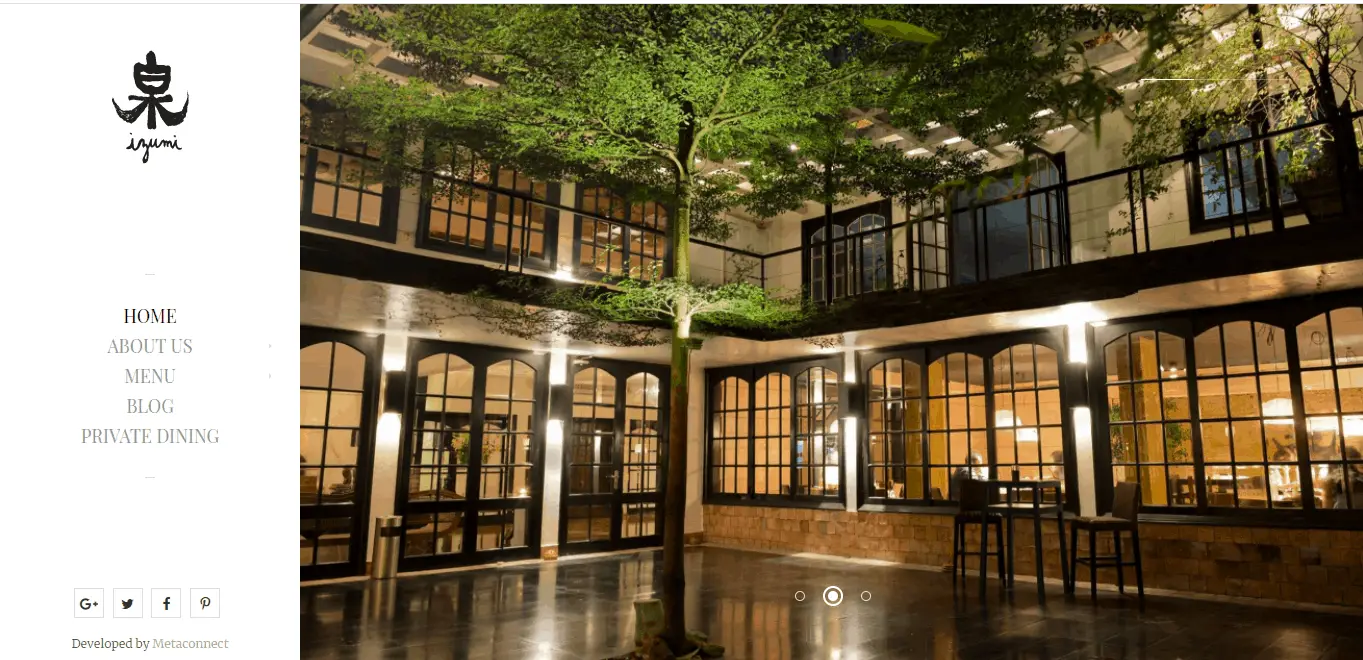 Address: 24, House no: 88, 24C Rd No 113/A, Dhaka 1212, Bangladesh
Phone: +880 1933-446677
Signature Dishes Of Izumi Japanese Kitchen
Bento Box
Stewed Vegetables & Chicken, Japanese Style Omelets with Fish & Ebi No Gomae, Cuttlefish & Vegetables Tempura, Grilled Halibut W/ Lemon Butter Soya Sauce, Salmon Sushi & Kimpira Roll, Miso Soup and Fresh Fruits.
Bento Box 2
Japanese Style Shrimp & Tofu Oroshini, Mushroom Salad, Vegetable Tempura, Chicken Teriyaki, Steamed Rice, Soup and Fresh Fruits.
Chicken Teriyaki Set
Includes Steamed Rice, Vegetable Nimono, Oshinko, Soup and Fresh Fruits.
Chicken Cutlets
Served On Rice With Japanese Curry Sauce, includes Steamed Rice, Vegetable Nimono, Oshinko, Soup and Fresh Fruits
Japanese Style Khamo (Duck)
Includes Vegetable Nimono, Oshinko & Fresh Fruits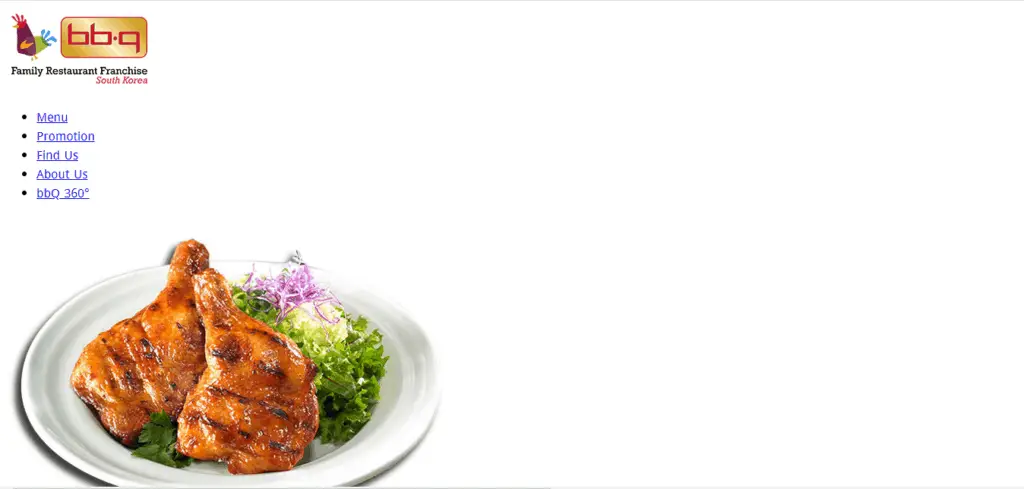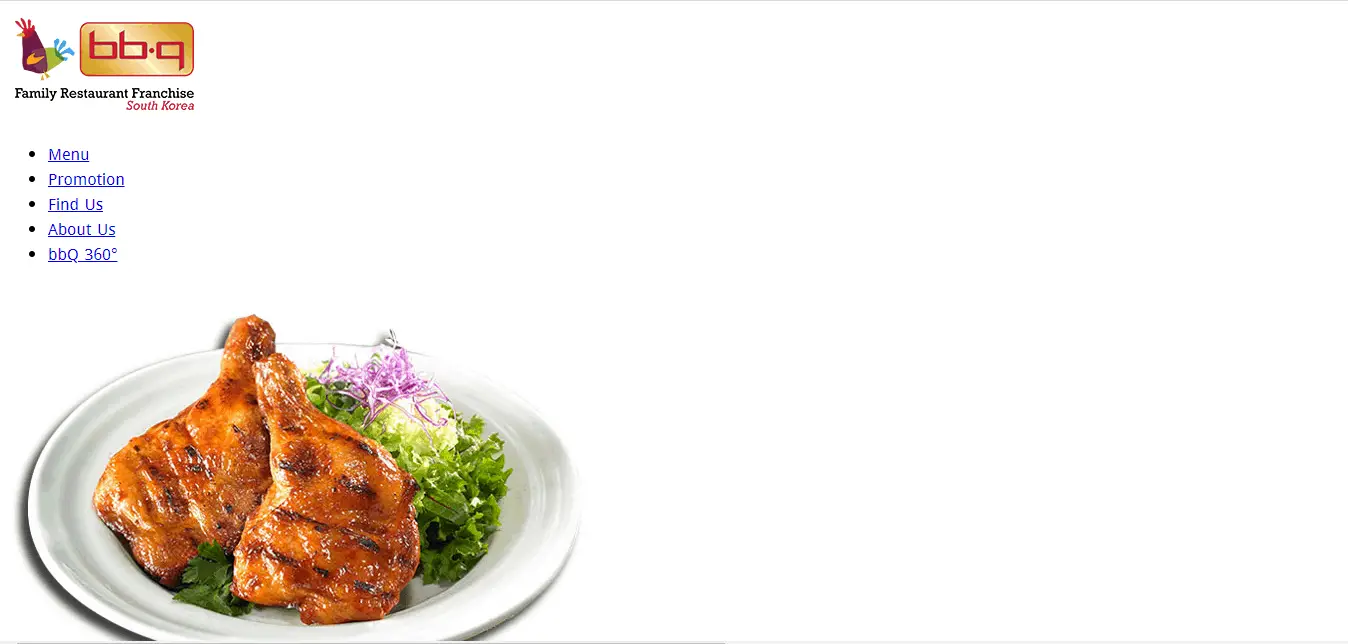 Address: 3rd Floor, 67, GH Heights, Shatmoshjid Road Opp Bangladesh Medical, Dhaka 1209, Bangladesh
Phone: +880 1729-273227
Signature Dishes of bbq Bangladesh
Mashisoyo Platter 1
Spicy pomme frites – chicken fried rice – Jamaican grilled chicken whole leg – sautéed vegetable & coleslaw
Mashisoyo Platter 2
Oyster chicken fried rice – golden fried chicken – butter fry sautéed vegetables – spicy potato bites & coleslaw
Mushroom Soup
Delicious creamy based soup served with fresh mushroom
Layou Pasta
It is a Hong Kong fusion pasta made with chili pepper oil, beef bacon, shrimp, onion, garlic, red & yellow capsicum.
Pane Mushroom Soup
Cream based soup in a crispy pane, served with fresh mushroom
Carbonara Pasta
Homemade cream based premium quality spaghetti with broccoli & mushroom.
Crispy Chicken Burger With Pomme Frite
Bite into this new age burger to be divine combination of boneless crsipy chicken, slice cheddar cheese & pomme frites and fresh vegetables.
Hot Lovers Burger With Pomme Frite
Mouthwatering spicy boneless fillet, seasoning with homemade spicy Gochujang sauce & served with gherkin, onion, cheddar cheese and pomme frites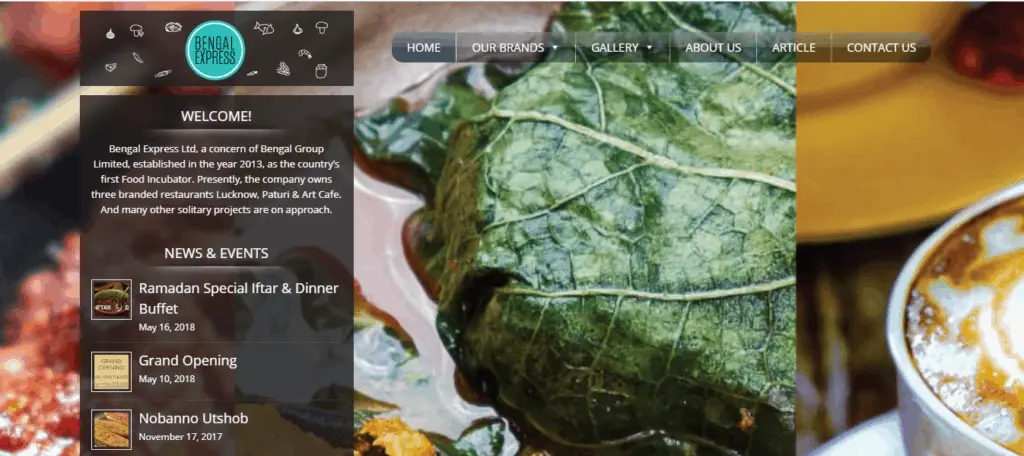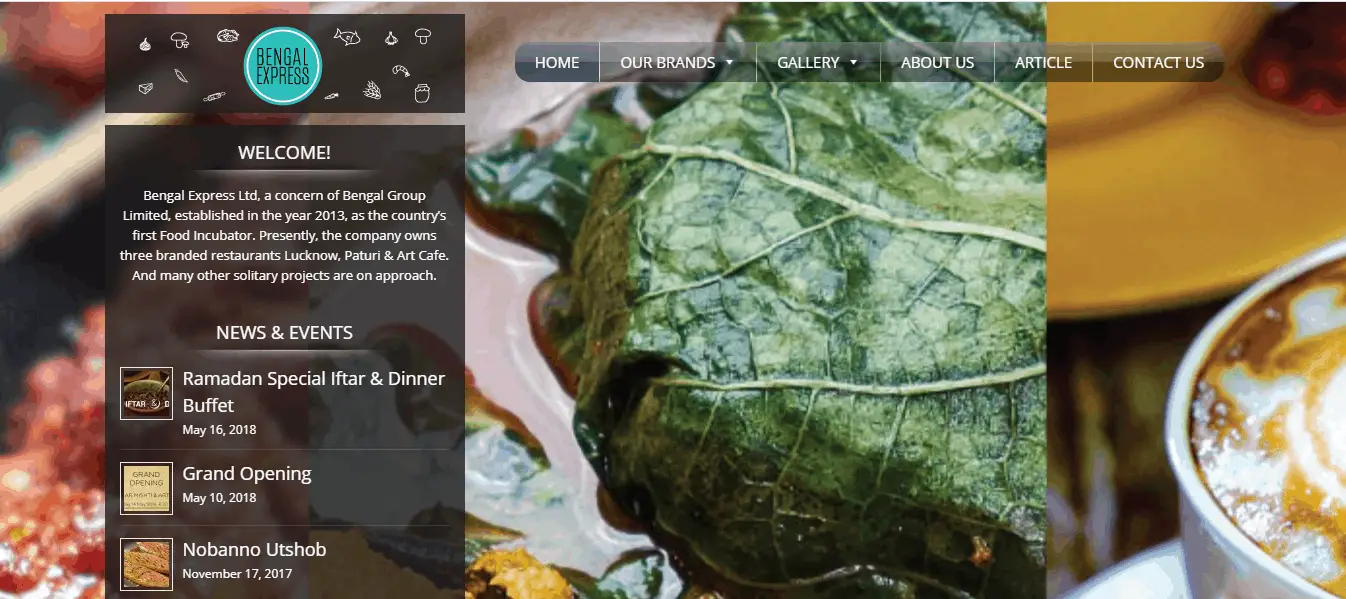 Address: E, 60 Kemal Ataturk Avenue, Dhaka 1213, Bangladesh
Phone: +880 1874-050405
Signature Dishes of Lucknow Dhaka
Mutton Galawati
Fried kebab patties made from finely minced mutton mixed with exotic spices
Mutton Chipli
Fried kebab patties prepared with minced mutton & aromatic spices
Mutton Burra
Succulent mutton chops cooked over dry heat in a tandoor
Chicken Tangri Kebab
Chicken drumsticks marinated with spicy seasonings & roasted in a tandoor to give a smoky flavour
Chicken Sunehri Kabab
5 pcs of chicken prepared with saffron & aromatic seasonings in a rich, creamy base
Chicken Malai Tikka
5 pcs of juicy chicken chunks marinated in a white yogurt, garlic sauce & grilled in a tandoor
Chicken Tandoori
Succulent chicken prepared in a tandoor by marinating in yogurt & exotic spices to give a smoky flavour
Kasandi Paneer
4 pcs of paneer chunks marinated in an aromatic paste of garam masala, mustard, chick peas, curd & butter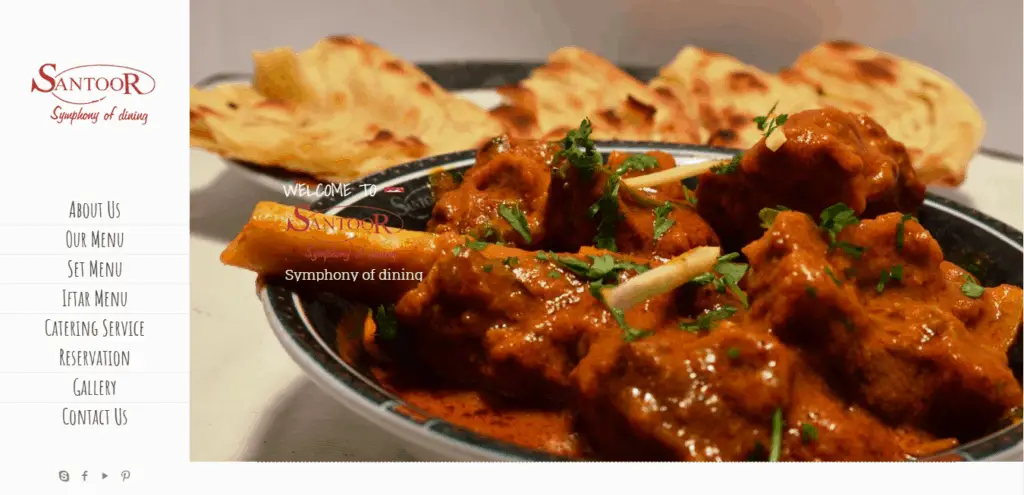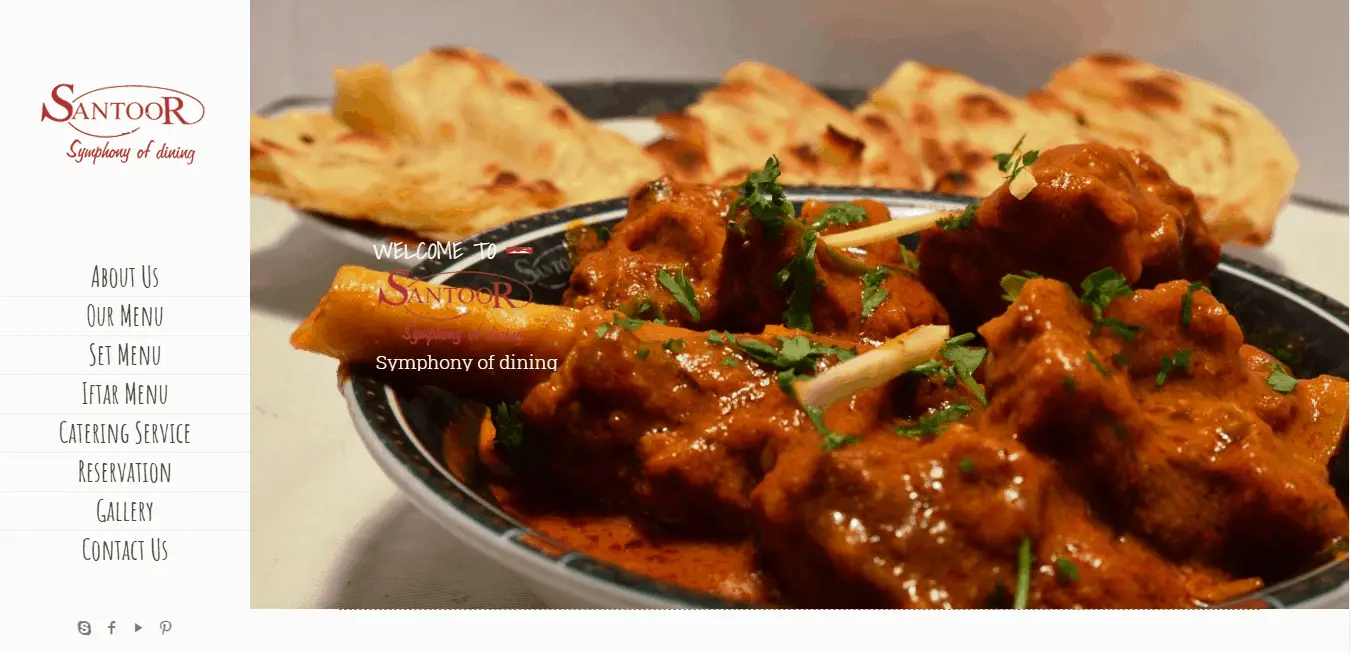 Address: House no. 2, Road No 32, Mirpur Rd, Dhaka 1209, Bangladesh
Phone: +880 2-48113086 ext. 48115215
Signature Dishes Of Santoor Restaurant
Chicken Pakora
Boiled Chicken marinated with Chef Special Spices served with Dates & Tamarind Sauce
Chicken Wings
Chicken Wings marinated spices touch with Sesame Seed & deep fried with Black Pepper
Paneer Pakora
Home made Cottage Cheese dipped in mixture of Gram Flour Flavor, with Azwan Seed & deep fried. Served with Dates Sauce
Vegetable Pakora
Mixed Vegetable, Chana Bassoons dipped In Masala & Deep Fried. Served With Dates Sauce
Santoor Special Papad
Made with Chat Masala & Chopped Tomato, Onion, Cucumber, Coriander Leaf, Green Chilli & Lemon Juice
Cream Of Tomato Soup
Home made fresh Tomato Paste & Vegetable Stock served with Fresh Cream & Crouton
Chicken Salad
Prepared with Julian, Boiled Chicken Mixed With Assorted Vegetable & Mayonnaise, With Touch Of Sesame Seed
Hydrabadi Biryani (Mutton)
Pulao Mixed With Mutton, Yogurt, Saffron, Boiled Egg & Spices Flavor With Mint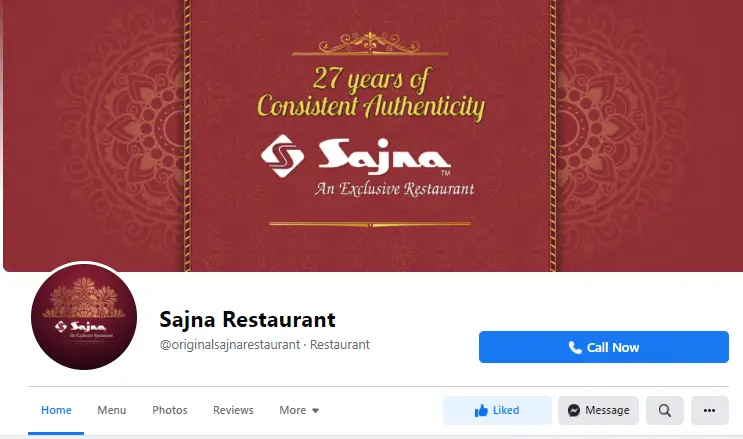 Address: House 14 Rd No. 11, Dhaka 1213, Bangladesh
Phone: Phone: +880 2-55041985
Signature Dishes Of Sajna Restaurant
Prawn On Toast
Fried bread, brushed with egg and coated with minced shrimp and water chestnuts
Russian Salad
Potato, carrot, pickle, green pea, egg, celeri, onion, tart apple, mayonnaise
Murg Musallam
Whole marinated chicken stuffed with egg and cooked with tomato, ginger, onion
Chicken Chilli Dry
Deep fried chicken with small green chilies, garlic, green pepper, shallot, cornstarch, soya sauce, vinegar
Chicken Handi Kabab
Boneless chicken, onion, tomato, fenugreek leaf, green chili, black pepper, coconut, yogurt, cream, flour, ginger-root, coriander
Mutton Handi Kabab
Minced mutton, fried onions, bay leaves, cloves, peppercorns, cinnamon sticks
Fish Moti Masala
Fish fry with hot sauce, tortellini asparagus, and bread pudding with vanilla sauce
Chicken Methi Kabab
Boneless chicken pieces marinated in a green paste of mint, coriander, spinach, and methi
Chicken Reshmi Kabab
Pieces of boneless chicken breast, marinated in a juicy mixture of curd, cream, cashew nuts and spices
Address: Bay's Edgewater 1st Floor NE (N, 12), Gulshan North Ave, Dhaka 1212
Phone: +880 1799-337700
Signature Dishes Of Bistro E
Arancini
Mushroom risotto balls stuffed with cheddar, covered in panko crumbs, fried till golden, & served with our house special lime aioli
Crostini Fungi
Toasted baguette topped with sautéed garlic mushrooms and baked to perfection with pesto & mozzarella
Salt N Pepper Squid
Crispy fried squid served with our house special tartar sauce and a lime wedge
Crispy Chicken Pop
Bite-sized morsels of chicken fried to perfection and served with our house special harissa aioli
Crispy Chicken Sliders
Crispy fried chicken thigh, marinated in Asian herbs & spices, drizzled with Siracha & served with house special harissa aioli
Snapper Nicoise
Flaky grilled red snapper served on a bed of mixed seasonal greens, tomato, and cucumber, blanched long beans, tossed in an anchovy tapenade dressing
Tenderloin Steak
300 gms of imported tenderloin, marinated in fresh herbs grilled to your liking and served with hand-cut fries and a side of fresh salad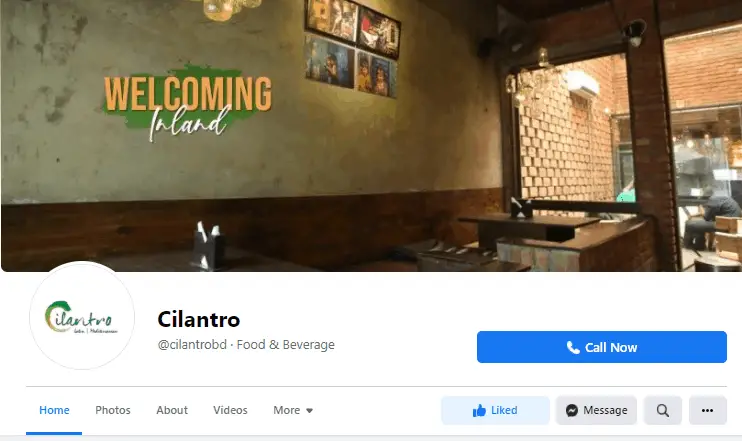 Address: 49 Satmasjid Road, Dhaka 1209, Bangladesh
Phone: +880 1766-449912
Signature Dishes Of Cilantro
Poutine
Our signature thick cut fries Crispy fries topped with gooey Cheese Sauce, Gravy, Crunchy Onions, Jalapeño, & Cilantro
Tacos With Chicken Breast
Warm soft flour Tortillas folded around your choice of filling and shredded Lettuce, Pico de Gallo and Cheese, served with fresh Salsa and Spicy Pickled Onions
Tacos With Prawns
Warm soft flour Tortillas folded around your choice of filling and shredded Lettuce, Pico de Gallo and Cheese, served with fresh Salsa and Spicy Pickled Onions
Bucket Of Fries
Thick cut fries crispy on the outside and melt in your mouth inside served with Garlic Aioli to dip and tantalize
Quesadillas- Full
Cut into Crispy Tortillas and watch yourself as all the stuffing and cheese oozes out. Topped with Sour Cream and served with Salsa
Enchiladas- Half
Cut into a soft home-made Tortilla  and bite into its juicy centre of stuffing and oozing Cheese. Topped with the goodness Sour Cream, Crunchy Onions, ]
Burrito
The delicious combination of your choice of filling, Spanish Rice, Re-fried Black Beans, Shredded Lettuce, house special Salsa, and gooey melted Cheese
Nachos
Crispy Tortilla Chips with gooey Cheese Sauce, flavorsome Salsa and topped with Crunchy Onions, Jalapeño & Sour Cream
Address: Awal center, 34 Kemal Ataturk Ave, Dhaka 1213, Bangladesh
Phone: +880 1757-334411
Signature Dishes of The Manhattan Fish Market
Fried Country Mushroom
Mushrooms are the new superfood! Enjoy juicy button mushrooms served with a homemade cajun honey mustard sauce.
Quad Delight
Hot 'n spicy chicken wings, fried calamari, fried country mushrooms, coleslaw, house salad, served with smoky chipotle sauce
Fried Calamari
Lightly battered calamari and veggie sticks, fried to a crunchy golden brown and served with a smoky chipotle sauce
Mediterranean Baked Fish
You'll love this dory fillet baked in an aromatic blend of herbs and spices, served with Garlic Herb rice and hot veggies.
Spicy Baked Fish
Get ready to jumpstart your senses! Savor a baked dory fillet in and extra-spicy marinade, complemented with Garlic Herb
Small Flame
The legendary manhattan flaming prawns with grilled dory fillet on a bed of garlic herb rice, chips and hot veggies.
Scallop Americana – Spaghetti
Sweet and juicy scallops sautéed with capsicums and a hint of black pepper make this a delightful pasta to savor.