Last Updated on April 28, 2021 by Adnan Musa
Kidney disease is a major public health issue in Bangladesh. Moreover, it's a leading cause of death and disability in Bangladesh. According to the Kidney Foundation, about 35,000-40,000 kidney patients develop kidney failure in Bangladesh every year. Kidney patients require intensive treatment therefore it is best to admit the patient to a Kidney Hospital.
Bangladesh has world-class treatment for kidney patients thanks to kidney disease-specific hospitals. Some of the best kidney hospitals in Bangladesh are Kidney Foundation Hospital and Research Institute Bangladesh, National Institute of Kidney Diseases & Urology, Insaf Barakah Kidney and General Hospital, Advanced Center Of Kidney & Urology, Asgar Ali Hospital, Evercare Hospital Dhaka, LABAID Specialized Hospital, etc.       
List Of Best Kidney Hospital In Bangladesh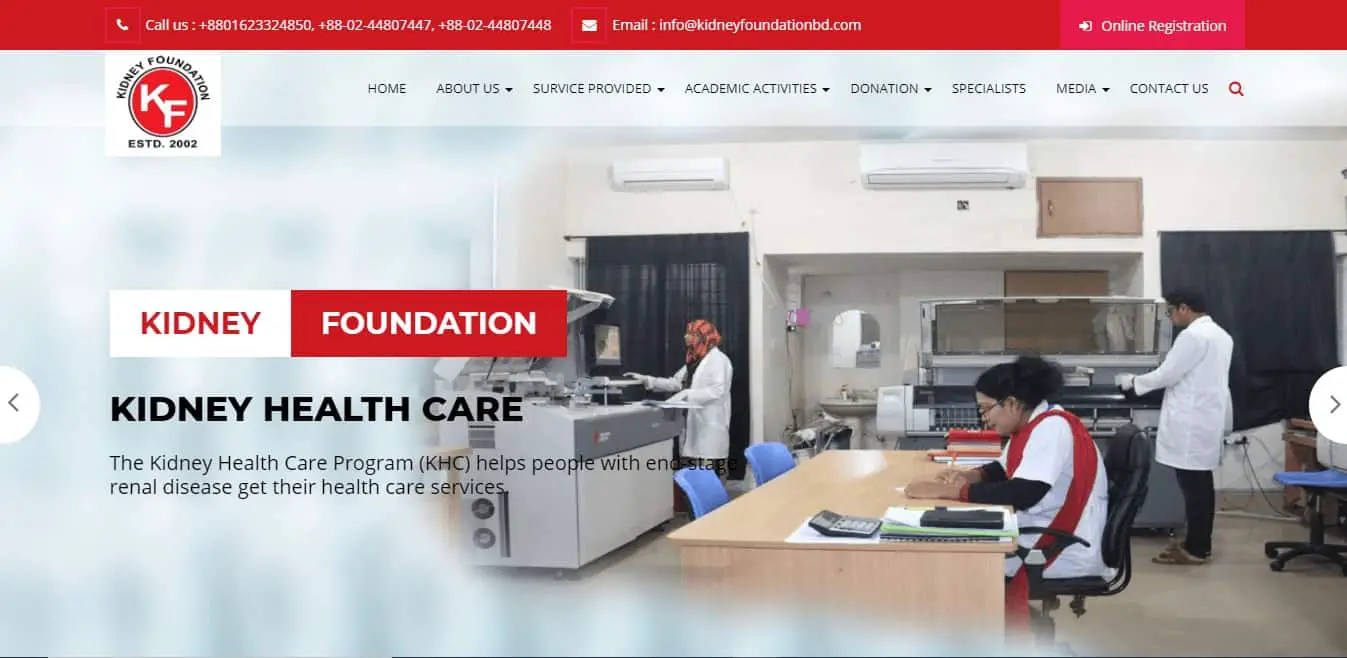 Address: Plot No. 5/2, Road No.-l, Section-2, Mirpur, Dhaka 1216, Bangladesh
Phone: +880 2-44807448
Key Service
Diagnosis and Management of Acute Kidney Injury and Chronic Kidney Disease
Management of Histological type of Glomerulonephritis, Nephrotic Syndrome, Interstitial Nephropathy
Management of Diabetes Mellitus and Diabetic Nephropathy
Etiology and management of Hypertension and Hypertensive Renal Disease
Management of Urinary Tract Infection and Complicated UTI
Management of Polycystic Kidney Disease, Heredo-familial kidney disease,
Management of End Stage Renal Disease
Acute and Chronic Haemodialysis
Chronic Ambulatory Peritoneal Dialysis (CAPD)
Renal Transplantation
AV Fistula for permanent dialysis
USG guided renal biopsy
CAPD catheter implantation
Acute retention of urinary tract
Chronic obstructive urological disease
Kidney and bladder stone disease
Renal mass and renal obstruction
Paediatric urological disease
Congenital urological disease
Doctors List
PROF. DR. HARUN-UR-RASHID
Ph.D., FCPS, FRCP
Professor and Chief Consultant
Nephrology of Kidney Foundation Hospital and Research Institute
PROF. DR. ZIAUDDIN AHMED
MRCP. FRCPI. FRCP (GLASGO).FCPS.(BD)
PROF. DR. SHAMIM AHMED
FCPS, FRCP (E), FRCP (G)
Professor of Nephrology
DR. SHAKIB UZZAMAN AREFIN
MBBS, MCPS, FCPS (NEPHRO)
Associate Professor
DR. TASNUVA SARAH KASHEM
MBBS(LONDON), MRCP (UK)
Asst. Professor
DR. NURA AFZA SALMA BEGUM
MBBS, MRCP (UK)
Senior Registrar
DR. TANJINA AFROZ BOBY
DR. MD. SAJJAD HOSSAIN
DR. ASHIQUR RAHMAN
PROF. ZAMANUL ISLAM BHUYAN
MBBS, MS (UROLOGY)
Senior Consultant
Eminent Urologist of Bangladesh
DR. ABU SYED
DR. RUHUL AMIN RUBEL
MBBS, MS
Associate Professor
PROF. SAJID HASAN
MBBS, FCPS
Visiting Consultant Urology
PROF. A K M KHURSHEDUL ALAM
MBBS, FCPS(SURGERY), FCPS(SURGERY), MS(UROLOGY) )
Visiting Consultant Urology
PROF. DR. MD.GOLAM MOWLA CHOWDHURY
MBBS, PHD (UROLOGY)
Consultant Uro-oncology
DR. REJINA JESMIN
MBBS, MPH, DMU
Consultant USG
DR. MONIR UZZAMAN
DR. IFFAT ARA
MBBS, FCPS
Consultant Radiology
DR. NAZRUL ISLAM
MBBS, DTCD, D-CARD
Consultant Echo Cardiologist
DR. AYESHA HOSSAIN SADIA
MBBS, DMUD, CDU
Sonologist
DR. TASNIA KAWSAR KONIKA
DR. SHEKH ADNAN DAUAD
MBBS, MTM
Consultant Blood Bank
PROF. FAZLUR RAHMAN
MBBS, FCPS, DA (ANAES)
Consultant Anesthesiology
PROF. M. A HAI
MBBS, MS (ANAES.)
Visiting Consultant Anesthesiology
DR. SATTAJIT ROY
MBBS, DA (ANAES)
Anesthesiologist
ISRAT JAHAN MITALI
DR. FERDOUS AHMED
MBBS, M.PHIL(PATH)
Asso. Prof. (Clinical Pathology)
DR. SULTANA GULSHANA BANU
MBBS, MD(PATH)
Associate Professor, Department of Pathology
Bangabandhu Sheikh Mujib Medical University, (BSMMU)
Consultant, Histopathology and Cytology
DR. FORHAD MONJUR
MBBS, MCPS(CL.PATH), DCP, MPH
Clinical Pathologist
DR. MD. HUMAYUN KABIR
MBBS, M.PHIL
Micro-Biologist
DR. ASHESH K. CHOWDHURY
MBBS, M. PHIL, PH.D
Professor

Address: Dhaka 1212, Bangladesh
Phone: +880 2-9134022
Key Services
Chronic Ambulatory Peritoneal Dialysis (CAPD)
Renal Transplantation
AV Fistula for permanent dialysis
USG guided renal biopsy
CAPD catheter implantation
Acute retention of urinary tract
Chronic obstructive urological disease
Kidney and bladder stone disease
Renal mass and renal obstruction
Paediatric urological disease
Congenital urological disease
Doctors List
Dr. Md. Abdus Salam
MBBS, BCS (Health), FCPS (Surgery), MRCS (Edin, UK), MS (Urology)
Urology Specialist & Surgeon
National Institute of Kidney Diseases & Urology
Prof. Dr. Nurul Huda Lenin
MBBS, FCPS (Surgery), MS (Urology)
Urology Specialist & Surgeon
National Institute of Kidney Diseases & Urology
Dr. Md. Mustafizur Rahman
MBBS, FCGP, Ph D (Nephrology)
Kidney Diseases Specialist
National Institute of Kidney Diseases & Urology
Dr. Ishtiaq Mosharraf
MBBS, BCS (Health), MD (Nephrology)
Kidney Specialist
National Institute of Kidney Diseases & Urology
Dr. Md. Nasir Uddin
MBBS, BCS (Health), FCPS (Urology)
Urology Specialist & Surgeon
National Institute of Kidney Diseases & Urology
Dr. Hasan Mahmud
MBBS, MD (Nephrology)
Kidney Specialist
National Institute of Kidney Diseases & Urology
Dr. Syed Alfasani
MBBS, FCPS (Surgery), MS (Urology)
Urology Specialist & Surgeon
National Institute of Kidney Diseases & Urology
Prof. Dr. Kazi Rafiqul Abedin
MBBS, MS (Urology)
Urology & Andrology Specialist
National Institute of Kidney Diseases & Urology
Dr. Md. Aminul Islam
MBBS, BCS (Health), MD
Nephrologist Kidney Specialist
National Institute of Kidney Diseases & Urology
Dr. Nitai Pada Biswas
MBBS, FCPS (Surgery), MS (Urology), MRCS (UK)
Urology Specialist & Surgeon
National Institute of Kidney Diseases & Urology
Dr. Kazi Shahnoor Alam
MBBS, FCPS (Medicine), MD (Nephrology)
Kidney & Medicine Specialist
National Institute of Kidney Diseases & Urology
Dr. Md. Moynul Haque Chowdhury
MBBS, BCS (Health), FCPS (Urology), CPA (USA)
Urology Specialist
National Institute of Kidney Diseases & Urology
Dr. Md. Naushad Alam
MBBS, BCS (Health), FCPS (Urology), MS, URC
Urology Specialist
National Institute of Kidney Diseases & Urology
Dr. Md. Asaduzzaman
MBBS, MCPS (Surgery), MS (Urology), FICS (USA)
Urology Specialist
National Institute of Kidney Diseases & Urology
Dr. Furkan Ahmed
MBBS, MS (Urology)
Urology Specialist
National Institute of Kidney Diseases & Urology
Dr. Md. Saiful Alam Babul
MBBS, BCS (Health), MS (Urology), URC (Singapore)
Urology Specialist
National Institute of Kidney Diseases & Urology
Dr. Md. Shawkat Alam
MBBS, MRCS (UK), MS (Urology)
Urology Specialist
National Institute of Kidney Diseases & Urology
Dr. Md. Rashed Anwar
MBBS, MD (Nephrology)
Kidney Specialist
National Institute of Kidney Diseases & Urology
Prof. Dr. Md. Anwarul Haque Forazi
MBBS, MD (Nephrology)
Nephrologist Kidney Specialist
National Institute of Kidney Diseases & Urology
Dr. Md. Abdur Razzak
MBBS, MD (Nephrology)
Kidney Specialist
National Institute of Kidney Diseases & Urology
Dr. A. N. M. Abdul Hai
MBBS, MD (Nephrology)
Kidney Diseases Specialist
National Institute of Kidney Diseases & Urology
Dr. Md. Raquib Morshed
MBBS, MD (Nephrology)
Kidney Specialist
Dr. Humayara Jesmin Trisha
MBBS, BCS (Health), FCPS (Medicine), MRCP (UK)
Medicine Specialist
National Institute of Kidney Diseases & Urology
Dr. Md. Kabir Alam
MBBS, MD (Pediatric Nephrology), PGPN
Child Kidney Specialist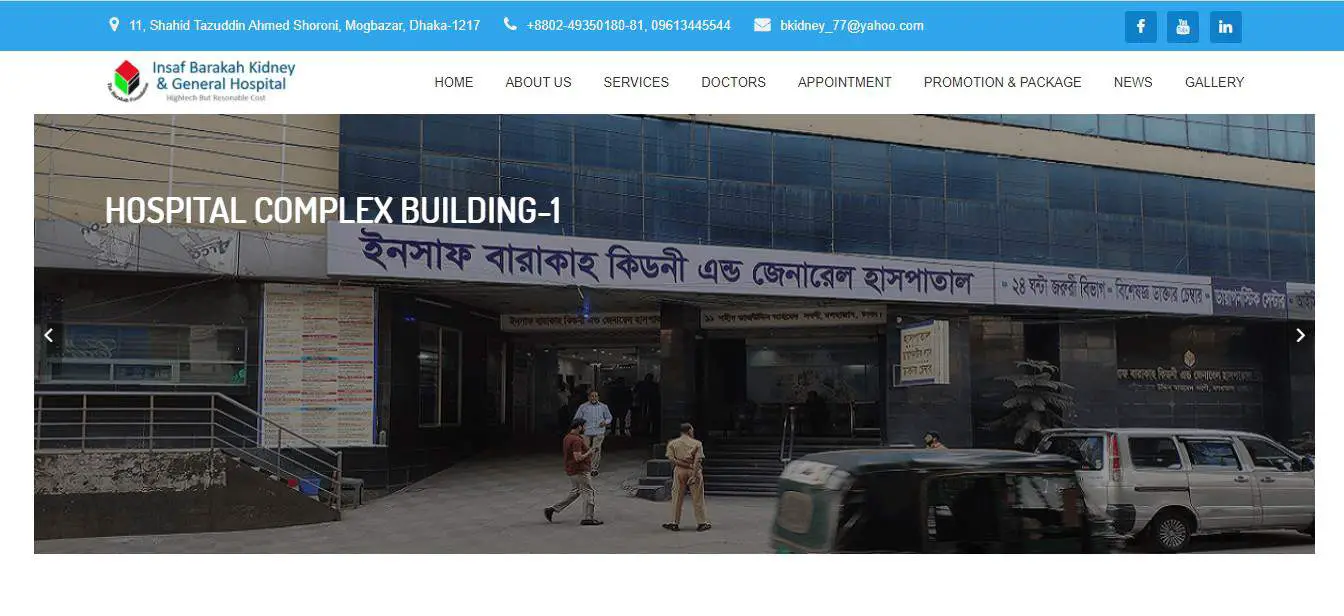 Address: 11, Shahid Tazuddin Ahmed Shoroni, Mogbazar, Dhaka-1217
Phone: +8802-49350180-81, 09613445544
Key Service
Laparoscopic and General surgery
AV Fistula for permanent dialysis
USG guided renal biopsy
CAPD catheter implantation
Transplantation Facility
Indoor Facilities
Outdoor Facilities
Modern diagnostic facility
Modern Ultra-sound with biopsy guided facility
Doppler study to see blood flow for organ
X-ray with mobile unit
Doctors List
PROF. DR. EHTESHAMUL HOQUE
MBBS, MD (NEPHROLOGY) FELLOWSHIP (NEPH, JAPAN), 
Head of the Department, Nephrology
Holy Family Red Crescent Medical College Hospital
PROF. DR. MD. FIROZ KHAN
Nephrologist
MBBS, MD, FRCP, ISN FELLOW (JAPAN)
PROF. DR. LT. COL. ABDUL QUDDUS BHUIYAN
Nephrologist
MBBS, MCPS, FCPS [NEPHROLOGY]
Associate Professor, Armed Forces Medical collage & CMH, Dhaka
DR. MD. KABIR HOSSAIN
Nephrologist
MBBS, MD (NEPHRO)
PROF. DR. M. FAKHRUL ISLAM
MBBS, PHD, WHO FELLOW [INDIA, THAILAND],
Professor & Head of the Department, Department Of Urology
Bangladesh Medical College & Hospital
PROF. DR. M. A. MANNAN KHAN
Urologist
MBBS, FCPS (SURGERY),SPECIALIZATION IN UROLOGY, LONDON, U.K, 
Professor (Retd.), Urology & Kidney Transplant Department, 
BIRDEM Hospital, Dhaka
PROF.DR. A.K.M SHAHADAT HOSSAIN
Urologist
MBBS,MS (UROLOGY), FCPS (SURGERY) 
Professor, Urology Department 
Dhaka Medical College & Hospital
PROF. MAJ. GEN. (RETD.) MD. ALI AKBAR
Urologist
MBBS, FCPS[BD], FICS (USA)
Professor & Head, Department of Urology,
Holy Family Red Crescent Medical College & Hospital
DR. HUMAYUN KABIR SALIM
Urologist
MBBS, FCPS (SURGERY), MS (UROLOGY), MRCS (EDIN, UK) 
Asstt. Professor Urology 
Spcialist & Laparoscopic Surgeon 
Insaf Barakah Kidney & General Hospital
ASST. PROF. DR. A. K. M. MUSA BHUIYAN (BABLU)
Urologist
MBBS, BCS (HEALTH), MS (UROLOGY), Assistant Professor, Dhaka Medical College & Hospital
ASST. PROF. DR. MD. AL- KAMAL ABDUL WAHAB
Laparoscopic & General Surgeon
MBBS, FCPS, (SURGERY), MS (UROLOGY)
Urologist Laparoscopic Surgery Specialist
Asstt. Professor Kurmitola General Hospital, Dhaka
DR. MD. FARUK HOSSAIN SHEIKH
Urologist
MBBS, BCS, MS (UROLOGY
Asstt. Professor, Urology & General surgeon
DR. MARUF AHMED
Urologist
MBBS, BCS (HEALTH), MS (UROLOGY)
Kidney, ureter, Bladder, Prostate Specialist & Surgeon
Asstt. Prof Mugda Medical Collage & Hospital
DR. SHOEB ALAM (MILON)
Urologist
MBBS, MS (UROLOGY),
Associate Professor,
Holy Family Red Crescent Medical College Hospital
DR. MD. MOKHLESUR RAHMAN SAJAL
Urologist
Assistant Prof. & Head
Urology Department
Kishorgonj Medical College Hospital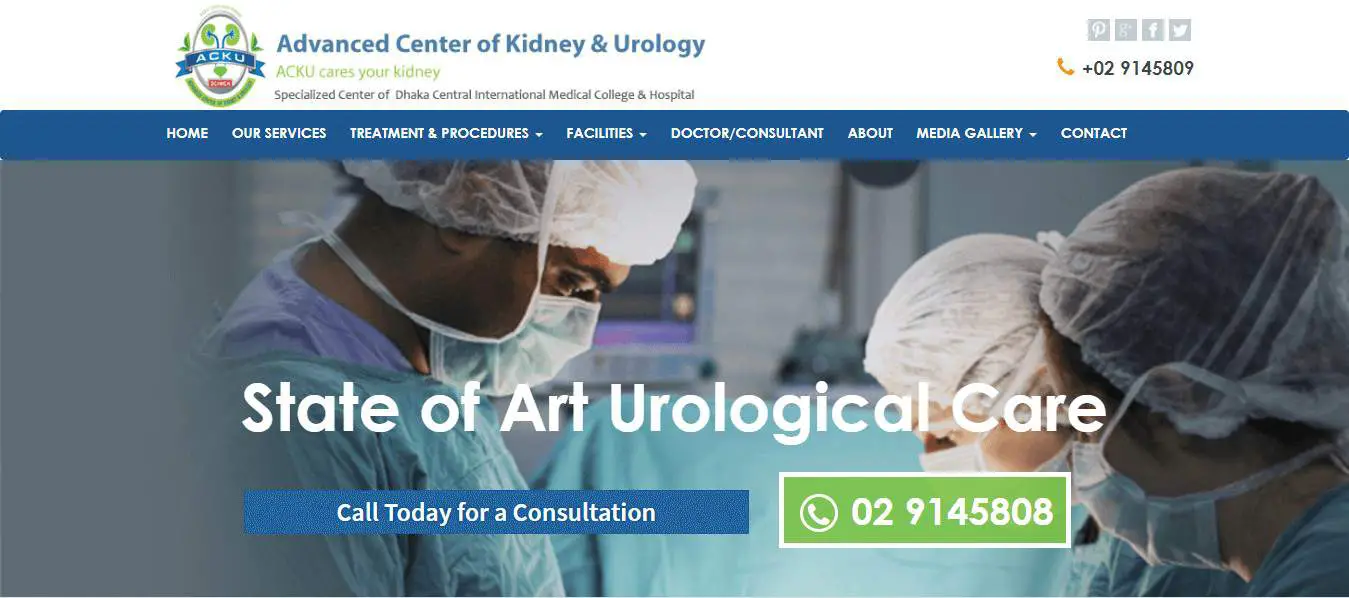 Address: 4/KA, Johori Mohollah, Ring Rd, Dhaka 1207, Bangladesh
Phone: +880 1746-344179
Key Service
Enlarged Prostate (BEP)
Prostate Cancer
Kidney Cancer
Bladder Tumour
Bladder Stone
Kidney Stone
Ureteric Stone
Paediatric Urology
Laparoscopy Urology
Female Urology
Erectile Dysfunction Treatment by PIEZO Machine
Urological Health Check-up
Urinary Inconsistence
Vesicovaginal Fistula (VVFs)
Uretero vaginal fistula (UVF)
Stress Urinary Minimal Invasive Surgery by Transobturatortape (TOT)
Transvaginal Tape (TVT)
Doctors List
Prof. Dr. Sohrab Hossain Shourav
Urologist, Expert in Kidney Stone Surgery by Mini PCNL, by LASER and LASER Prostatectomy (ThulEP)
MBBS, MS (Urology), WHO Fellow
Professor and Head of the Department,
Department of Urology,
Dhaka Central International Medical College Hospital, Shyalmoli, Dhaka
Chairman,
Advanced Center of Kidney and Urology, Shyalmoli, Dhaka
Dr. Md. Fazal Naser
Urologist, Kidney Surgery Specialist & Expert in Uro Laparoscopy
MBBS (DMC), FCPS (Surgery), MS (Urology), MRCS (Edin), MRCS (Glasgo), WHO Fellow
Assistant Professor,
Dept. of Urology,
Shaheed Suhrawardy Medical College and Hospital, Dhaka
WHO Fellow in Urology and Renal Transplant
Ex. Specialist Registrar,
Urology, National Health Services, UK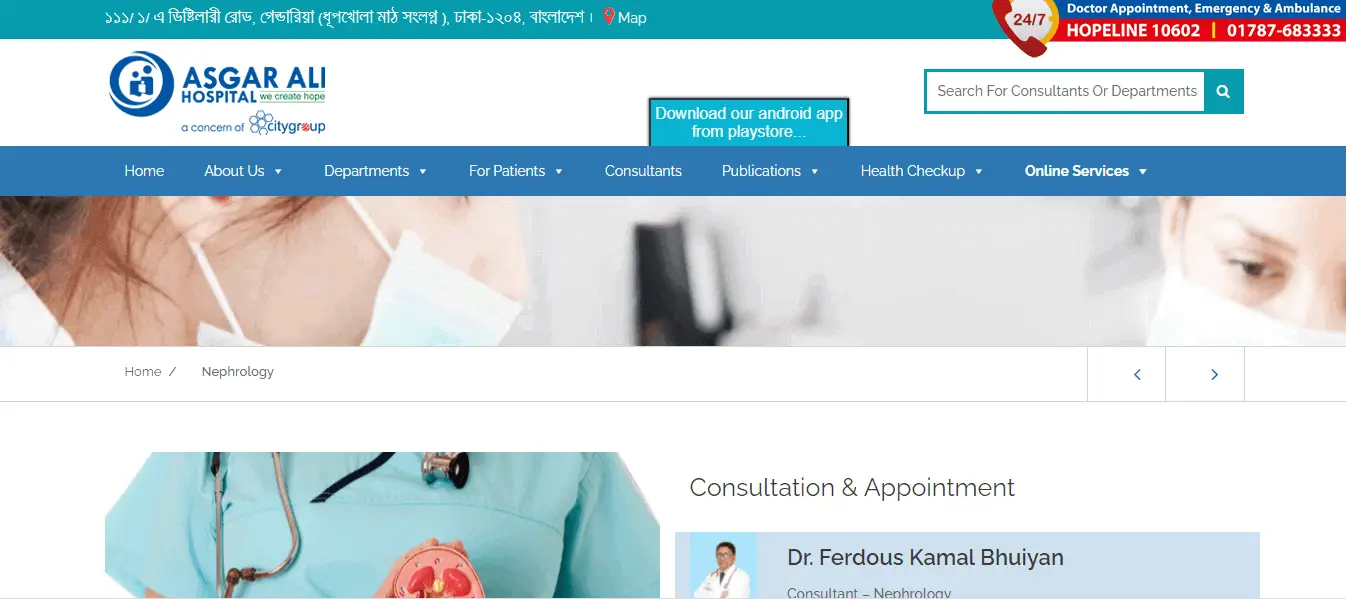 Address: 111/1/A Distillery Road, Gandaria (Beside Dhupkhola Playground), Dhaka-1204, Dhaka
Phone: +88 0178 768 3333
Key Service
Advanced diagnostic testing
Treating kidney disease:
Robust dialysis services
Geriatric kidney services
Renal Transplant Unit
Specialist and skilled nurses
24-hour emergency dialysis services
Haemodialysis machines
SLED (Sustained Low-Efficiency Dialysis)
CRRT (Continuous Renal Replacement Therapy)
Doctors List
Dr. Ferdous Kamal Bhuiyan
MBBS (DMC), MD (Nephrology)
Consultant – Nephrology
Dr. Md. Hasanuzzaman
MBBS, MD (Nephrology)
Associate Consultant – Nephrology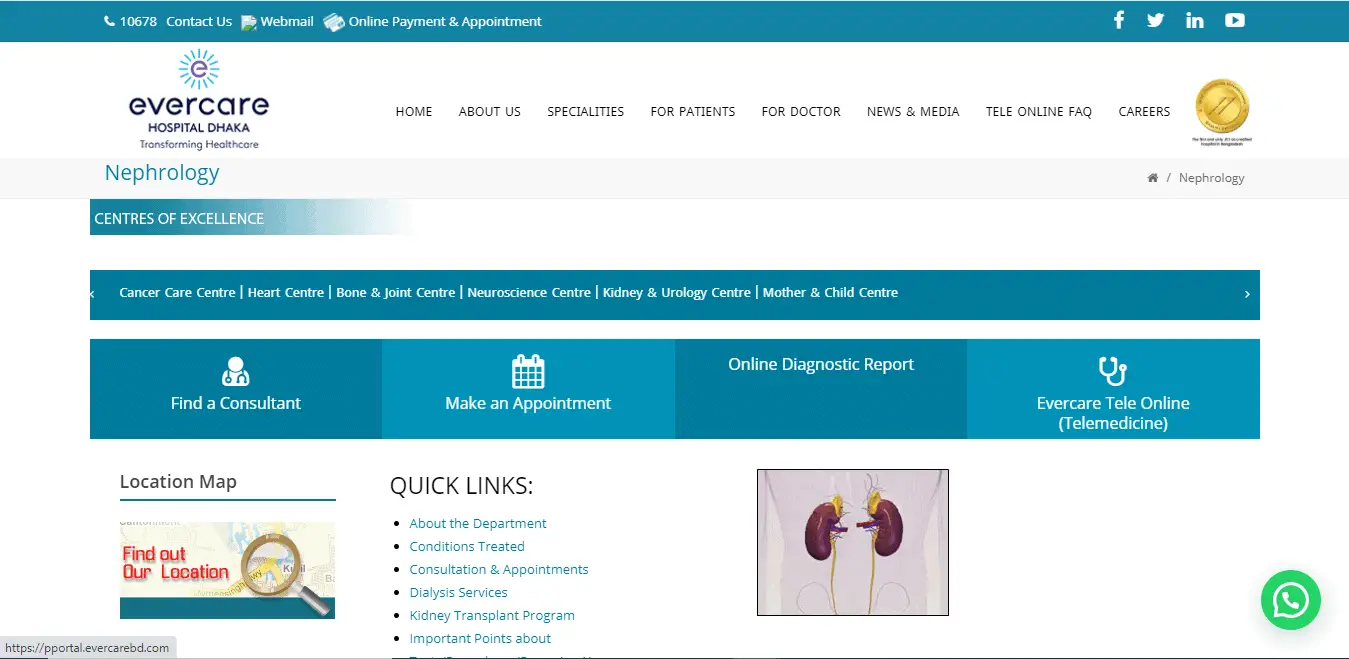 Address : Plot: 81, Block: E, Bashundhara R/A, Dhaka 1229, Bangladesh
Phone: (02) 8431661- 5
Key Service
Hypertension
Diabetes
Water & electrolyte disorders
Inherited kidney diseases
Kidney diseases in pregnancy
Nephritis and vasculitis
Polycystic kidney disease
Early renal failure
End-stage renal failure (dialysis or kidney transplantation)
Secondary diseases of the kidney
Doctors List
Dr. Fahmida Begum
MBBS, MD (Nephrology)
Consultant- Nephrology
Prof. Dr. Md. Masum Kamal Khan
MBBS (DMC), FCPS (Medicine), MD (Nephrology)
Senior Consultant & Coordinator— Nephrology
Dr. Ebadur Rahman
MBBS, FRCP (Edin), FRCP (Ireland), FASN, Specialty Certificate in Nephrology (UK) MRCP (UK), DIM (UK), DNeph (UK), MmedsciNephrology (UK)
Senior Consultant— Nephrology
Associate Prof. Dr. KBM. Hadiuzzaman
MBBS, MD (Nephrology) (BSMMU)
Consultant – Nephrology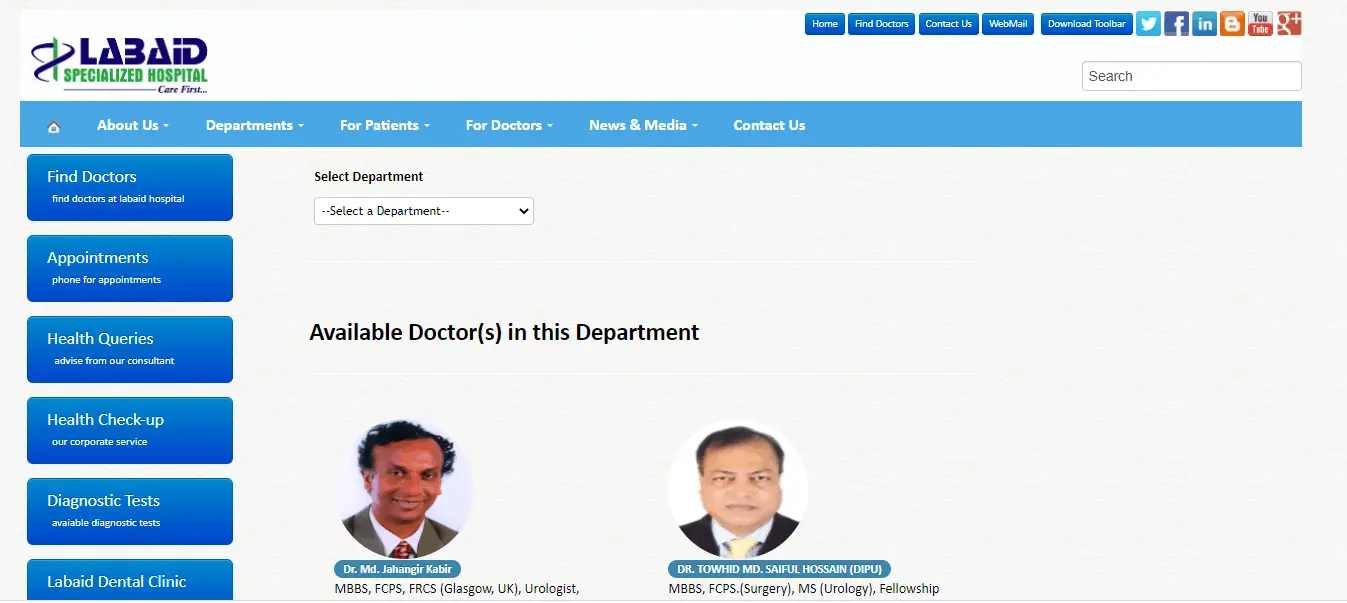 Address: House- -1 and, 6 Road No 4, Dhaka 1205, Bangladesh
Phone: +880 9666-710606
Key Service
Complete Detailed History
Urine Analysis
General and Local Examination
PVR
Serum Creatinine
Ultrasonography of the Urinary System
Computerized Real Time Uroflowmetry
X-ray of Urinary system
Doctors List
Dr. Md. Jahangir Kabir
MBBS, FCPS, FRCS (Glasgow, UK), Urologist, Andrologist & Uro – Oncologist
DR. TOWHID MD. SAIFUL HOSSAIN (DIPU)
MBBS, FCPS.(Surgery), MS (Urology), Fellowship In Laparoscopic & Endoscopic Urology (India) , Asia Pacific Preceptorship In Urology (Singapore)
MAJ. GEN. PROF. DR. H R HARUN
MBBS, FCPS, FRCS (Glasgow) FRCS (Edin), FWHO (Uro), D-Uro (London)
Prof. Dr. A. Z. M. Zahid Hossain
MBBS, FCPS (Surgery), MS (Urology), FCPS (Urology), FRCP (EDIN)
PROF. DR. KAZI RAFIQUL ABEDIN