Last Updated on April 20, 2021 by
VPS stands for Virtual Private Server. A VPS hosting uses virtualization technology and provides dedicated resources to other virtual servers. VPS hosting is more secure and stable compared to Shared hosting therefore the demand for VPS hosting is very high. In Bangladesh, there are many hosting service providers available that offer VPS hosting at an affordable price.
Some of the best VPS hosting service providers in Bangladesh are Cyber Developer BD, Hosting Bangladesh, XeonBD, Greenweb BD, DianaHost, MilesWeb, Eicra, Alpha Net, etc.      
List Of Best VPS Hosting In Bangladesh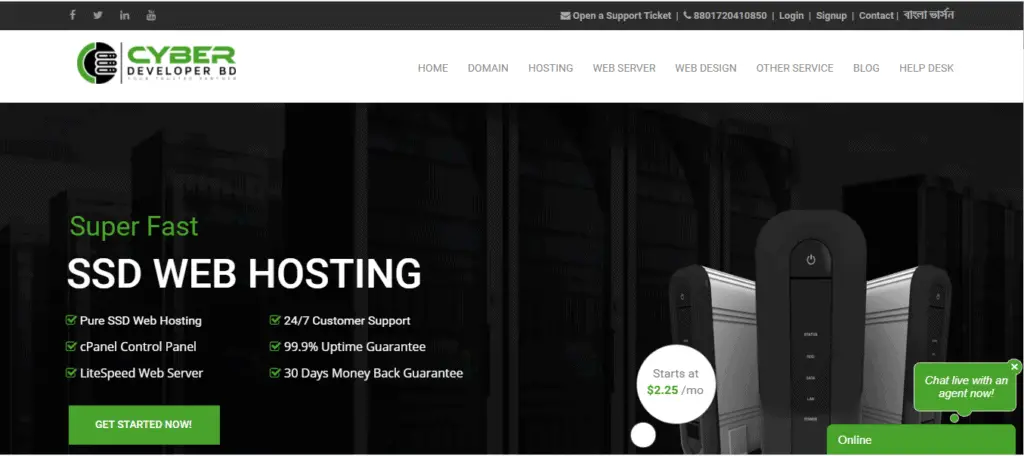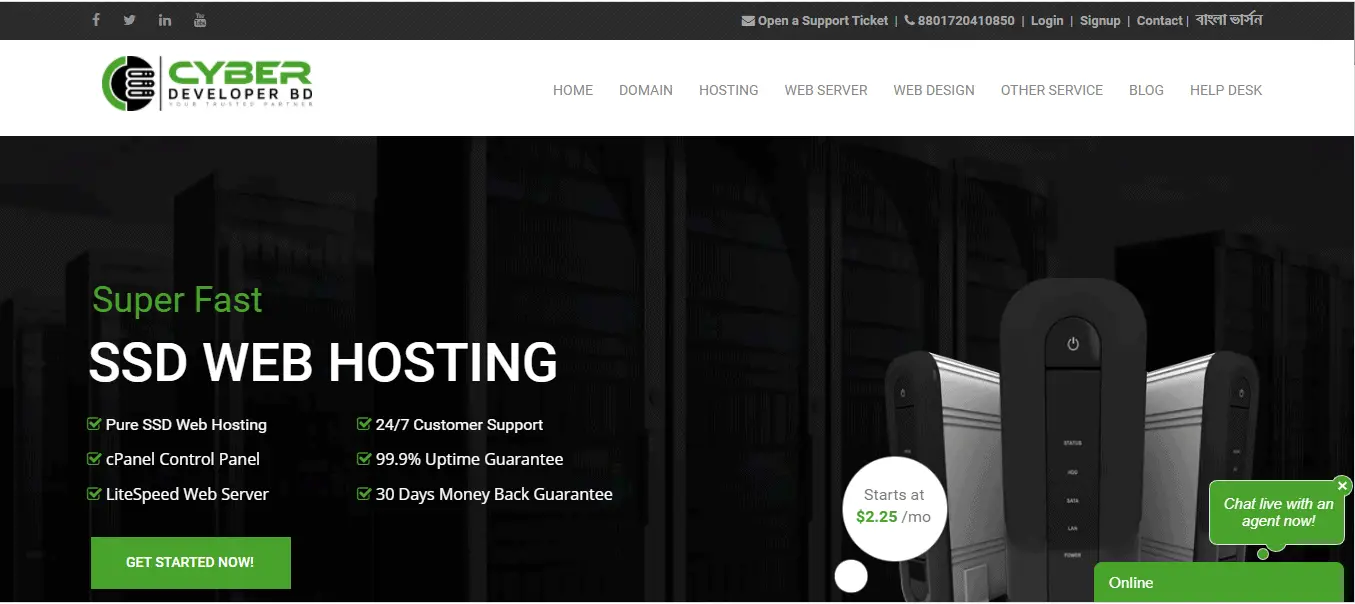 Turbo Booster Plan 1
Price: $12.50 / month
10 GB Pure SSD Storage
Unmetered Premium Bandwidth
2 GB RAM Limit
2 Core Limit
200% Speedup limit
60 Entry Process
2 MB/s Input/ Output
5 Websites
Free Lifetime SSL Certificate
cPanel Control Panel
Turbo Booster Plan 2
Price: $25.00 / month
20 GB Pure SSD Storage
Unmetered Premium Bandwidth
4 GB RAM Limit
4 Core Limit
300% Speedup limit
120 Entry Process
3 MB/s Input/ Output
10 Websites
Free Lifetime SSL Certificate
cPanel Control Panel
Turbo Booster Plan 3
Price: $37.50 / month 
50 GB Pure SSD Storage
Unmetered Premium Bandwidth
6 GB RAM Limit
6 Core Limit
300% Speedup limit
200 Entry Process
4 MB/s Input/ Output
Unlimited Websites
Free Lifetime SSL Certificate
cPanel Control Panel
VPS Plan 1
Price: $7.00 / month
1 Core CPU
1 GB RAM
20 GB SSD DISK SPACE
1000 GB Bandwidth
KVM Virtualization
1 Dedicated IP
VPS Plan 2
Price: $14.00 / month
2 Core CPU
2 GB RAM
40 GB SSD DISK SPACE
2000 GB Bandwidth
KVM Virtualization
1 Dedicated IP
VPS Plan 3
Price: $28.00 / month
2 Core CPU
4 GB RAM
60 GB SSD DISK SPACE
3000 GB Bandwidth
KVM Virtualization
1 Dedicated IP
VPS Plan 4
Price: $40.00 / month
4 Core CPU
4 GB RAM
80 GB SSD DISK SPACE
4000 GB Bandwidth
KVM Virtualization
1 Dedicated IP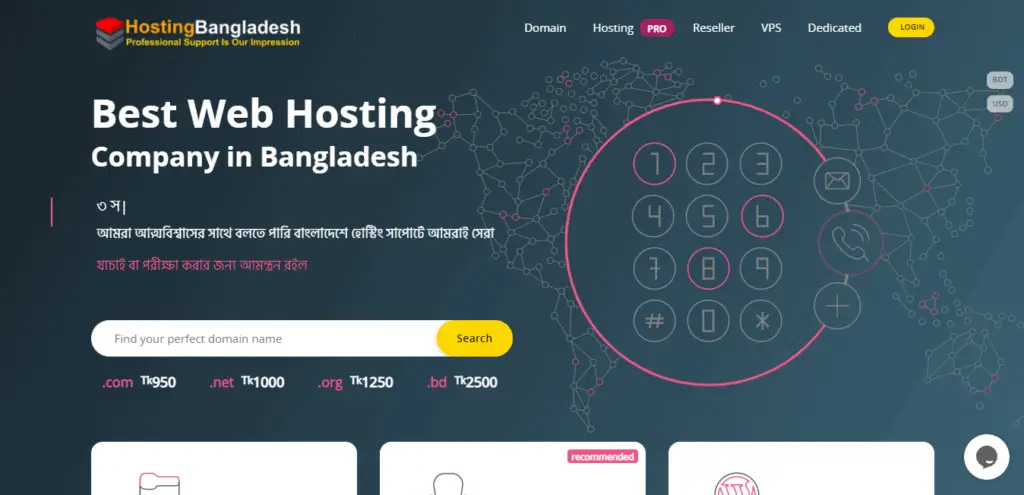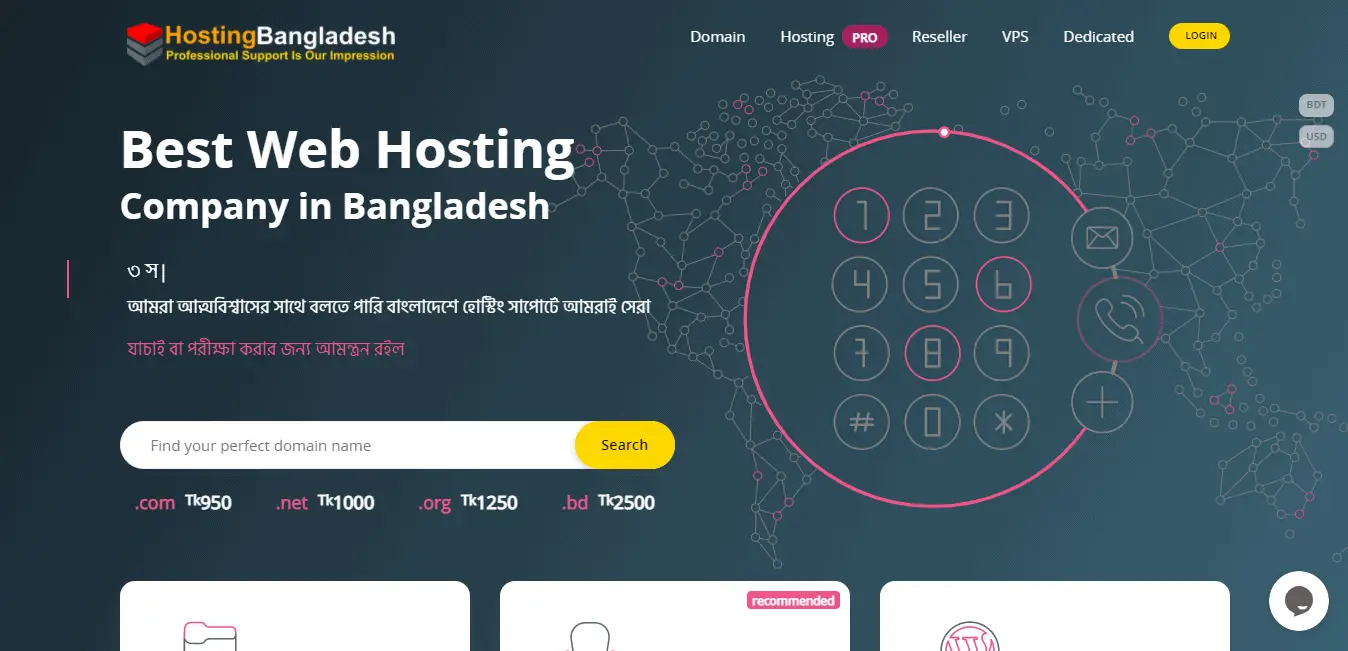 Starter Plan
Price: 1500 /month
CPU 4 Cores
RAM 8GB Guaranteed
PURE SSD 200GB
SNAPSHOT 1
BANDWIDTH UNLIMITED Traffic
CPANEL/WHM 1200 Tk
SERVER MANAGEMENT 1000 Tk
Grower Plan
Price: 3000 /month
CPU 6 Cores
RAM 16GB Guaranteed
PURE SSD 400GB
SNAPSHOT 2
BANDWIDTH UNLIMITED Traffic
CPANEL/WHM 1200 Tk
SERVER MANAGEMENT 1000 Tk
Rewarder Plan
Price: 5000 /month
CPU 8 Cores
RAM 30GB Guaranteed
PURE SSD 800GB
SNAPSHOT 3
BANDWIDTH UNLIMITED Traffic
CPANEL/WHM 1200 Tk
SERVER MANAGEMENT 1000 Tk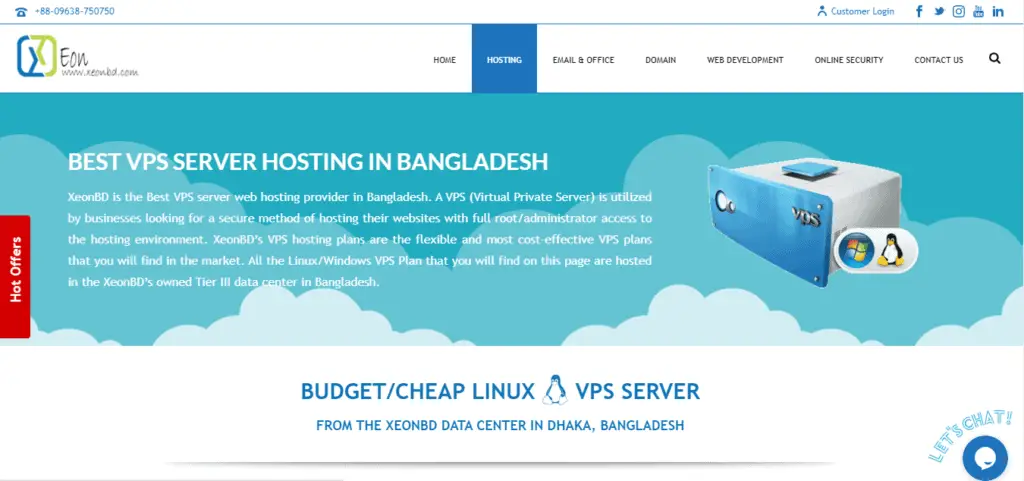 M-VPS
1 x 1.2 GHz vCPU Power
50 GB Pure SSD storage
2 GB dedicated RAM
2 TB Monthly Transfers
Full root access
CentOS 7
cPanel/WHM Cloud Admin License (1 – 5 Accounts)
Fully Managed
BDIX Supported
Shutdown /Reboot
10mbps shared international bandwidth or,
2mbps dedicated international bandwidth
100mbps dedicated BDIX bandwidth
1 IPv4
OpenVZ Virtualization
24/7 Online Help Desk Support
99.9% Uptime Guarantee
Data Center in Bangladesh
U-VPS 1
1 x 1.2 GHz vCPU Power
50 GB Pure SSD storage
2 GB dedicated RAM
2 TB Monthly Transfer
Full root access
Linux OS
Self-Managed
BDIX Supported
Shutdown /Reboot Utility
10mbps shared international bandwidth or,
2mbps dedicated international bandwidth
100mbps dedicated BDIX bandwidth
1 IPv4
OpenVZ Virtualization
24/7 Online Help Desk Support
99.9% Uptime Guarantee
Data Center in Bangladesh
U-VPS 2
2 x 1.2 GHz vCPU Power
100 GB Pure SSD storage
3 GB dedicated RAM
4 TB Monthly Transfer
Full root access
Linux OS
Self Managed
BDIX Supported
Shutdown /Reboot Utility
10mbps shared international bandwidth or, 
2mbps dedicated international bandwidth
100mbps dedicated BDIX bandwidth
1 IPv4
OpenVZ Virtualization
24/7 Online Help Desk Support
99.9% Uptime Guarantee
Data Center in Bangladesh
SOLO – VPS
1 x 1.2 GHz vCPU Power
50 GB Pure SSD storage
2 GB dedicated RAM
2 TB Monthly Transfer
Full root access
CentOS 7
cPanel Solo License (1 cPanel Account)
Litespeed Starter (Worker Process 1, RAM Limit 2GB, LSCache)
Fully Managed
BDIX Supported
Shutdown /Reboot
10mbps shared international bandwidth or, 
2mbps dedicated international bandwidth
100mbps dedicated BDIX bandwidth
1 IPv4
OpenVZ Virtualization
24/7 Online Help Desk Support
99.9% Uptime Guarantee
Data Center in Bangladesh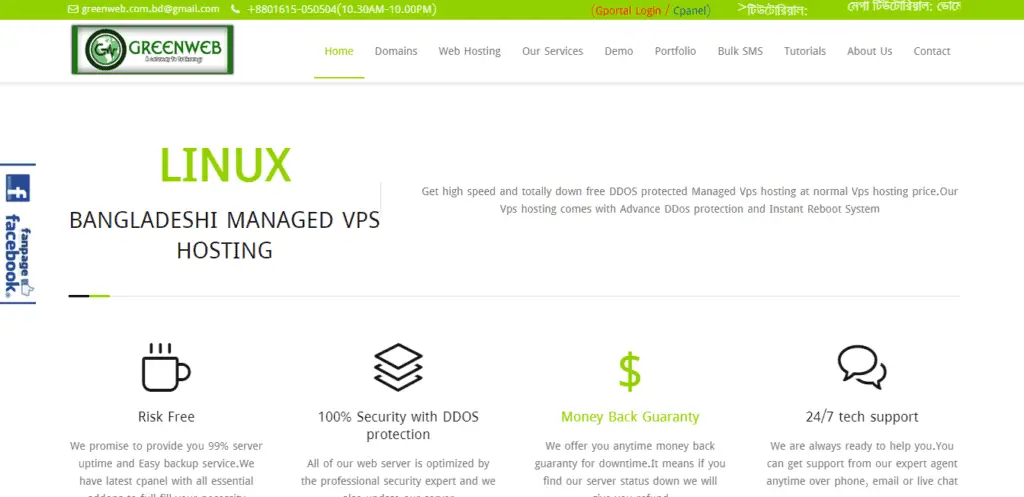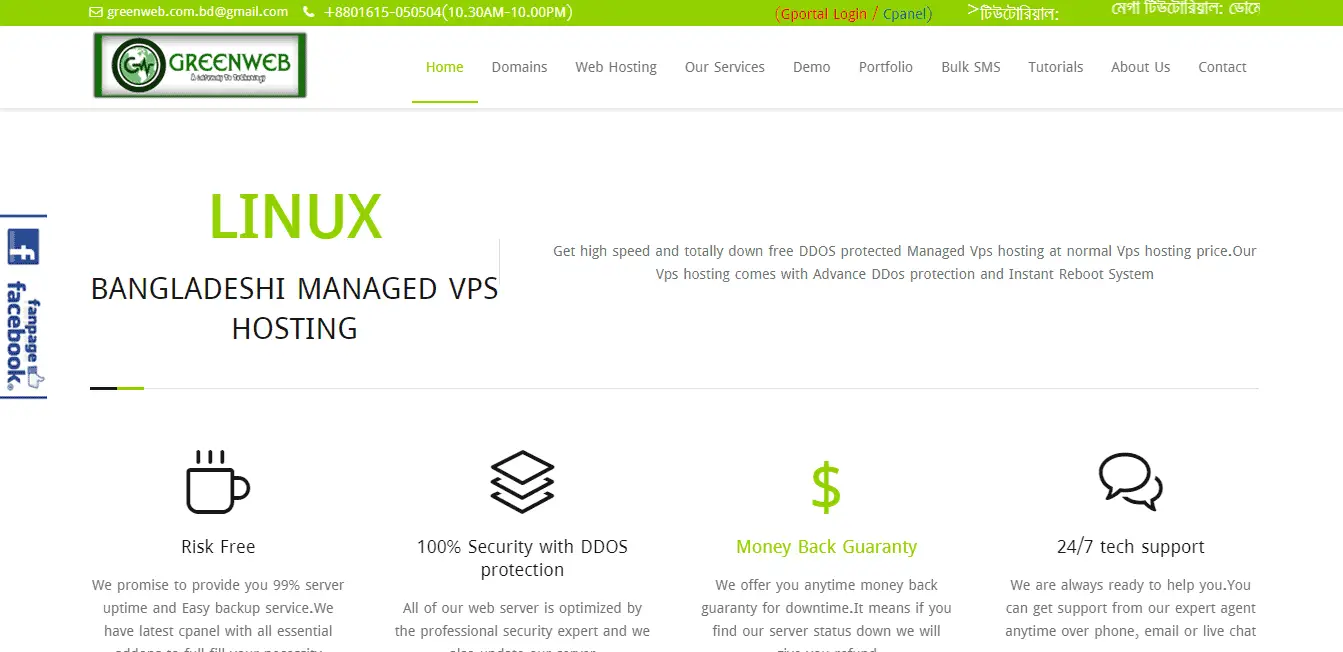 VPS 1
Cpu Core 1
Open VZ
Ram 1GB
3.2 GHz
Latest Intel E3 Processor
25GB SSD Space
1 TB Bandwidth
Root Access
Fully Managed
Cpanel ( $11/m or 880 BDT/m)
Softacolous ( 2$/M or 160BDT/m)
VPS 2
Cpu Core 1
Open VZ
Ram 2GB
3.2 GHz
Latest Intel E3/E5 Processor
50GB SSD Space
2 TB Bandwidth
Root Access
Fully Managed
Cpanel ( $11/m or 880 BDT/m)
Softacolous ( 2$/M or 160BDT/m)
VPS 3
Cpu Core 1
OpenVZ
RAM 3GB
3.2 GHz
E3/E5 Processor
75GB SSD Space
3TB Bandwidth
Root Access
Fully Managed
Local RAID 10
Cpanel ( $11/m or 880 BDT/m)
Softacolous ( 2$/M or 160BDT/m)
VPS 4
Cpu Core 2
OpenVZ
RAM 5GB
3.4 GHz
E3/E5 Processor
125GB SSD Space
5TB Bandwidth
Root Access
Fully Managed
Local RAID 10
Cpanel ( $10/m or 880 BDT/m)
Softacolous ( 2$/M or 160BDT/m)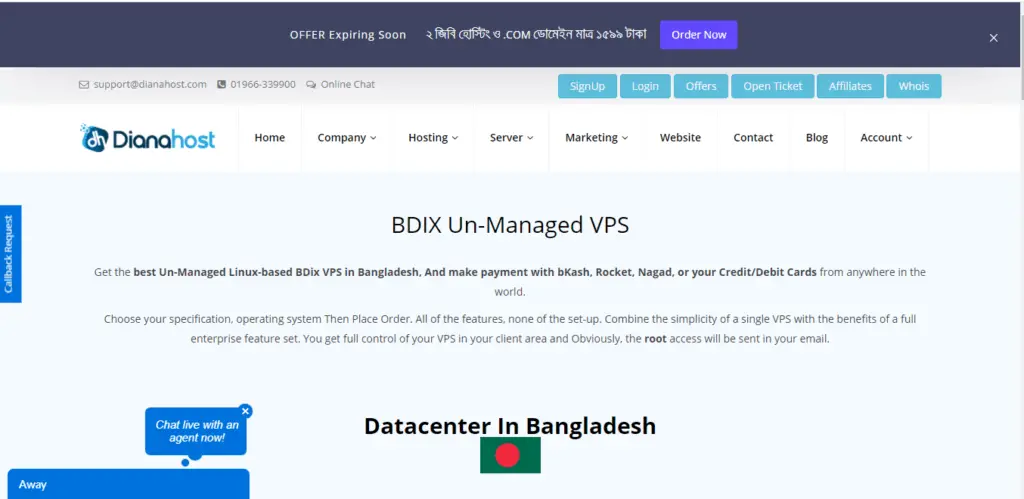 BDIX VPS-1
1 vCPU Power
50 GB SSD storage
1 GB dedicated RAM
2 TB Monthly Transfer
Full root access
Linux OS
BDIX Supported
Shutdown /Reboot
100 Mbps shared bandwidth port
1 IPv4
KVM Virtualization
SolusVM Panel
24hrs Activation Time
24/7 Help Desk Support
99% Uptime Guarantee
Data Center in Bangladesh
BDIX VPS-2
2 vCPU Power
60 GB SSD storage
2 GB dedicated RAM
2 TB Monthly Transfer
Full root access
Linux OS
BDIX Supported
Shutdown /Reboot
100 Mbps shared bandwidth port
1 IPv4
KVM Virtualization
SolusVM Panel
24hrs Activation Time
24/7 Help Desk Support
99% Uptime Guarantee
Data Center in Bangladesh
BDIX VPS-3
4 vCPU Power
100 GB SSD storage
4 GB dedicated RAM
5 TB Monthly Transfer
Full root access
Linux OS
BDIX Supported
Shutdown /Reboot
100 Mbps shared bandwidth port
1 IPv4
KVM Virtualization
SolusVM Panel
24hrs Activation Time
24/7 Help Desk Support
99% Uptime Guarantee
Data Center in Bangladesh
BDIX VPS-4
8 vCPU Power
200 GB SSD storage
8 GB dedicated RAM
8 TB Monthly Transfer
Full root access
Linux OS
BDIX Supported
Shutdown /Reboot
100 Mbps shared bandwidth port
1 IPv4
KVM Virtualization
SolusVM Panel
24hrs Activation Time
24/7 Help Desk Support
99% Uptime Guarantee
Data Center in Bangladesh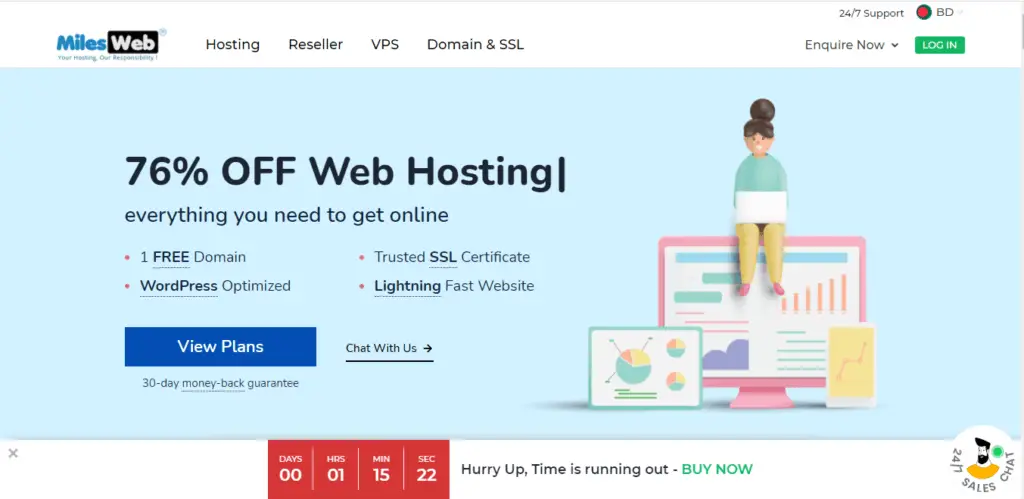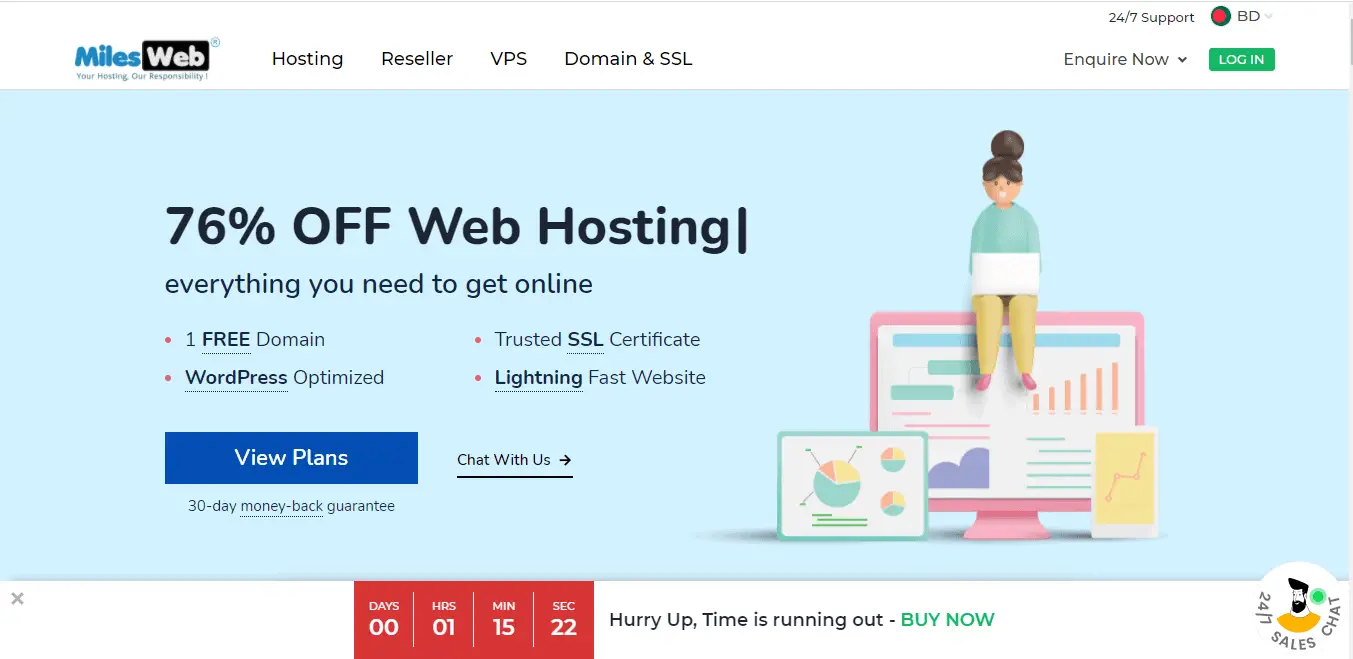 Starter
Host 1 Website
1 Free Domain included
1GB SSD Disk Space
Unlimited Bandwidth
cPanel + Softaculous
Free SSL Certificate 
10 Email Accounts
3 MySQL DB's
GIT Access
SSH Access
600000 Inodes
256MB Database Size
1 CPU Cores
1GB RAM
20 Entry Processes
40 Active Processes
Business
Host 1 Website
1 Free Domain included
Unlimited SSD Disk Space
Unlimited Bandwidth
cPanel + Softaculous
Free SSL Certificate 
Unlimited Email Accounts
Unlimited MySQL DB's
GIT Access
SSH Access
600000 Inodes
1GB Database Size
2 CPU Cores
2GB RAM
40 Entry Processes
80 Active Processes
Pro
Host Unlimited Website
1 Free Domain included
Unlimited SSD Disk Space
Unlimited Bandwidth
cPanel + Softaculous
Free SSL Certificate 
Unlimited Email Accounts
Unlimited MySQL DB's
GIT Access
SSH Access
600000 Inodes
1GB Database Size
3 CPU Cores
3GB RAM
60 Entry Processes
120 Active Processes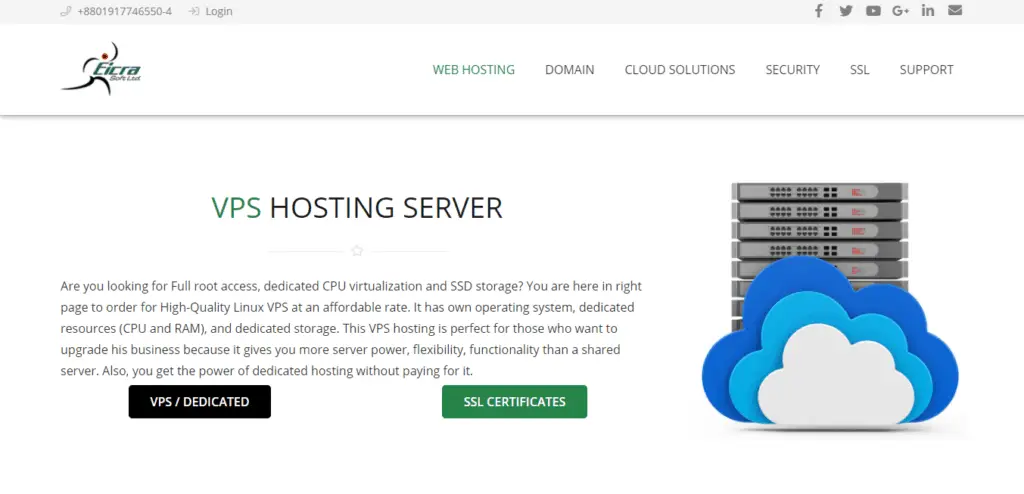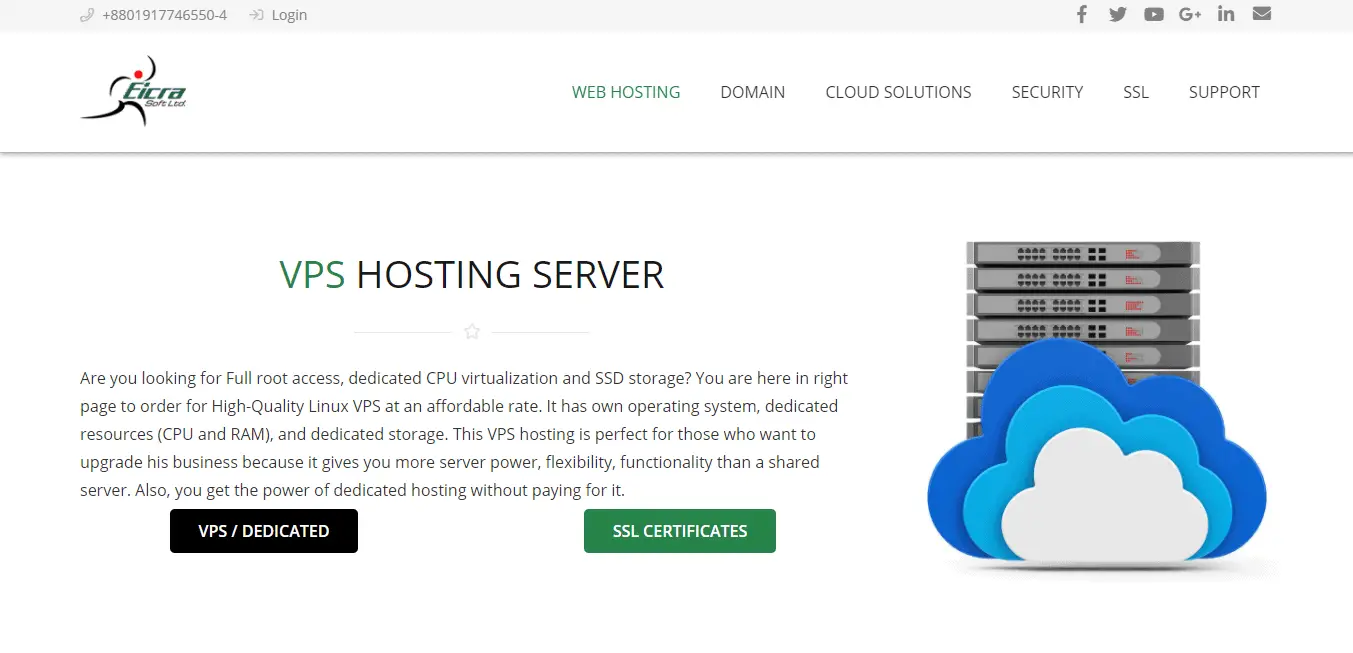 ENTRY
100 GB SSD Disk
2000 GB Bandwidth
2 Cores vCPU
2048 MB RAM
cPanel & WHM
BASIC
120 GB SSD Disk
4000 GB Bandwidth
4 Cores vCPU
4096 MB RAM
cPanel & WHM
ENHANCED
150 GB SSD Disk
6000 GB Bandwidth
8 Cores vCPU
6144 MB RAM
cPanel & WHM
ADVANCED
200 GB SSD Disk
8000 GB Bandwidth
8 Cores vCPU
8192 MB RAM
cPanel & WHM
ENTERPRISE
500 GB SSD Disk
20000 GB Bandwidth
8 Cores vCPU
16 GB RAM
cPanel & WHM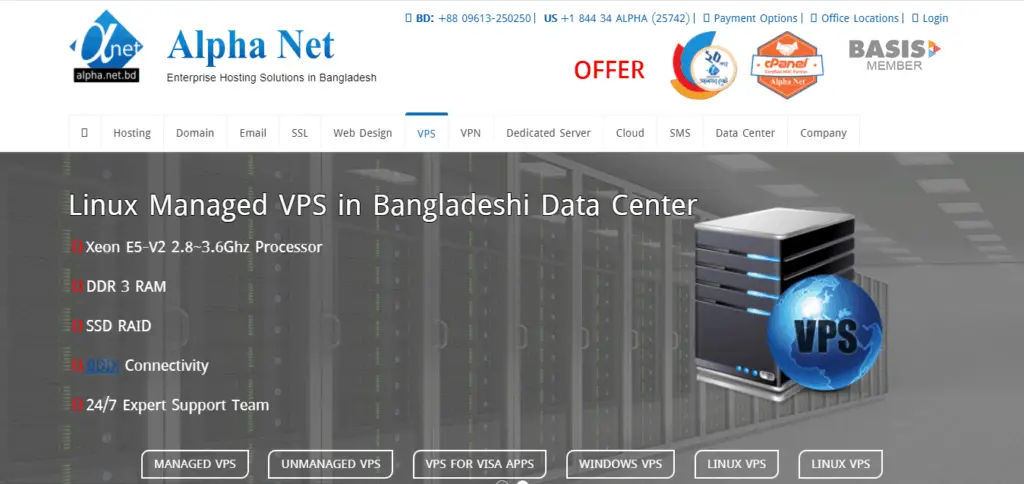 Basic
Processor: 2 Core
RAM: 2 GB Dedicated
Disk Space: 40GB
Dedicated IP: 1
Bandwidth: 500 GB/Month
Windows Server 2012/16/19
Support: 24/7 Email
(+) Managed Service: BDT. 1500.00 / Month
Standard
Processor: 4 Core
RAM: 4 GB Dedicated
Disk Space: 60GB
Dedicated IP: 1
Bandwidth: 1 TB/Month
Windows Server 2012/16/19
Support: 24/7 Email
(+) Managed Service: BDT. 1500.00 / Month
Advance
Processor: 4 Core
RAM: 8 GB Dedicated
Disk Space: 80GB
Dedicated IP: 1
Bandwidth: 1 TB/Month
Windows Server 2012/16/19
Support: 24/7 Email
(+) Managed Service: BDT. 1500.00 / Month
VPS-1
Intel Xeon E5 -V3
Processor: 2 Core
RAM: 2 GB Dedicated
Disk Space: 20 GB SSD
Dedicated IP: 1
Bandwidth: 250 GB/Month
VPS Management Panel
CentOS/Ubuntu/Debian
VPN Not Allowed
Instant Activation
Self Managed
Support: 24/7 Email
VPS-2
Intel Xeon E5 -V3
Processor: 4 Core
RAM: 4 GB Dedicated
Disk Space: 40 GB SSD
Dedicated IP: 1
Bandwidth: 300 GB/Month
VPS Management Panel
CentOS/Ubuntu/Debian
VPN Not Allowed
Instant Activation
Self Managed
Support: 24/7 Email
VPS-3
Intel Xeon E5 -V3
Processor: 6 Core
RAM: 6 GB Dedicated
Disk Space: 60 GB SSD
Dedicated IP: 1
Bandwidth: 500 GB/Month
VPS Management Panel
CentOS/Ubuntu/Debian
VPN Not Allowed
Instant Activation
Self Managed
Support: 24/7 Email
60GB Managed VPS
Processors: 2
RAM: 2GB
Disk Space: 60GB
Bandwidth: 500 GB/Month
Support: 24/7 Email
(+) Managed Service: BDT. 1500.00 / Month
80GB Managed VPS
Processors: 4
RAM: 4GB
Disk Space: 80GB
Bandwidth: 1TB/Month
Support: 24/7 Email
(+) Managed Service: BDT. 1500.00 / Month
100GB Managed VPS
Processors: 8
RAM: 8GB
Disk Space: 100GB
Bandwidth: 2TB/Month
Support: 24/7 Email
(+) Managed Service: BDT. 1500.00 / Month
60GB Managed Linux VPS
Processors: 2
RAM: 2GB
Disk Space: 60GB
Bandwidth: 500 GB/Month
cPanel with WHM
(+) cloud Linux BDT. 1,500.00 / Month
80GB Managed Linux VPS
Processors: 4
RAM: 4GB
Disk Space: 80GB
Bandwidth: 1TB/Month
cPanel with WHM
(+) cloud Linux BDT. 1,500.00 / Month
100GB Managed Linux VPS
Processors: 8
RAM: 8GB
Disk Space: 100GB
Bandwidth: 2TB/Month
cPanel with WHM
(+) cloud Linux BDT. 1,500.00 / Month