Last Updated on October 27, 2021 by
DNS stands for Domain Name System and it is also known as Name Server. A DNS server is a computer server and it contains a database of public IP addresses. So, it's the phone book of the Internet. The main purpose of a DNS server is to resolve or translate domain names to IP addresses accordingly. A DNS server is run by special software and communicates with each other using special protocols.    
Purpose Of DNS Server
When we visit a website, we type the domain name on the browser. This is because remembering a domain name or hostname is much easier than remembering the website's IP address number, 103.77.188.18. Typing the domain name might be easy for us but computers and network devices don't recognize domain names when they try to locate each other on the internet. Therefore, it is much more convenient and precise to use an IP address to locate the domain name. So, the DNS server is the numerical representation of what server on the internet the website resides on.
Working Procedure Of A DNS Server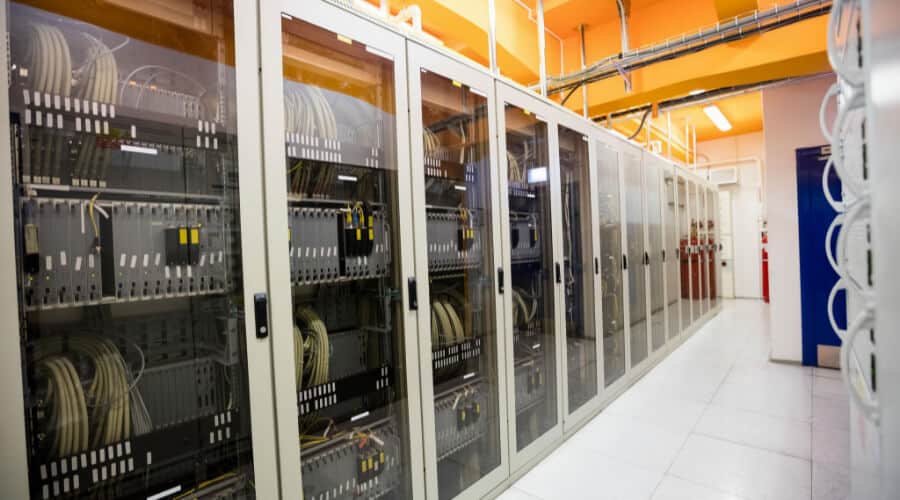 The working procedure of a DNS server is a bit complicated. When you type the domain name on the browser's address bar and press Enter, the DNS server sends some DNS queries to several servers to find the address that you want to visit. Each query translates a different part of the domain name you entered. There are few servers available that complete the process. They are – 
1. A DNS Resolver: This server receives the request to resolve the domain name with the IP address. Then, this server finds out the location of the website on the internet that you want to visit.  
2. A Root Server: This server receives the first request, and sends the result of the query to the DNS resolver. The Root server lets the DNS Resolver know the address of the Top-Level Domain (TLD) server and where it is located.  
3. A TLD Server: Next, the DNS resolver sends queries to the TLD server. The TLD server then returns the information of the Authoritative Name Server where the site is actually returned.  
4. An Authoritative Name Server: In the last step, the DNS Resolver sends queries to learn the actual IP address of the website that you want to visit. Once the IP address is returned, the website that you want to visit will be displayed on your browser.
How To Obtain Internet Server Information
You can easily get the internet server information. You can use the nslookup command to query the DNS server on Windows PCs. First, open the Command Prompt tool and then type the following:
nslookup website name
This command will return the following information:
Name: Website Name
Addresses: 151.101.2.114
151.101.66.114
151.101.130.114
151.101.194.114
List Of Best DNS Servers Of Bangladesh
202.126.123.154 – BD
Nameserver 202.126.123.154 Details:
DNS IP Address: 202.126.123.154
DNS Name:
Country: BD
City:
DNS:
DNS Version:
DNS Reliability: 0.97
Last DNS check: 2015-06-28 04:19:06 +0200
First DNS check: 2015-01-11 07:25:53 +0100
103.19.253.153 – BD
Nameserver 103.19.253.153 Details:
DNS IP Address: 103.19.253.153
DNS Name:
Country: BD
City: Dhaka
DNS:
DNS Version:
DNS Reliability: 0.7
Last DNS check: 2015-06-28 04:18:35 +0200
First DNS check: 2015-01-11 07:15:33 +0100
103.19.253.145 – BD
Nameserver 103.19.253.145 Details:
DNS IP Address: 103.19.253.145
DNS Name:
Country: BD
City: Dhaka
DNS:
DNS Version:
DNS Reliability: 1.0
Last DNS check: 2015-06-28 04:17:43 +0200
First DNS check: 2015-01-11 07:00:53 +0100
202.191.122.204 – BD
Nameserver 202.191.122.204 Details:
DNS IP Address: 202.191.122.204
DNS Name:
Country: BD
City: Dhaka
DNS:
DNS Version:
DNS Reliability: 0.73
Last DNS check: 2015-06-28 04:13:47 +0200
First DNS check: 2015-01-11 05:40:46 +0100
202.4.112.236 – BD
Nameserver 202.4.112.236 Details:
DNS IP Address: 202.4.112.236
DNS Name:
Country: BD
City: Dhaka
DNS:
DNS Version:
DNS Reliability: 0.97
Last DNS check: 2015-06-28 04:09:50 +0200
First DNS check: 2015-01-11 04:20:46 +0100
202.4.112.138 – BD
Nameserver 202.4.112.138 Details:
DNS IP Address: 202.4.112.138
DNS Name:
Country: BD
City: Dhaka
DNS:
DNS Version: Dhaka.com Limited
DNS Reliability: 0.91
Last DNS check: 2015-06-28 04:07:57 +0200
First DNS check: 2015-01-11 03:42:50 +0100
203.188.250.97 – BD
Nameserver 203.188.250.97 Details:
DNS IP Address: 203.188.250.97
DNS Name:
Country: BD
City:
DNS:
DNS Version:
DNS Reliability: 0.82
Last DNS check: 2015-06-28 04:07:39 +0200
First DNS check: 2015-01-11 03:35:33 +0100
203.188.250.194 – BD
Nameserver 203.188.250.194 Details:
DNS IP Address: 203.188.250.194
DNS Name:
Country: BD
City:
DNS:
DNS Version:
DNS Reliability: 0.85
Last DNS check: 2015-06-28 04:07:32 +0200
First DNS check: 2015-01-11 03:34:28 +0100
180.210.191.118 – BD
Nameserver 180.210.191.118 Details:
DNS IP Address: 180.210.191.118
DNS Name:
Country: BD
City:
DNS:
DNS Version: dnsmasq-2.48
DNS Reliability: 0.88
Last DNS check: 2015-06-28 04:06:21 +0200
First DNS check: 2015-01-11 03:10:30 +0100
223.165.3.41 – BD
Nameserver 223.165.3.41 Details:
DNS IP Address: 223.165.3.41
DNS Name:
Country: BD
City: Uttara
DNS:
DNS Version:
DNS Reliability: 0.42
Last DNS check: 2015-06-28 04:06:18 +0200
First DNS check: 2015-01-11 03:06:03 +0100
115.127.4.234 – BD
Nameserver 115.127.4.234 Details:
DNS IP Address: 115.127.4.234
DNS Name: host-234.bracnet.net
Country: BD
City:
DNS: host-234.bracnet.net
DNS Version:
DNS Reliability: 0.91
Last DNS check: 2015-06-28 04:01:48 +0200
First DNS check: 2015-01-11 01:36:31 +0100
115.127.4.186 – BD
Nameserver 115.127.4.186 Details:
DNS IP Address: 115.127.4.186
DNS Name: host-186.bracnet.net
Country: BD
City:
DNS: host-186.bracnet.net
DNS Version:
DNS Reliability: 0.79
Last DNS check: 2015-06-28 04:01:02 +0200
First DNS check: 2015-01-11 01:20:38 +0100
115.127.5.10 – BD
Nameserver 115.127.5.10 Details:
DNS IP Address: 115.127.5.10
DNS Name: host-10.bracnet.net
Country: BD
City:
DNS: host-10.bracnet.net
DNS Version:
DNS Reliability: 0.97
Last DNS check: 2015-06-28 03:59:23 +0200
First DNS check: 2015-01-11 00:41:05 +0100
123.200.9.106 – BD
Nameserver 123.200.9.106 Details:
DNS IP Address: 123.200.9.106
DNS Name:
Country: BD
City: Dhaka
DNS:
DNS Version: Microsoft DNS 6.1.7601 (1DB1446A)
DNS Reliability: 0.82
Last DNS check: 2015-06-28 03:59:15 +0200
First DNS check: 2015-01-11 00:32:29 +0100
202.59.140.33 – BD
Nameserver 202.59.140.33 Details:
DNS IP Address: 202.59.140.33
DNS Name:
Country: BD
City: Dhaka
DNS:
DNS Version:
DNS Reliability: 0.7
Last DNS check: 2015-06-28 03:57:11 +0200
First DNS check: 2015-01-10 23:35:28 +0100
202.59.140.9 – BD
Nameserver 202.59.140.9 Details:
DNS IP Address: 202.59.140.9
DNS Name:
Country: BD
City: Dhaka
DNS:
DNS Version:
DNS Reliability: 0.52
Last DNS check: 2015-06-28 03:56:41 +0200
First DNS check: 2015-01-10 23:17:44 +0100
182.48.95.33 – BD
Nameserver 182.48.95.33 Details:
DNS IP Address: 182.48.95.33
DNS Name:
Country: BD
City:
DNS:
DNS Version:
DNS Reliability: 0.85
Last DNS check: 2015-06-28 03:55:11 +0200
First DNS check: 2015-01-10 22:45:31 +0100
114.130.28.201 – BD
Nameserver 114.130.28.201 Details:
DNS IP Address: 114.130.28.201
DNS Name:
Country: BD
City: Dhaka
DNS:
DNS Version:
DNS Reliability: 1.0
Last DNS check: 2015-06-28 03:53:53 +0200
First DNS check: 2015-01-10 22:25:04 +0100
202.84.42.62 – BD
Nameserver 202.84.42.62 Details:
DNS IP Address: 202.84.42.62
DNS Name: 42.62.dhaka.net
Country: BD
City:
DNS: 42.62.dhaka.net
DNS Version: dnsmasq-2.40
DNS Reliability: 1.0
Last DNS check: 2015-06-28 03:53:34 +0200
First DNS check: 2015-01-10 22:20:48 +0100
203.190.0.181 – BD
Nameserver 203.190.0.181 Details:
DNS IP Address: 203.190.0.181
DNS Name: ns10.danaengineersbd.com
Country: BD
City: Dhaka
DNS: ns10.danaengineersbd.com
DNS Version: 9.4.0
DNS Reliability: 1.0
Last DNS check: 2015-06-28 03:52:21 +0200
First DNS check: 2015-01-10 22:01:28 +0100