Last Updated on April 18, 2021 by
Online business/eCommerce business is becoming more popular in Bangladesh. Moreover, the covid-19 pandemic has shown the importance of online presence for every business. Therefore, the demand for domain hosting services is becoming very high in Bangladesh. 
There are many domain hosting service providers available in Bangladesh. Some of the best domain hosting companies is ExonHost, Zhost, Web Host BD, Cyber Developer BD, Hosting Bangladesh, Greenweb BD, MilesWeb, DianaHost, XeonBD, etc.
So if you want to know more about these companies and compare the domain hosting price and plans then keep reading the article.             
List Of Best Domain Hosting Companies In Bangladesh 
ExonHost
Web Host BD
Cyber Developer BD
Zhost
Hosting Bangladesh
Greenweb BD
DianaHost
XeonBD
MilesWeb
Eicra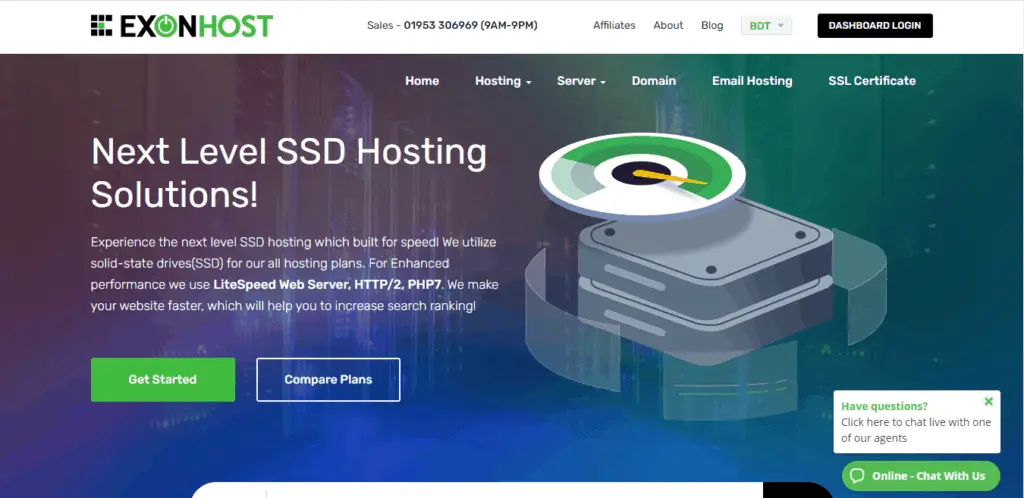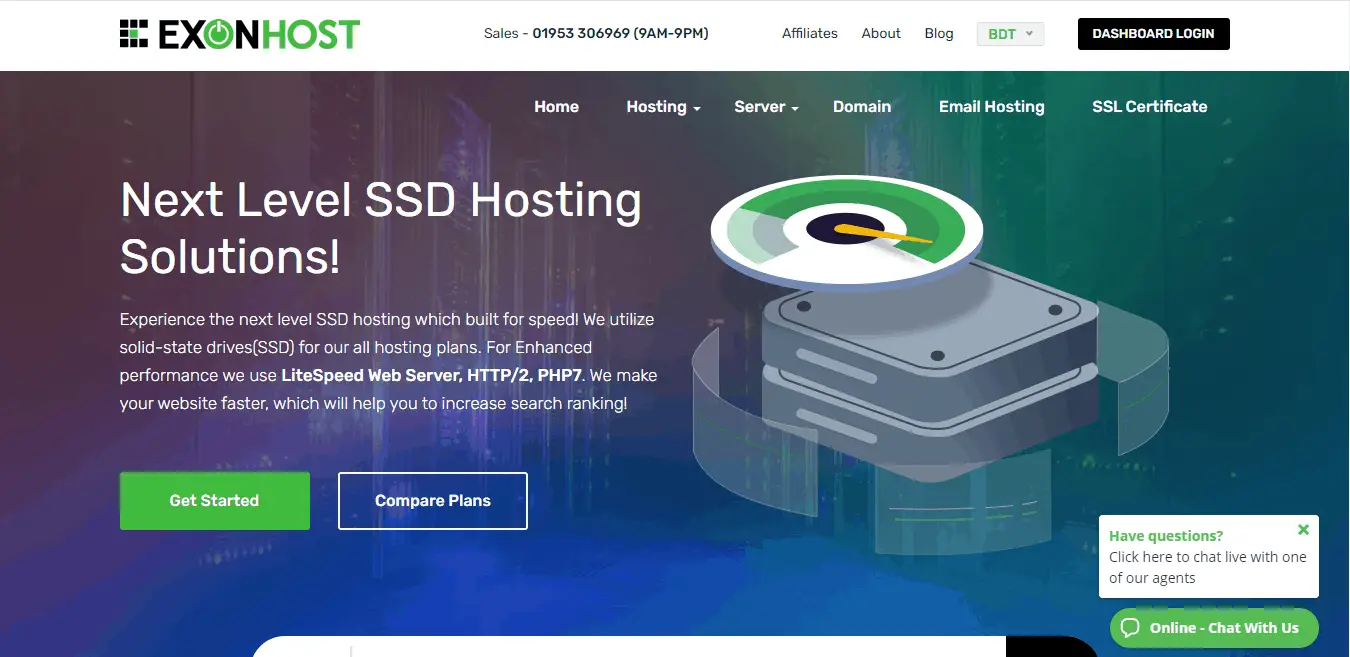 ExonHost is a very renowned and one of the best domain and hosting service providers in Bangladesh. It was established in January 2009 and its main mission is to provide enterprise-level solutions at affordable prices. Some of the features of ExonHost are:
LiteSpeed Web Server & LSCache
Stable & Secure Cloud Technology
High-Performance SSD Servers
30 Day Money Back Guarantee
99.9% Server Uptime Guarantee
24/7 Technical Support
Latest cPanel
Malware & Exploit Scanning
Unlimited Parked Domains
Unlimited MySQL Databases
Unlimited FTP Accounts
20 GBPS DDoS Protection
Spam Protection
FREE Let's Encrypt SSL Certs
Node.js Version Selector
Zend Guard Loader  
Web Hosting Plan Of ExonHost
Starter Plan 
Price: 2,250/yr.
5 GB SSD Storage
250 GB Bandwidth
2 Websites
FREE SSL Certificates
LiteSpeed with LSCache
Website Toolkit
Advanced Features
Security Shield
Standard Plan
Price: 4,500/yr.
10 GB SSD Storage
500 GB Bandwidth
5 Websites
FREE SSL Certificates
LiteSpeed with LSCache
Website Toolkit
Advanced Features
Security Shield
Advanced Plan
Price: 7,500/yr.
20 GB SSD Storage
1000 GB Bandwidth
10 Websites
FREE SSL Certificates
LiteSpeed with LSCache
Website Toolkit
Advanced Features
Security Shield
Turbo Plus
Price: 12,269/yr.
50 GB SSD Storage
Unmetered Bandwidth
Unlimited Websites
FREE SSL Certificates
LiteSpeed with LSCache
Website Toolkit
Advanced Features
Security Shield
Turbo Power
Price: 18,420/yr
75 GB SSD Storage
Unmetered Bandwidth
Unlimited Websites
FREE SSL Certificates
LiteSpeed with LSCache
Website Toolkit
Advanced Features
Security Shield
Turbo Prestige
Price: 22,724/yr.
100 GB SSD Storage
Unmetered Bandwidth
Unlimited Websites
FREE SSL Certificates
LiteSpeed with LSCache
Website Toolkit
Advanced Features
Security Shield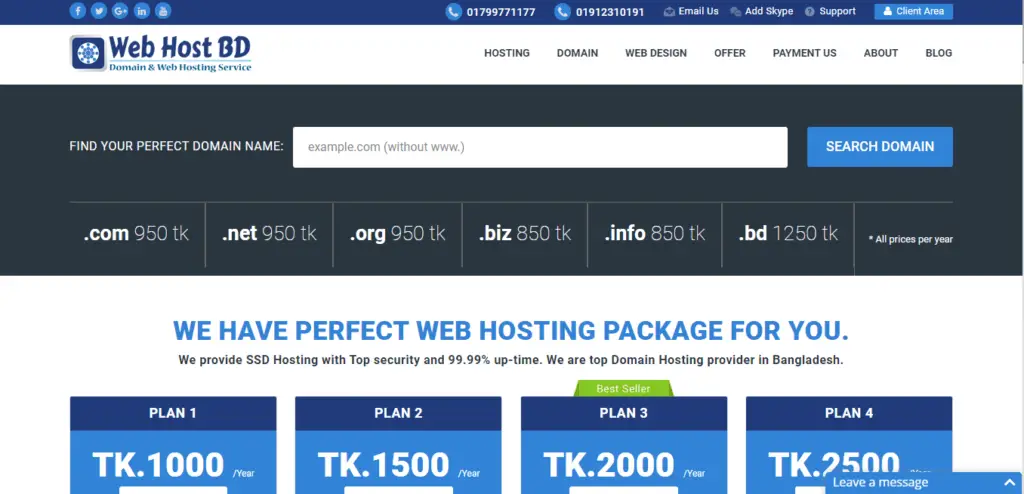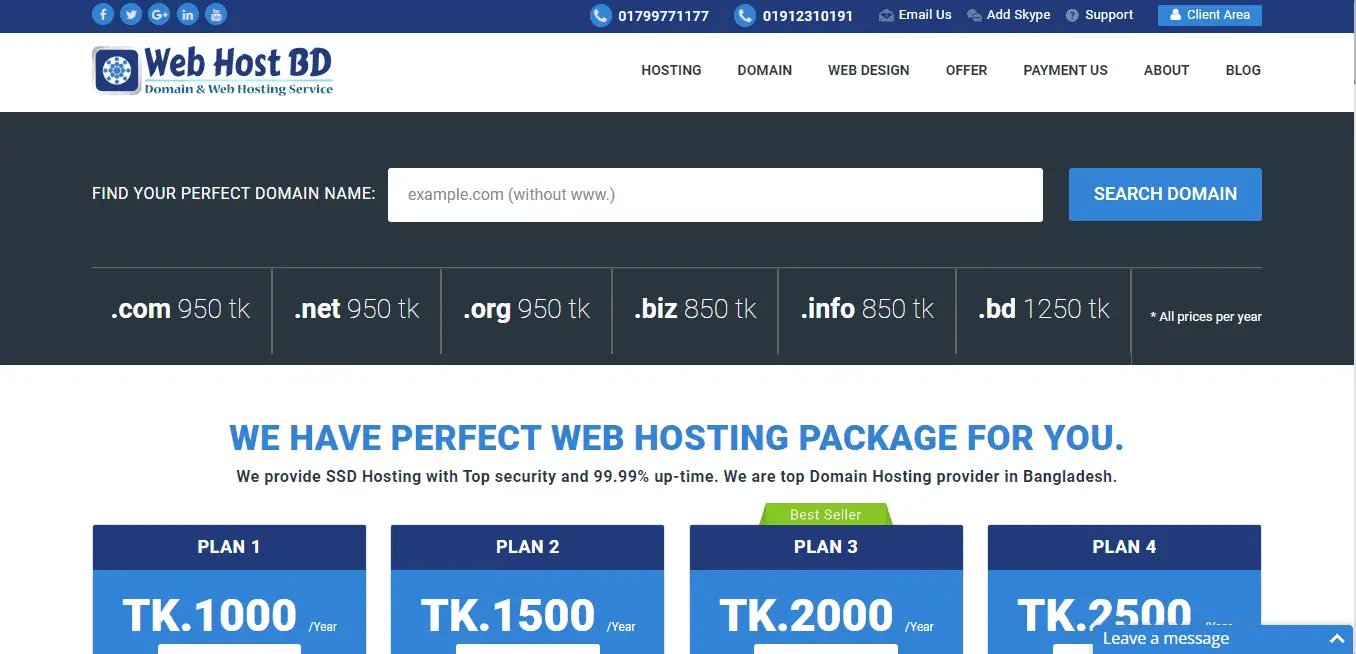 This is a very popular domain hosting company in Bangladesh. Established on May 14, 2012, Web Host BD is providing web hosting, domain registration, web design, and development service in Bangladesh. If you want to have a personal blog or website for your business at an affordable price then Web Host BD is the best option for you. Web Host BD manages their servers in the USA in various award-winning and top-rated data centers and their servers are SSD RAID. Some key features of Web Host BD are –
30 Day Money-back Guarantee
Optimized Control Panel
Optimized Software
Weekly Backups recover
99.99% Server Uptime
Free 24×7/365 Support
Server Level Protection
Auto Updates
Malware & Exploit Scanning
LiteSpeed Web Server & LSCache
Stable & Secure Cloud Technology
Spam Protection 
Web Hosting Plan Of Web Host BD
Plan 1
Price: 1000/yr.
1 GB SSD Storage
50 GB Data Transfer Monthly
LiteSpeed Web Server
1 Addon Domain
cPanel Control Panel
FREE SSL Life Time
FREE Weekly Backup
Unlimited Sub Domains
Unlimited Email Accounts
Unlimited Databases
Plan 2
Price: 1500/yr.
2 GB SSD Storage
100 GB Data Transfer Monthly
LiteSpeed Web Server
2 Addon Domain
cPanel Control Panel
FREE SSL Life Time
FREE Weekly Backup
Unlimited Sub Domains
Unlimited Email Accounts
Unlimited Databases
Plan 3
Price: 2000/yr.
3 GB SSD Storage
150 GB Data Transfer Monthly
LiteSpeed Web Server
3 Addon Domain
cPanel Control Panel
FREE SSL Life Time
FREE Weekly Backup
Unlimited Sub Domains
Unlimited Email Accounts
Unlimited Databases
Plan 4
Price: 2500/yr.
4 GB SSD Storage
200 GB Data Transfer Monthly
LiteSpeed Web Server
4 Addon Domain
cPanel Control Panel
FREE SSL Life Time
FREE Weekly Backup
Unlimited Sub Domains
Unlimited Email Accounts
Unlimited Databases
Plan 5
Price: 3000/yr.
5 GB SSD Storage
250 GB Data Transfer Monthly
LiteSpeed Web Server
5 Addon Domain
cPanel Control Panel
FREE SSL Life Time
FREE Weekly Backup
Unlimited Sub Domains
Unlimited Email Accounts
Unlimited Databases
Plan 6
Price: 4500/yr.
10 GB SSD Storage
500 GB Data Transfer Monthly
LiteSpeed Web Server
10 Addon Domain
cPanel Control Panel
FREE SSL Life Time
FREE Weekly Backup
Unlimited Sub Domains
Unlimited Email Accounts
Unlimited Databases
Plan 7
Price: 6000/yr.
15 GB SSD Storage
650 GB Data Transfer Monthly
LiteSpeed Web Server
15 Addon Domain
cPanel Control Panel
FREE SSL Life Time
FREE Weekly Backup
Unlimited Sub Domains
Unlimited Email Accounts
Unlimited Databases
Plan 8
Price: 7000/yr.
20 GB SSD Storage
800 GB Data Transfer Monthly
LiteSpeed Web Server
20 Addon Domain
cPanel Control Panel
FREE SSL Life Time
FREE Weekly Backup
Unlimited Sub Domains
Unlimited Email Accounts
Unlimited Databases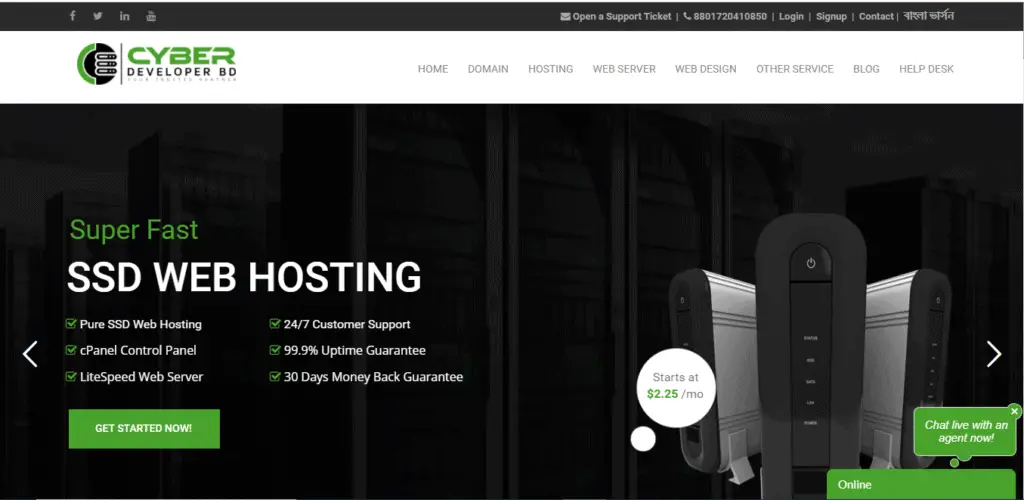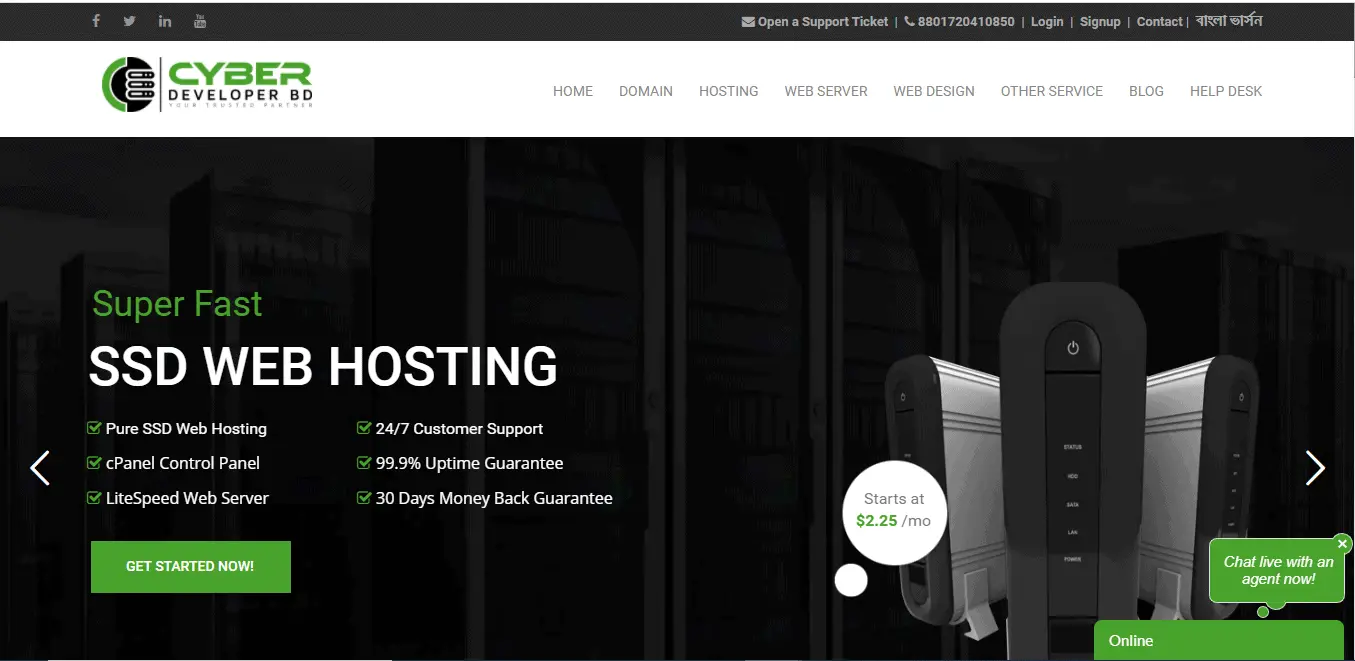 This is a country-leading web hosting and web design company that offer shared hosting, reseller hosting, VPS hosting, dedicated server, SSL, domain name registration, and other services to its customers. The mission of Cyber Developer BD is to provide trouble-free, customer-focused, reliable, and affordable web hosting services. Some important features of Cyber Developer BD are – 
Cloud Linux Server
NGINX Web Server
OneClick Website Installer
Direct Admin Control Panel
SSD Storage
Robust Database Server
Cheap Web Hosting Price
Free Website Transfer
24/7 Web Hosting Support
Web Hosting Plan Of Cyber Developer BD
Shared Standard Plan
Yearly Price: $15.00
5 GB Disk space
100 GB Bandwidth
Single Website Hosting
Unlimited Accounts
Unlimited Sub Domains
Free SSL Certificate
NGINX Server
CageFS Skeleton
PHP Version Selector
One-Click Website Installer
Visitor Monitor Tools
Direct Admin Control Panel
Shared Professional Plan
Yearly Price: $37.50
10 GB Disk space
500 GB Bandwidth
5 Website Hosting
Unlimited Email Accounts
Unlimited Sub Domains
Free SSL Certificate
NGINX Server
CageFS Skeleton
PHP Version Selector
One-Click Website Installer
Visitor Monitor Tools
Direct Admin Control Panel
Shared Business Plan
Yearly Price: $50.00
20 GB Disk space
Unlimited Bandwidth
10 Website Hosting
Unlimited Email Accounts
Unlimited Sub Domains
Free SSL Certificate
NGINX Server
CageFS Skeleton
PHP Version Selector
One-Click Website Installer
Visitor Monitor Tools
Direct Admin Control Panel
Shared Enterprise Plan
Yearly Price: $75.00
50 GB Premium SSD Space
Unlimited Premium Bandwidth
5 Website Hosting
2 Core CPU
2 GB RAM
100 Entry Process
Unlimited Email Accounts
Unlimited Sub Domains
Free SSL Certificate
NGINX Server
Visitor Monitor Tools
Direct Admin Control Panel
SSD Standard Plan
Yearly Price: $22.50
5 GB Disk space
100 GB Bandwidth
1 Domain Usable
1 Core CPU
1GB RAM
20 I/OPs
Free SSL Certificate
Softaculous Script Installer
cPanel Control Panel
SSD Professional Plan
Yearly Price: $43.75
10 GB Disk space
500 GB Bandwidth
5 Domain Usable
1 Core CPU
1GB RAM
20 I/OPs
Free SSL Certificate
Softaculous Script Installer
cPanel Control Panel
SSD Business Plan
Yearly Price: $75.00
20 GB Disk space
Unmetered Bandwidth
10 Domain Usable
1 Core CPU
1GB RAM
20 I/OPs
Free SSL Certificate
Softaculous Script Installer
cPanel Control Panel
SSD Advanced Plan 
Yearly Price: $112.50
50 GB Disk space
Unmetered Bandwidth
Unlimited Domain Usable
2 Core CPU
2 GB RAM
50 I/OPs
Free SSL Certificate
Softaculous Script Installer
cPanel Control Panel
Turbo Booster Plan 1
Price: $12.50/month
10 GB Pure SSD Storage
Unmetered Premium Bandwidth
2 GB RAM Limit
2 Core Limit
200% Speedup limit
60 Entry Process
2 MB/s Input/output
5 Websites
Free Lifetime SSL Certificate
cPanel Control Panel
Turbo Booster Plan 2
Price: $25.00/month
20 GB Pure SSD Storage
Unmetered Premium Bandwidth
4 GB RAM Limit
4 Core Limit
300% Speedup limit
120 Entry Process
3 MB/s Input/Output
10 Websites
Free Lifetime SSL Certificate
cPanel Control Panel
Turbo Booster Plan 3
Price: $37.50/month
50 GB Pure SSD Storage
Unmetered Premium Bandwidth
6 GB RAM Limit
6 Core Limit
300% Speedup limit
200 Entry Process
4 MB/s Input/output
Unlimited Websites
Free Lifetime SSL Certificate
cPanel Control Panel
This is a very popular brand that offers premium quality domain and hosting services in Bangladesh. From Zhost you can buy regular hosting, premium hosting, reseller hosting, etc. You can buy hosting for your regular website, high traffic website, business website, e-commerce website, etc. Some features of Zhost are:
Data protection Firewall
DDOS Network protection
ModSecurity
Cloud Linux
Password & Security
Server data backup
Guardian backups
cPanel Backup
Mirror Disk space
FTP Accounts
MySQL Databases
phpMyAdmin
Softaculous Apps Installer
Select PHP Version   
Web Hosting Plan Of Zhost
Standard Offer
Price: 1500/year
1GB Enterprise SSD Drive
40GB Monthly Bandwidth
1 Free domain
FREE SSL (Life Time)
Hardware RAID 10 physical disk
Multiple Physical Disk
Daily/Weekly/Monthly Backup
Unlimited MySQL Database
Unlimited Email Account
9 Addon Domains
Unlimited Sub Domains
Unlimited Parked Domains
Unlimited FTP Accounts
Smart Offer
Price: 2000/year
2GB Enterprise SSD Drive
80GB Monthly Bandwidth
1 Free domain
FREE SSL (Life Time)
Hardware RAID 10 physical disk
Multiple Physical Disk
Daily/Weekly/Monthly Backup
Unlimited MySQL Database
Unlimited Email Account
19 Addon Domains
Unlimited Sub Domains
Unlimited Parked Domains
Unlimited FTP Accounts
Business Offer
Price: 3000/year
4GB Enterprise SSD Drive
160GB Monthly Bandwidth
1 Free domain
FREE SSL (Life Time)
Hardware RAID 10 physical disk
Multiple Physical Disk
Daily/Weekly/Monthly Backup
Unlimited MySQL Database
Unlimited Email Account
39 Addon Domains
Unlimited Sub Domains
Unlimited Parked Domains
Unlimited FTP Accounts
Professional Offer
Price: 3500/year
5GB Enterprise SSD Drive
200GB Monthly Bandwidth
1 Free domain
FREE SSL (Life Time)
Hardware RAID 10 physical disk
Multiple Physical Disk
Daily/Weekly/Monthly Backup
Unlimited MySQL Database
Unlimited Email Account
49 Addon Domains
Unlimited Sub Domains
Unlimited Parked Domains
Unlimited FTP Accounts 
Corporate Offer
Price: 4500/year
10GB Enterprise SSD Drive
400GB Monthly Bandwidth
1 Free domain
FREE SSL (Life Time)
Hardware RAID 10 physical disk
Multiple Physical Disk
Daily/Weekly/Monthly Backup
Unlimited MySQL Database
Unlimited Email Account
Unlimited Addon Domains
Unlimited Sub Domains
Unlimited Parked Domains
Unlimited FTP Accounts
Enterprise Offer
Price: 5000/year
15GB Enterprise SSD Drive
600GB Monthly Bandwidth
1 Free domain
FREE SSL (Life Time)
Hardware RAID 10 physical disk
Multiple Physical Disk
Daily/Weekly/Monthly Backup
Unlimited MySQL Database
Unlimited Email Account
Unlimited Addon Domains
Unlimited Sub Domains
Unlimited Parked Domains
Unlimited FTP Accounts
Extreme Offer
Price: 6000/year
20GB Enterprise SSD Drive
800GB Monthly Bandwidth
1 Free domain
FREE SSL (Life Time)
Hardware RAID 10 physical disk
Multiple Physical Disk
Daily/Weekly/Monthly Backup
Unlimited MySQL Database
Unlimited Email Account
Unlimited Addon Domains
Unlimited Sub Domains
Unlimited Parked Domains
Unlimited FTP Accounts
Unlimited Offer
Unlimited Enterprise SSD Drive
Unlimited Monthly Bandwidth
1 Free domain
FREE SSL (Life Time)
Hardware RAID 10 physical disk
Multiple Physical Disk
Daily/Weekly/Monthly Backup
Unlimited MySQL Database
Unlimited Email Account
Unlimited Addon Domains
Unlimited Sub Domains
Unlimited Parked Domains
Unlimited FTP Accounts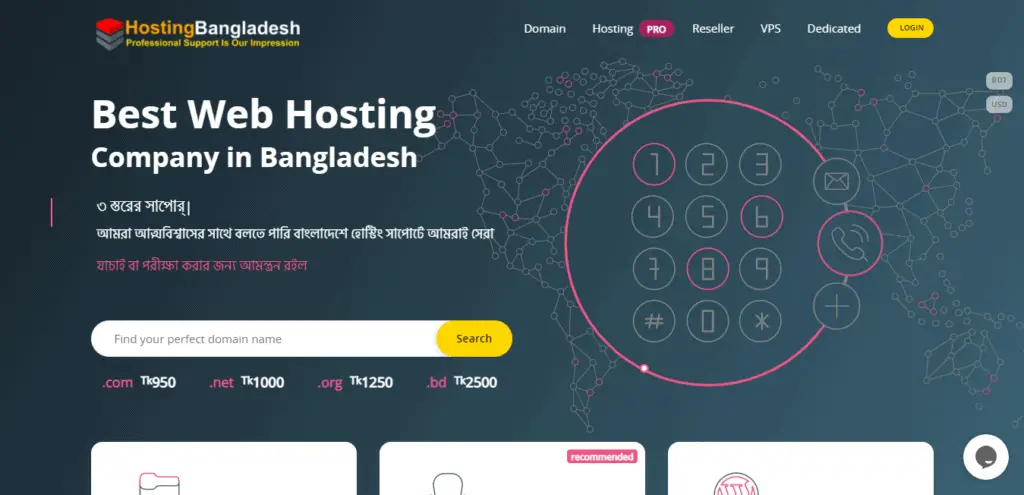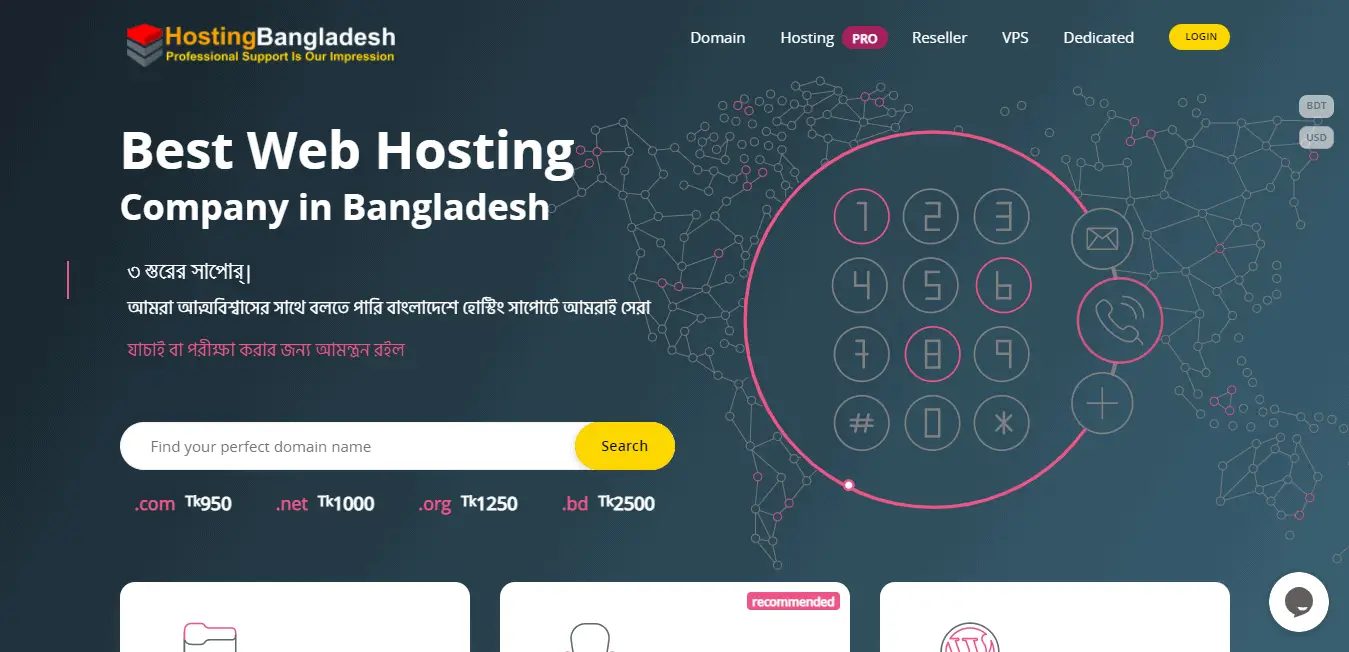 Hosting Bangladesh is an exceptional web hosting company and they have years of experience with global businesses of all sizes. The experts from hosting Bangladesh work 24/7 to ensure you have the best hosting experience. Some of the important features of Hosting Bangladesh are: 
NVMe SSD storage
DDoS protected shared hosting
30 Days Remote Daily backups
Professional Support
Higher CPU & RAM per plan
Litespeed with litecache
File Change Monitoring
Auto WordPress Updates
One-Click Restores
Daily Automatic Website Backups
Unlimited Files & Databases
Malware Monitoring
Web Hosting Plan Of Hosting Bangladesh
Starter Package
5GB Enterprise SSD Drive
100GB Monthly Bandwidth
1 Free domain
FREE SSL (Life Time)
Hardware RAID 10 physical disk
Multiple Physical Disk
Daily/Weekly/Monthly Backup
Unlimited MySQL Database
Unlimited Email Account
Grower Package
Price: 3150/yr.
20GB Enterprise SSD Drive
Unlimited Monthly Bandwidth
1 Free domain
FREE SSL (Life Time)
Hardware RAID 10 physical disk
Multiple Physical Disk
Daily/Weekly/Monthly Backup
Unlimited MySQL Database
Unlimited Email Account
Rewarder Package
Price: 6750/yr.
Unlimited Enterprise SSD Drive
Unlimited Monthly Bandwidth
1 Free domain
FREE SSL (Life Time)
Hardware RAID 10 physical disk
Multiple Physical Disk
Daily/Weekly/Monthly Backup
Unlimited MySQL Database
Unlimited Email Account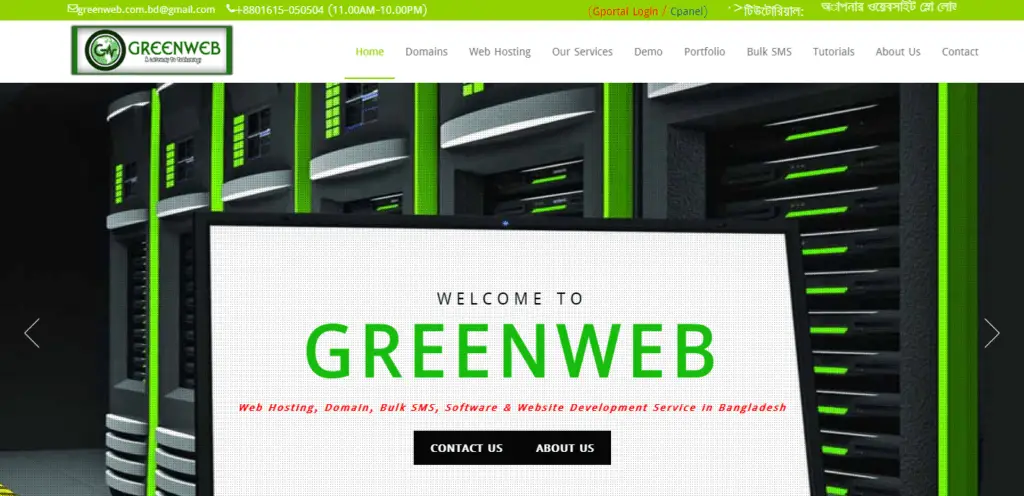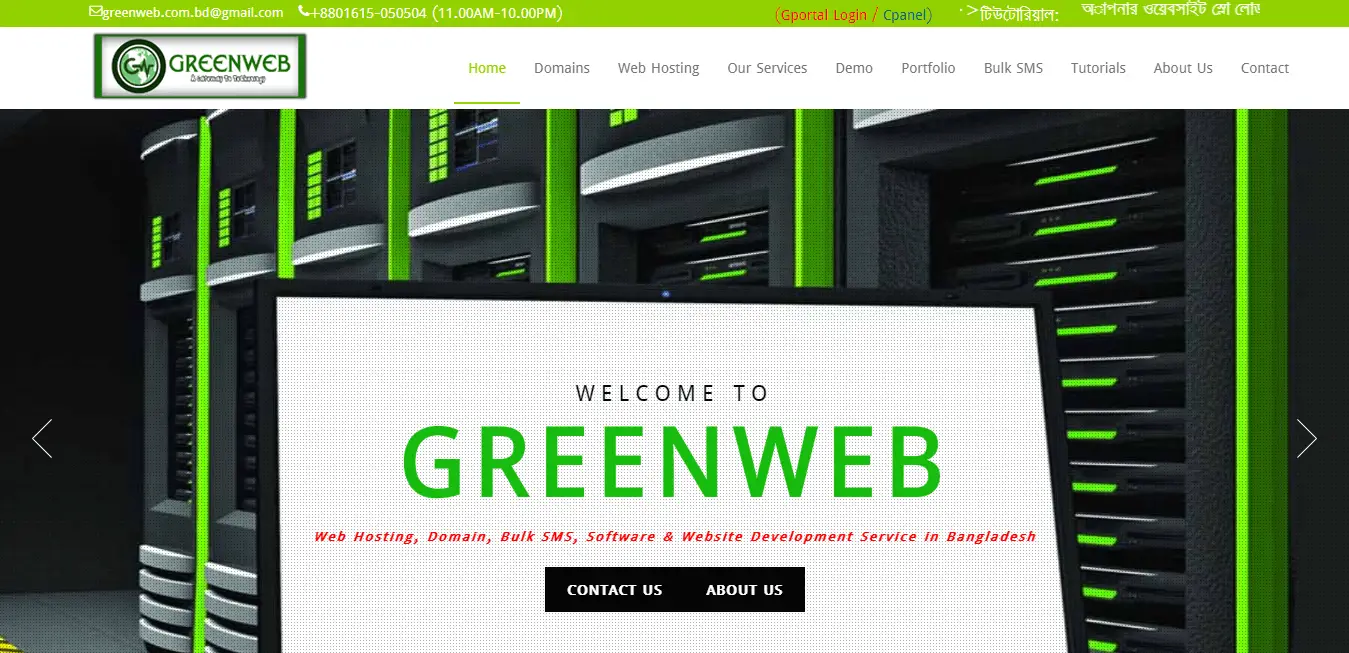 Greenweb BD is a very renowned IT Solution company in Bangladesh. It was established in 2014 and they are the first web security organization in Bangladesh. The main mission of Greenweb BD is to provide an online identity for everyone. Greenweb BD also provides a domain hosting service. Some important features of Greenweb BD are – 
Cloud Technology
24-7 live support
100% secure and safe
Maximum Data Safety
Money-Back Guarantee
Affordable Price   
Web Hosting Plan Of Greenweb BD
GreenWeb Nano
Price: 500/year
5000MB Bandwidth
500MB SSD Disk Space
512MB RAM
0.5 Core CPU
Customized Panel
1 Sub/addon Domain
PHPMyAdmin
Mod Security
WordPress Installer
GreenWeb Micro
Price: 1000/ Year
Unlimited Bandwidth
1000MB SSD Disk Space
1024MB RAM
1 Core CPU
Customized Panel
PHPMyAdmin
Unlimited email
Mod Security
4 Addon/Sub Domain
WordPress Installer
GreenWeb Mini
Price: 2000/Year
Unlimited Bandwidth
2000MB SSD Disk Space
1 GB RAM
1.5 Core CPU
Customized Panel
PHPMyAdmin
Unlimited email
Mod Security
6 Addon/Sub Domain
WordPress Installer
GreenWeb Super
Price: 2999/year
Unlimited Bandwidth
5000MB SSD Disk Space
1.5GB RAM
2 Core CPU
Customized Panel
PHPMyAdmin
Unlimited email
Mod Security
8 Addon/Sub Domain
WordPress Installer
GreenWeb Email
Price: 10000/year
Unlimited Bandwidth
15000 MB SSD Disk Space
1 Dedicated Core CPU
5 GB Dedicated RAM
Latest Customized Panel
10 Subdomains
Unlimited email
Optimized for Corporate Email
WordPress Installer
Automatic Backup System
GreenWeb Custom
Price: 500/Per GB/ Year
Order minimum 20 GB Space
Unlimited Bandwidth
Dedicated Resources
1 (.com) DOMAIN Included
Unlimited Subdomains
Unlimited Addon Domain
Unlimited email
Mod Security
Free SEO Tools
Redundant Server
WordPress Auto Installer
Automatic Backup System
GreenWeb EC
Price: 4999/year
Unlimited Bandwidth
10,000MB SSD Disk Space
4 Shared Core CPU
2.5 GB Dedicated RAM
Customized Panel
15 Addon Domain
Unlimited email
Optimized for e-commercial site
Free SEO Tools
WordPress Auto Installer
Daily Backup System
Load Balancing Server
GreenWeb NS
Price: 7999/year
Unlimited Bandwidth
15,000MB SSD Disk Space
4 Shared Core CPU
4 GB Dedicated RAM
Customized Panel
20 Addon Domain
Unlimited email
Optimized High Traffic Site
Dedicated Resources
WordPress Auto Installer
Daily Backup System
Redundant Server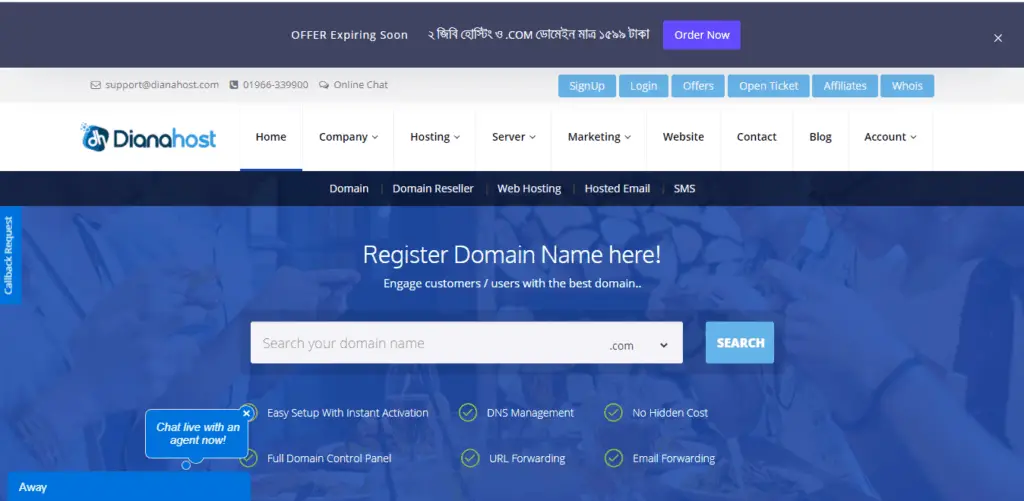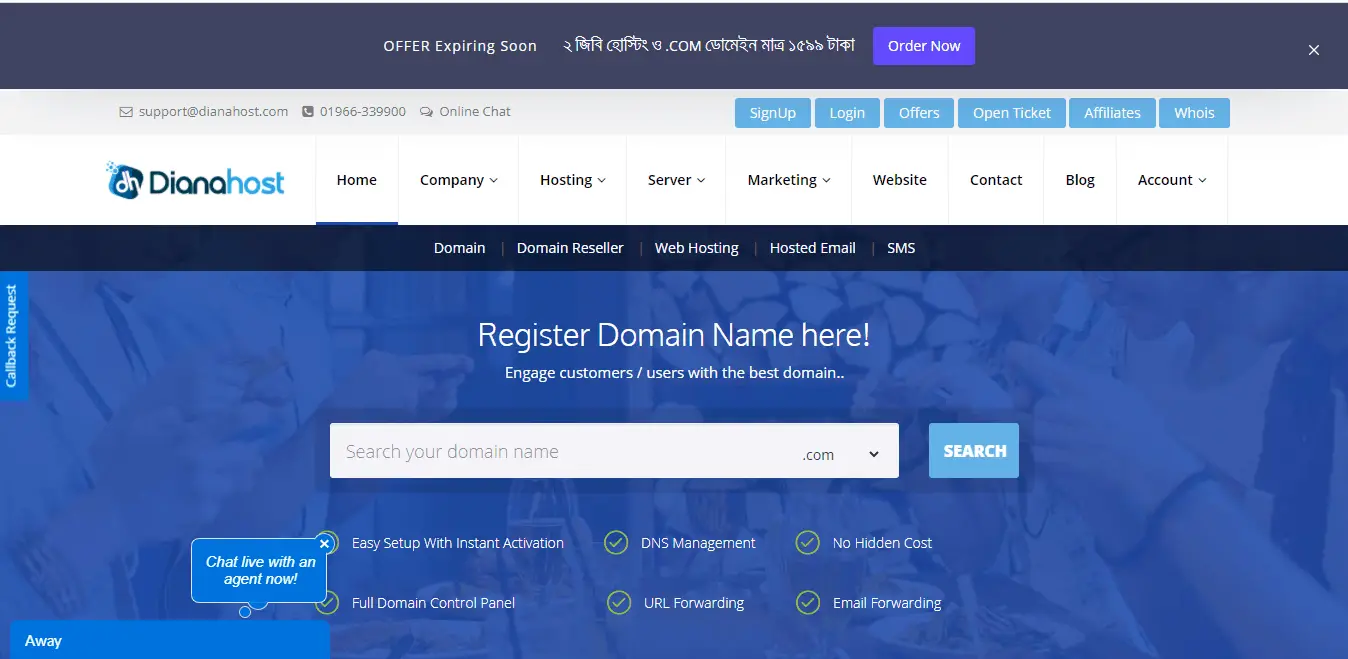 DianaHost is a rapidly growing web hosting company and it provides IT-related services in 30+ countries around the world. DianaHost offers Premium Web Hosting, Reseller Hosting, and Virtual Private Server (VPS) solution for businesses of all sizes. The main aim of DianaHost is to provide enterprise-level solutions at affordable prices. Some features of DianaHost are – 
Backups Guarantee
30 days money-back guarantee
99.9% Uptime Guarantee
E-Commerce Tools
Email Features
Softaculous Pro
SSD hosting server
Free Cloudflare CDN supported
Powered by Cpanel  
Web Hosting Plan Of DianaHost
Plan 1
Price: 999/year
500 MB SSD NVMe Storage
50 GB Monthly Bandwidth
0 Addon Domain
10 Sub Domain
10 FTP Account
10 Database
5 Email Account
Free SSL Certificate
cPanel Control Panel
1 Core CPU Limit
512 MB RAM
1 MB/s I/O
20/hr Email Limit
LiteSpeed Server
CloudLinux OS
Imunify360 Firewall
Softaclus Scripts
Instant Activation
Any Time Upgradation
Plan 2
Price: 1599/year
1 GB SSD NVMe Storage
100 GB Monthly Bandwidth
2 Addon Domain
20 Sub Domain
20 FTP Account
50 Database
20 Email Account
Free SSL Certificate
cPanel Control Panel
1 Core CPU Limit
1024 MB RAM
2 MB/s I/O
30/hr Email Limit
LiteSpeed Server
CloudLinux OS
Imunify360 Firewall
Softaclus Scripts
Instant Activation
Any Time Upgradation
Plan 3
Price: 2499/year
2 GB SSD NVMe Storage
200 GB Monthly Bandwidth
2 Addon Domain
30 Sub Domain
30 FTP Account
50 Database
30 Email Account
Free SSL Certificate
cPanel Control Panel
1 Core CPU Limit
1024 MB RAM
5 MB/s I/O
30/hr Email Limit
LiteSpeed Server
CloudLinux OS
Imunify360 Firewall
Softaclus Scripts
Instant Activation
Any Time Upgradation
Plan 4
Price: 3199/year
3 GB SSD NVMe Storage
300 GB Monthly Bandwidth
3 Addon Domain
30 Sub Domain
30 FTP Account
50 Database
30 Email Account
Free SSL Certificate
cPanel Control Panel
1 Core CPU Limit
1024 MB RAM
5 MB/s I/O
30/hr Email Limit
LiteSpeed Server
CloudLinux OS
Imunify360 Firewall
Softaclus Scripts
Instant Activation
Any Time Upgradation
Plan 5
Price: 4899/year
5 GB SSD NVMe Storage
300 GB Monthly Bandwidth
4 Addon Domain
Unlimited Sub Domain
Unlimited FTP Account
Unlimited Database
Unlimited Email Account
Free SSL Certificate
cPanel Control Panel
1 Core CPU Limit
1024 MB RAM
10 MB/s I/O
40/hr Email Limit
LiteSpeed Server
CloudLinux OS
Imunify360 Firewall
Softaclus Scripts
Instant Activation
Any Time Upgradation
Plan 6
Price: 5999/year
10 GB SSD NVMe Storage
500 GB Monthly Bandwidth
5 Addon Domain
Unlimited Sub Domain
Unlimited FTP Account
Unlimited Database
Unlimited Email Account
Free SSL Certificate
cPanel Control Panel
1 Core CPU Limit
1024 MB RAM
10 MB/s I/O
50/hr Email Limit
LiteSpeed Server
CloudLinux OS
Imunify360 Firewall
Softaclus Scripts
Instant Activation
Any Time Upgradation
Plan 7
Price: 9999/year
20 GB SSD NVMe Storage
700 GB Monthly Bandwidth
10 Addon Domain
Unlimited Sub Domain
Unlimited FTP Account
Unlimited Database
Unlimited Email Account
Free SSL Certificate
cPanel Control Panel
2 Core CPU Limit
1200 MB RAM
10 MB/s I/O
50/hr Email Limit
LiteSpeed Server
CloudLinux OS
Imunify360 Firewall
Softaclus Scripts
Instant Activation
Any Time Upgradation
Plan 8
Price: 18999/year
50 GB SSD NVMe Storage
Unlimited Monthly Bandwidth
10 Addon Domain
Unlimited Sub Domain
Unlimited FTP Account
Unlimited Database
100 Email Account
Free SSL Certificate
cPanel Control Panel
2 Core CPU Limit
2048 MB RAM
10 MB/s I/O
50/hr Email Limit
LiteSpeed Server
CloudLinux OS
Imunify360 Firewall
Softaclus Scripts
Instant Activation
Any Time Upgradation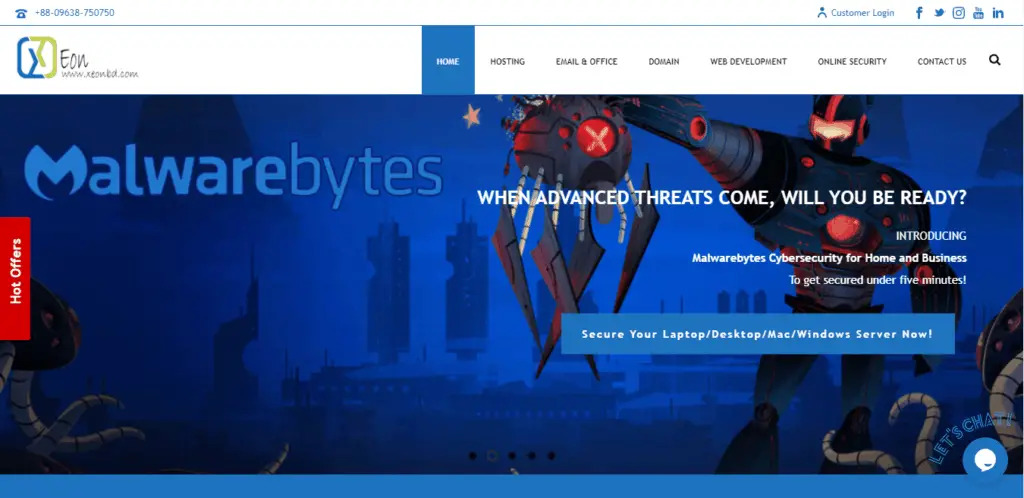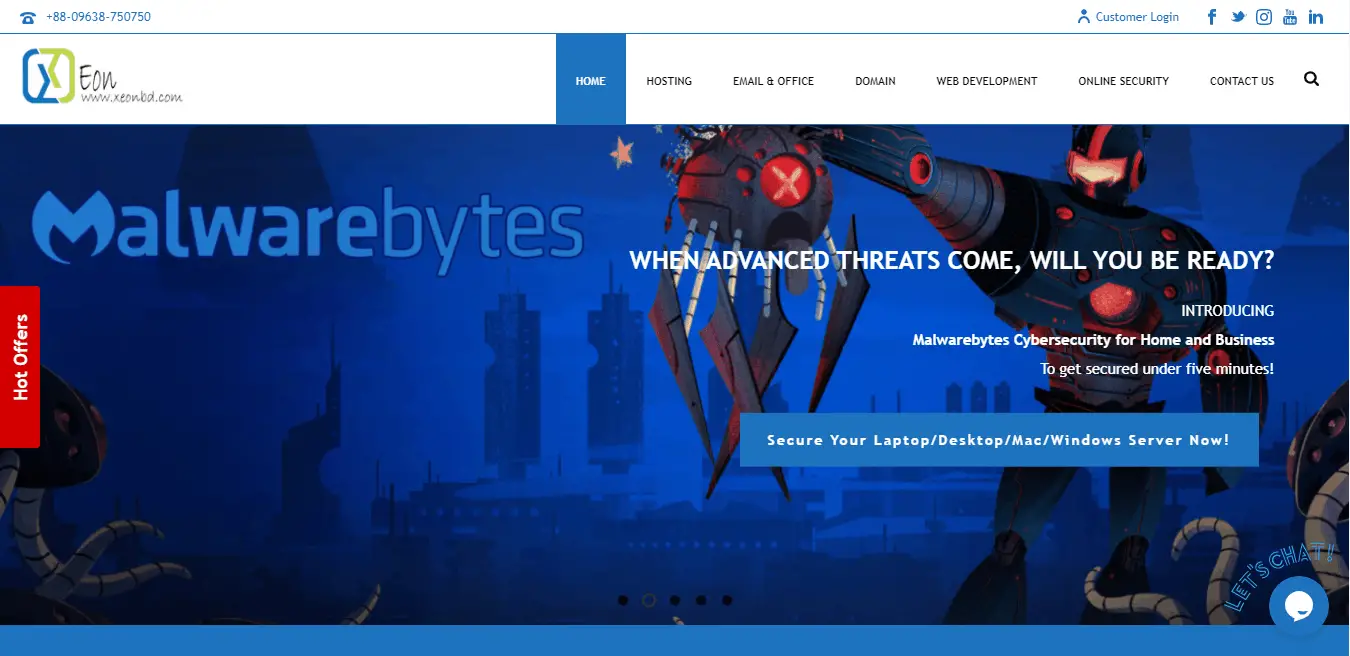 XeonBD was established in 2005 and it is one of the oldest domain hosting service providers of Bangladesh. XeonBD has a team of dedicated and skilled professionals who are working 24/7 to ensure you receive excellent services from them. XeonBD gained the trust of customers because of their – 
LiteSpeed Web Server & LSCache
Stable & Secure Cloud Technology
High-Performance SSD Servers
24/7 Technical Support
Latest cPanel
Malware & Exploit Scanning
Spam Protection
FREE Let's Encrypt SSL Certs
Web Hosting Plan Of XeonBD
WP SSD 1
Price: 1299 / month
Free .COM Domain *
Unlimited Add-On Domain
30 GB SSD Space
Unlimited Traffic/month
1 CPU Core Limit
2 GB RAM
1 Dedicated IPv4 *
SiteLock Basic *
∞ EP & ∞ NP
∞ MB/s I/O
Unlimited MySQL DB
Unlimited Email
100/hrs Email Limit
Latest cPanel
CloudLinux OS
24×7 Online Supports   
WP SSD 2
Price: 1799 / month
Free .COM Domain *
Unlimited Add-On Domain
60 GB SSD Space
Unlimited Traffic/month
2 CPU Core Limit
4 GB RAM
1 Dedicated IPv4 *
SiteLock Basic *
∞ EP & ∞ NP
∞ MB/s I/O
Unlimited MySQL DB
Unlimited Email
150/hrs Email Limit
Latest cPanel
CloudLinux OS
24×7 Online Supports
WP SSD 3
2399 / month
Free .COM Domain *
Unlimited Add-On Domain
120 GB SSD Space
Unlimited Traffic/month
3 CPU Core Limit
6 GB RAM
1 Dedicated IPv4 *
SiteLock Premium *
∞ EP & ∞ NP
∞ MB/s I/O
Unlimited MySQL DB
Unlimited Email
200/hrs Email Limit
Latest cPanel
CloudLinux OS
24×7 Online Supports
WP SSD 4
2799 / month
Free .COM Domain *
Unlimited Add-On Domain
240 GB SSD Space
Unlimited Traffic/month
8 CPU Core Limit
8 GB RAM
1 Dedicated IPv4 *
SiteLock Enterprise *
∞ EP & ∞ NP
∞ MB/s I/O
Unlimited MySQL DB
Unlimited Email
250/hrs Email Limit
Latest cPanel
CloudLinux OS
24×7 Online Supports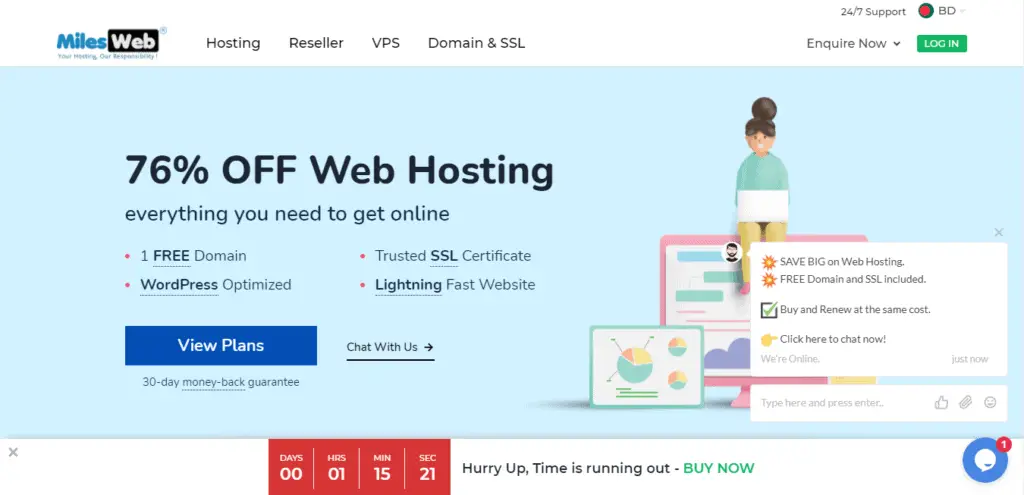 MilesWeb is one of the fastest-growing web hosting companies in Bangladesh. If you are looking for a reliable hosting solution for your personal website, e-commerce website, or business website then MilesWeb is the best option for you. Established in 2012, MilesWeb is providing quality services round the clock at affordable prices. Some important features of MilesWeb are – 
24/7/365 Support
30 Day Money Back
99.95% Uptime
Free SSL Certificate
Free Site Builder
Secure Email Accounts
1-Click Installer
Latest PHP & MySQL
Malware Scan and Removal
Datacenter Choice
Instant Account Setup
cPanel Control Panel   
Web Hosting Plan Of MilesWeb
Starter Plan
Price: $2.5/mo.
Host 1 Website
1 Free Domain included
10 Email Accounts
1GB SSD Disk Space
Unlimited Bandwidth
Free SSL Certificate 
Website Builder
cPanel + Softaculous
WordPress Optimized
3 MySQL DB's
Business Plan
Price: $6.25/mo.
Host 1 Website
1 Free Domain included
Unlimited Email Accounts
Unlimited SSD Disk Space
Unlimited Bandwidth
Free SSL Certificate 
Website Builder
cPanel + Softaculous
WordPress Optimized
Unlimited MySQL DB's
Pro Plan
Price: $7.5/mo.
Host Unlimited Websites
1 Free Domain included
Unlimited Email Accounts
Unlimited SSD Disk Space
Unlimited Bandwidth
Free SSL Certificate 
Website Builder
cPanel + Softaculous
WordPress Optimized
Unlimited MySQL DB's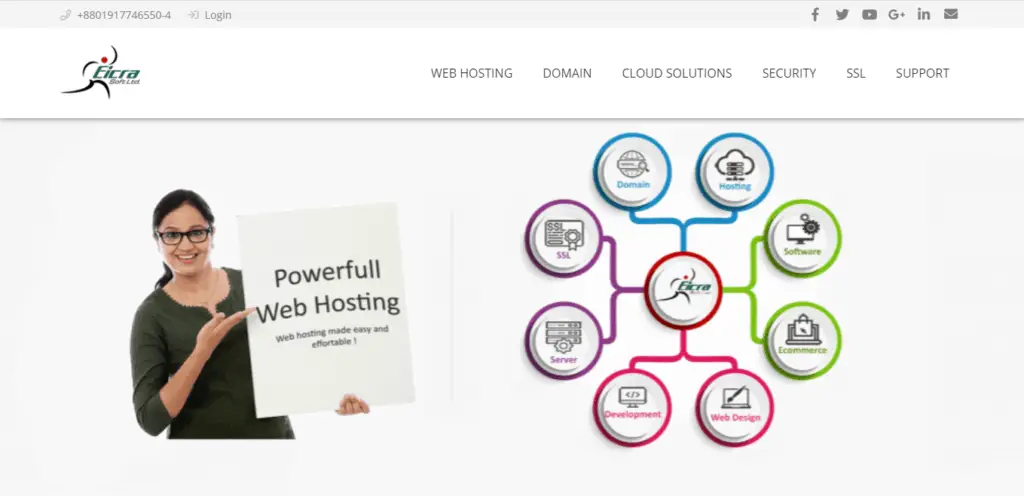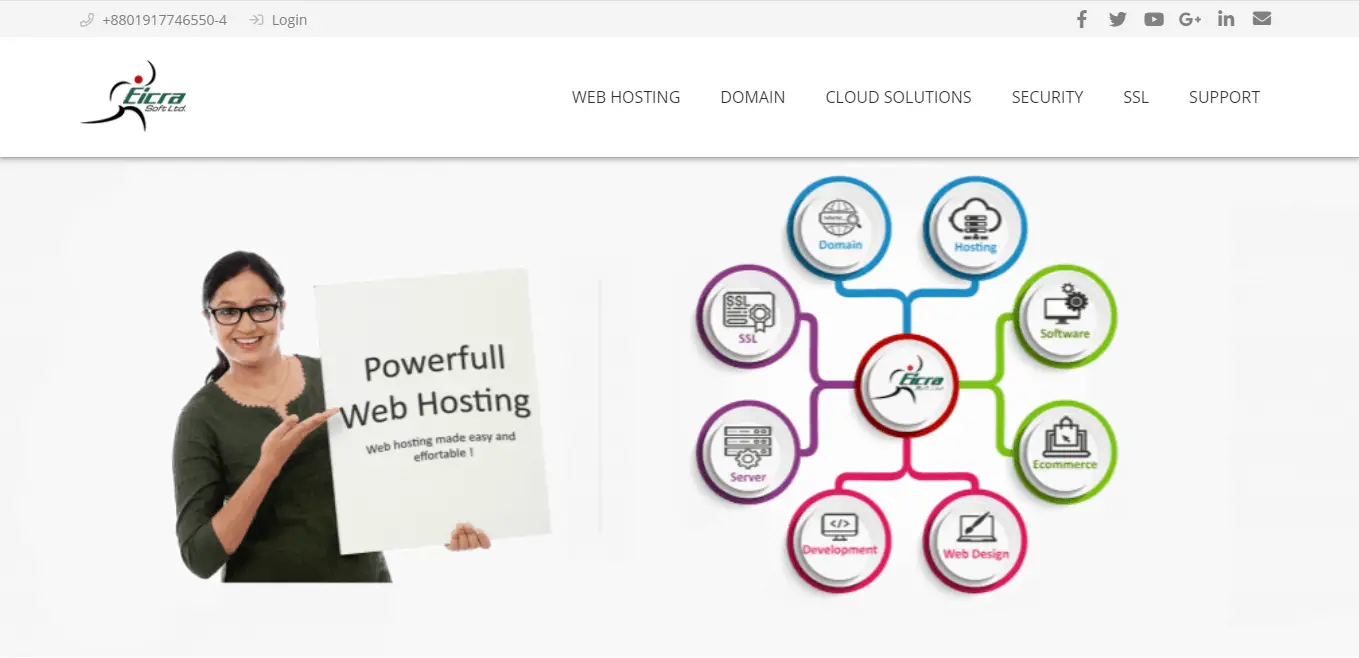 Eicra is one of the reliable and trusted domain hosting companies in Bangladesh. Eicra offers different types of services including Domain Names Registration, Web-Hosting, SSL, and Cloud Solution. One of the best parts of Eicra is 24/7 round-the-clock customer service. Other features of Eicra are – 
Domain privacy policy
Easy domain transfers
Advanced DNS control
FREE web forwarding
99.9% Uptime Guarantee
PHP MySQL support
Apache 2.4.x
Zend / ioncube support
Intel® Xeon® CPUs
MS SQL 2014 & 2016
Personalized email
Plesk Hosting Control Panel‎ 
Web Hosting Plan Of Eicra
Eicra Unlimited Hosting
Price: 18999 / per year
Unlimited Disk Space
Unlimited Monthly Data Transfer
5 GB  Unlimited mail / Park / Addon
Unlimited MySQL & Subdomain
Dedicated Server Hosting
Price: 15,000 / Per mo.
Intel® Core™ i3-540 3.06GHz H/T processor
12 TB Monthly Data Transfer bandwidth
08 GB DDR2 RAM
2x 1000 GB SATAII 7200 RPM