Last Updated on May 10, 2019 by Aminul Haque Shahin
After the independence of Bangladesh in 1971, "TAKA" was established as the country's currency. TAKA currency symbol is  "৳"; the bank code is "BDT" .
History Of Currency of Bangladesh Taka
In 1972, the government of Bangladesh issued the name of the newly independent state currency is "TAKA". The first treasury note was of Tk1 in 1972, which was in existence until 1993. One percent of the Tk. 1  is called paisa. That means, Tk. 1 is equal to 100 Paisa. Tk. 2 treasury notes were announced in 1989.
In 1972 the first paper notes of the TAKA were announced: Tk 5, Tk 10 and Tk 100. In 1975, the first Tk 50 note was announced, the first Tk 500 note in 1977 and the first Tk 20 note was announced in 1980. Tk 1000 worth of value notes were first announced in 2008.
Bangladesh Central Bank – "Bangladesh Bank";  introduced paper note taka- Baritikkum Tk. 1, Tk. 2 and Tk. 5 notes and metal coins, which are in charge of the Ministry of Finance of Bangladesh Government. The fraction of the Taka is a paisa, which is 1 percent of 100 percent of the value of Tk1.
According to linguists, the Bangla word "taka" is derived from Sanskrit "tonk", which means Silvermoon. In Bengal state, TAKA is always used to refer to any paper note money or a metal coin. In the 14th century, Ibn Batuta noticed that the people of Bengal Sultanate used to say "TAKA" without saying dinar of gold and silver metallic coins.
After the partition of Bengal in 1947, in East Bengal part of the Pakistan Legislative Assembly and in 1956 East Bengal was renamed East Pakistan; where the word "TAKA" was printed in Pakistani rupees also. Before the liberation war, the rupee was in circulation in this land as currency. On 4th March 1972 as a public currency – "TAKa" was announced. Until the circulation the taka in everywhere, Pakistani rupees were used even after several months of independence. During the War of Liberation, a non-official practice was introduced by the Bengali nationalists against the Pakistani rule: " Pakistani rupee notes were Stamping in Bengali " বাংলাদেশ" and in English "Bangla Desh" with rubber stamps. On June 8, 1971, the Pakistani government declared all the rubber stamps with notes illegal, illegal and unclaimed.
Which are Existing and Not Existing
In Bangladesh, the paper notes are available in Tk 1, Tk 2, Tk 5, Tk 20, Tk 50, Tk 100, Tk 500 and Tk 1000 and available metal paisa in- 1 paise, 2 paisa, 5 paisa, 10 paisa, 50 paisa, Tk 1, Tk. 2 and Tk. 5 are available. The central bank of Bangladesh, responsible for the circulation and control of paper notes on behalf of the Bangladesh Bank. 1 paisa, 2 paisa, 5 paisa, 10 paisa, 50 paisa currently inaccessible.
Picture of Some Metal Coin
5 Paisa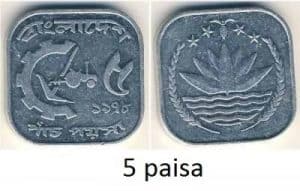 2. 10 Paisa

3. 25 paisa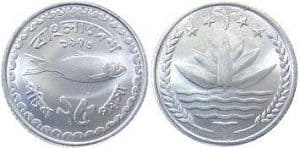 4. 50 paisa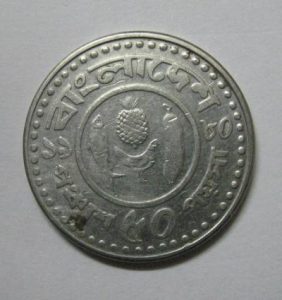 5. 1, 2, 5 taka metal coin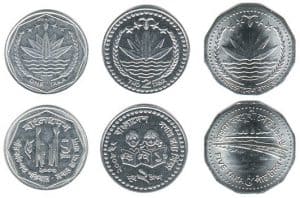 Some paper notes picture of Currency of Bangladesh "Taka"
1 Taka paper note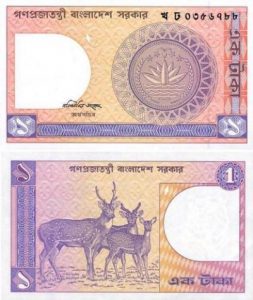 2. 2 Taka paper note
In a vote held in an online entertainment outlet in Russia, Bangladeshi Tk 2 notes got the world's most beautiful banknote status. Where the currency of other countries in the world was in competition.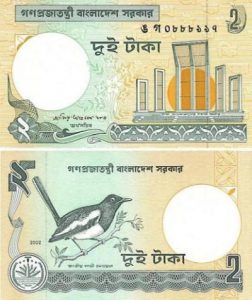 3. 5 Taka paper note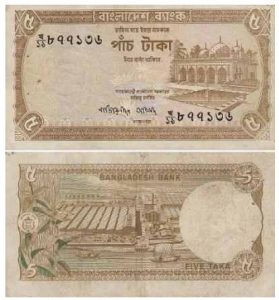 4. 10 Taka paper note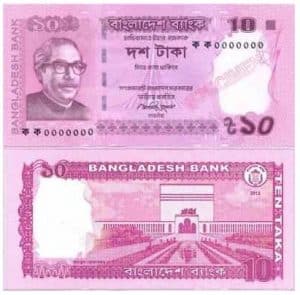 5. 50 Taka paper note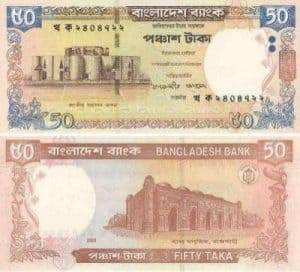 6. 100 Taka paper note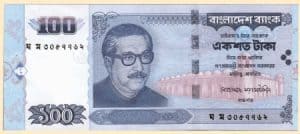 7. 500 Taka paper note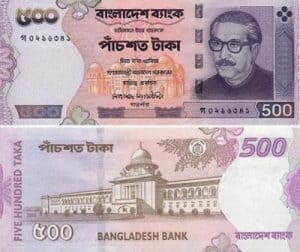 8. 1000 Taka paper note