Last Updated on June 9, 2021 by Aminul Haque Shahin
The National Bureau of Revenue (NBR) of Bangladesh has fastened the process of registering for E-Tin in Bangladesh. Now, people of Bangladesh can open their eTIN account within just 10-15 from online.
The typical eTIN number is 12 digit and if you had any TIN numbers before; you might need to register for new eTIN numbers online.
You just need National ID card numbers, your personal mobile number and if you own a company or proprietary; then you need those documents as well.
What is eTIN?
Electronic Tax Identification Number (eTIN) is a 12-digit identification number issued by the National Revenue Board of Bangladesh (NRB). It is a tax identifier for individuals and businesses who are considered taxpayers and need to deal with national revenue service.
An electronic tax identification number is being implemented in Bangladesh as a replacement for the traditional process where citizens need to carry their national ID card with them at all times so they can easily access different government services.
Who Needs The eTIN Certificate?
TIN Certificate is not mandatory for all the Bangladeshi citizens. But having a TIN certificate will give you a lot of advantages in different private and government services. There are some other issues where you may need a TIN Certificate…like-
If you withdraw 16 thousand Taka or more per month from any organization, company or firm; then you are eligible for tax and where you need a eTin certificate. It is worth mentioning that; if your yearly earned money doesn't cross 250000 takas/year; then you will not need to pay Tax as well.
If you are a shareholder or a director of a company or organization.
If you are a partner of any firm or company.
If you get a salary from a company or firm.
If you are a member of a government registered financial or social organization.
If you are an owner of a vehicle and you use it for ride-sharing companies.
If you are a doctor, engineer, lawyer, accountant or any listed employee or government or semi-government or private organization.
If you want to buy a prize bond or Savings Form from Bangladesh Bank.
If you want to open a Bank Account in Bangladesh.
If you want to apply for a trade license.
How to Register for E-TIN Certificate
Here is the step by step process or registering for the eTin using your Mobile Phone or Computer (An active Internet connection is required).
Step 01 – Click on this link (IncomeTax.Gov.bd) and fill-up the form like the image below. Enter a unique user ID, password, a security question answer, mobile number, email ID and then verify the Captcha code and click on the "Register" button.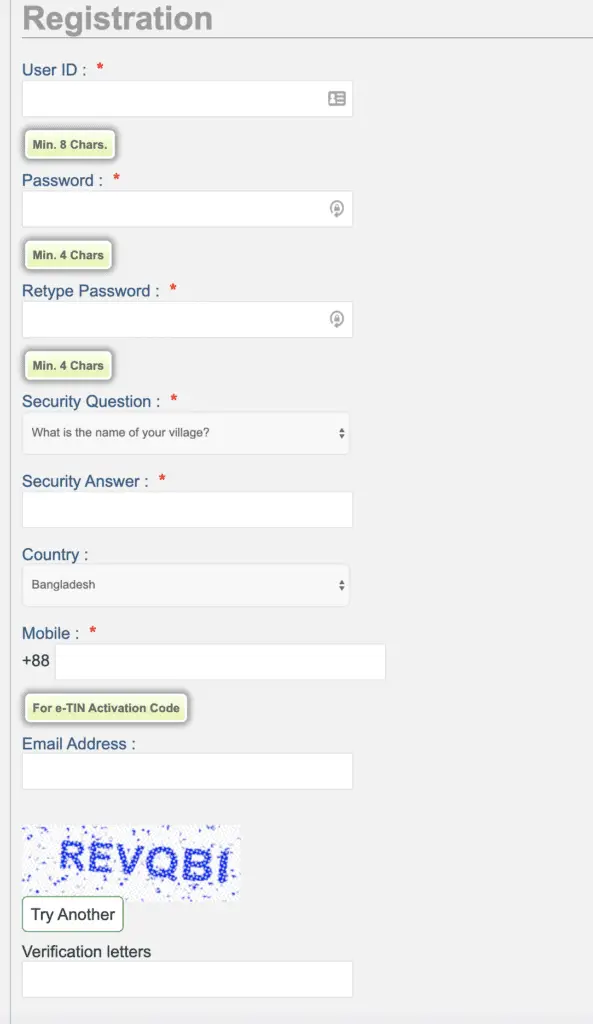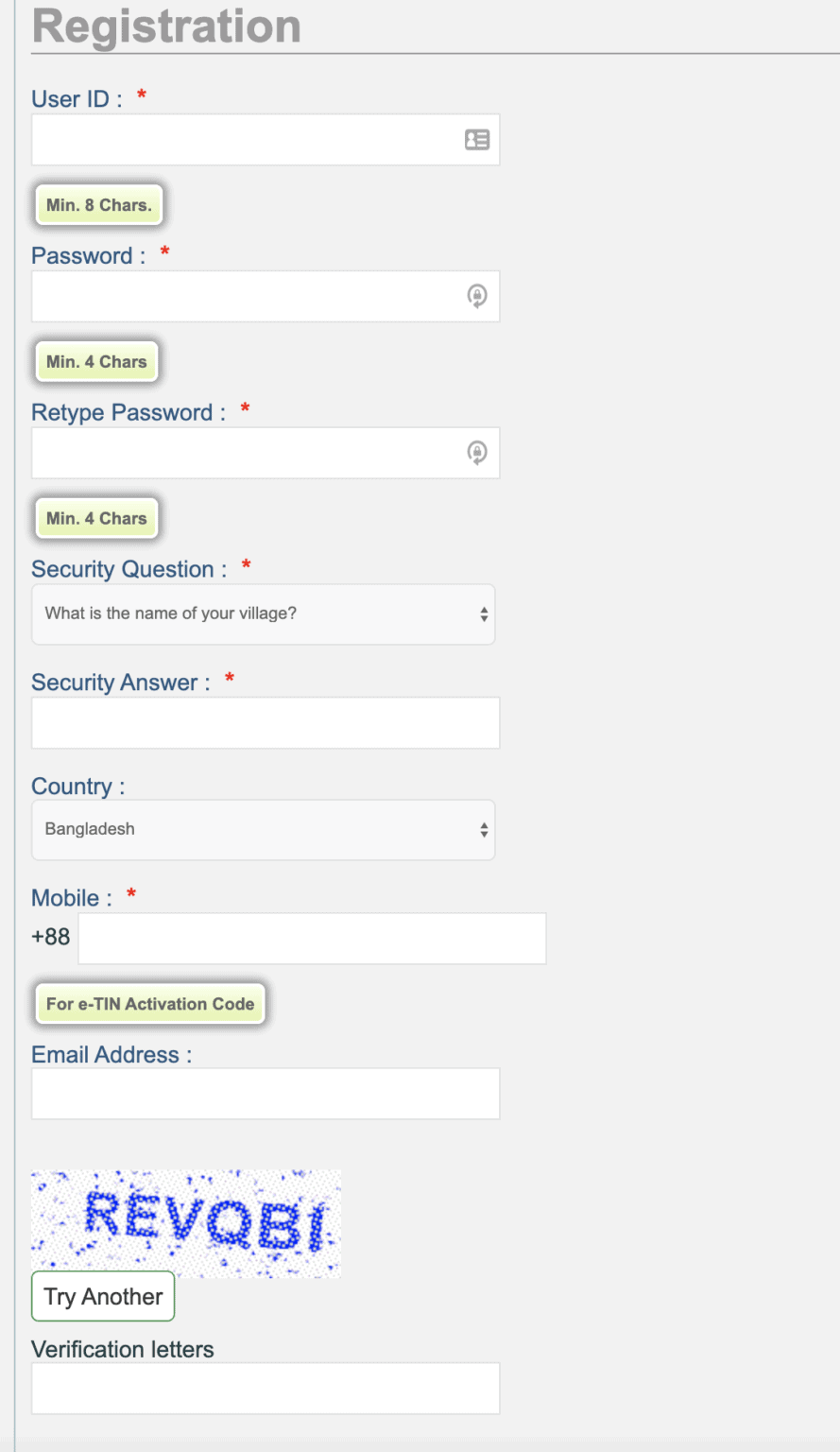 Step 02– You will get an activation code on your Mobile Phone. Just copy that code and paste it on the box like the image below. And then click on the "Activate" button.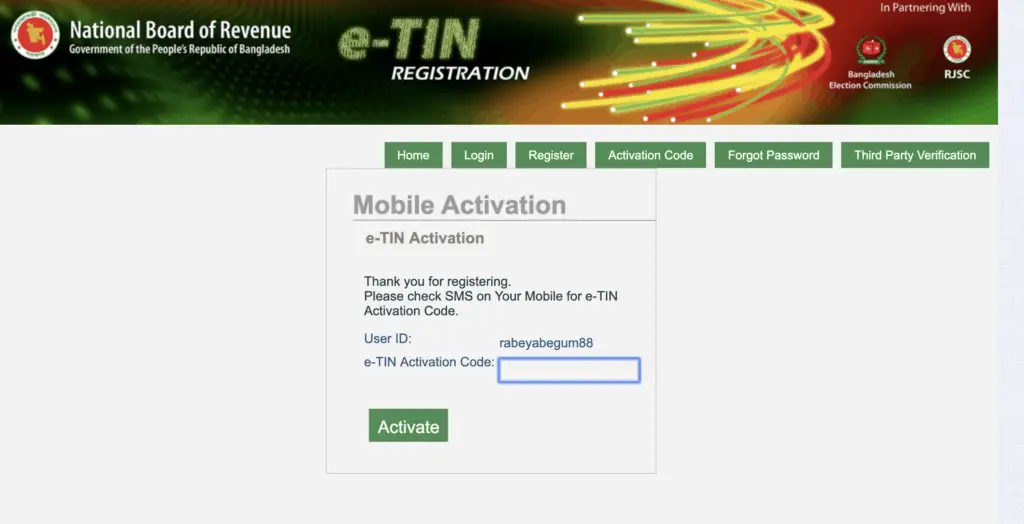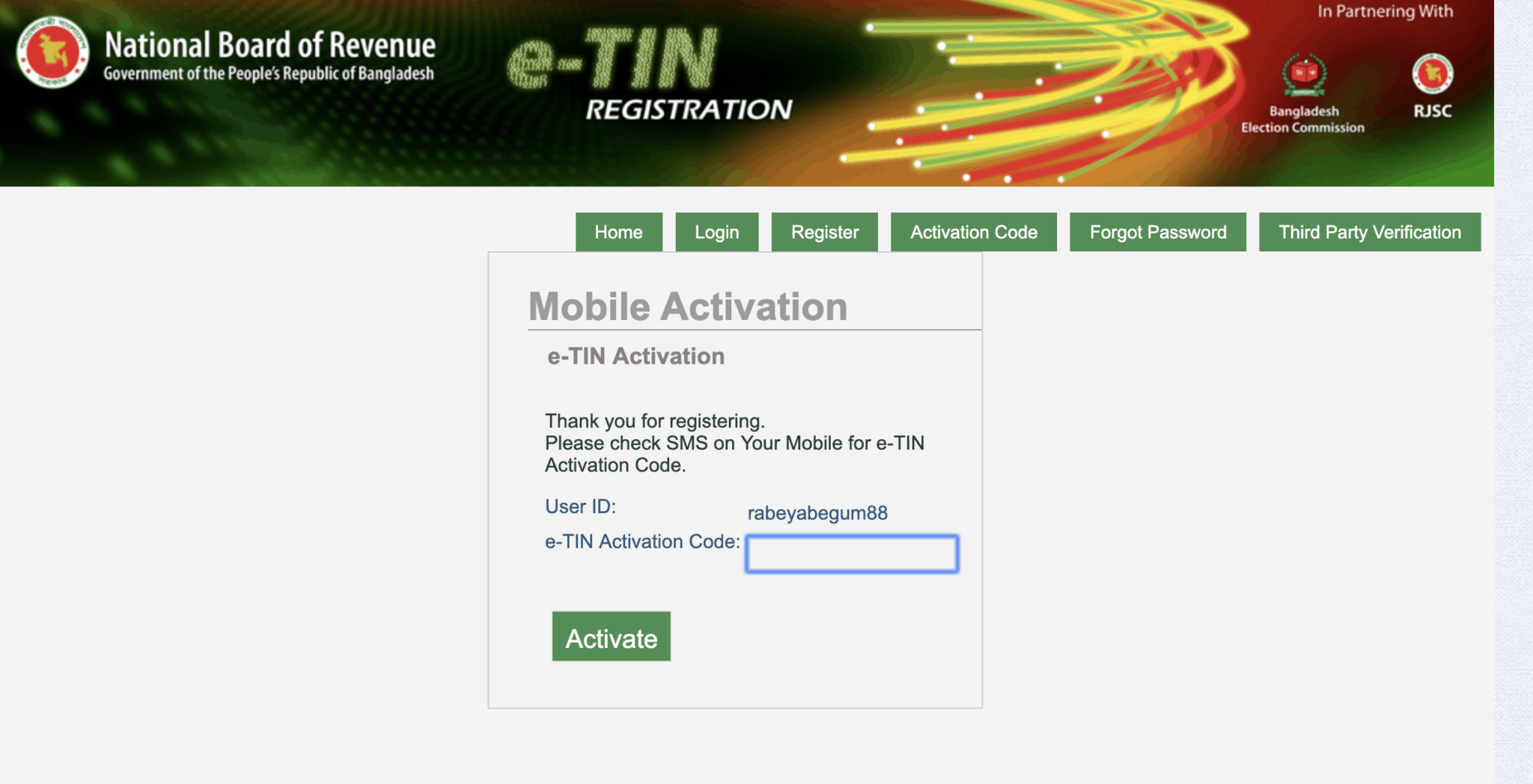 Step 03– Your registration is completed. You just need to log in again. Click on the Login button.


Step 04– Log in to the NBR site again using your Username and Password that you used on the first step of this application. See the image below –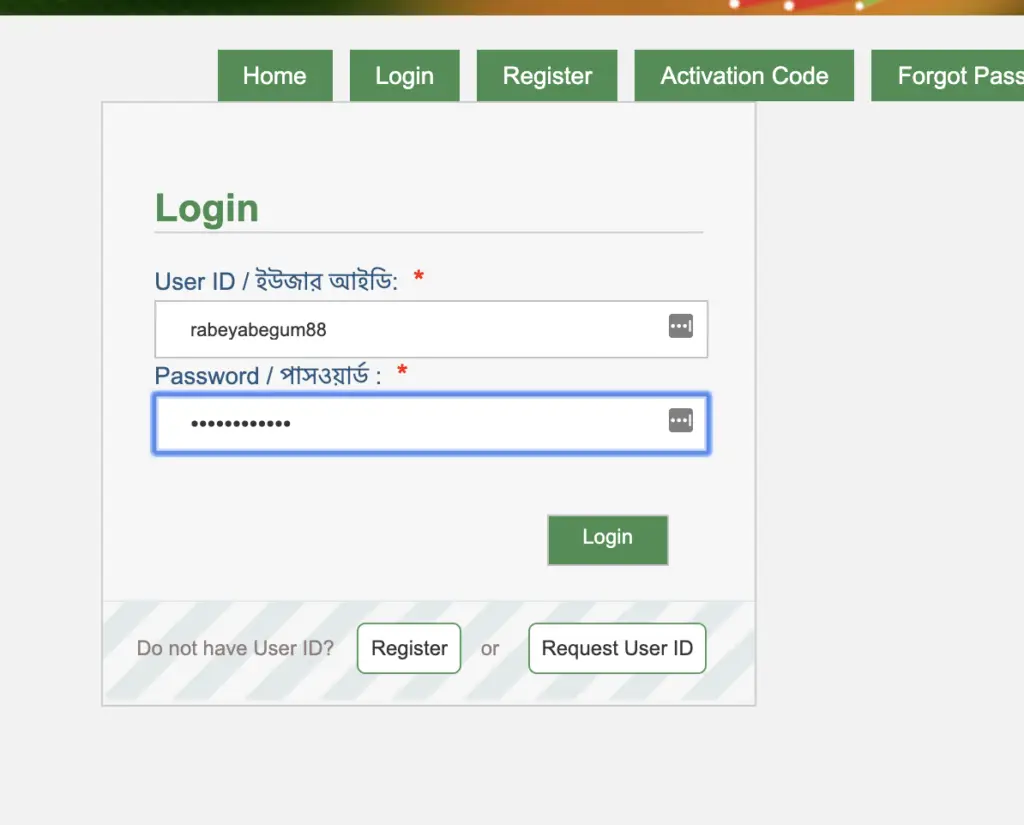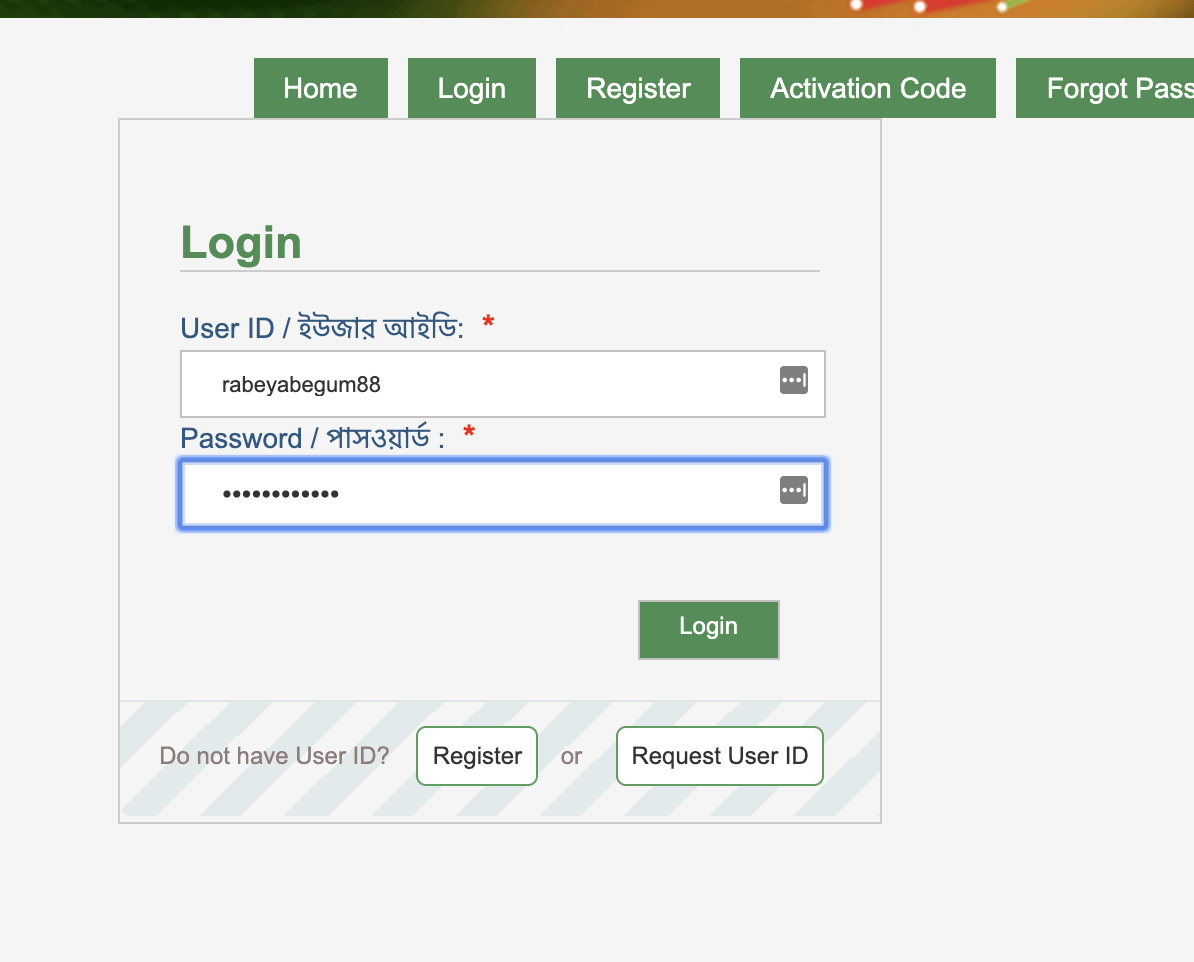 Step 05– Click on the "Click Here" button for TIN Registration /Re-Registration purpose now.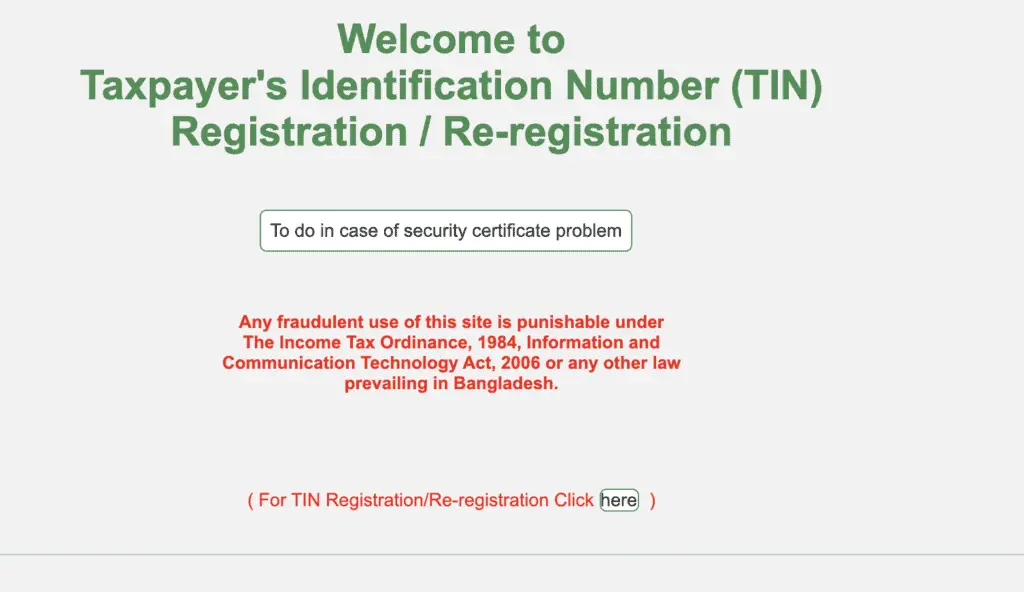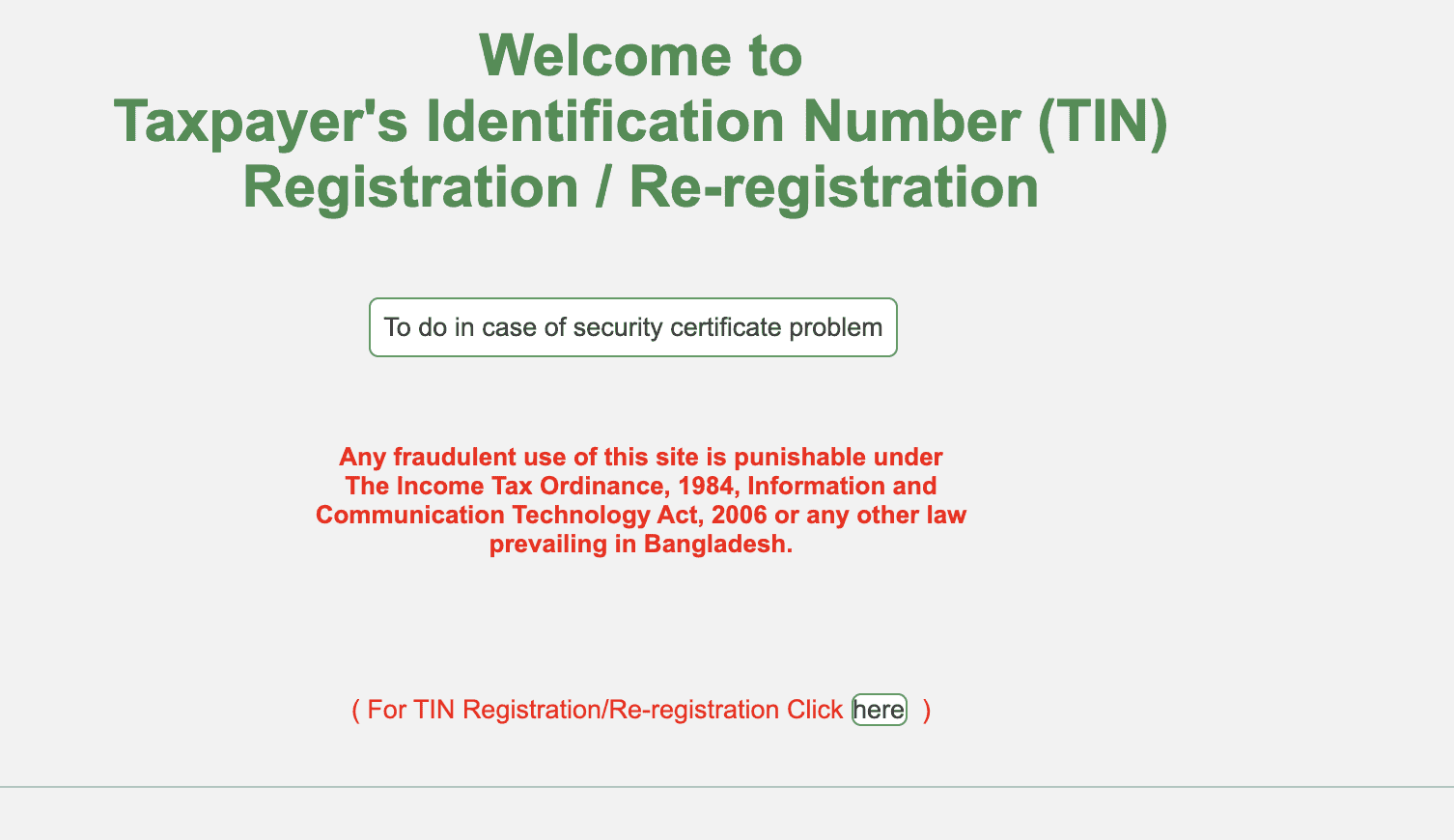 Step 06– Fill up Taxpayer's Status, Registration Type, Main Source of Income and Location and click on "Go to Next ->" button shown like the image below.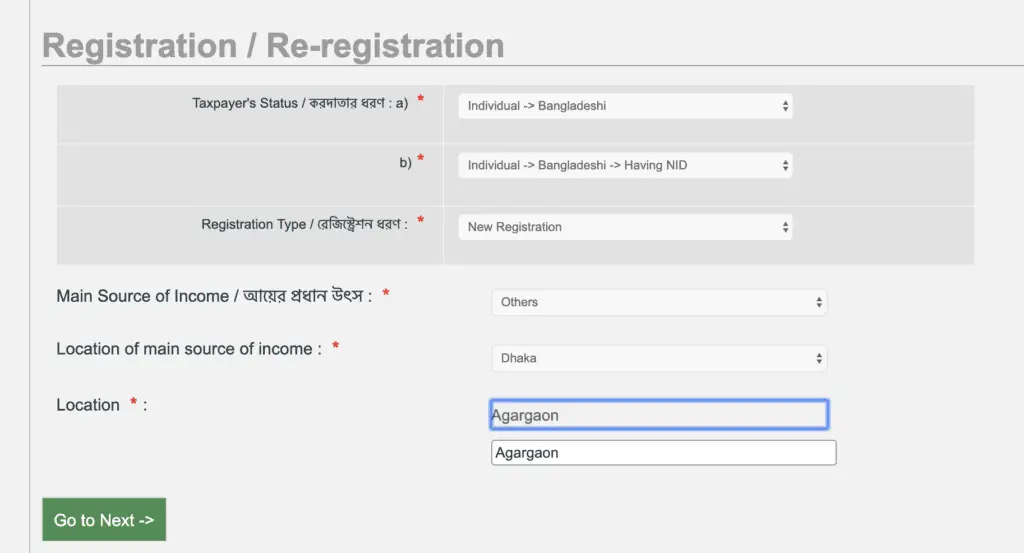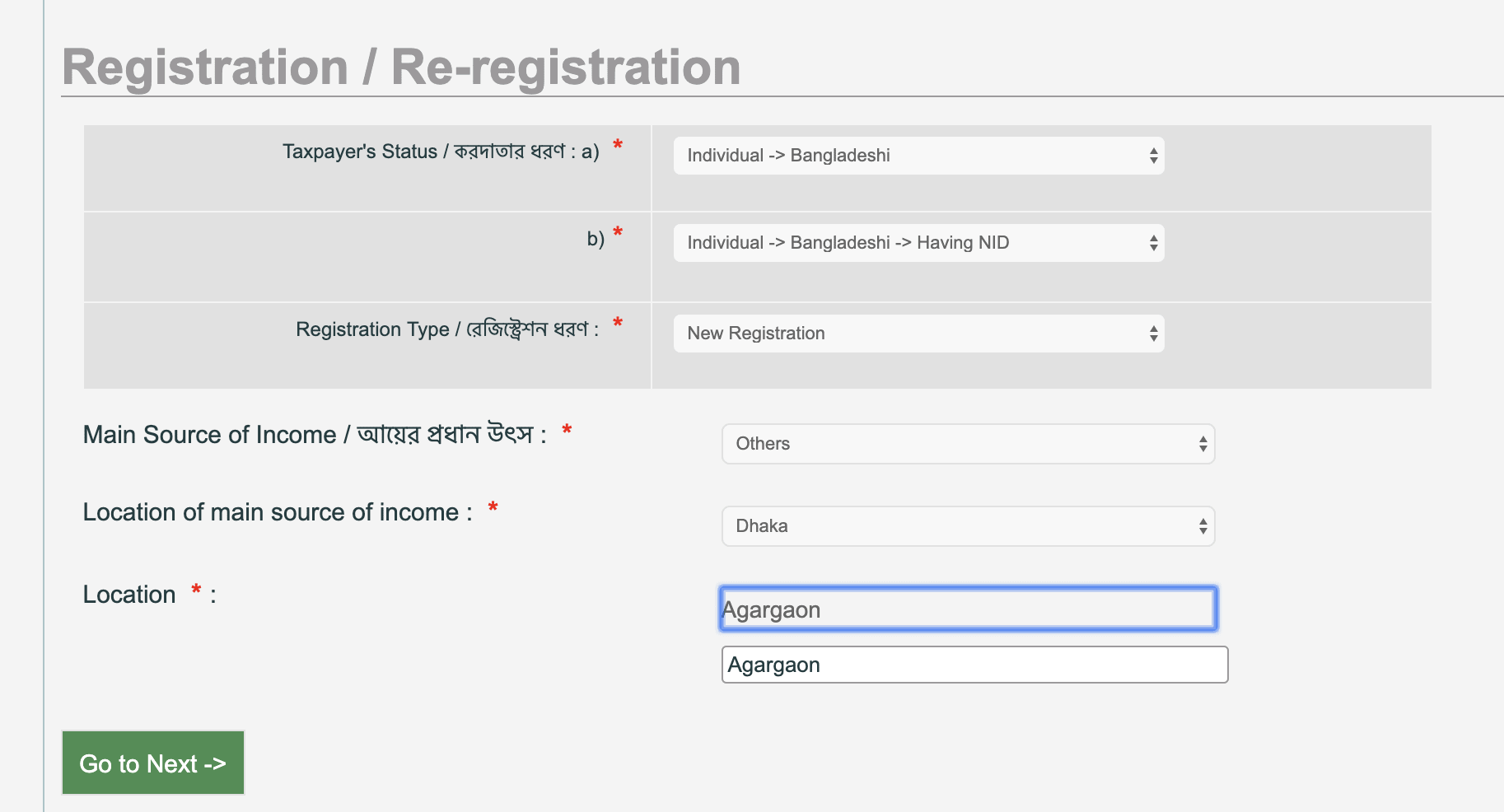 Step 07 – Enter your details like Name, Gender, Voter/National ID Card Number, Date of Birth, Father's Name, Monther's Name, Husband or Wife's Name as Spouse, Mobile Number and email. Then enter your present and permanent Address and then click on "Go To Next" button.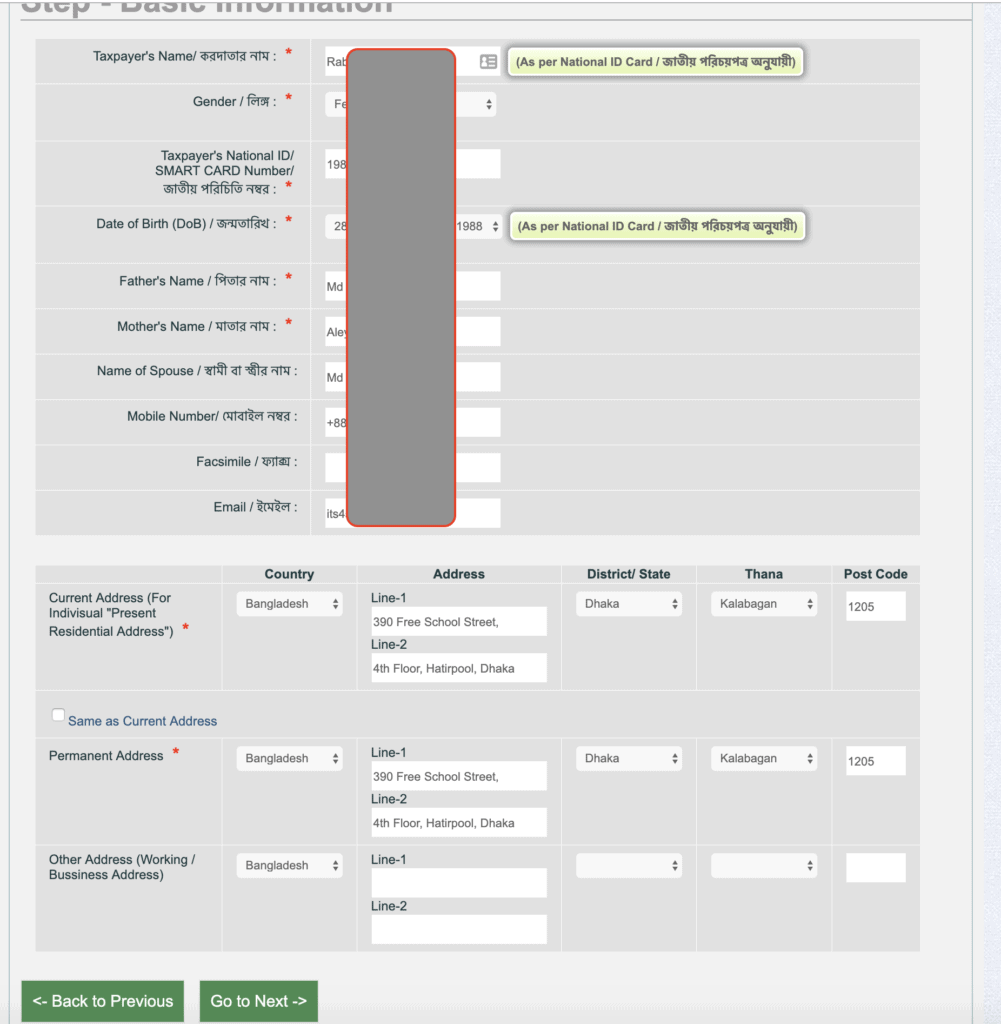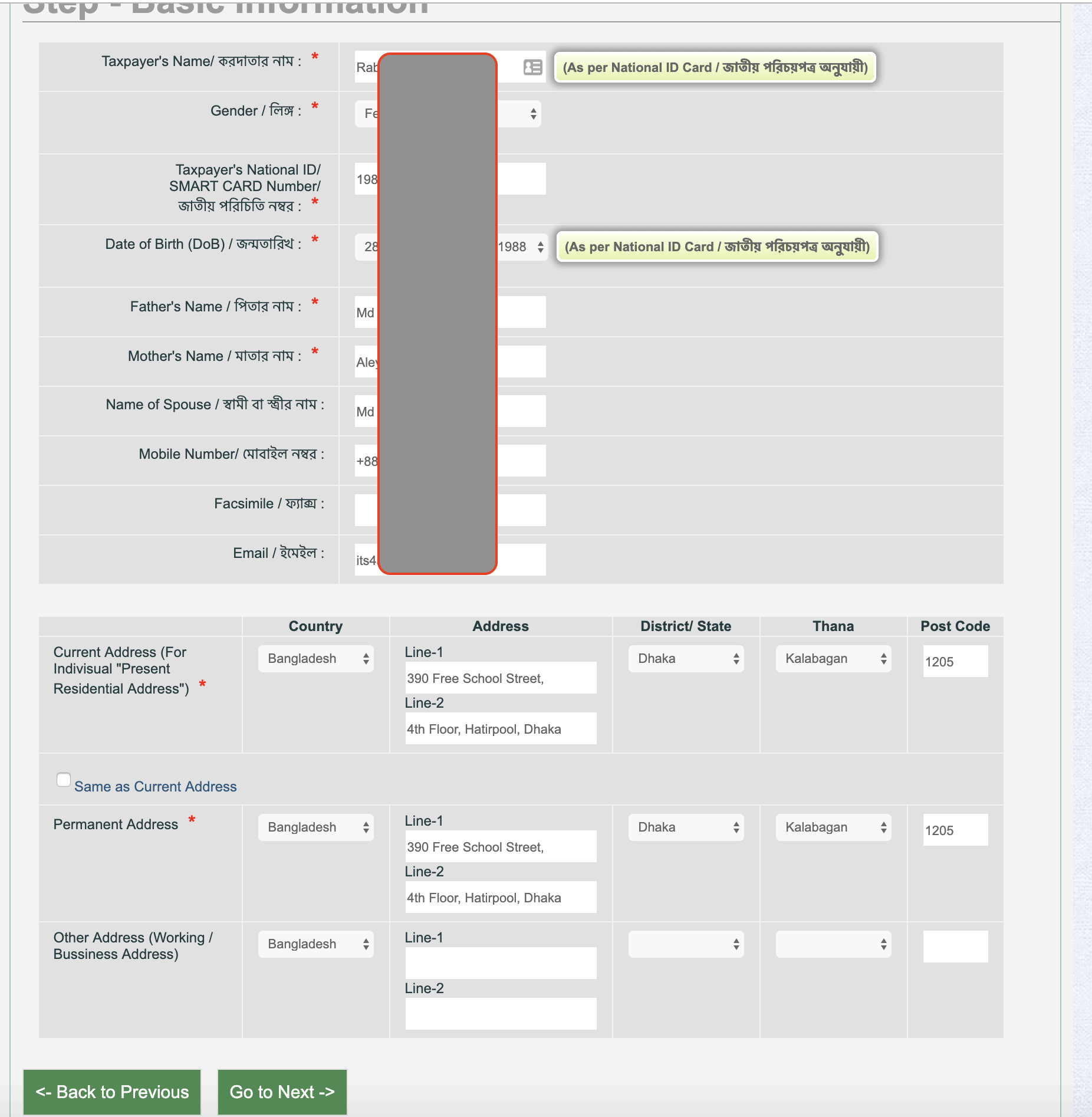 Step 08 – Click on the Box shown on the image and confirm that all the details are correct. And then click on "Submit Application".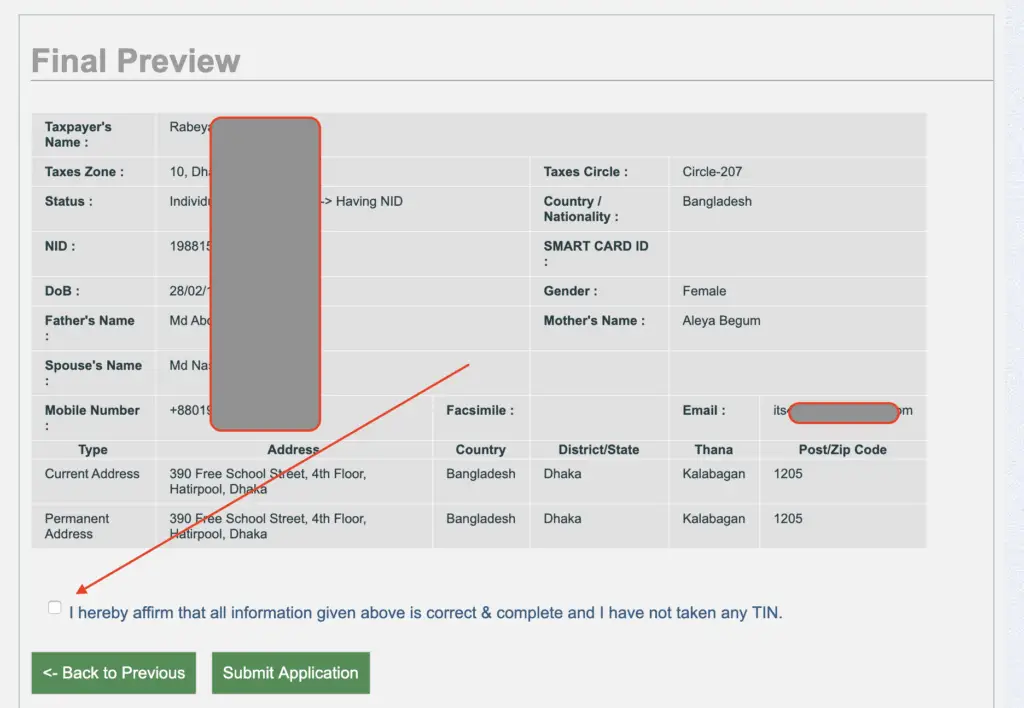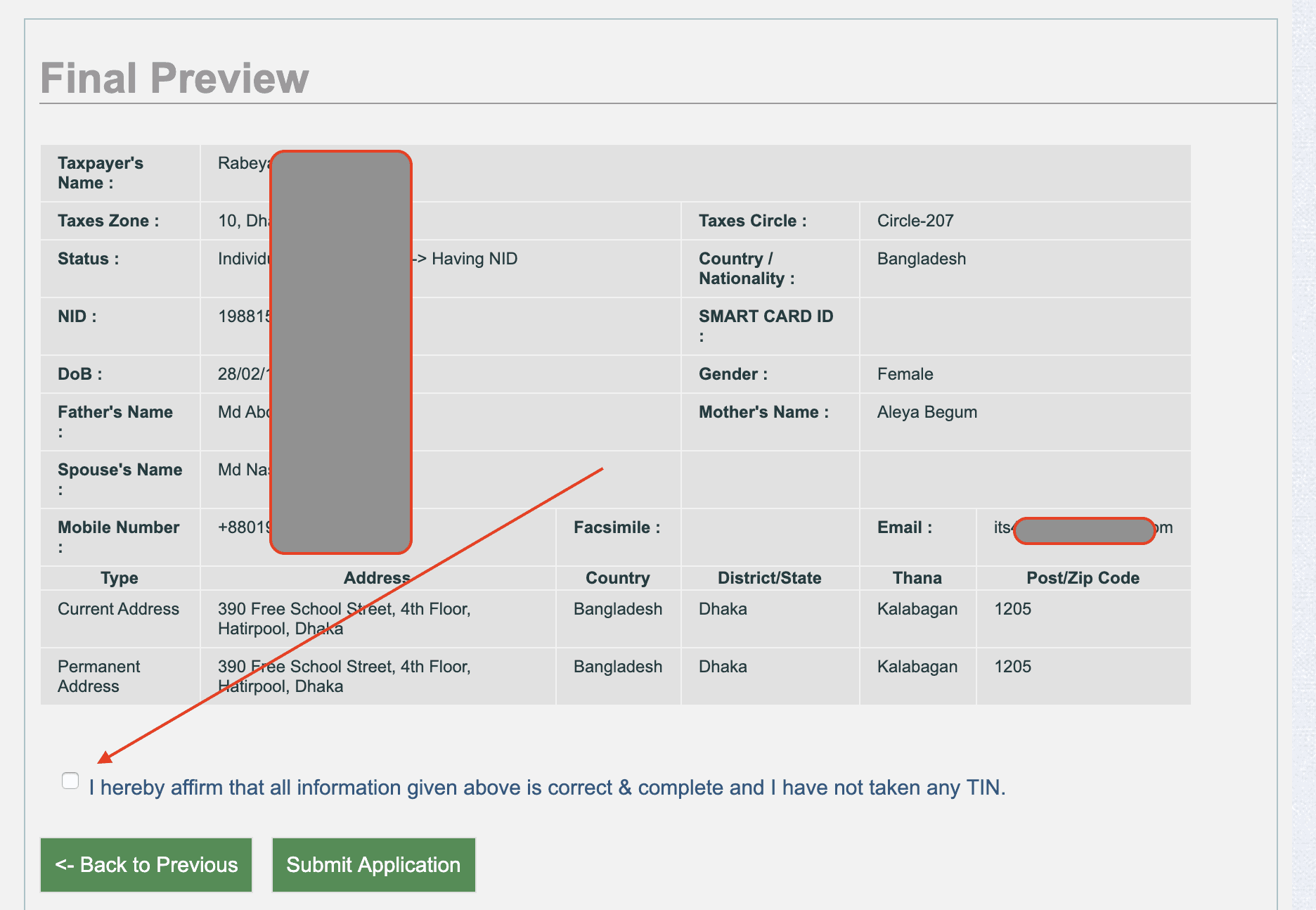 Step 09– On the next step; click on "View Certificate" or "Print Details" Button to see your newly generated electronic TIN Certificate from Bangladesh Government.
Step 10– See you TIN Certificate, TIN Number and Save it to your Computer or PRINT it for future needs.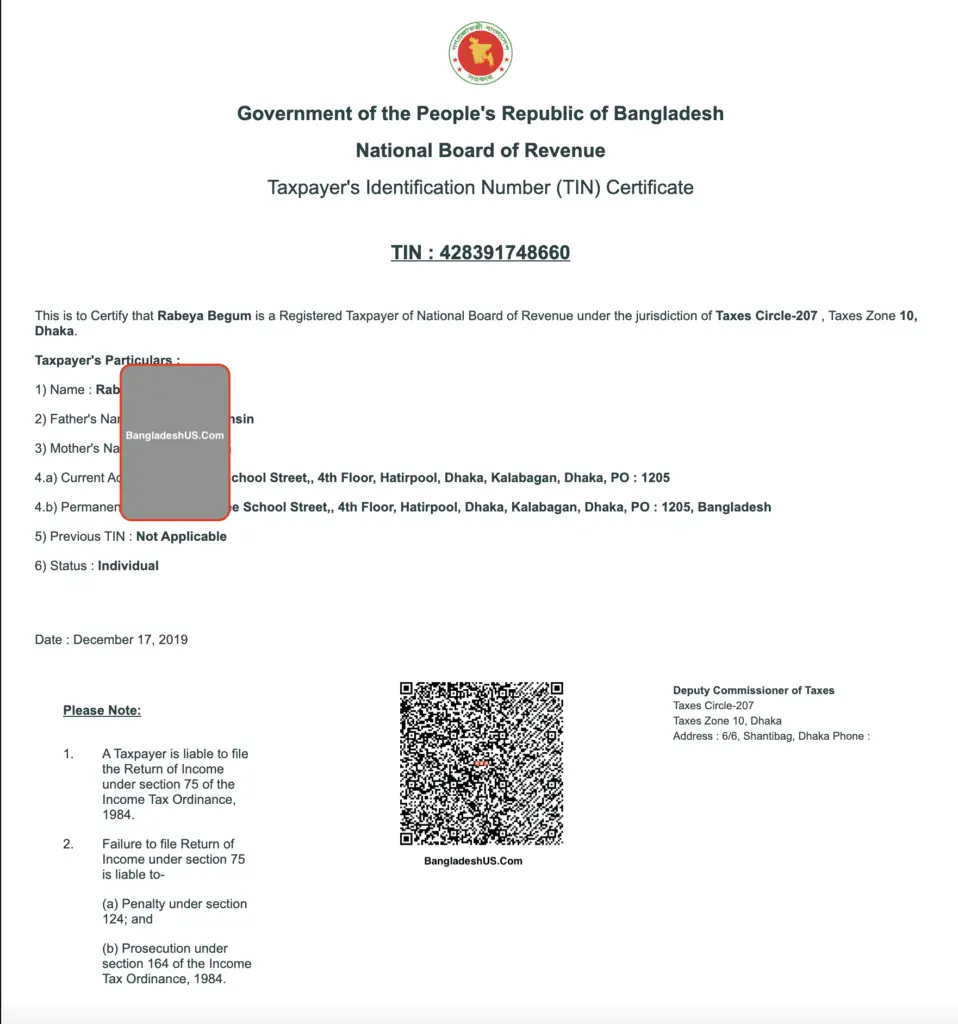 Hope, you will be able to register your Tax Identification Number or TIN Certificate today using this exact and easy guide.
If you have any questions; please do let us know by commenting below.
Thank You.