Last Updated on May 3, 2019 by Aminul Haque Shahin
Mosharraf Karim is a renowned Bangladesh actor and a TV personality. He is currently the most popular drama and drama serial actor in Bangladesh. Mosharraf Karim is known for his acting skills that humor the majority of Bangladeshis.
Mosharraf Karim's Early Life
Mosharraf Karim's native district is Barisal. However, he was born in Dhaka, Bangladesh. He was born on August 22, 1972. Mosharraf Karim developed an interest in acting from the onset of his childhood.  He started visiting theatres more often than not.
During the time when used to go to school, Mosharraf Karim started showing his acting skills in the school theater. He, then, joined theater troupe "Nattokendro". After 15 years in the theater troupe, Mosharraf Karim began acting on the small screen in 1999.
He acted in the single episode TV play, called Atithi. The TV episode was directed by Ferdous Hasan. The TV play was aired by Channel I.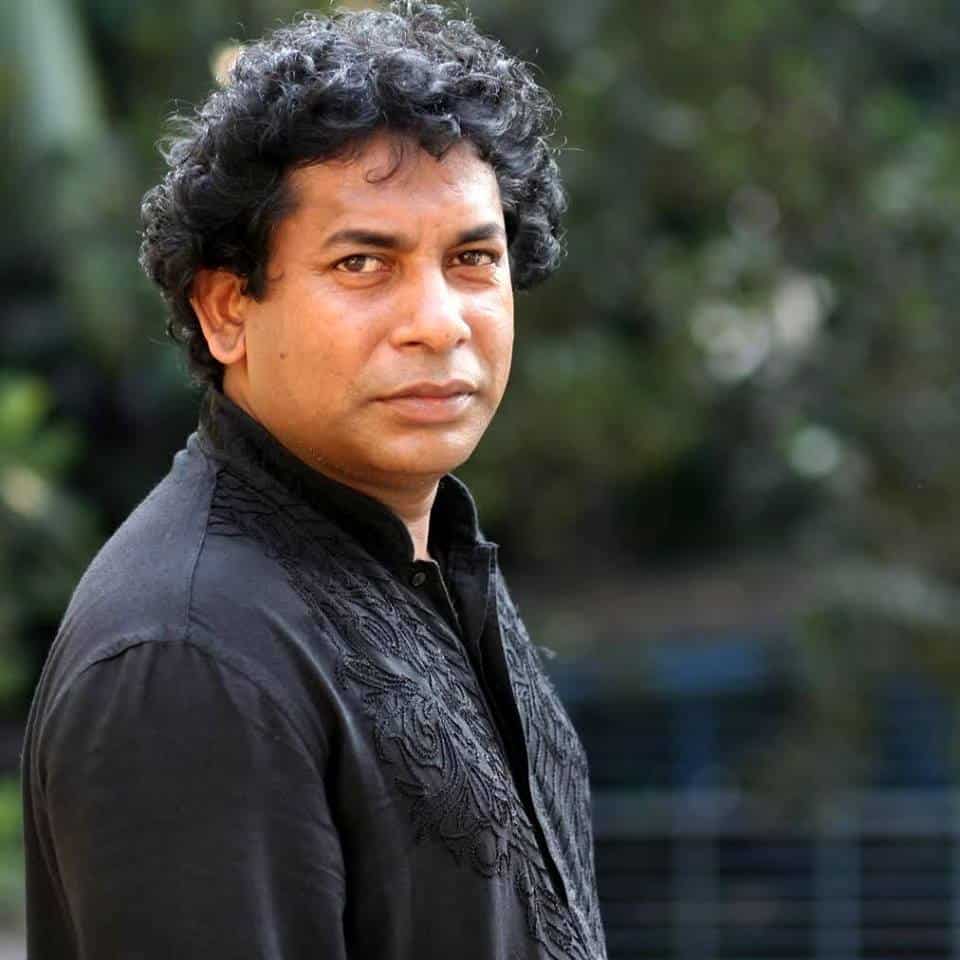 Mosharraf Karim at a Glance
Full Name: K M Mosharraf Karim
Birth Date: August 22, 1972
Nick Name: Shamim
Home District: Barisal
Zodiac Sign: Leo
Born: Dhaka, Bangladesh
Nationality: Bangladeshi
Occupation: Television and Film Actor
Years Active: 1999 – Present
Spouse(s): Robena Reza Jui
Religion: Islam
Official Website: mosharraf-karim.com
Acting Career
After appearing in the TV episode, 'Atithi", Mosharraf Karim played different roles in different TV shows.  In 2004, Mosharraf Karim played with co-artist Nusrat Imroz Tisha in the popular telefilm Kyarom. Mosharraf Karim debuted in the silver screen with the "Joyjatra". The film is directed by Toukir Ahmed.
The film was also released in 2004. The movie he next appeared is named "Rupkothar Golpo". His co-stars were Chanchal Chowdhury and Humayun Faridi. His first great performance was made in 2007 in the movie "Daruchini Dip".
The Daruchini Dip stars were Riaz, Bindu, Bari Momo. The movie was based on a novel written by Humayun Ahmed. Mosharraf Karim starred in the hit movie, "Third Person Singular Number" along with Nusrat Imrose Tisha.
The movie was a commercial success and earned Mosharraf fame and reputation. The movie was the turning point of his acting career. With his performance in Third Person Singular Number, he showed his promise to be a successful actor.
The successful actor Mosharraf Karim has become today can largely be ascribed to the movie, "Third Person Singular Number". With the movie, he made a fierce storm in the box office. And, he became critically acclaimed as well.
Mosharraf Karim, then, appeared in the movie "Projapoti". The movie achieved commercial success as well. His co-stars were Moushumi and Zahid Hasan. The movie was released in 2011.
His performance is notable in the movie "Television". The movie was directed by Mostofa Sarwar Farooki. The co-stars were Chanchal Chowdhury and Nusrat Imrose Tisha. In 2016, he appeared in the movie "Oggatonama" with Shahiduzzaman Selim.
Here is the Unnamed (Oggatonama) video by Mosharraf Karim –
https://www.youtube.com/watch?v=qQGwys_ohxE
Top 5 Mosharraf Karim TV Episodes | Dramas of Mosharraf Karim
Megh Balika: Megh Balika is a humorous TV episode that was released on 13 September in Eid UL Azha. The drama was directed by Parvez Amin. The drama was aired on NTV and also it was released on YouTube. On Youtube, the drama generated almost two lacks views.In this drama, the lead characters played by Mosharraf Karim and Kolkata's famous actress Madhu Mita Chakraborti.
Average Aslam : Average Aslam was aired on Bangla Vision. Mosharraf Karim played the lead role as Aslam. This character became really famous for Mosharraf Karim. In Eid, the drama was telecasted.
Habo Jamai: Habo Jamai was aired on Channel I. It is a comedy-drama. Almost nine lacks people watched it on YouTube.The star casts of the drama are Amin Khan, Mosharraf Karim.
Jomoj 6: Jomoj 6 Mosharraf Karim's comedy-drama. In this drama, he played three roles. This is a 6-part drama serial. The star casts of the drama were Mosharraf Karim, Sumaiya Shimu, Faruk Ahmed, Mishu Sabbir. The drama was directed by Azad Kalam.
Amar Iccha Kore Na : Amar Iccha kore Na Natok was aired in Eid on Massranga TV. In this comedy-drama, we saw two famous stars Mosharraf Karim and Shokh. The drama was directed by Mizanur Rahman Aryan and produced by Shahriar Shakil.
420 (Four Twenty) – A politics inspired Drama serial was published on the TV channels and that was a turning point of Mosharof I should say.
Awards
2008
Meril-Prothom Alo Awards
Best TV Actor
(CriticsChoice)
Deyal Almari Won
2009
Meril-Prothom Alo Awards
Best TV Actor (Public Choice)
Houseful
2011
Meril-Prothom Alo Awards
Best TV Actor (Public Choice)
Chander NijerKono Alo Nei
2012
Meril-Prothom Alo Awards
Best TV Actor (Critics Choice)
Bottom Line
Mosharraf Karim is a very talented actor in Bangladesh. He acted in hundreds of dramas and TV episodes that are extremely popular throughout the country.