Last Updated on April 18, 2021 by Adnan Musa
Fixed deposit is a financial instrument offered by banks and it is a safe investment option for people who want to save money for a better future. In Bangladesh, fixed deposit is very popular because banks offer a higher rate of interest compared to a regular savings account.
Most of the banks have fixed deposit schemes and some of the best banks for fixed deposit are Bank Asia, AB Bank, City Bank, Eastern Bank, Prime Bank, UCB Bank, First Security Islami Bank, Trust Bank, Mutual Trust Bank.
If you are interested to know the details of deposit schemes of these banks then keep reading the article.
List Of Best Fixed Deposit Schemes In Bangladesh
AB bank has various fixed deposit facilities for their account holders. You can easily choose a fixed deposit scheme and open a fixed deposit account in AB bank. You will require a valid photo ID card, a duly filled account opening form, and two copies of recent passport size photographs.
Features Of AB Bank Fixed Deposit
Can be opened for 1 month, 3 months, 6 months, 1 year, 2 years
Auto-Renewable
No restriction on the number of FDR
Loan facility against FDR
AB Bank Fixed Deposit Rates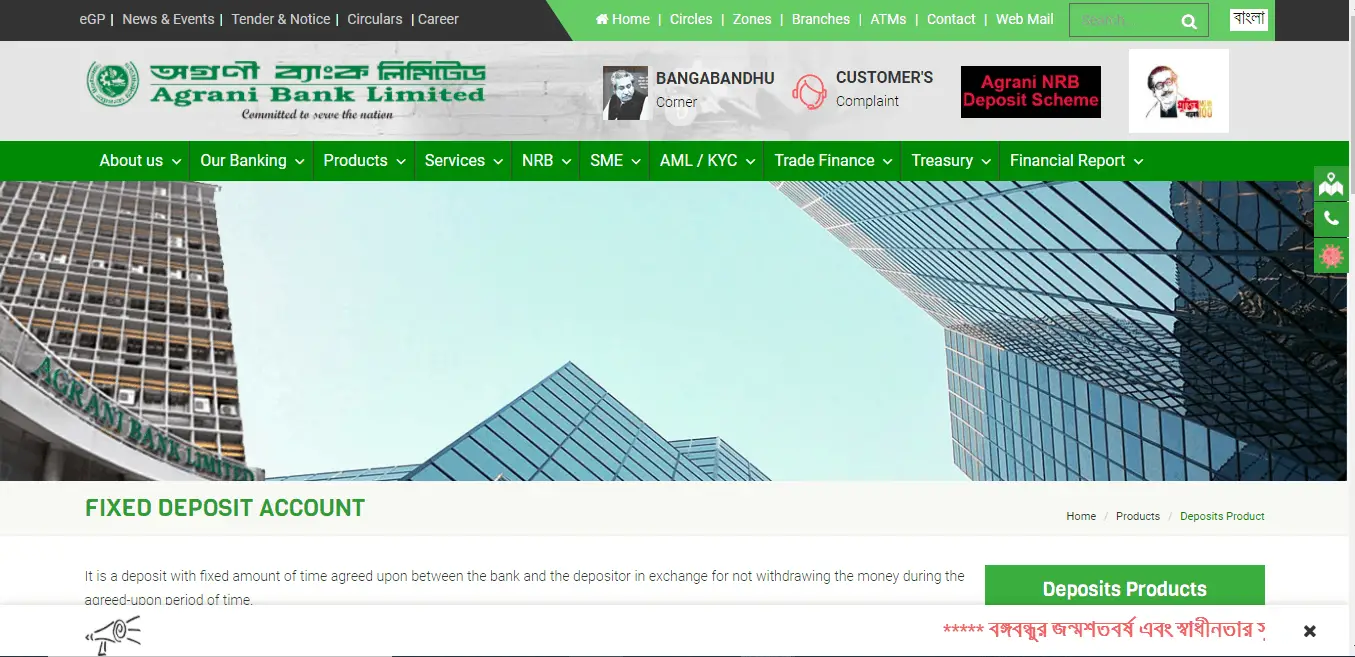 Fixed Deposit Account Can Be Opened In The Name Of
Individual (Single)
Two or more persons (joint)
Sole Proprietorship Concern
Partnership Concern (Firm)
Limited Companies (both Public and Private)
Required Documents
Name of applicant(s)
Present and Permanent Address
Duly attested photocopy of valid National ID Card
Two copies of recent passport size Photographs of the account holder
Required Documents For The Opening Of FDR Accounts For Joint-Stock Companies, Associations, And Clubs, Etc.
Duplicate of Registration or Incorporation (In case of Company or registered organization)
Duplicate of the business start date certificate (only for public limited company)
Duplicate of Memorandum and Articles of Association (in case of the limited company), constitution and by-law (in case of association)
Proposal of the board of directors/managing committee / governing body meeting for account management)
Declaration
Agrani Bank Fixed Deposit Rates
3 Months 5.75%
6 Months 5.85%
1 Year and above 6.00%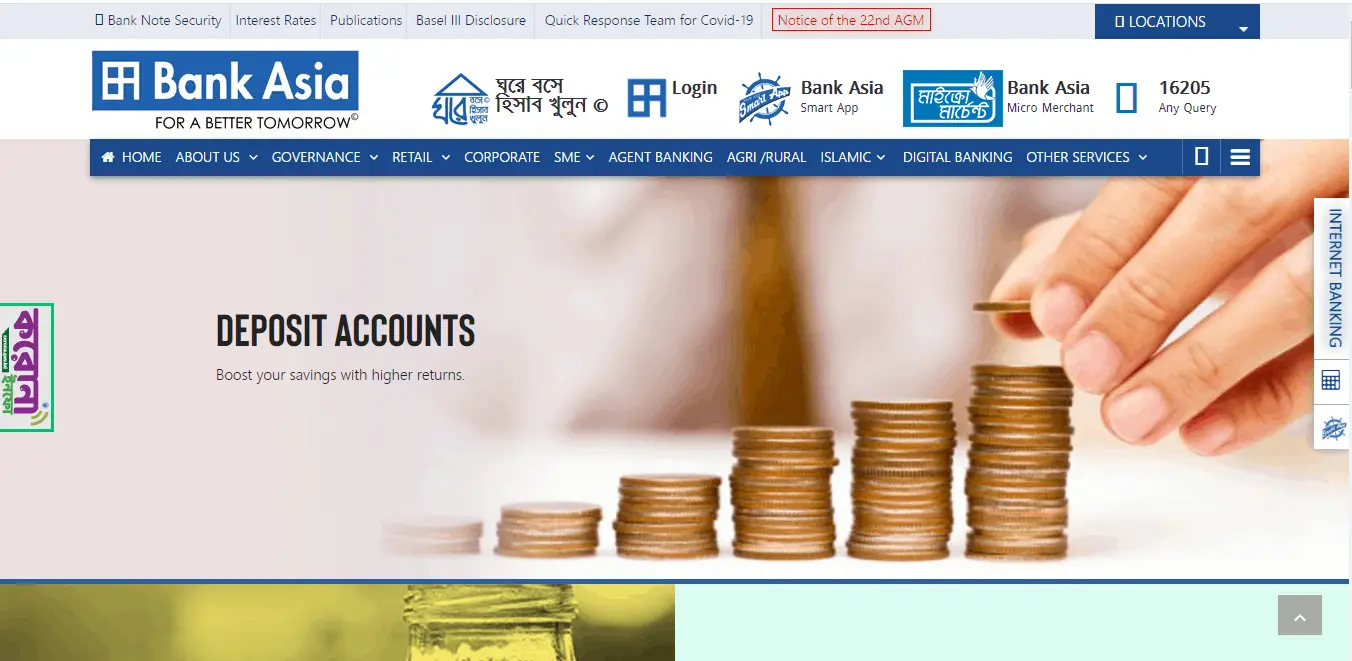 Features Of Bank Asia Fixed Deposit 
A term deposit account guarantees interest on the deposit
Attractive interstate rate
Flexible tenor
Up to 90% of loan facilities
Required Documents
Account Opening Form
Photo ID/ National ID/ Passport / Driving License of Customer & Nominee(s)
Recent photograph of customer & Nominee(s)
Proof of Address
Signed Terms & Conditions
TIN Certificate (if applicable)
Bank Asia Fixed Deposit Rate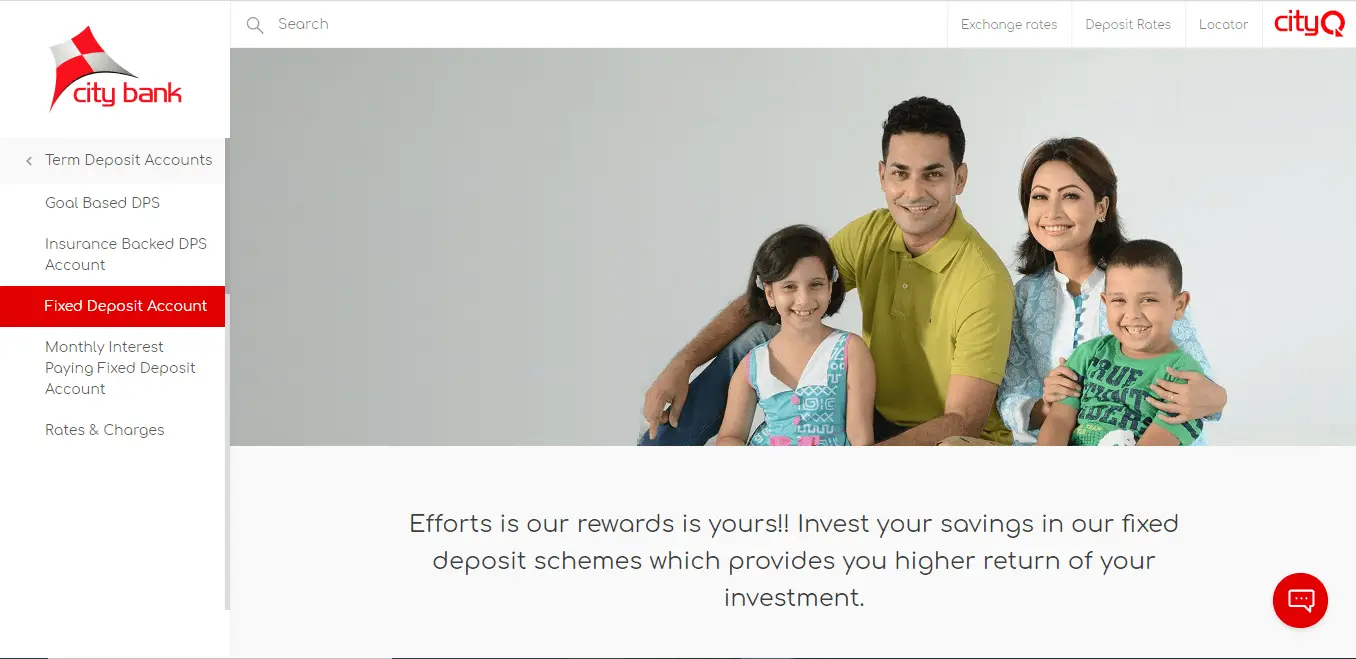 Eligibility
Age: At least 18 years
Nationality: Bangladeshi
Features
Can open for 1 Month, 3 Months, 6 Months, 1 Year, 2 Years & 3 Years
Early encashment facility
Loan facility on the deposited amount
Required Documents
NID/Birth certificate/Passport
Photograph – 2 Copies
Nominee photograph – 1 Copy
Nominee's NID/Birth certificate/Passport
Income source document
E-TIN
City Bank Fixed Deposit Rate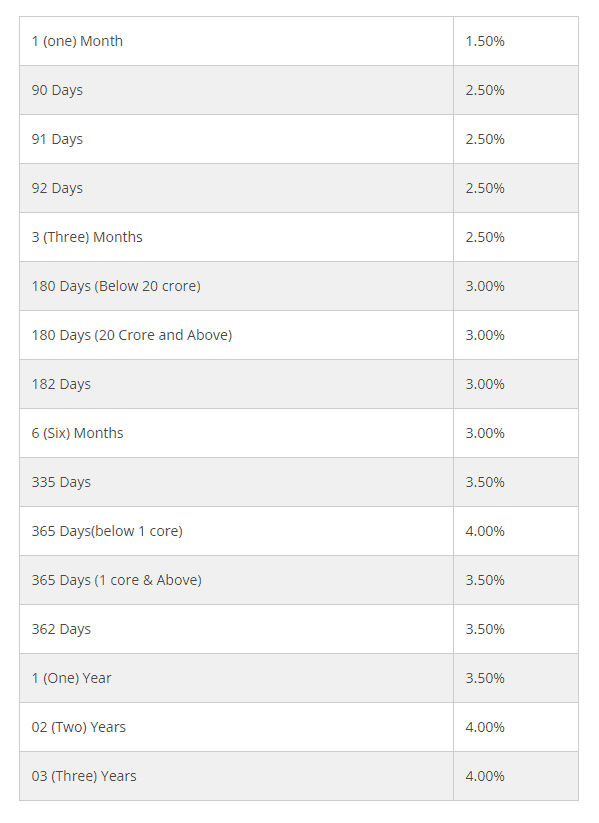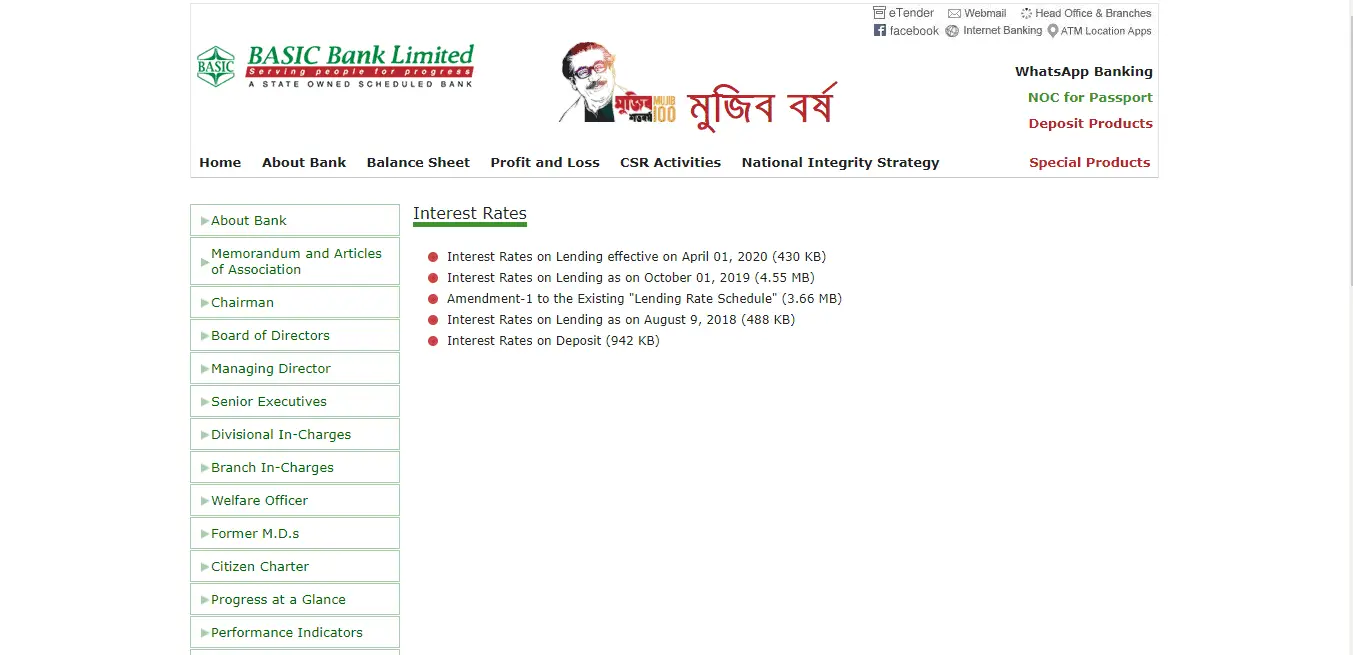 Eligibility
Age: At least 18 years
Nationality: Bangladeshi
Required Documents
NID/Birth certificate/Passport
Photograph – 2 Copies
Nominee photograph – 1 Copy
Nominee's NID/Birth certificate/Passport
Income source document
E-TIN
BASIC Bank Fixed Deposit Rate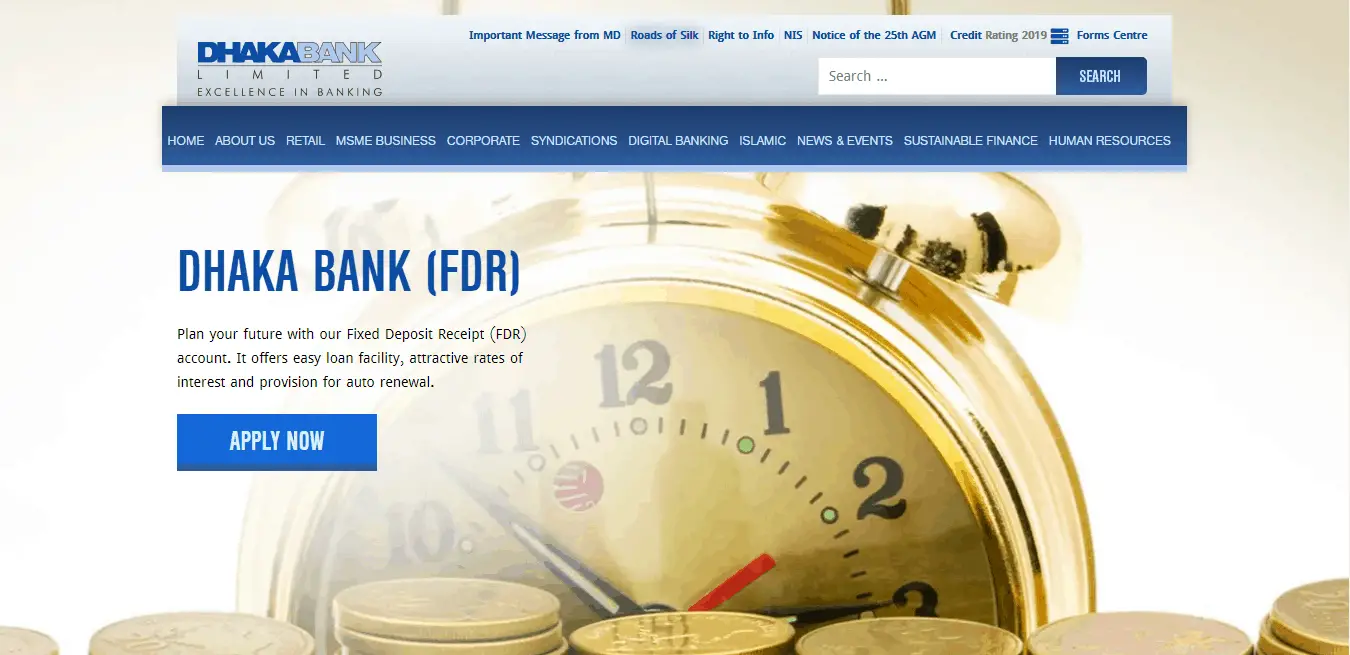 Eligibility
Age: At least 18 years
Nationality: Bangladeshi
Features
Minimum Required Deposit: Tk. 50,000.00
Tenure: Minimum 1 Month and Maximum 2 Years (Provision for Auto-Renewal)
Interest Rate (Maximum) : 5.00%
Required Documents
Account Opening Form
Photo ID/ National ID/ Passport / Driving License of Customer & Nominee(s)
Recent photograph of customer & Nominee(s)
Proof of Address
Signed Terms & Conditions
TIN Certificate (if applicable)
Dhaka Bank Fixed Deposit Rate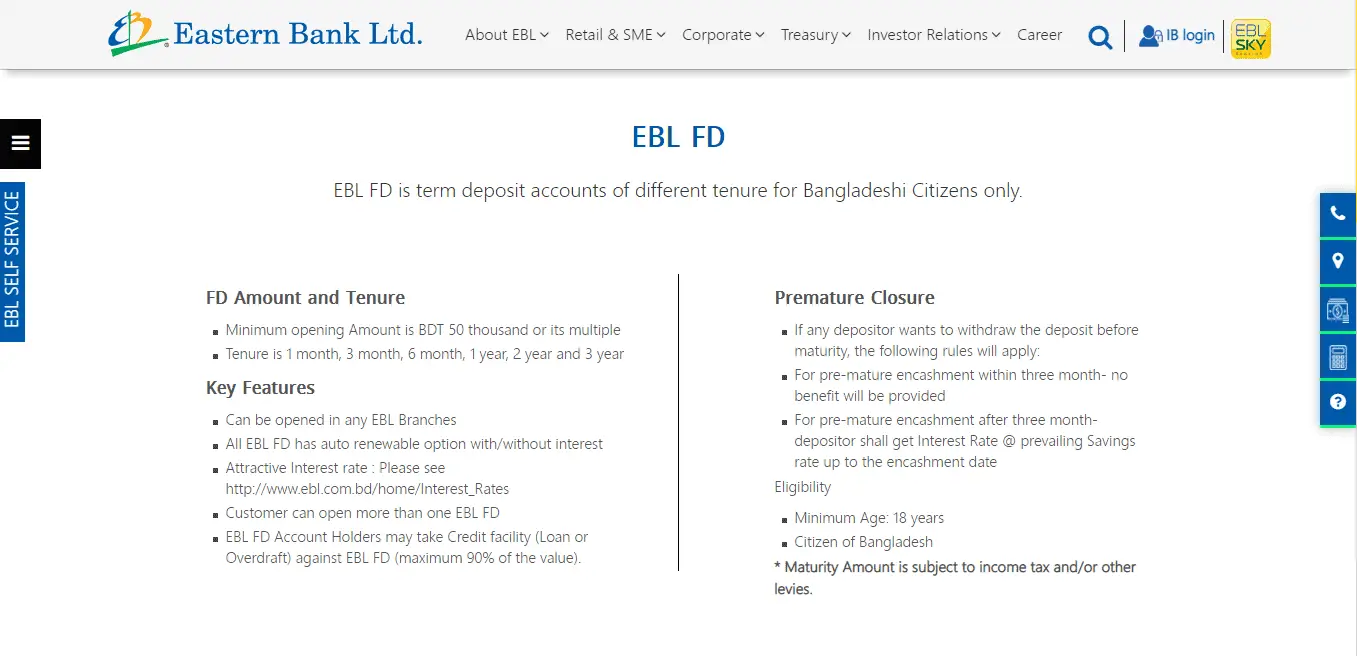 Eligibility
Minimum Age: 18 years
Citizen of Bangladesh
Fixed Deposit Amount and Tenure
The minimum opening Amount is BDT 50 thousand or its multiple
Tenure is 1 month, 3 months, 6 months, 1 year, 2 years, and 3 year
Features
Can be opened in any EBL Branches
All EBL FD has an auto-renewable option with/without interest
Attractive Interest rate: Please see http://www.ebl.com.bd/home/Interest_Rates
Customer can open more than one EBL FD
EBL FD Account Holders may take Credit facility (Loan or Overdraft) against EBL FD (maximum 90% of the value)
Eastern Bank Fixed Deposit Rate
Features
Attractive rate of return
Maturity tenures of 3, 5, 7, or 10 years.
One person can open more than one "Monthly Benefit Deposit Scheme"
Loan/overdraft facility against the deposited amount
Free eye checkup facility for the scheme holder at Prime Bank Eye Hospital
Eligibility
Age: At least 18 years
Nationality: Bangladeshi
Required Documents
Account Opening Form
Photo ID/ National ID/ Passport / Driving License of Customer & Nominee(s)
Recent photograph of customer & Nominee(s)
Proof of Address
Signed Terms & Conditions
TIN Certificate (if applicable)
Prime Bank Fixed Deposit Rate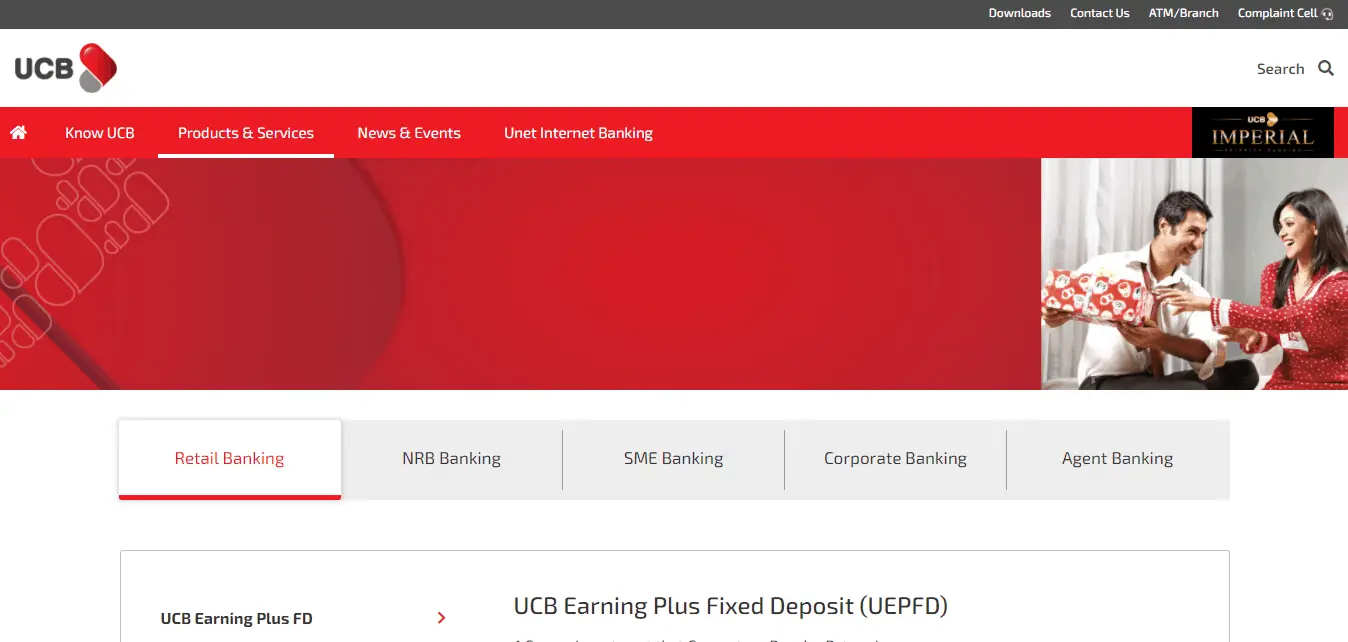 Features
Monthly / Quarterly / Half-Yearly Interest Payment
Open with a minimum of 50,000 taka with no upper limit
Flexible tenor from 3 to 10 years
Preferential Interest Rate for Senior Citizens (60 years & above)
Interest will be credited automatically to UCB Current/Savings Account. Stand Alone UEPFD is NOT ALLOWED. Customer must have to open/have a linked account (either Current/Savings Account with UCB)
Fulfill urgent financial requirements without breaking the FD by availing credit facility up to 80% of the deposit
Automatic renewal of the FD
Partial Encashment of the FD is not allowed
24/7 instant access to link account balance through any VISA/MasterCard ATM all over the country
Eligibility
Minimum Age: 18 years
Citizen of Bangladesh
Required Documents
Account Opening Form
Photo ID/ National ID/ Passport / Driving License of Customer & Nominee(s)
Recent photograph of customer & Nominee(s)
Proof of Address
Signed Terms & Conditions
TIN Certificate (if applicable)
UCB Bank Fixed Deposit Rate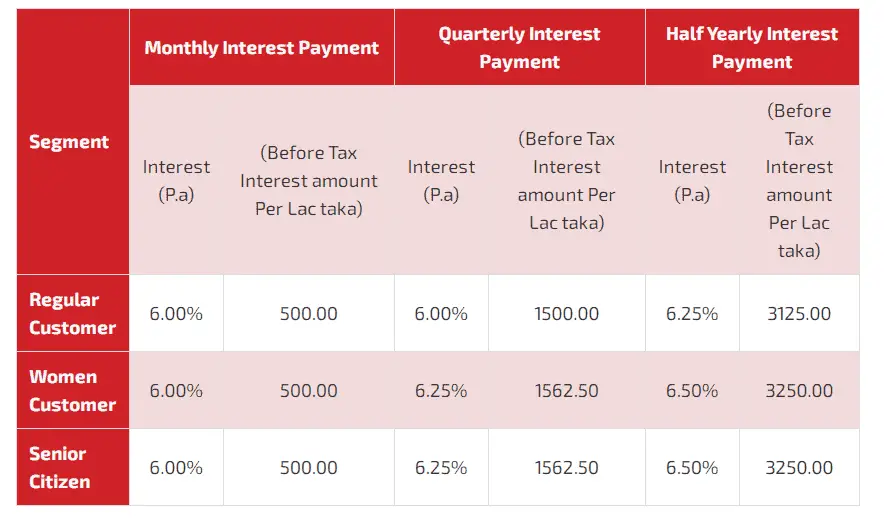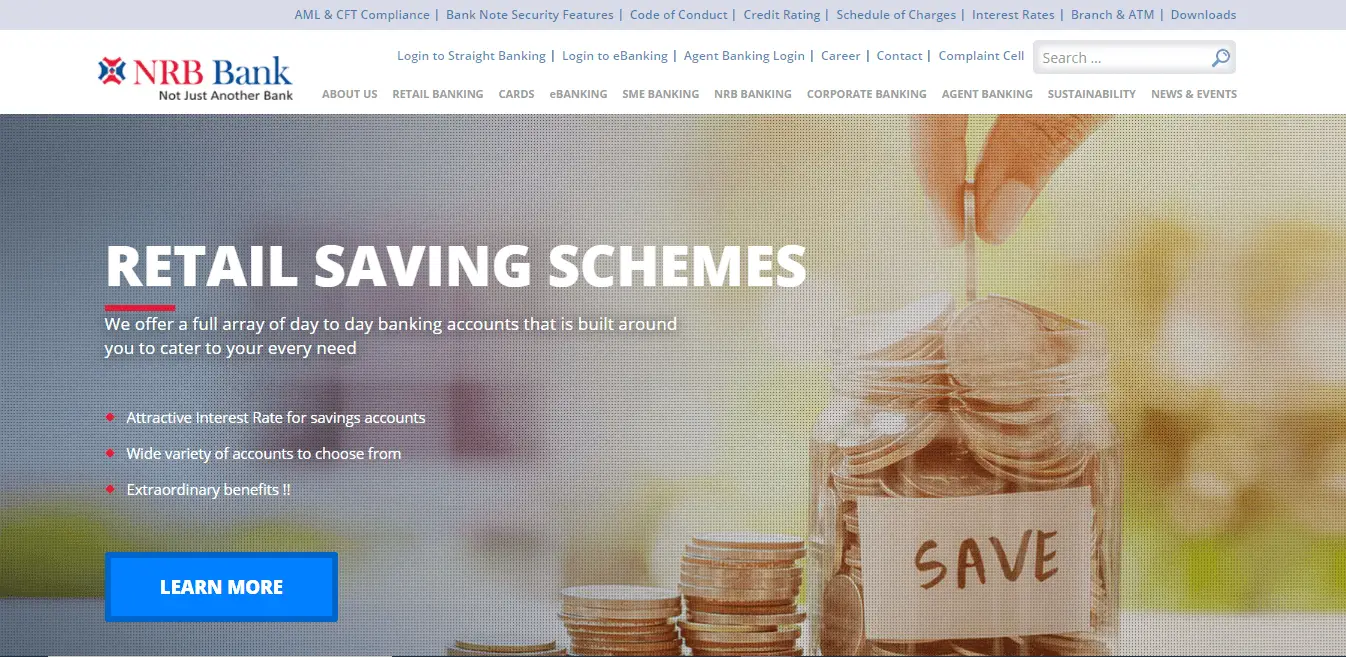 Features
Attractive Interest Rates
Auto-renewable option with/without interest
A single customer can open more than one Term Deposit
Both single & joint account opening option available
Eligibility
Minimum Age: 18 years
Citizen of Bangladesh
Required Documents
Account Opening Form
Photo ID/ National ID/ Passport / Driving License of Customer & Nominee(s)
Recent photograph of customer & Nominee(s)
Proof of Address
Signed Terms & Conditions
TIN Certificate (if applicable)
NRB Bank Fixed Deposit Rate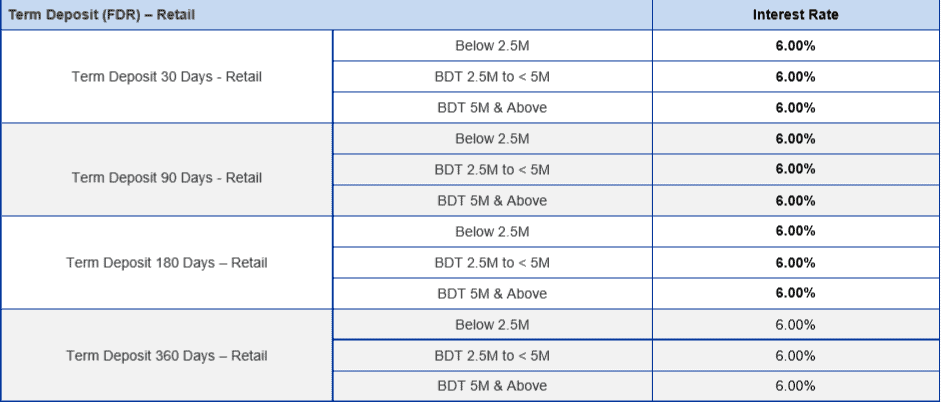 Features
One time Deposit start from 25,000/- or it's multiple
Tenure: 1, 2, & 3 Years
Profit paid every month
Applicants have to maintain a savings account and profit will be transferred automatically to a savings account on monthly
Attractive profit rate
The scheme will not be auto-renewal
Required Documents
One copy passport size photograph of the applicant
One copy passport size photograph of the nominee (photograph to be attested by the applicant)
Photocopies of National ID Card/Passport/Driving License of both applicant and nominee
TIN Certificate (if applicable)
Introducer (in case of new account applicant and/or applicable)
Eligibility
Minimum Age: 18 years
Citizen of Bangladesh
FSIBL Fixed Deposit Rate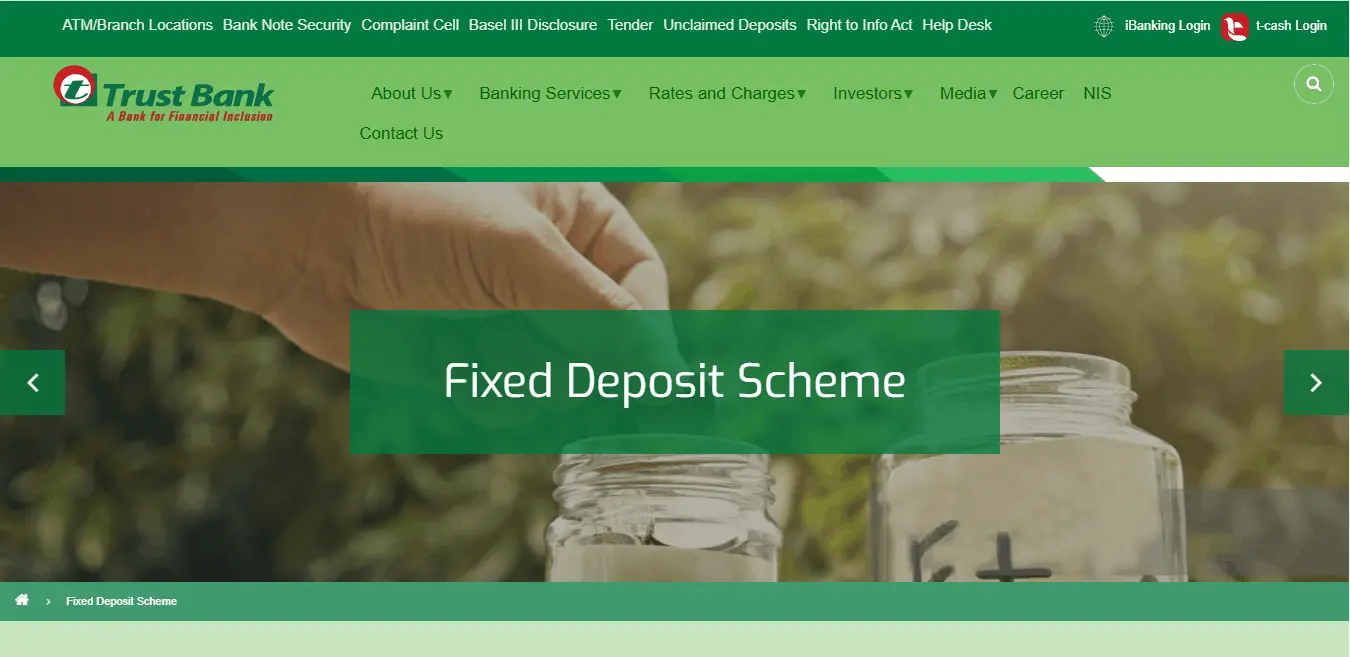 Eligibility
Minimum Age: 18 years
Citizen of Bangladesh
Required Documents
Account Opening Form
Photo ID/ National ID/ Passport / Driving License of Customer & Nominee(s)
Recent photograph of customer & Nominee(s)
Proof of Address
Signed Terms & Conditions
TIN Certificate (if applicable)
Features
Money can grow with an attractive interest rate with flexible tenure
FDR can be opened for 1 month, 3 Months, 6 Months, 12 months
Automatic renewal facility at maturity
Loan facility against FDS to meet urgent financial needs
The customer may avail of loan facilities against FDS as a security
Premature closure facility at the savings rate
Trust Bank Fixed Deposit Rate

Required Documents
Account Opening Form
Photo ID/ National ID/ Passport / Driving License of Customer & Nominee(s)
Recent photograph of customer & Nominee(s)
Proof of Address
Signed Terms & Conditions
TIN Certificate (if applicable)
Eligibility
Minimum Age: 18 years
Citizen of Bangladesh
Features
Can be opened for 1 month, 2 Months, 3 months, 6 months, 9 months, 1 year, 2 years
Auto-Renewable
No restriction on the number of FDR
Loan facility against FDR
Mutual Trust Bank Fixed Deposit Rate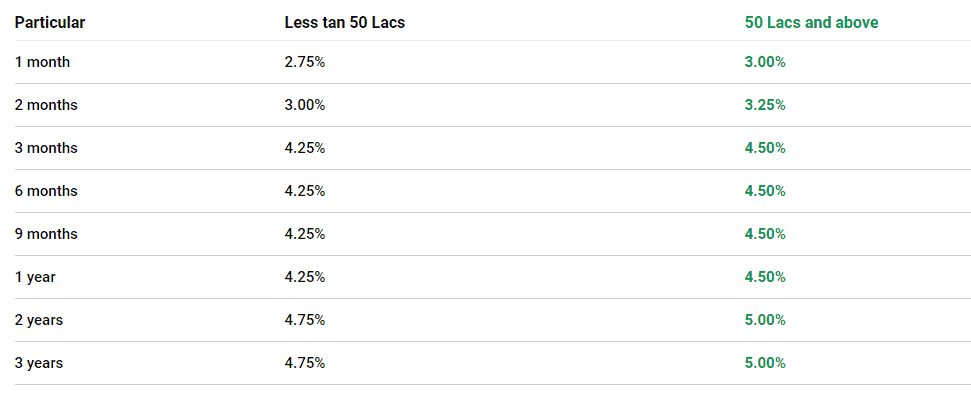 Features
If you need money, you can take a loan at the bank's suitable terms and condition
In case of pre tenor encashment of the scheme, you can still get the attractive benefit
Eligibility
Minimum Age: 18 years
Citizen of Bangladesh
Required Documents
One copy passport size photograph of the applicant
One copy passport size photograph of the nominee (photograph to be attested by the applicant)
Photocopies of National ID Card/Passport/Driving License of both applicant and nominee
TIN Certificate (if applicable)
Introducer (in case of new account applicant and/or applicable)
Jamuna Bank Fixed Deposit Rate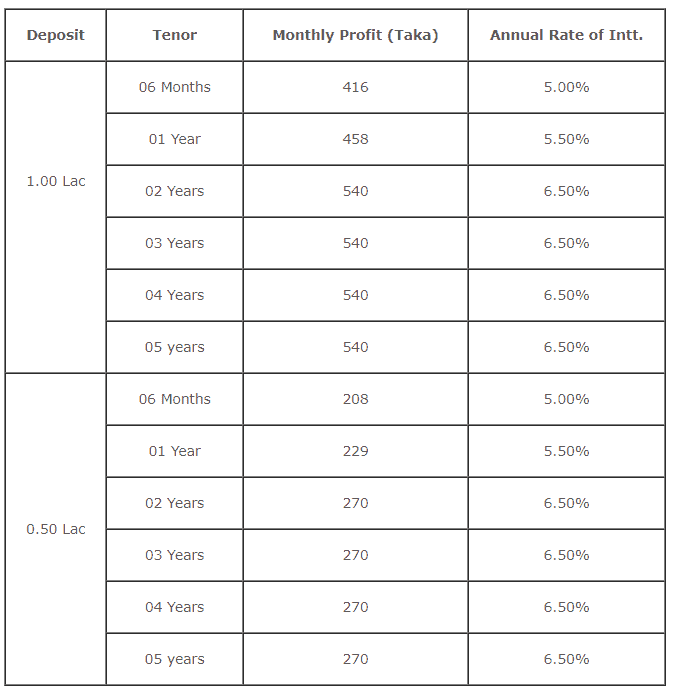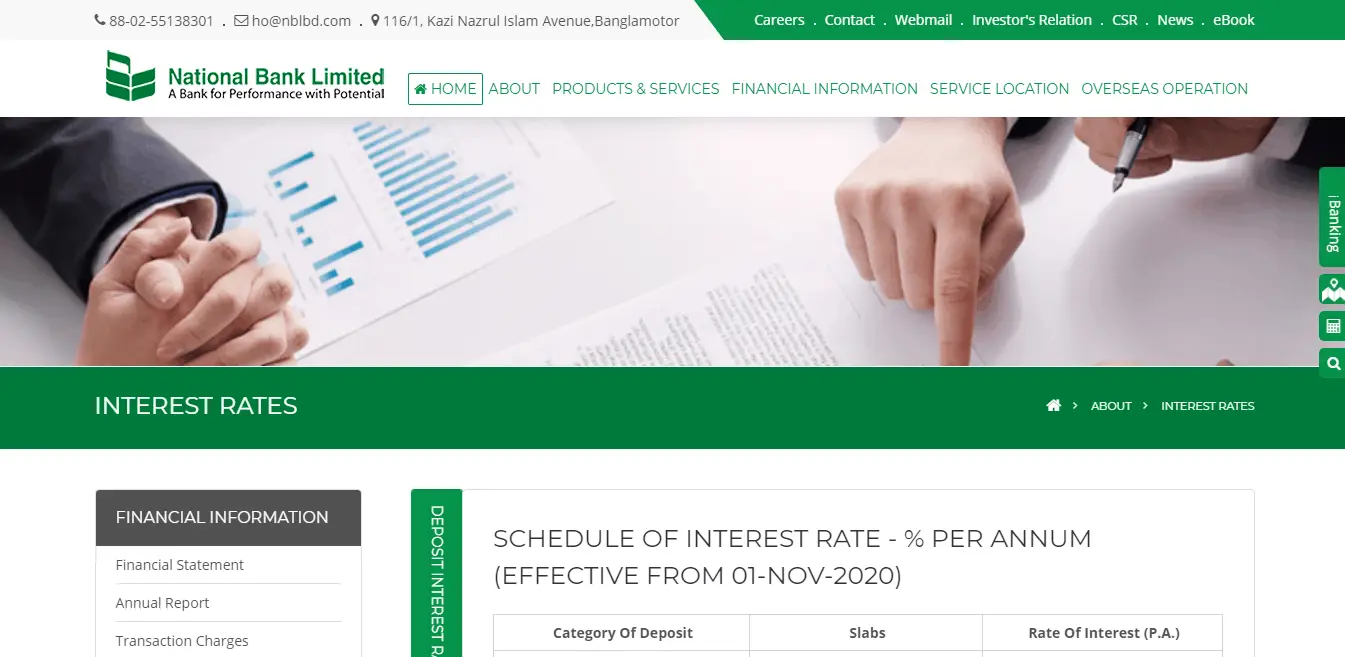 Eligibility
Minimum Age: 18 years
Citizen of Bangladesh
Required Documents
Account Opening Form
Photo ID/ National ID/ Passport / Driving License of Customer & Nominee(s)
Recent photograph of customer & Nominee(s)
Proof of Address
Signed Terms & Conditions
TIN Certificate (if applicable)
National Bank Limited Fixed Deposit Rate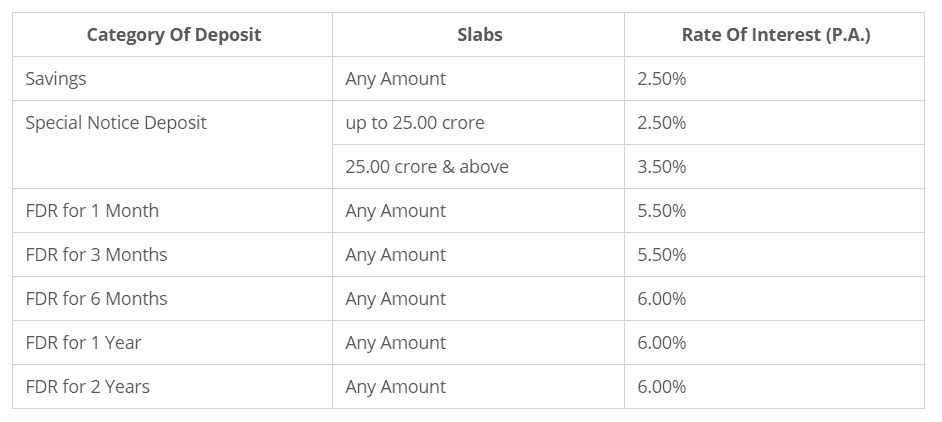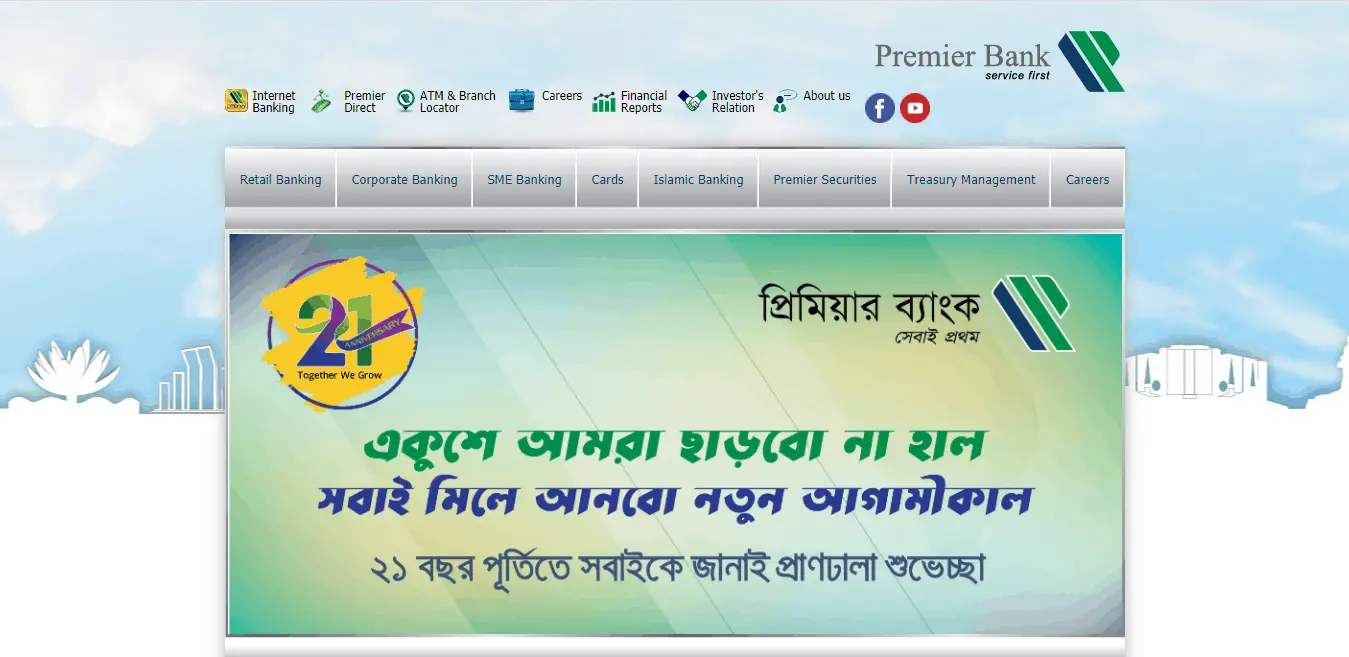 Features
Can be opened for 1M, 2M, 3M, 100 Days, 4M, 6M, 12M, 13M
Early encashment possible
Up to 90% loan facility on the deposited amount
Eligibility
Minimum Age: 18 years
Citizen of Bangladesh
Document Required
Photograph of A/c holder – 2 copies
Photocopy of Valid NID/Passport/Driving License
Photograph of Nominee – 1 copy
CASA link Account for all FD
Premier Bank Fixed Deposit Rate