Last Updated on October 10, 2021 by
Bangladesh is one of the most populous countries in the world as well as one of the largest sources of skilled workforce in the world. Every year around 500.000 Bangladeshis leave the country to work abroad and the number is increasing each year. Moreover, according to the last Census, 2.8 million Bangladeshi household members were living abroad in 2011. So, if you want to go abroad to live and work then there are many immigrations consultancy firms available to help you.
Some of the best immigration consultants in Bangladesh are Global Immigration Consultants Ltd (GIC) Dhaka, Asia Pacific Immigration Services, Visa Center Inc., Sustainable Migration Solutions, Immi Visa – Australian Visa Consultant, World Immigration Services Limited, and Global Visa Consultant Ltd. 
List Of The Best Immigration Consultant In Bangladesh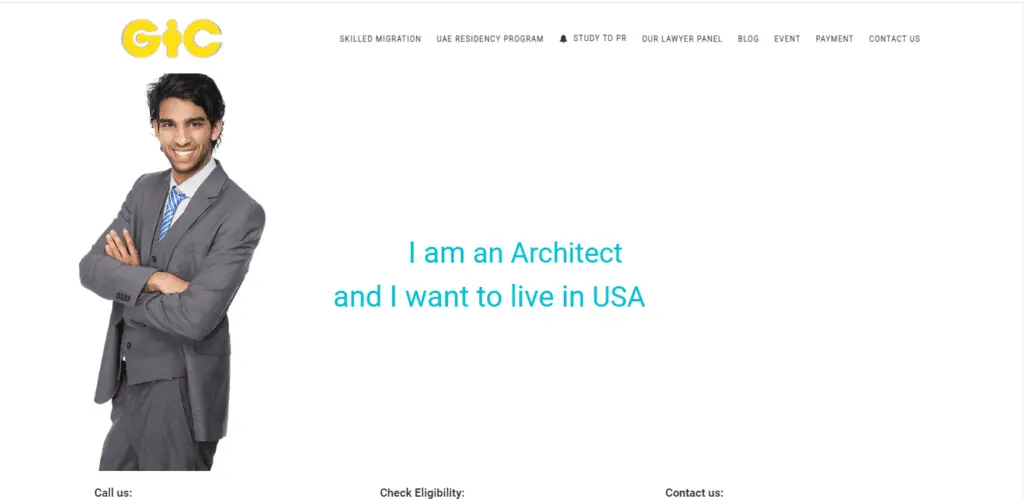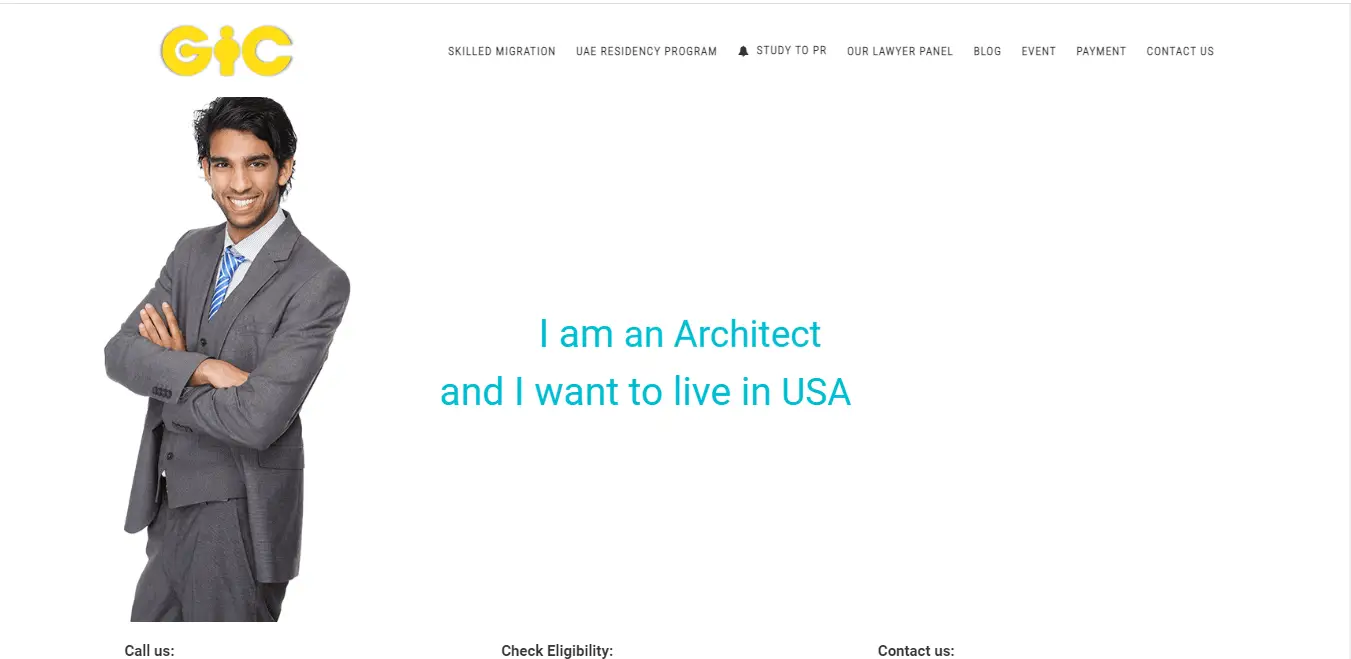 This is a very renowned and one of the leading immigration consultancy firms in Bangladesh. Since its establishment, it has been supporting applicants for Immigration, Tourist Visa, Medical Tourism, and expanding into student visa support. GIC has an office in Bangladesh, Thailand, Singapore, UK, and Australia. GIC also has a team of experienced lawyers who would help you in pursuit of your immigration.
Contact Information Of Global Immigration Consultants Ltd (GIC) 
Dhaka Office
Plot No–56B (1st Floor),
Road – 132, Gulshan – 1
Dhaka – 1212, Bangladesh.
Call: 09678744223
Chittagong Office
Holding # 516 (2nd Floor),
41. M M Ali Road,
CDA Avenue Dampara Wasa Cir Chittagong, Bangladesh.
Call: 09678744224
United Kingdom
Kemp House, 160 City Road,
London.
UK – EC1V 2NX
Company No. 10562975
Singapore
1 Sophia Road #05-34, Peace, Centre,
Singapore – 228149
UEN 201625452G
UAE
Funnel Experts Travel and Tourism L.L.C.
Unit 2910, 29th Floor, The Burlington Tower, Marasi Dr,
Business Bay, Dubai
License Number: 849936
Australia
67 Christie Street St. Leonards
Sydney NSW 2000, Australia
Call: +61 458952081
Service Provided Global Immigration Consultants Ltd (GIC)
Skilled Independent Subclass 189 Visa
Skilled Nominated Subclass 190 Visa
Regional Employment
State Nominated Occupation List
Canada Immigration
UAE Residency Program
Student VISA service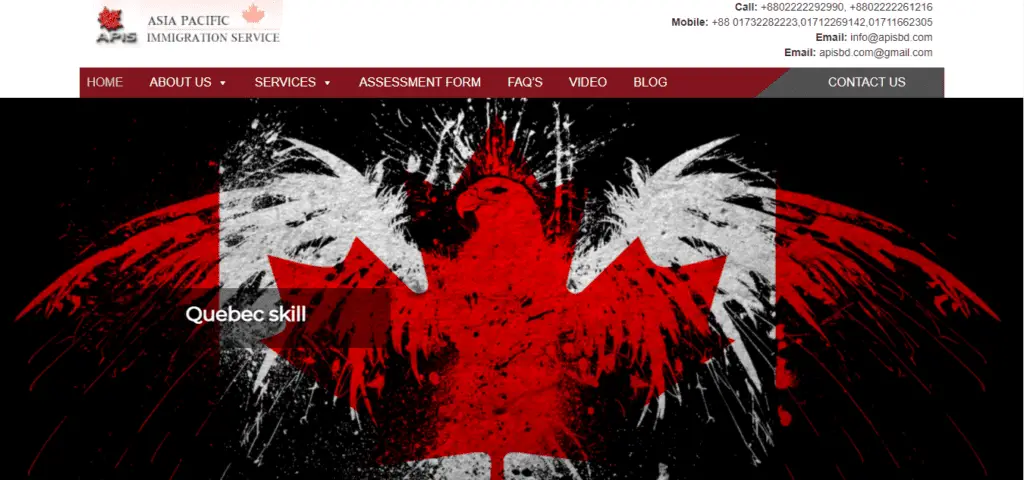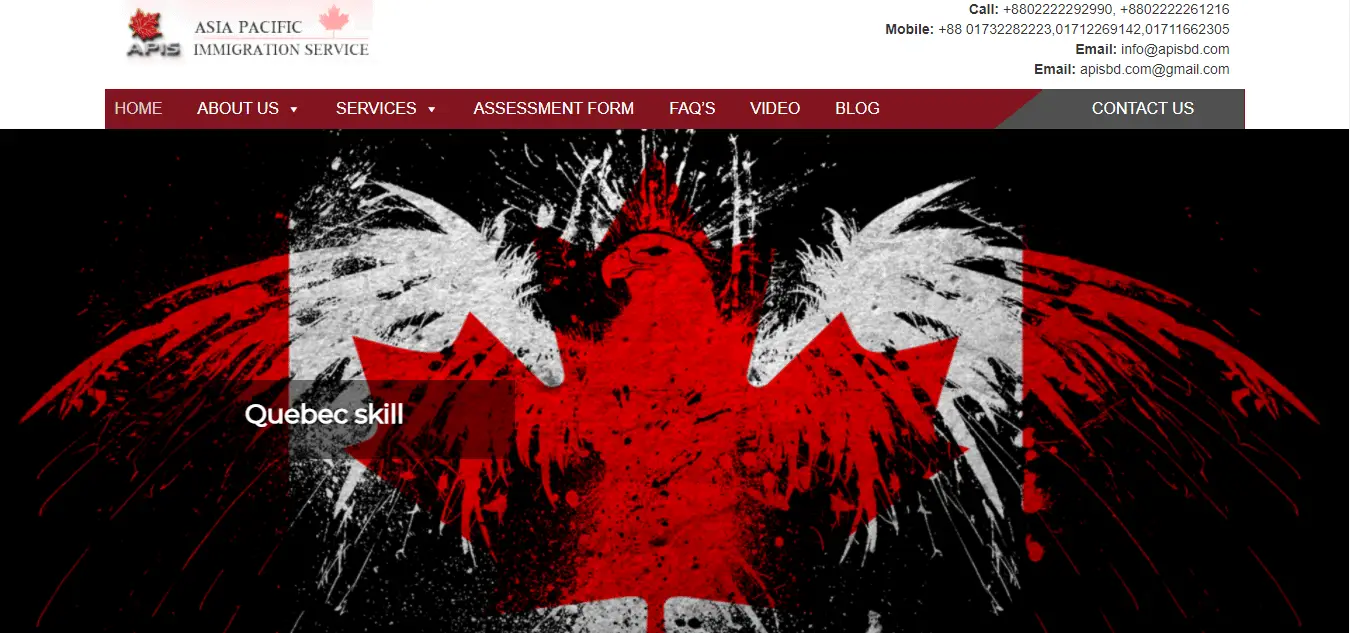 Asia Pacific Immigration Services (APIS) is another popular and renowned immigration consultancy service provider in Bangladesh. APIS offers expertise in immigration-related procedures and policies. APIS has the reputation of maintaining a high rate of success and if you are planning to immigrate to Canada then you can take APIS's consultancy support. APIS is always up to date with the most recent changes and updates in immigration procedures which is very important for the success of an immigration application.
Contact Information of Asia Pacific Immigration Services
Address
House # 125, Flat # B-1
Road # 02, Block # A
Niketon, Gulshan-01
Dhaka-1212    
Contact Number
Service Provided by Asia Pacific Immigration Services
Express Entry (Federal Skilled Workers and Professionals)
Student Visa
Visitor Visa to Canada
Family & Spousal sponsorship:
Spousal Sponsorship
Parents and Grandparents Sponsorship
Dependent Child Sponsorship
Super Visa
Federal start-up Visa (SUV)
Self-employment program
Owner Operator Program
Quebec Skilled Worker Program (QSWP)
Quebec Business and Investor Program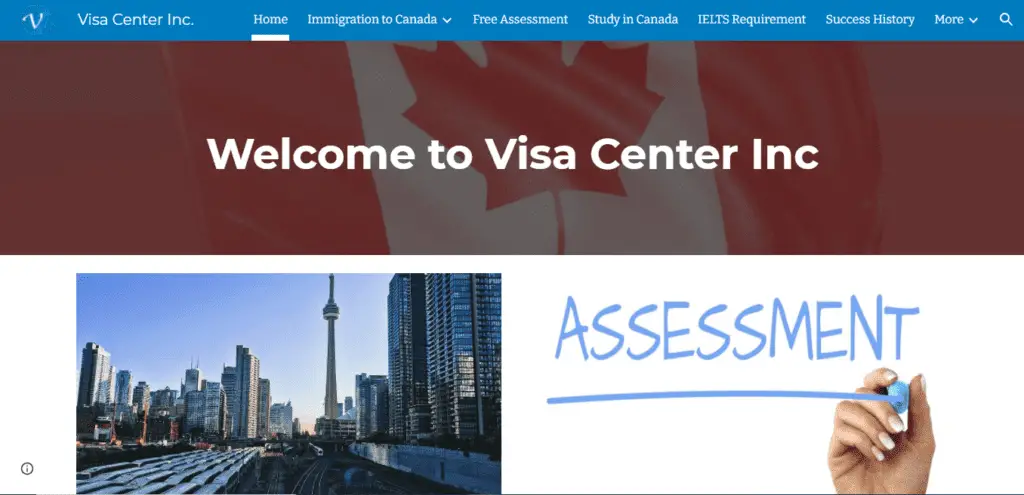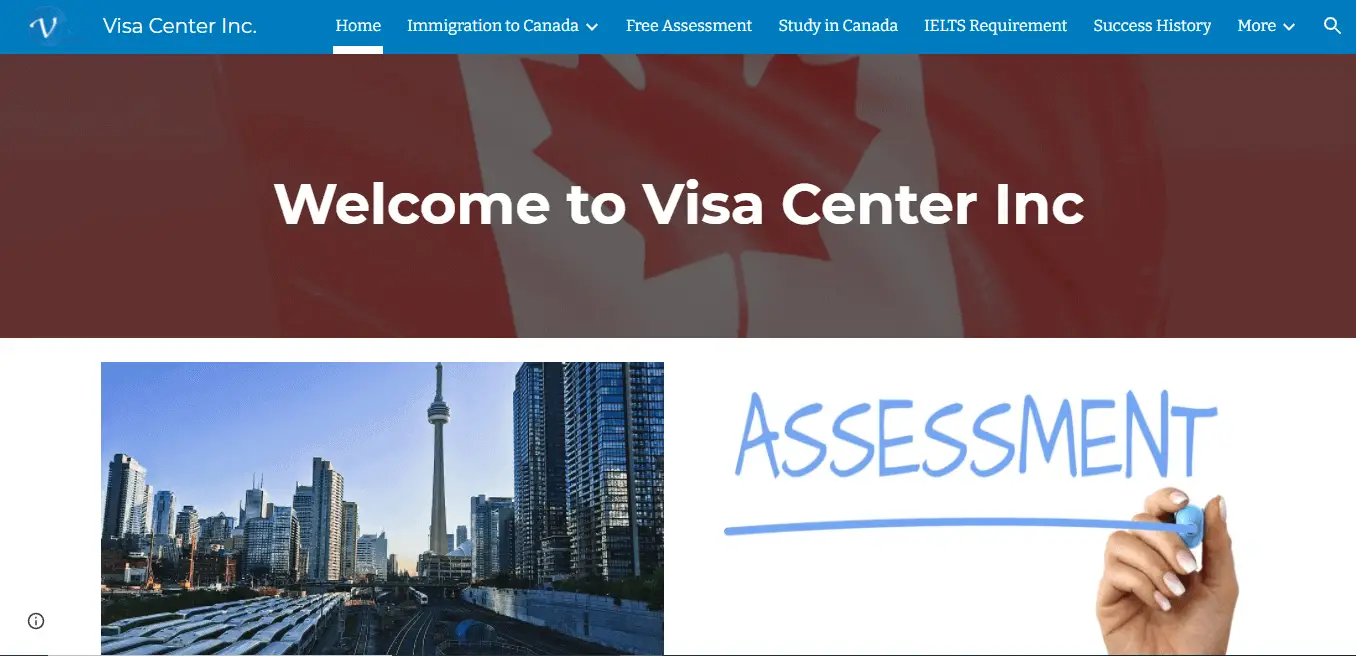 This is a government-approved immigration advisor, and it has been working with reputation since its establishment. If you are planning to go abroad then you can undoubtedly trust Visa Center Inc.'s loyalty, transparency, and accountability. Visa Center Inc. has a team of skilled and experienced team and they will handle your application form with utmost care. Moreover, in Visa Center Inc., you have the chance to process your VISA through Canadian Authorized Lawyer.
Contact Information of Visa Center Inc.
Address
Nahar Green Summit, Suite: 3A, House: 43, Road: 16 (New Road: 27 (Old Opposite of Meena Bazar, Dhaka 1209
Phone: 01748 180 117, 01842 180 115, 01313 94 13 13, 01313 94 31 31
Email:

[email protected]
Service Provided by Visa Center Inc.
Immigration to Canada
Study in Canada
Free Assessment of immigration application
Provincial Nominee Programs (PNP)
High Demand Professions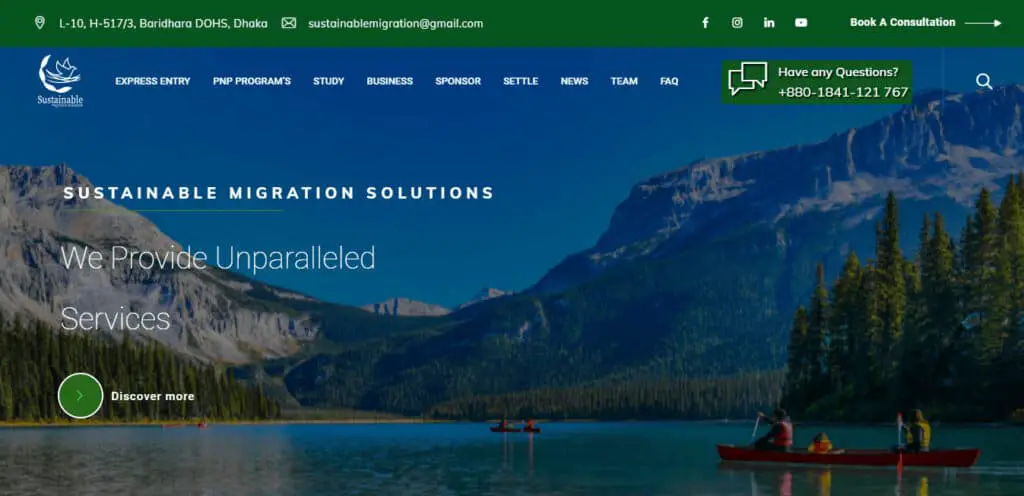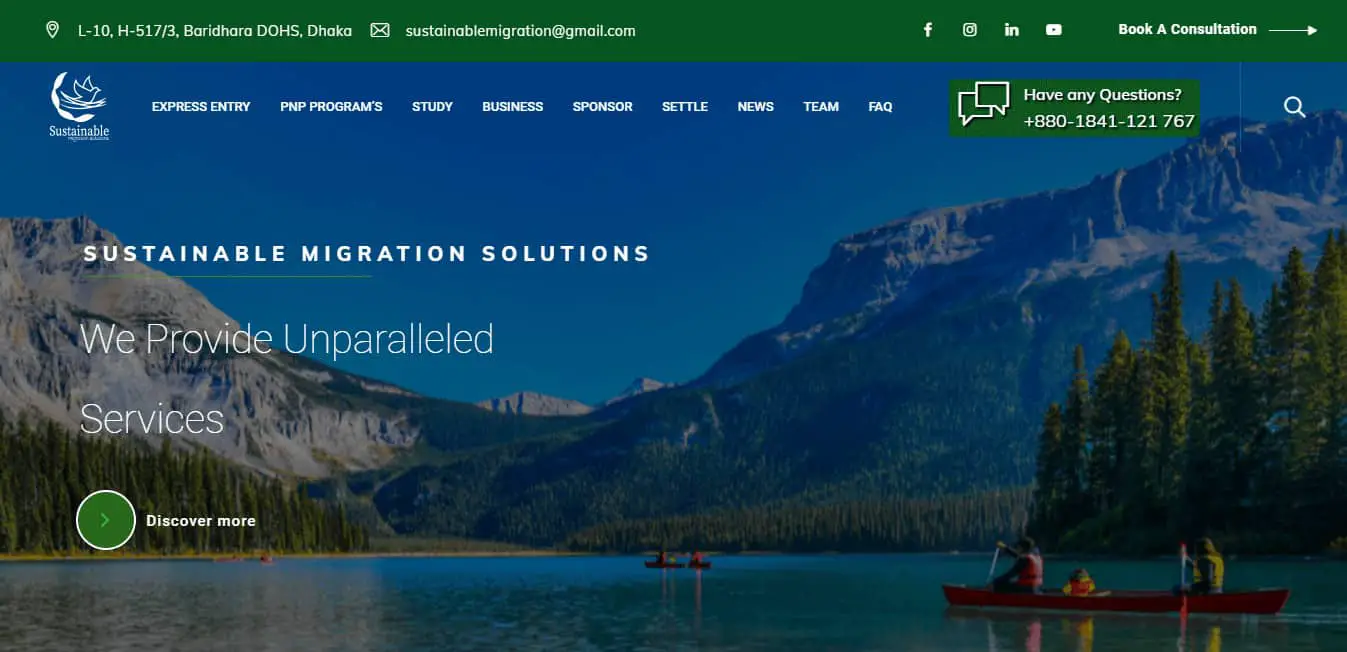 This immigration consultancy firm offers unparalleled expertise in study, tourism, residency, and citizenship investment programs. It works in collaboration with an international network of immigration practitioners worldwide but most of its success comes from the Canadian immigration process. Sustainable Migration Solutions has a team of expertise and immigration professionals who have plenty of experience in this field. Moreover, SMS has collaborated with multiple stakeholders such as governments, immigrant investors, immigration practitioners, and lawyers so you can put your trust in them.
Contact Information Of Sustainable Migration Solutions
Address: Lane-10, House-517/3, Baridhara DOHS, Dhaka-1206  
Phone: (+880) 1841 121 767, (+880) 01974 111 767
Email:

[email protected]
Service Provided by Sustainable Migration Solutions
Federal Skill Worker Class
Provincial Nominee Program
Canadian Experience Class
Federal Trade Skill Worker Class
Study Program in Canada
Family Sponsorship Program in Canada
Settlement Plan for Canada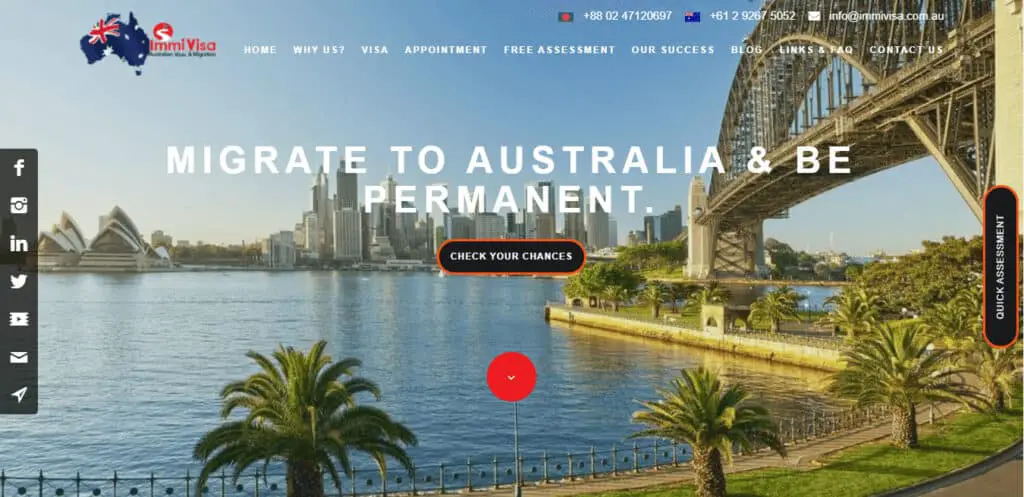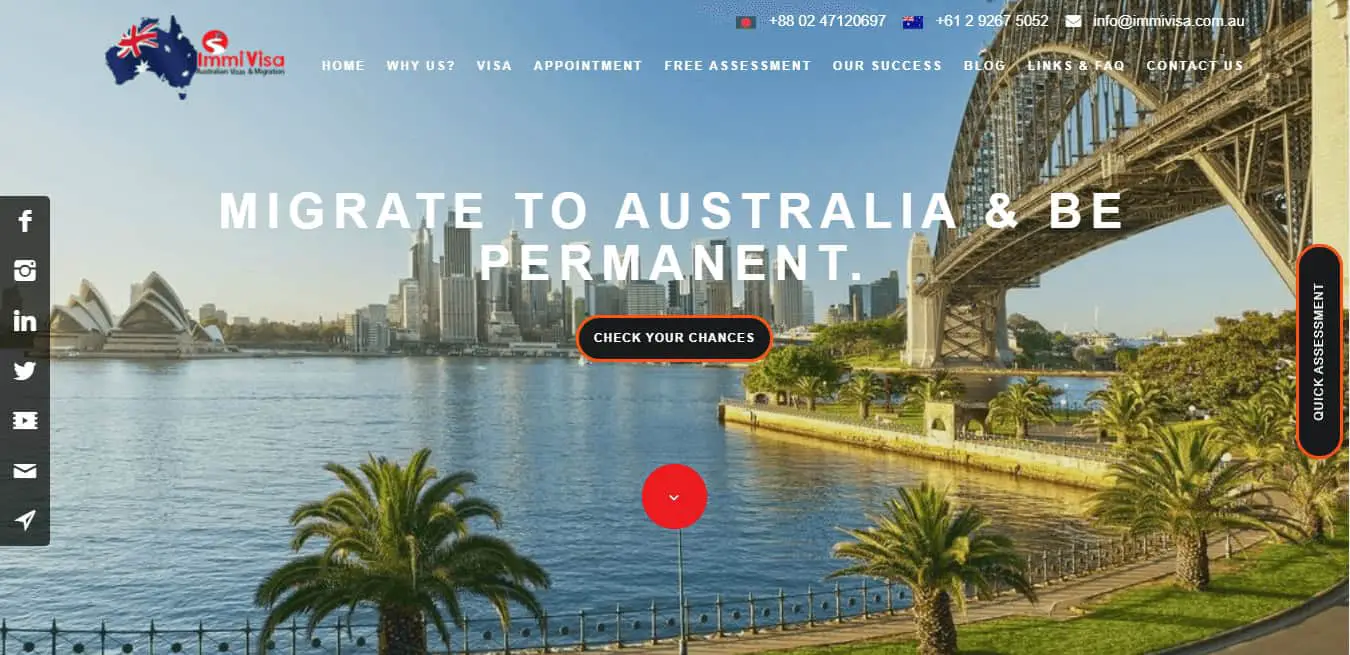 Immi Visa is an Australian registered migration agency and it has a branch office in Bangladesh and India. This immigration consultancy firm is providing service for decades and if you are trying to get an Australian VISA then Immi Visa will be the best option for you. Usually, an immigration VISA is complex and confusing because of many Acts, rules, regulations, and policies. But, with Immi VISA you will find every process very simple. The service cost of Immi VISA is reasonable which is also a plus point.
Contact Information Of Immi Visa – Australian Visa Consultant
Australia Office
Level 2,
Suite 202/309 Pitt Street,
Sydney CBD, NSW – 2000
+61 2 9267 5052
+61 433 509 853
Bangladesh Office
Suite 405,
3rd Floor, Shapla Bhaban,
49, Motijheel C/A
Dhaka-1000, Bangladesh
+88 02 47120697
+88 0185 988 6054
India Office
#306,3rd Floor,
Arora Prime Tower, Near Hotel President,
Jalandhar (PB) India
+91 181 463 1122
+91 978 141 1122
Service Provided By Immi Visa – Australian Visa Consultant
Skilled Migration Visas
Employer-Sponsored Visas
Australian Visitor / Tourist visas
Australian Partner/spouse Visas
Australian Parent visas
Student visa of Australia
Temporary Graduate Visa of Australia
Recognized Graduate Visa of Australia
Global Talent Independent (GTI) Program of Australia
Australian Business Innovation and Investment visa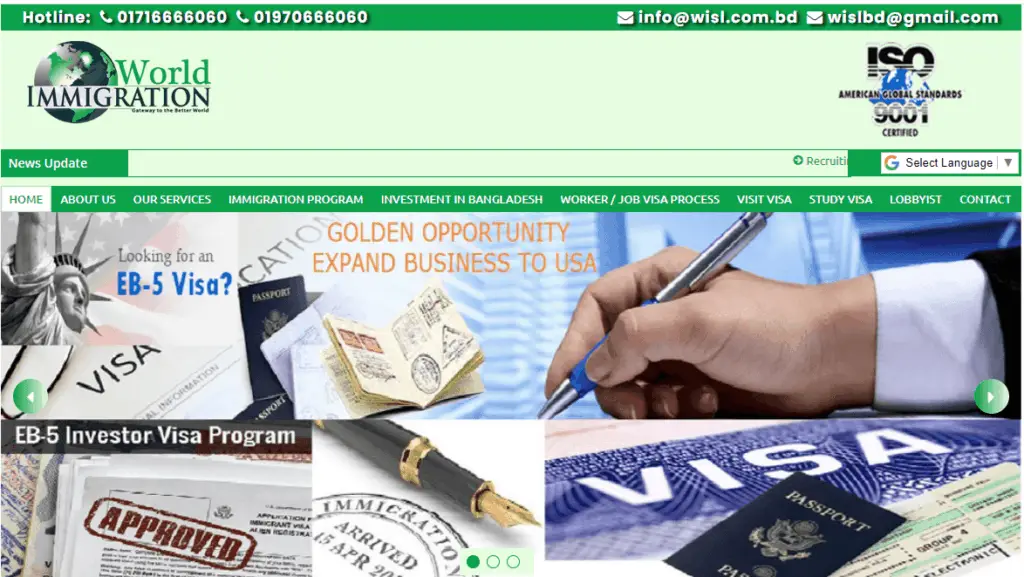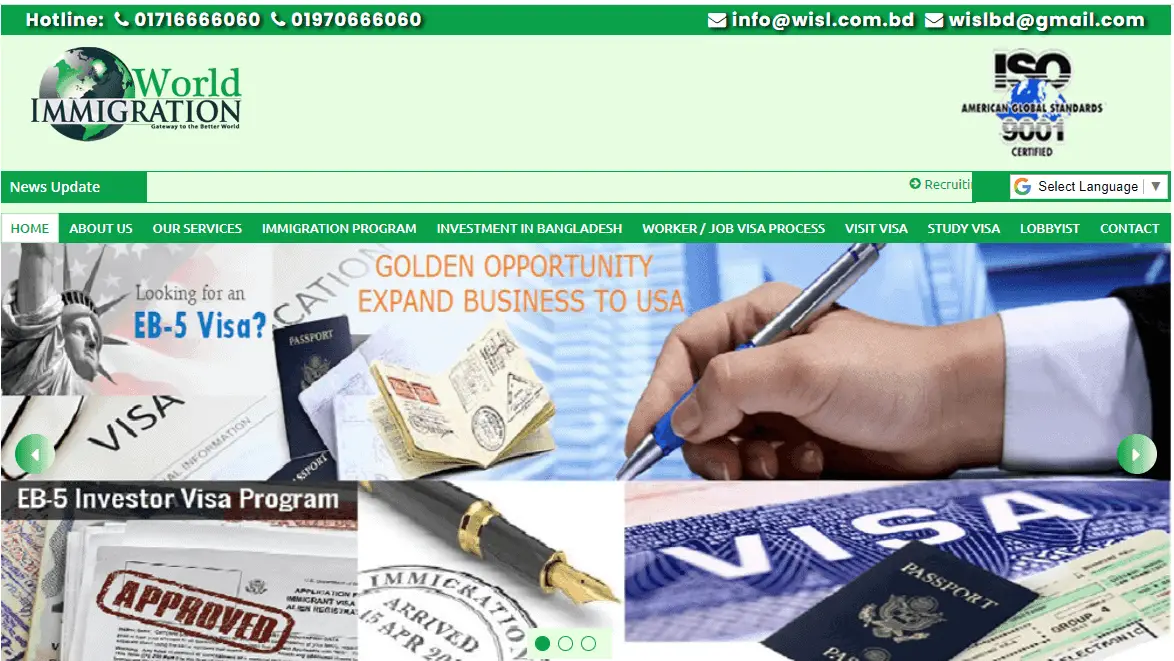 World Immigration Services LTD. is one of the oldest immigration consultancy firms in Bangladesh and it was established in 1999. World Immigration Services Limited provides Investment Advisory, Business Migration, Company Registration in the home country and abroad as well as provides professional assistance for individual and family immigration. Moreover, it is also the first ISO 9001:2008 certified and Government licensed immigration consultancy firm in Bangladesh.
Contact Information Of World Immigration Services Limited
Address
House-66, Road-01, Block-i, Banani,
Dhaka-1213, Bangladesh
PABX: (8802) 9872444, 9872555, 9873232
Fax: +88 029871704
Email:

[email protected]

,

[email protected]

WhatsApp & Viber: +8801716666060
Service Provided By World Immigration Services Limited  
Immigration Program
Investment in Bangladesh
Worker / Job Visa process
Visit Visa
Study Visa
Logistical Support for Foreigners
Business Migration to abroad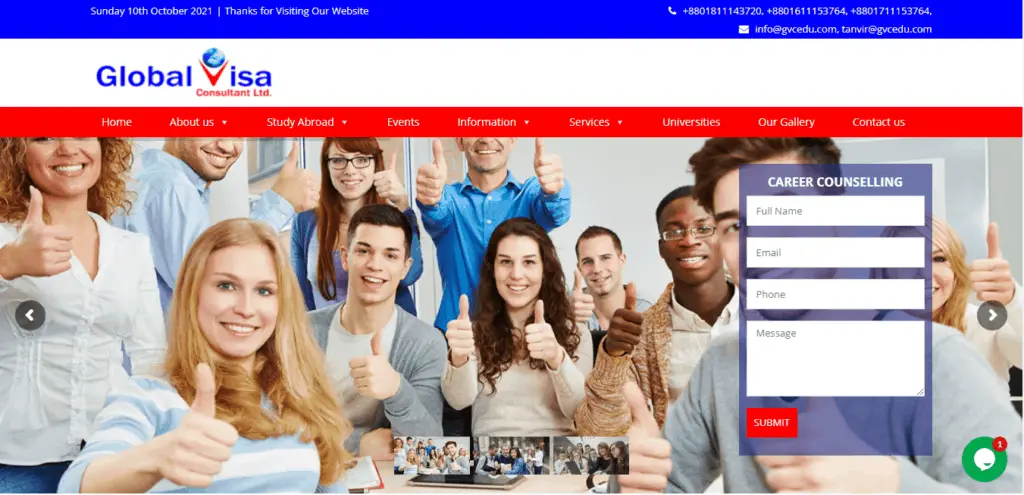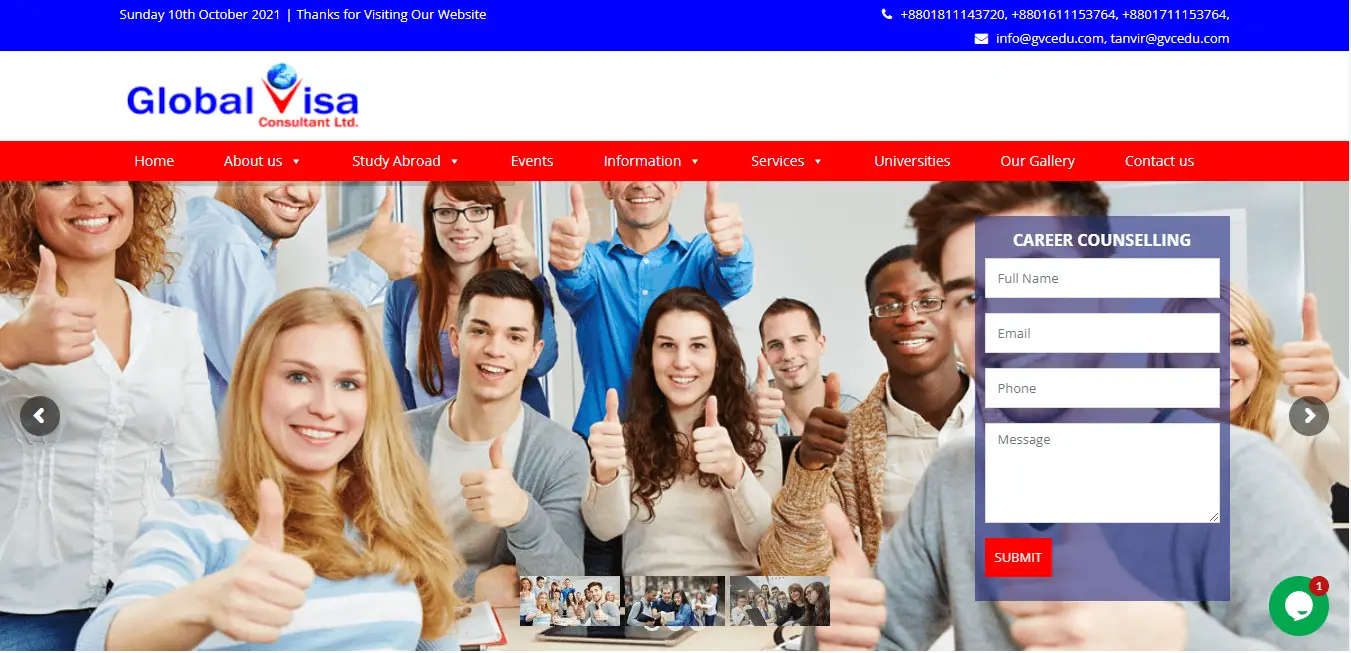 This consultancy firm is a one-stop solution for all international study needs and immigration problems. This consultancy firm was established in 2010 and since then it has been the leading overseas education consulting company in Bangladesh. The main mission of Global Visa Consultant Ltd is to help students make the right choices for education in overseas educational institutions. They also provide services that include immigration VISA, investor VISA, study VISA, visit and business VISA, etc.
Contact Information Of Global Visa Consultant Ltd
Address: AMIN TOWER, Flat # B1(2nd Floor), House # 4, Road # 1/A, Sector # 9, Uttara, Dhaka, Bangladesh
Telephone: +8801811143720, +8801611153764, +8801711153764
Email:

[email protected]

,

[email protected]
Service Provided by Global Visa Consultant Ltd
Immigration VISA
Investor VISA
Study VISA
Visit and business VISA
Study Visa in Australia
Study Visa in Austria
Study Visa in Cyprus
Study Visa in France
Study Visa in Malta
Study Visa in Morocco
Study Visa in Turkey
Study Visa in China
Study Visa in Kyrgyzstan
Study Visa in Latvia
Study Visa in Italy
Study Visa in Poland
Study Visa in Sweden
Study Visa in Canada