Last Updated on June 9, 2021 by Aminul Haque Shahin
HSC (XI Class) admission has been started on July 12, 2021. If you have passed the SSC Exam and want to get yourself admitted in HSC College, then go through this post carefully. Here we have described the HSC (XI Class) admission circular, the application method, and application fee, payment procedure which is important for all HSC College Admission or XI Class Admission in 2021.
XI Class is the first class of Higher Secondary Examination. Those who have passed the SSC Exam they will be able to get admission in the xi class. Ministry of Education in Bangladesh runs an official website of Bangladesh where you will find the instruction of College Admission.
In the last few decades, Bangladesh has experienced a dramatic increase in its population size. As a result, there is an increased demand for quality education and proper facilities.
The government and the civil society are working vigorously to improve the standard of education in our country. The XI Admission process has been initiated by the government as a step towards this.
It is not easy to secure admission into any of our public schools or colleges. The XI Admission process aims at ensuring quality education for everyone by assessing their academic performance and psychological profile before admission. This will help us offer better educational opportunities to students who might have been victimized by unfair means in securing their admission earlier.
XI Admission in Bangladesh is the process of admitting students to the 11th grade of secondary education and its various institutions. It is also known as secondary school leaving examination.
The admission process in Bangladesh starts with the completion of primary education (Grade 5) and continues through a series of examinations, tests, interviews, and written selections. There are two types of examinations: one for private schools and another for public schools.
There is two way to get admitted to XI Grade: through private school exams or through the public exam. Most students can't afford the exam fees for private schools so they try their luck on public exams where there is no such fee and less competition. However, if a student manages to get admitted into a private school he/she will be guaranteed admission into any public high school or university.
In this post, you will get the complete instruction of HSC (XI Class) admission and how you can apply.
HSC Admission Eligibility
Those who Passed SSC from any Education Board of Bangladesh within 2019, 2020, 2021 can apply for Xi Admission,
For the Student of Bangladesh Open University, the passing year will be 2016,2017,2018. 2019, 2020 and 2021
Bangladesh Open University Student's Age Must be bellow 22 after 1st January 1997
Important Date of HSX Admission
HSC Admission System & General Instructions
Education Ministry of Bangladesh has developed the HSC (XI Class) Admission system. The official website of the Education Ministry is fully responsible for the HSC first-year admission. Here we are going to describe all the procedure which is necessary for students who are interested in XI class admission.
Here is the list of all general instruction to get admit yourself in HSC (XI Class). I hope this list will provide you a complete idea. Further information has been added below:
Student can apply to any government approved college for the admission of HSC (XI Class) through online or Mobile SMS
The Application date starts from July 12, 2021, and ends 23 August 2021 (Tentative)
Complete instruction is available on the official website of the Education Ministry
Application fee through online is 150 BDT for the highest 10 College
The online application fee can be paid through Teletalk, bKash, Surecash, Grameenphone
Applying through SMS will cost 120 BDT
The SMS Application fee can be provided only by Teletalk Mobile
A candidate can apply for the highest five colleges through SMS
Student's contact number is very essential for HSC admission
Students have to provide Guardian's NID Card number while Applying for admission
The same mobile number can't be used for multiple application
The college Choice list can be changed five times from May 12 to July 6, 2021 (Tentative)
Through SMS candidate can only change the college choice serial not college name
Admission Result will be prepared according to Merit, Choice, and Quota
How to Apply for HSC through Online
A student who wants to admit themselves in XI class can apply online. Here is a list of instruction that will help you understand how to apply for HSC through online. Read and follow this carefully.
First candidates have to pay through Teletalk, bKash, Surecash or GP
Visit the website of the Education Ministry
Click on the Apply Online Button
Enter SSC Roll Number, Board, Passing Year and Registration number
The student will see his GPA on the Screen
Enter the Contact Number and Quota information
Select College Name, Group, Shift and Version
Highest 10 College can be selected via online
Recheck the information carefully through Preview Button
If all the information is correct, then click on the Submit Button
Candidates will get a Confirmation SMS with Security Code
Download the Form and Print for future use
Candidate Can Change the Choice of colleges total five times
Apply for HSC Admission through SMS
Those who don't have Internet facility they can apply through SMS. Only Teletalk Mobile is allowed to apply via SMS. Here is the step by step instruction of HSC (XI Class) admission through SMS:
Go to Mobile SMS Option
Type CAD (Space) EIIN (Space) First two letter of Group (Space) First Three letter of Board Name of SSC (Space) SSC Roll No (Space) SSC Passing Year (Space) SSC Registration No (Space) Shift N if there is no shift (Space) B/E B for Bangla E for English
Send it to 16222
If the Candidates have a quota, then enter the first two letters of Quota at the End of the SMS
After Successful SMS, 120 BDT will be deducted from your Account
You will receive a PIN No in the next SMS
Type CAD (Space) YES (Space) PIN (Space) Contact Number
Send it to 16222
HSC Admission Payment System
For the HSC (XI Class) admission, there are different processes available to pay the admission fee. The official website of Education Ministry supports different payments systems for the application fees. These are Teletalk, Bkash, Surecash, GP Pay, etc. Each of the Payment methods is different from others. There is some fixed rule for the Payment system. In the below image you will get the complete instruction of Payment methods.
Teletalk Registration Fee Payment Procedure:
Teletalk: – CAD <Space> Board <Space> Roll <Space> Year <Space> Security Code sends 16222.
For Example: CAD DHA 102548 2019 758965
Note: Here, DHA = Your Education Board Name 1st 3 alphabets, 102548= your SSC roll number, 2019 = your Passing year and 758965 is your Security Code.
Return SMS: – CAD <Space> YES <Space> PIN <Space> Contact Number sends it to 16222.
For Example: CAD YES 12458935 01675XXXXX
HSC Admission Selection
The Selection procedure of HSC (XI Class) will be based on the Total Seat of the institution and the choice list of the students. Here is the full process of HSC (XI Class) student selection below:
Merit list will be made based on SSC GPA
If the GPA of two or more student is equal, then total marks will be considered to make the merit list.
For the Science student General Math, Higher Math, and Biology Marks are the first priority
Then English, Physics, Chemistry marks will be calculated
For Humanities and Arts Students, Bangla, English, and Math Marks are the first priority
HSC Admission Circular PDF
Pdf is the best way to read and print a hard copy. If you want to download the HSC (XI class) admission circular PDF, you can download it from the below.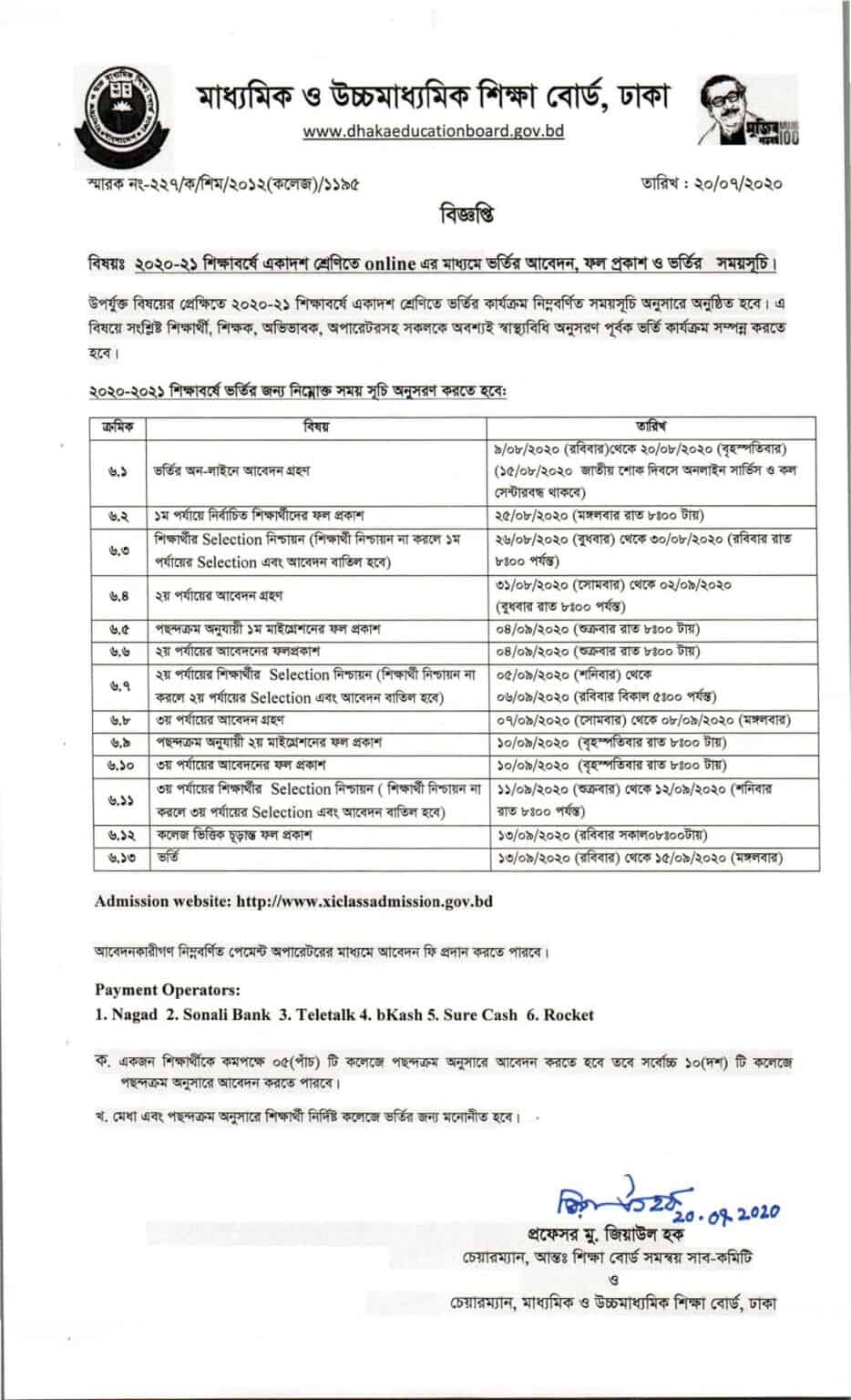 If you have any questions regarding the HSC admission system and registration fee payment procedures of 2021 then comment below your query. We will reply as soon as possible. Share this post with your friends & family. Sharing is caring, and this article may also be relevant to them.
XI Admission Requirements and Instructions by Bangladesh Education Board
XI Admission to English Medium Schools in Bangladesh
There is an increasing demand for English medium schools in Bangladesh. But the government has not been able to provide enough space for these schools to grow in the country, hence they have been forced to turn towards private institutions.
In order to facilitate students, private schools have been having various kinds of entrance exams. There are two types of these exams – open and closed.
Open exams allow students with different educational backgrounds and academic abilities to enter a certain school regardless of their scores, which increases the number of potential applicants and makes it difficult for universities to block admissions from certain groups.
Closed exams are more selective in nature and only allow applicants who score a certain score on them to enter their school; therefore universities can easily decide who will be admitted into their institution from this group.